6 Best Cameras for YouTube of 2019
3D Insider is ad supported and earns money from clicks and other ways.
The camera you use to create your content will help shape your YouTube channel's identity, so picking the right one is crucial. It's important to ask yourself what your channel is all about and where you see yourself a few years down the line. It gets easier from there since some cameras are better for a certain kind of YouTube channel than others.
DSLRs are the bulkiest yet deliver high quality and can shoot amazing videos in minimal lighting. Mirrorless cameras are more portable and sacrifice low light performance for unmatched versatility. Webcams are the best at streaming your game sessions while action cams brave any challenge to bring your viewers a front row seat experience.
It's hard to decide which camera to buy with so many models available in each category. That's why we've compiled a list of the best cameras for YouTube. It covers a diverse range of cameras and will help you find the one you've been looking for whatever your channel's vision is.
Budget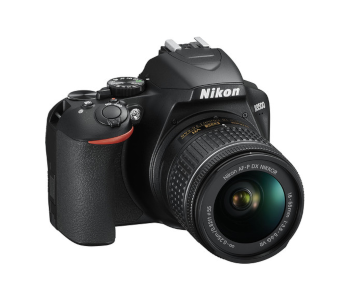 Nikon D3500
4.0/5.0
Type: DSLR
Sensor: APS-C CMOS
Good video quality with accurate contrast and balanced color.
Check BH
Best Value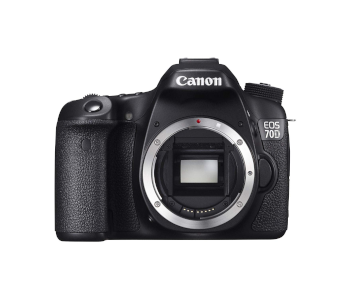 Canon EOS 70D
4.6/5.0
Type: DSLR
Sensor: APS-C CMOS
Great autofocus and easy to use with good control layout.
Check Amazon
Top Pick
PANASONIC LUMIX GH5
4.8/5.0
Type: Mirrorless
Sensor: 4/3 MOS
Excellent video quality, improved viewfinder and touchscreen.
Check Amazon
Cameras for YouTube Comparison Table
1. Best Overall – PANASONIC LUMIX GH5
View on Amazon
Editor's Rating: 4.8/5
Panasonic's GH5 is lauded as the best prosumer camera for filmmakers, and with good reason. It boasts uncropped 4K recording, has a long battery life, and will make sure that the videos you record are backed up in case the worst happens. It's suited for vlogging, studio work, short films, or live streaming. Be prepared to dish out some serious cash for it, but given its performance and versatility, you're actually paying little for the best there is.
Overview of Features
The GH5 is similar to its predecessor, the GH4, in design terms. It has a sophisticated-looking all black body which feels sturdy and natural to hold. Minor but welcome improvements include a restructuring of its physical button layout and the addition of a joystick that makes menu navigation easier. Even though they look the same, the HG5's viewfinder and vari-angle touchscreen LCD display have increased resolutions. The screen also takes advantage of the WhiteMagic technology which makes it brighter and better usable in daylight.
A second SD card slot is what we appreciate most about the redesign though. Two slots are uncommon in this price range, and having them gives you more choices in how you'll be recording. Since the GH5's maximum resolution is an uncropped 4K a bit rate of 150Mbps, even the biggest SD cards will fill up fast. Therefore it's great that you have double the space. Using backup mode is even better – this lets you record video to both cards simultaneously, giving you a backup on the spot.
Videos shot with the GH5 look stunning, thanks partially to built-in pro video tools like a histogram and zebra stripes. These help you adjust the scene's brightness and contrast levels, so there are no washed-out whites or uniform darks.
The camera body has built-in image stabilization that works well regardless of the lens you're using, making the GH5 an excellent choice for travel vlogging and other situations where you have to shoot on the go. Best of all, videos shot with the GH5 have no time limit! Since it won't get hot even after hours of continuous use, the GH5 is an excellent choice for live streaming as well.
What We Didn't Like
There's a noticeable delay between the time you press the record button and the red REC dot appearing on screen. The dot also blinks slowly, so you might look at the screen, think you forgot to hit record, and accidentally stop recording instead. Low light performance is adequate, but underwhelming for the GH5's price point. Higher ISO levels show a lot of noise, so you'll want to shoot in well-lit areas for best results.

Tech Specs
Dimensions: 5.5 x 3.9 x 3.4 in
Weight: 25.6 oz. with battery
Sensor: 4/3 MOS
Resolution: 4096×2160, 24fps
3840×2160, 60fps
Megapixels: 20.3
ISO range: 200 – 25,600
The Pros
Excellent video quality
Improved viewfinder and touchscreen
Two SD card slots
Suitable for all kinds of YouTube videos
The Cons
Takes a while to register that the camera is recording
Mediocre low light performance
2. Best Value – Canon EOS 70D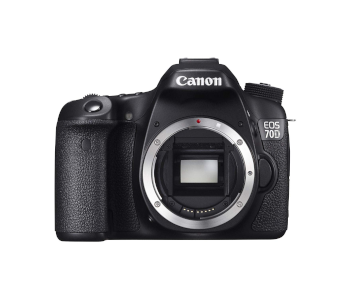 View on Amazon
Editor's Rating: 4.6/5
The 70D is proof that a camera doesn't need to be brand new to be the best in its class. It was released way back in 2013 and has a worthy successor in the more expensive Canon EOS 80D. Even so, the 70D continues to be the camera of choice for prominent YouTube personalities and newcomers alike. It features exceptional autofocusing, performs well in low light, and can be controlled remotely through Wi-Fi. While the 70D's weight makes it too heavy for extensive outdoor use, it's the perfect camera for interviews, product reviews, and tutorials.
Overview of Features
The 70D is a robust DSLR with a polycarbonate body that can take a beating and withstand the elements. It has a pronounced grip that's textured for more comfortable holding. The physical controls are arranged neatly into wheels which regulate photo modes and exposure levels as well as buttons for recording, picture taking, and menu navigation. The 3-inch LCD can be flipped out and features a responsive touch interface that's logically laid out and easy to navigate.
We were most impressed by the 70D's lightning-fast autofocus. This is the first camera that features Canon's Dual Pixel COMS AF, a technology that allows each pixel to also act as an autofocus sensor. This greatly increases autofocus speed & accuracy and lets you choose between several modes. You can set it to track faces, a specific zone, or the whole area of its sensor and the 70D will accurately track subjects even if they move unpredictably.
Videos can be shot in 1080p at 30fps or 720p at 60fps. This is where the 70D begins to show its age, but considering that its max resolution and framerate are still the YouTube standard, you won't need to worry about upgrading yet. In manual mode, the camera gives you a lot of freedom in choosing exposure levels, white balance settings, and color grading. If you're new or unsure which settings to use, auto mode will do a fine job of balancing the video and making it presentable.
The 70D's low light performance is excellent. Thanks to its APS-C sensor and the DIGIC5+ imaging processor, noise is at a minimum and you can achieve a good level of contrast in dimly-lit surroundings.
What's Bad About It?
The 70D has a microphone jack so you can use an external mic to boost a video's audio quality. It doesn't have a headphone jack though, which means you can't monitor sound levels as you're recording. While the 70D excels at recording video, it's less capable when it comes to photography.

Tech Specs
Dimensions: 5.5 x 4.1 x 3.1 in
Weight: 43.5 oz. with battery and kit lens
Sensor: APS-C CMOS
Resolution: 1080p, 30fps
Megapixels: 20.2
ISO range: 100 – 12,800
The Pros
Outstanding balance of price and performance
Great autofocus
Easy to use with good control layout
Good low light performance
The Cons
No headphone jack
Below average photography performance given its price
3. Canon EOS REBEL T7i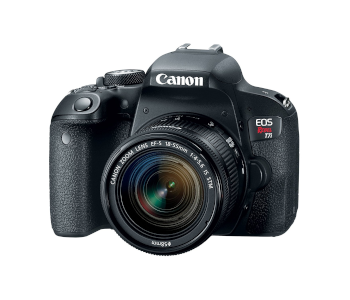 View on Amazon
Editor's Rating: 4.3/5
Just a step below the 70D we have Canon's newest entry in the venerable Rebel series, the T7i. It's a jack of all trades that does well in both studio environments and as a vlogging camera. Its interface is tailored to help out beginners, the battery lasts a long while, and the videos you shoot with the T7i look sharp. If you create diverse content and need a camera that performs well in different situations, the T7i is a fine choice.
Overview of Features
The T7i is similar to yet smaller than the 70D. Its finish feels cheaper, but the ergonomics are sound. The highlight of the camera's design is its 3-inch adjustable LCD touchscreen. You can use it to set the autofocus with one tap, tinker with settings, or gain access to a comprehensive set of tutorials newcomers will appreciate. Physical controls are laid out in a standard manner, except for the quick access button. Once pressed, it gives you a list of frequently-used settings.
This model uses the same autofocus technology seen in the 70D, meaning it's quick to focus on subjects even if they're moving. The autofocus isn't slowed down by poor lighting. Since the T7i experiences minimal rolling shutter, it is suitable for filming skits or tense scenes with a lot of dynamic back & forth. Long battery life is another welcome feature – the T7i can shoot for 2.5 hours on a full charge!
This model shoots at 1080p, 60fps. It even has an edge over the 70D in low light performance as a newer version of the DIGIC processor takes in more information and can correct noise better. This lets you ramp up the ISO without ruining video quality and film in dimmer environments. Picture quality is decent. Even though good dynamic range was never Canon's strong suit, color accuracy and balanced whites make up for it. The T7i is limited to recording 30 minutes of footage per file.
Are There Drawbacks?
The T7i doesn't have a headphone jack, so monitoring audio is out of the question. This oversight is surprising since cameras that cost the same have both mic and headphone inputs. The viewfinder is small and has a low resolution.

Tech Specs
Dimensions: 5.2 x 3.9 x 3.0 in
Weight: 26.3 oz. with battery and kit lens
Sensor: APS-C CMOS
Resolution: 1080p, 60fps
Megapixels: 24.2
ISO range: 100 – 25,600
The Pros
Optimized control scheme
Solid low light performance
Long battery life
Quick autofocus
The Cons
No headphone jack
Small viewfinder
4. Logitech C922 Pro Stream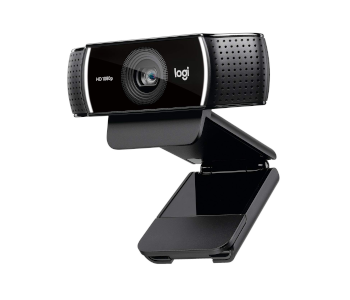 View on Amazon
Editor's Rating: 4.2/5
The cameras we've discussed so far are suited to filming various kinds of YouTube videos. Logitech's C922 Pro Stream abandons versatility in favor of being the undisputedly best webcam for live streaming. It's the golden standard among game streamers because of how easy it is to set up and how great the stream looks! If your channel is focused exclusively on streaming, then the Pro Stream offers impressive value for less than $80.
Overview of Features
The Pro Stream is a well thought out webcam designed for convenience and performance. It comes with two choices of mounts – a clip that fastens to the back of your monitor and a small tripod. Most streamers use the clip since it's easy to position the Pro Stream to face eye level, but the tripod is solidly built and offers more stability. The camera itself has a minimalistic and functional design. There's an omnidirectional microphone on each side of its lens along with subtle white LEDs which turn on when the camera is active.
Setting the Pro Stream up is a breeze. Choose your mount, plug the 5-foot USB cod into your PC, and wait for the drivers to finish downloading. Streaming software like OBS and X-split recognizes it right away. You don't need to use a streaming program for preliminary adjustments though – the software the Pro stream comes with lets you tinker with its field of view, contrast, and more.
Low light performance makes the Pro Stream stand out from the competition. It takes little ambient light for you to be visible, and you don't need to invest in professional lighting since either daylight or the lights in the room you're streaming from are enough. The Pro stream delivers clear 1080p video at 30fps. You can lower the resolution to 720p to get 60fps. The loss in quality isn't noticeable since the camera's feed occupies a small portion of the screen.
You can use the Pro Stream to simulate a green screen. This will crop everything around you, leaving only an outline of your features. Your audience can then look at you and your reactions without being distracted by the surroundings. This feature works well, with minor hiccups like the background being visible through glass lenses.
What We Didn't Like
The Green screen feature is resource intensive. You'll need to have a current and powerful CPU for it to run smoothly without impacting game performance. The webcam's autofocus is loud enough to be heard if you're using its built-in microphones. You'll either have to remain still or use a dedicated mic instead.

Tech Specs
Dimensions: 2.8 x 1.7 x 3.7 in
Weight: 5.7 oz.
Field of view: 70° horizontal, 43° vertical
Resolution: 1080p, 30fps
The Pros
Straightforward setup
Can simulate a green screen
Good onboard microphones
Solid performance in low light
The Cons
Requires powerful hardware to stream with green screen on
Loud autofocus
5. GoPro HERO7 Black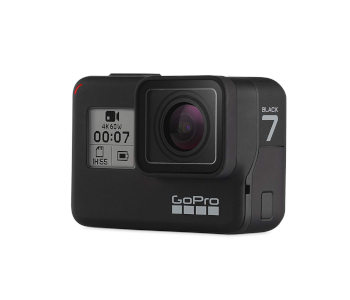 View on Amazon
Editor's Rating: 4.2/5
YouTubers who prefer outdoor adventures to stale studio environments depend on GoPro's action cameras to capture their most breathtaking experiences. The HHERO7 Black is the newest in their flagship HERO series and boasts welcome improvements over its predecessor. The most important ones are much more stable video, a revamped user interface, and the TimeWarp feature. Its other capabilities remain on par with the HERO6 Black which remains a great purchase since it is $50 cheaper.
Overview of Features
Little has changed in the leading GoPro's appearance ever since the HERO5 was released. The essentials like a 2-inch screen, a waterproof body, and a minimalistic control scheme remain the same. The differences become clear when you turn the HERO7 on, most notably in the layout of its interface. Battery life and SD card space are now displayed in a vibrant green so they're better visible in bright light. Menus have been restructured as well and can be navigated by swiping in the right direction. Finally, the layout adapts itself to portrait mode now so taking pictures comes more naturally.
The most significant step forward in the HERO's development is the addition of HyperSmooth, a hybrid stabilization technology which incorporates software and hardware to make the image more stable. With this, the biggest complaint HERO6 users were having has been resolved! Off-road bike trails, thrilling rollercoaster rides, and diving expeditions now look buttery smooth even when you handle the HERO7 manually.
HyperSmooth also enables a new kind of time-lapse called TimeWarp. In this mode, you can take stabilized time-lapse videos which look professional whether you hold the action cam in your hand or are using a mount.
There's little change in the HERO7's video capture limitations – the G1 chip still ensures that 4K videos are captured at 60fps without a hitch. 1080p can be shot at 240fps, letting you create slow-motion videos that are slowed down 8x. The biggest novelty in video recording is linear mode. This crops the picture and makes the field of view smaller, but it also eliminates the pronounced barrel distortion you'd otherwise see on the edges.
YouTubers who want to share their exploits with their fans immediately will love the new live streaming feature. If you prefer basic editing, you can still stitch together clips and add engaging music to them through the GoPro app's story mode before publishing them.
What's Bad About It?
The HERO7 supports more voice commands than its predecessor but struggles to act on them. You may need to repeat a command several times before it registers, especially in windy conditions. Fans have been asking for a better battery when the HERO5 came out, but GoPro insists on using the same one. Fully charged, it provides a limited 60-70 minutes of recording time.

Tech Specs
Dimensions: 2.4 x 1.3 x 1.8 in
Weight: 4.1 oz.
Sensor: 1-Chip CMOS
Resolution: 4K, 60fps 1080p, 120fps
Megapixels: 12
ISO range: 100 – 6,400
The Pros
Outstanding image stabilization
Many small improvements to interface and feel
Superb video quality
Easy to stream from
The Cons
Short battery life
Doesn't always respond to voice commands
6. Best Budget Option – Nikon D3500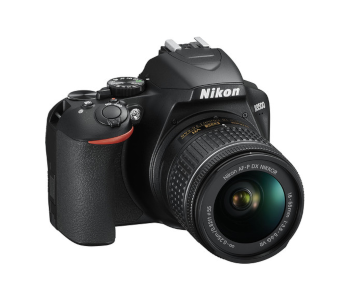 View on BH
Editor's Rating: 4/5
Are you a beginner YouTuber looking for a camera that's both cheap and easy to use? If so, Nikon's D3500 is the perfect fit! It is designed to guide novice videographers and photographers so they can get to grips with things like focus points and exposure levels. Later, it gives them room to grow by introducing semi-manual and manual modes. It's also one of the lightest DSLRs around, meaning you can bring it to location shoots and take advantage of the D3500's above average low light performance.
Overview of Features
It might be as bulky as other DSLRs, but the D3500 makes up for this with its weight. 21.7 ounces is well within mirrorless territory, and the D3500 performs as good as or better than mirrorless models in the sub-$400 category. It's a beginner-friendly camera, which shows both in its control layout and the way the interface is structured. Physical controls are kept to a minimum so as not to confuse newcomers. The camera does have a control dial whose functions change depending on the active mode though.
Taking your first steps with the D3500 is easy thanks to a well-designed guide mode which contains sections on shooting pictures & video, retouching your work, and setting the camera up correctly for different situations. Once you've learned everything guide mode has to offer, the transition to more involved shooting methods comes naturally.
The D3500 shoots crisp videos at a maximum resolution of 1080p with a framerate of 60fps. It does well in high contrast scenes and manages to bring out both light and dark areas without the loss of detail. There's no image stabilization in the DSLR itself, but the kit lens you get with it has vibration reduction. The lens also has 3x optical zoom, so you can do close-ups of dishes or gadgets and experience no detail loss. As you'd expect from DSLR, low light performance is decent too.
A built-in image & video editor is another cool feature you wouldn't expect from a camera this affordable. It is geared mainly towards photos and includes options like resizing, in-camera RAW processing, and red-eye elimination. Nevertheless, there's a variety of effects like black & white or illustration you can apply to videos to make them look more artistic.
Are There Drawbacks?
The D3500's screen isn't touch-operated and is fixed in place. This may be a problem for YouTubers who want to monitor what the video looks like while they're recording. There's also no microphone jack, so you'll have to rely on the D3500's built-in mic.

Tech Specs
Dimensions: 4.9 x 3.8 x 2.7 in
Weight: 21.7 oz. with battery and kit lens
Sensor: APS-C CMOS
Resolution: 1080p, 60fps
Megapixels: 24.2
ISO range: 100 – 25,600
The Pros
Affordable
Light and portable for a DSLR
Good video quality with accurate contrast and balanced color
Video and photo editing in camera
The Cons
LCD screen can't move and isn't touch-sensitive
No microphone jack