6 Best Microphones for YouTube Gaming
3D Insider is ad supported and earns money from clicks and other ways.
Game streams are becoming increasingly popular and people like Ninja or PewDiePie literally earn millions of dollars just by playing games for droves of dedicated fans. Viewers interested in gaming streams care as much or more about the streamer and their personality as the game being played. It's hard to capture how genuine your reactions are and how sharp your wit is if the only thing your followers get to hear is the muffled sound coming from a gaming headset's mediocre microphone.
The best way to step your audio game up is to get a dedicated microphone for YouTube gaming. Such a mic is a relatively inexpensive upgrade that will have a much larger impact on how interesting your stream is than a new GPU. Having a high-grade microphone lets you communicate better with teammates, form a more genuine connection with your followers, and give everyone that listens to you a quality experience they'll want to revisit.
These are the 6 best microphones for YouTube gaming on the market. All of them are a clear step up from whatever headset mic you had before and have a small impact on desktop space. Some are light and ready to be used anywhere while others are equally good at game streaming, podcasts, or even music recording. Pick the microphone that resonates with you the most and get an instant boost to the quality of your content.
Budget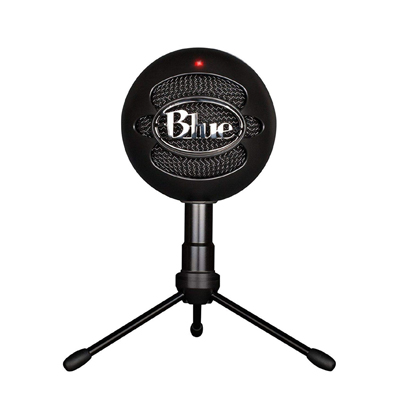 Blue Snowball iCE
4.0/5.0
Weight: 1 lb.
Sample rate: 44.1 kHz
Suitable for beginners and advanced users, very affordable, easy to transport.
Check Amazon
Best Value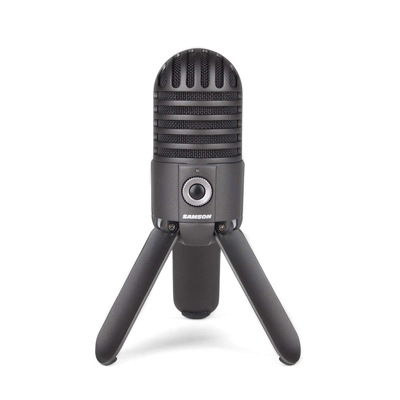 Samson Meteor Mic
4.6/5.0
Weight: 0.6 lb.
Sample rate: 44.1 kHz
Captures both voices and instruments well, versatile mount, beautiful design.
Check Amazon
Top Pick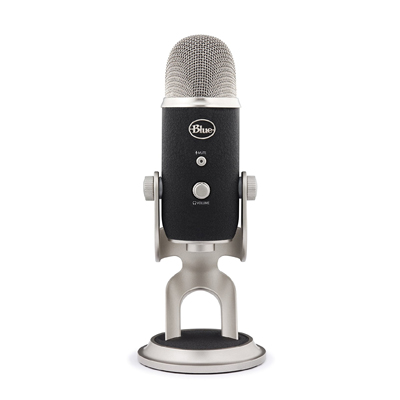 Blue Yeti Pro
4.9/5.0
Weight: 1.2 lb.
Sample rate: 192 kHz
Superb audio quality, sturdy build resistant to scratching and fall damage.
Check Amazon
6 Best Microphones for YouTube Gaming Comparison Table
| Make and Model | Rating | Polar pattern | Bitrate and max sample rate (kHz) | Frequency range (kHz) | Price |
| --- | --- | --- | --- | --- | --- |
| Blue Yeti Pro | 4.9 | Cardioid,two-way, omnidirectional, stereo | 24-bit, 192 | 20 – 20,000 | Check Price |
| Samson Meteor Mic | 4.6 | Cardioid | 16-bit, 44.1 | 20 – 20,000 | Check Price |
| Razer Seiren X | 4.5 | Super cardioid | 16-bit, 48 | 20 – 20,000 | Check Price |
| Audio-Technica ATR2500 | 4.4 | Cardioid | 16-bit, 48 | 30 – 15,000 | Check Price |
| Turtle Beach Stream Mic | 4.2 | Cardioid, hypercardiod, omnidirectional, bi-directional | 16-bit, 48 | 20 – 20,000 | Check Price |
| Blue Snowball iCE | 4.0 | Cardioid | 16-bit, 44.1 | 40 – 18,000 | Check Price |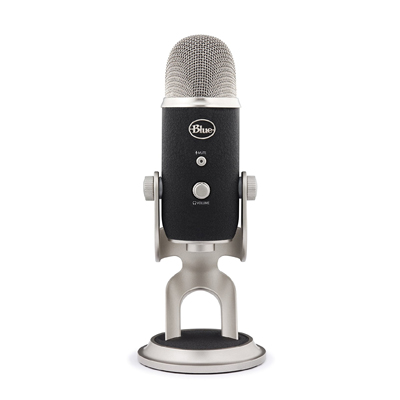 View on Amazon
Editor's Rating: 4.9/5.0
Blue's Yeti Pro is the undisputed winner when it comes to home recording audio quality. It's perfect for capturing every nuance of your voice as you comment on a game or cry out in frustration at being fragged. More importantly, it's a versatile microphone that offers four polar patterns and is built like a truck. Whether you focus solely on game streaming or occasionally create other content that requires superb audio, this mic is more than worth the investment.
Overview of Features
The first thing you'll notice about the Yeti Pro is its massive build. It weighs 1.2 pounds without the stand and its rough black exterior is rigid and sturdy. This makes the Yeti Pro a stationary mic that can survive an accidental fall without problems. Its base has padded legs which secure the mic in place and minimize ambient noise pickup. There's a 3.5mm input port on the Yeti Pro itself along with dials for headphone volume and polar pattern selection. There are also MicroUSB and XLR ports on the bottom.
Setting the Yeti Pro up is a matter of installing its drivers on your computer. These let you change buffer size and volume levels for input and output. The largest supported sample rate is a whopping 192 kHz in 24-bit which you'll want to tone down to keep video bandwidth requirements low. Even on lower sample rates and bit depths, the Yeti Pro sounds amazing. It captures voices faithfully with minimal interference from ambient sounds.
The Yeti Pro is an excellent investment for future proofing since it has four polar patterns. You'll be using cardioid for regular streams since it focuses on a single sound source but can switch to two-way if you ever have a guest with the turn of a dial. There's also the omnidirectional and stereo modes which are useful for capturing every sound inside the room if you ever decide on having a panel discussion.
What We Didn't Like
This microphone only supports USB 2.0, so make sure your case has at least one older USB port. The headphone volume knob doesn't have a start and an end point, meaning you'll never be sure about the exact volume until you put on the headphones. This can be dangerous to your hearing if the volume is accidentally cranked all the way up.

Tech Specs
Polar pattern: Omnidirectional, two-way, cardioid, stereo
Sensitivity: 4.5 mV/Pa
Max sample rate: 192 kHz
Frequency range: 20 – 20,000Hz
Connection type: USB, XLR
Weight: 1.2 lb.
The Pros
Superb audio quality
Four diverse polar patterns
Audio out headphone port
Sturdy build resistant to scratching and fall damage
The Cons
Supports USB 2.0 only
No way to tell how loud the headphone volume is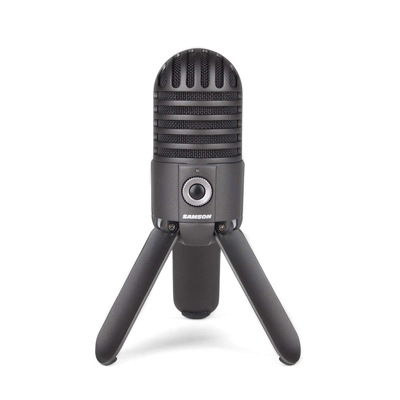 View on Amazon
Editor's Rating: 4.6/5.0
Even though headset microphones are better than ever, they still can't hold a candle to the clarity and depth of a standalone model. Case in point – the Meteor Mic by Samson! This elegant microphone costs much less than a gaming headset, yet delivers outstanding audio quality for the price. It comes with a versatile stand, is ready to use out of the box, and has an intuitive control scheme.
Overview of Features
The Meteor Mic resembles classic microphones from the 50s and 60s. It has a gorgeous chrome-plated finish and combines a small frame with good weight. The analog controls are neatly organized – there's a headphone volume knob in the front with a quick mute button in its center. A power indicator light is above them, while USB and 3.5mm ports are located on the bottom and easily accessible.
Unlike the ATR2500, the Meteor Mic has an outstanding tripod mount. The thick legs can be set to different angles which lets you adjust the mic's tilt. They're also collapsible, turning the microphone into a portable capsule that takes up barely any space. If you prefer using mic stands, the bottom of the Meteor Mic is threaded to accommodate any standard model.
You can use the Meteor Mic without needing to install any drivers. Your system may set its headphone input as the default though, so you'll need to pay attention. Recorded voices are rich and have character while being unaffected by background noise or the sound of mouse clicks. It does a good job of recording musical instruments too, especially acoustic guitar, which is something to keep in mind if you ever want to entertain your followers in a different way.
What We Didn't Like
The sound you hear through the Meteor Mic's monitor port suffers from interference and noise. While the tripod legs are well made, their rubberized tips are prone to falling off. You'll need to glue them back on or get rid of them altogether if this becomes a problem.

Tech Specs
Polar pattern: Cardioid
Max sample rate: 44.1 kHz
Frequency range: 20 – 20,000Hz
Connection type: USB
Weight: 0.6 lb.
The Pros
Above average audio quality at a fantastic price
Versatile mount
Beautiful design
Captures both voices and instruments well
The Cons
Low-quality audio output
Rubberized feet tips tend to fall off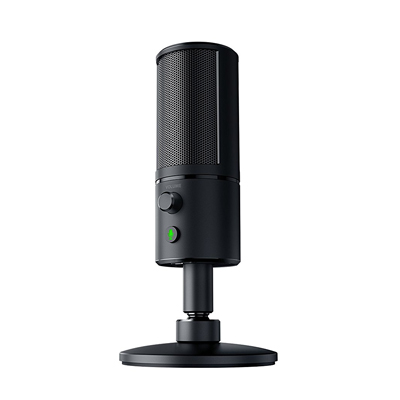 View on Amazon
Editor's Rating: 4.5/5.0
Blue and Samson make fantastic all-around microphones, but what if you just need one that's specialized for game streaming? Razer markets the Seiren X as the portable condenser mic streamers will love. With good reason too since it boasts adequate noise cancellation, stability, and build quality. Even if you have a mechanical keyboard or equally noisy housemates, you can count on the Seiren X to only record your voice in fine detail.
Overview of Features
The Seiren X is smaller and lighter than our overall winner, but it holds its own in terms of stability and design. It's about the size of a beer can and has a single button for muting along with a headphone volume dial on the back. It attaches to a surprisingly heavy circular mount. The mount grounds the mic well, protecting it from accidental toppling. Overall, the all-black design and Razer logo make the Seiren X look sleek and stylish.
This is a plug & play microphone, meaning there are no drivers to install. Once you plug it in, you can adjust sample rates and volumes through your streaming software. Recording quality is on par with that of the Yeti Plus, the only difference being a lack of polar pattern choices. The Seiren has a super cardioid polar pattern which is even more forward-focused than cardioid and gets rid of background noise effectively. This pattern is ideal for recording voices though, so streamers without plans for hosting anyone else on their channel are getting an amazing deal.
You might want to get out of the studio eventually, and it's great that the Seiren X can come with you to any event. Its small size and light weight make this microphone highly portable while its plug & play nature ensures that you can plug it into any computer and be able to start streaming instantly.
What's Bad About It?
Sometimes the mic will record a faint buzzing sound which can be clearly heard if you pause frequently while talking. You'll need to buy a separate adapter to use this microphone with a boom stand.

Tech Specs
Polar pattern: Supercardioid
Max sample rate: 48 kHz
Frequency range: 20 – 20,000Hz
Connection type: USB
Weight: 0.84 lb.
The Pros
Portable
Easy to set up
Great value for the money
Good noise cancellation
The Cons
Buzzing on some recordings
Can't be mounted to a boom stand without separate adapter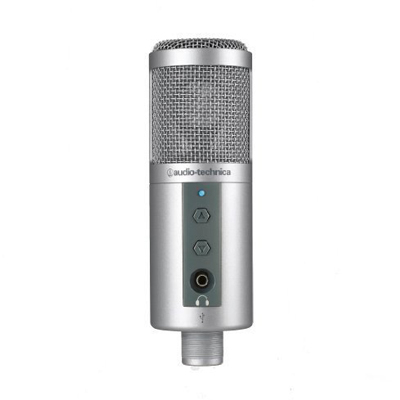 View on Amazon
Editor's Rating: 4.4/5.0
Game streamers with softer voices struggle to be heard over the cacophony of sounds made by the games they play. Audio-Technica's AR2500 is designed to pick up the faintest of noises and reproduce them faithfully. It's as easy to set up as the Seiren X and even a little cheaper. Its accessories aren't as well-built though, which ended up costing the AR2500 third place. If you're the quiet type though and have a silent environment to record in, it's a great option.
Overview of Features
The ATR2500 is a stylish silver condenser mic that comes with a tripod mount for your desk as well as a pivoting stand mount option if you have a boom stand. The USB cable plugs into the bottom while the headphone port is on the microphone's front, next to two volume control buttons and a blue on light. This isn't the smallest condenser mic around, but you can easily move or relocate it if needed.
Voice recording is the ATR2500's primary role. It excels at picking up voices of any pitch and timbre, reproducing them with good clarity and transparency. The mic is very sensitive and able to pick up even faint sounds provided the background is quiet. The cardioid pattern helps with this as it rejects sounds coming from the sides and the rear, focusing only on the voice directly in front of the microphone.
This is another no-fuss microphone that requires no drivers or a lengthy setup process. It works on all recent Windows and Mac OS versions and is also recognized instantly by most voice recording and streaming programs.
Are There Drawbacks?
The tripod mount you get with the ATR2500 is flimsy. Even worse, the mount does a poor job of eliminating vibration. This means that every keystroke is likely to be heard if you use it on the desktop. There's also considerable popping if you speak sounds like "P" or "B" close to the microphone, so you'll want to get a pop filter along with it to minimize this.

Tech Specs
Polar pattern: Cardioid
Max sample rate: 48 kHz
Frequency range: 30 – 15,000Hz
Connection type: USB
Weight: 0.8 lb.
The Pros
Great for recording quiet voices
Easy setup and audio controls
Nice design
Affordable
The Cons
No pop filter
Low-quality tripod mount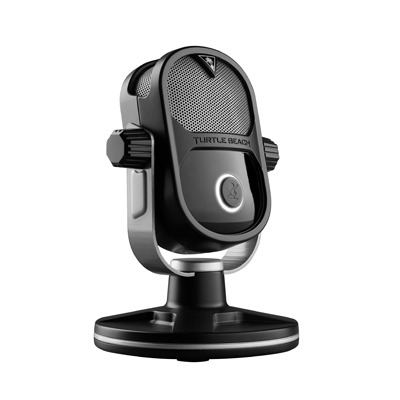 View on Amazon
Editor's Rating: 4.2/5.0
So far we've only talked about microphones suitable for YouTube streaming from the PC. What if you want to do the same from a console? In that case, the Stream Mic from Turtle Beach has got you covered. It has a dedicated Xbox mode, produces crisp audio thanks to a capable digital signal processor, and has four polar patterns. Whether you're a console or PC gamer, the Stream Mic is a solid choice.
Overview of Features
This is the least attractive microphone we've tested due to its black plastic body, but the Stream Mic does have other aesthetic elements going for it. The most noticeable among them is an LED ring which surrounds the mute button and changes colors depending on the polar pattern you're using. The microphone's back is more crowded. It houses USB and 3.5mm ports, volume controls, and a switch that toggles between Xbox and PS4/PC modes.
The Stream Mic's four polar patterns let you experiment with mic placement and give a richer experience to your viewers. Cardioid behaves standardly while hyper cardioid focuses pickup even more and leads to less background noise. Bi-directional is great when you have a friend over and want to stream a couch co-op session while omnidirectional is best at capturing the ambiance of the room.
Thanks to DSP, recorded audio is clear and without distortion. There's little need to play around with equalizer settings as sounds in all three ranges are distinct and rich. Even though the Streaming Mic doesn't have a pop guard, it handles harsh and hissing sounds well too.
What's Bad About It?
You can adjust the microphone's angle via two side screws. These screws aren't secure though and an accidental yank on the headphone cord could mess up the microphone's angle. Audio output suffers from lag. This won't affect what your audience hears, but it may make listening along and making necessary adjustments harder.

Tech Specs
Polar pattern: Cardioid, hypercardioid, omnidirectional, bi-directional
Max sample rate: 48 kHz
Frequency range: 20 – 20,000Hz
Connection type: USB
Weight: 0.7 lb.
The Pros
Great for streaming from consoles
Four polar patterns with LED light indication
Digital signal processing makes for good voice recordings
Handles popping and hissing well
The Cons
Tilt screws aren't tight enough
Output audio is laggy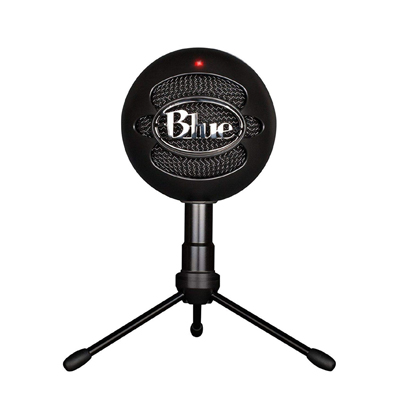 View on Amazon
Editor's Rating: 4.0/5.0
The Snowball iCE is Blue's entry-level microphone, perfect for game streamers who are learning the ropes and don't have much starting capital. You'd think that a microphone which costs less than $40 can't even outclass a cheap headset, but the Snowball iCE is actually sturdy, capable, and a worthwhile investment. Its price point far outweighs the few understandable shortcomings the iCE has.
Overview of Features
The Snowball iCE is an orb-shaped microphone available in either black or white. It's one of the heavier models we've tested and isn't prone to tumbling over since its tripod mount has a large footprint. The mount's legs are rubberized for extra grip. Its height and tilt can be adjusted too. There's no headphone port though, so you won't be able to monitor output in real time. Since you'll mostly be preoccupied with dodging bullets and interacting with your followers anyway, this isn't a big issue.
The signal the Snowball iCE records is clean and lacks digital processing. This is good news for anyone with some audio experience as it allows them to record as is and make adjustments in a recording program on the fly. The sound quality is decent, especially if you consider the price. Mids are captured with no quality loss and are true to the original. Only people with shrill or very deep voices will notice some muffling, while the majority of users will see a definite improvement in quality over a headset.
Finding the right distance between you and the Snowball iCE can be tricky since leaning in too close will lead to a lot of popping while being more than a foot from it will result in recordings with audible background noise. Once you find the sweet spot however, the mic is capable of putting out high-quality audio. It's also easy to use for newbies to gaming and computers in general since plugging it in is all you need to start.
Are There Drawbacks?
The stand has limited adjustability. It extends up a few inches and the iCE can be tilted on it, but this may not bring the mic into alignment with your mouth. You might be forced to lower your chair or your head for best results. Even though it is advertised as having a cardioid polar pattern, the iCE picks up sounds in a wider field. You'll want to make sure that the room you're recording in is quiet or else ambient noise can become an issue.

Tech Specs
Polar pattern: Cardioid
Max sample rate: 44.1 kHz
Frequency range: 40 – 18,000Hz
Connection type: USB
Weight: 1 lb.
The Pros
Very affordable
Good quality for the price
Suitable for beginners and advanced users
Easy to transport
The Cons
Captures some ambient noise
Stand has limited adjustability