6 Best Z-Wave Motion Sensors of 2019
3D Insider is ad supported and earns money from clicks and other ways.
The humble motion sensor is the cornerstone of a smart home. Tripping its infrared beam can result in something as mundane as turning on the lights in your living room or a complex breakfast scene that involves lifting the shades, turning on the coffee maker, and playing a list of energetic songs. Motion sensors are easy for smart home beginners to set up yet so versatile that even home automation pros never tire of finding new applications for them.
Before buying a motion sensor, you first need to consider which protocol it should use. Z-wave is the most logical choice because it supports the largest number of smart devices. It also operates on its own frequency, meaning Wi-Fi and Bluetooth won't interfere with the sensor's operation.
There are many Z-Wave motion sensors to choose from, which is why this guide was created to make the selection simpler. There are many factors to take into account like the sensor's range, battery life, any additional sensors, etc. Check out the reviews and specs of our six top picks to find the sensor that will make your home smarter, safer, and more fun.
Budget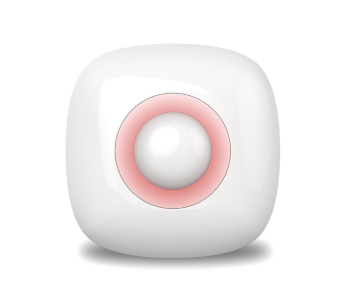 BeSense Z-Wave Ceiling PIR Motion Detector
4.1/5.0
Detection range: 24 feet
Detection angle: 360°
Its coverage limited to only one room.
Check Amazon
Best Value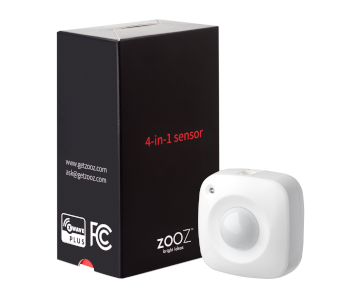 ZOOZ ZSE40
4.6/5.0
Detection range: 40 feet
Detection angle: 125°
Sensors can be configured to a high degree.
Check Amazon
Top Pick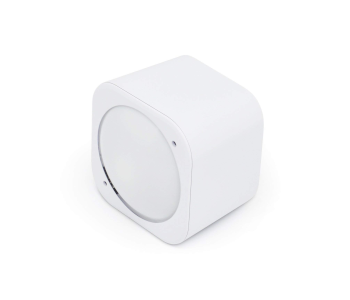 Aeotec Multisensor 6
4.8/5.0
Detection range: 16 feet
Detection angle: 120°
Has six versatile sensors in one compact body.
Check Amazon
Z-Wave Motion Sensors Comparison Table
1. Best Overall – Aeotec Multisensor 6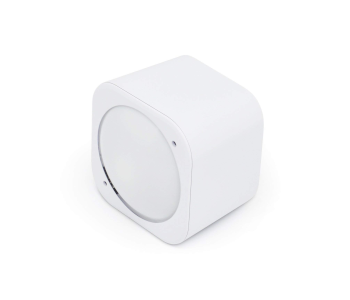 View on Amazon
Editor's Rating: 4.8/5
Being able to detect motion and use that as a trigger for another action is fine & all, but advanced motion sensors are capable of so much more. Case in point – Aeotec's Multisensor 6! This gadget houses six sensors in the body of one. It detects motion and humidity but also more exotic phenomena like vibration and the amount of UV radiation in a room. Best of all, Z-Wave allows the Multisensor to interact with hundreds of smart devices to form complex automation routines.
Overview of Features
The Multisensor 6 looks like a standard motion sensor, which is impressive considering room in it had to be made for five additional sensor types. Its front has holes for the light and PIR motion sensors along with an LED that lights up whenever motion is detected. The back is home to a removable battery cover and a Z-Wave action button. Pressing the button will add or remove the Multisensor from your Z-Wave network or reset it.
Unlike its competitors, the Multisensor 6 has two power sources. The first are a pair of CR123A batteries that power the sensor for two years. It also works with just one battery! A USB cable is its second power source. Hooking the Multisensor up to your PC or television provides constant power and gives you real-time updates instead of having to wait for a refresh every few minutes.
The Multisensor's motion sensor is outstanding! It covers a 120-degree area 16 feet in front of the device at its maximum range setting. You can disable the motion sensor altogether or set it to one of five sensitivity levels the highest of which reacts to all movement in an instant.
Other sensors are nothing to scoff at either. The temperature and humidity sensors display their data accurately and agree with stand-alone alternatives when pitted against them. The light sensor can detect light as bright as 30,000 lux and is the ideal trigger for when you want to turn on a light when the room gets too dark.
The UV sensor measures the ultraviolet radiation in its surroundings and warns you when it reaches dangerous levels. Lastly, the vibration sensor is there as a safety precaution as it senses if someone is trying to tamper with the Multisensor. Set it as the trigger for an alarm siren to make the Multisensor virtually steal-proof.
What We Didn't Like
The temperature sensor behaves normally while the Multisensor runs on batteries. However, switching to USB power causes the device to heat up and can throw off temperature sensor readings. Speaking of batteries, their lifespan is excellent but poorly reported. You might get repeated warnings that the batteries are about to die in spite of there still being a lot of juice in them.
Tech Specs
Dimensions: 1.8 x 2.5 x 1.8 in.
Weight: 2.1 oz.
Detection range: 16 feet
Detection angle: 120°
Sensors: Motion, vibration, light, UV, temperature, humidity
Ignores pets: No
The Pros
Six versatile sensors in one compact body
Capable motion sensor with five sensitivity increments
Wide detection angle
Two power sources
The Cons
Temperature sensor isn't accurate if powered through USB
Prone to false low battery alerts
2. Best Value – ZOOZ ZSE40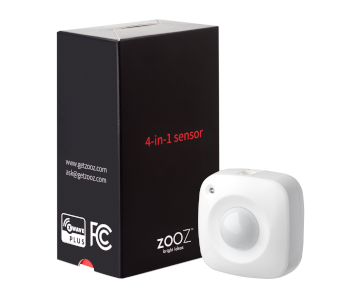 View on Amazon
Editor's Rating: 4.6/5
While the Multisensor 6 is unbeatable in terms of versatility, motion sensors like the ZSE40 by Zooz offer comparable motion detection performance at lower prices. This sensor is a cinch to install and pair, has detailed visual cues & sensitivity levels, and can be had for an attractive price. It's the perfect alternative to the Multisensor if you don't care for UV and vibration info.
Overview of Features
The ZSE40 comes in a nice box complete with two AAA batteries, a quick-start guide, and everything you need to mount it. Mounting options include a set of screws and mounting brackets as well as adhesive tape if you don't want to damage the mounting surface. The installation is straightforward as long as you remember to connect the sensor to the Z-Wave network first and place it at least 7 feet from the ground.
You can receive motion alerts or look up temperature, humidity, & light level data in your Z-Wave hub's app. There's also the LED you can configure to behave differently based on the data you want to see at a glance. For example, you can set it to glow different colors depending on the temperature or to pulse when reporting the temperature and flash when movement is detected.
You're able to tune the ZSE40's motion sensor to a fine degree. It has a range of 40 feet, meaning you'll likely have to dial down its sensitivity to stop it from picking up false positives in adjacent rooms. You get to choose between 7 sensitivity levels and set the sensor to update every X seconds ranging from 15 to 255. Lower values make the sensor more accurate but take their toll on battery life.
Other sensor readings are adjustable too. Those for temperature include switching from Fahrenheit to Celsius and setting the sensitivity from 0.1 to 5-degree increments. The humidity and light sensors display their data in percentiles, and you get to determine their sensitivity as well-
What's Bad About It?
The ZSE40 isn't a plug & play device, and some smart home hubs won't recognize it out of the box. This means you'll need to put in its control parameters manually which novice smart home enthusiasts might find annoying. This sensor suffers from the same faulty battery level detection as the Multisensor 6. Its light may blink to indicate that the battery is low when in fact there's more than half of its power left.
Tech Specs
Dimensions: 2.3 x 2.3 x 1 in.
Weight: 2 oz.
Detection range: 40 feet
Detection angle: 125°
Sensors: Motion, light, temperature, humidity
Ignores pets: No
The Pros
Easy physical installation
Excellent value for money
Versatile indicator light
Sensors can be configured to a high degree
The Cons
False low battery alerts
Needs to be configured manually to work with some Z-Wave hubs
3. Fibaro FGMS-001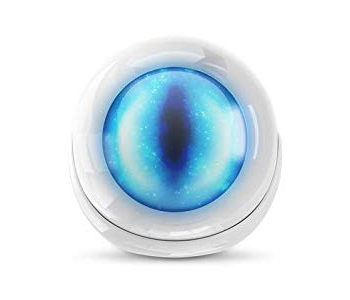 View on Amazon
Editor's Rating: 4.5/5
Even some of the most accurate motion sensors fail to distinguish between pets and people. This causes lots of false alarms and frustration you could avoid altogether if you buy Fibaro's FGMS-0014-in11 sensor. The stylish device helps you find an optimum spot for installation, has a multi-colored LED that serves as a quick visual indicator, and has a motion sensor that will ignore pets while scaring away intruders.
Overview of Features
The FGMS-001 is by far the best-looking sensor on our list. It's shaped like an eyeball complete with a cat's eye iris that changes colors depending on the current temperature. It takes only one screw and a couple of minutes to install its mounting bracket. The FGMS-001 is unique in that it has Z-Wave network strength detection. This lets you determine the best spot for the sensor while also uncovering potential blind spots in network coverage.
The sensor is powered by a single CR123A battery, yet one lets it run for 2 years with moderate use. The battery is further conserved by reporting readings only when the readings change sufficiently. The difference needs to be 0.5 degrees for the temperature sensor and 200 lux for the light sensor.
The FGMS-001's motion sensor has a maximum range of 23 feet but starts to become inaccurate at the 15-foot mark even when at its highest sensitivity setting. It performs admirably inside a 15-foot range, firing off text messages or notifications as soon as motion is detected. The sensor is smart enough to recognize small pets and won't be triggered by their movement.
The temperature sensor is of note for its accuracy. You need to place the FGMS-001 eight feet above the ground for accurate motion detection. The temperature sensor takes the height into account and adjusts the temperature to be representative of conditions at a lower level actually occupied by people. The vibration sensor can detect earthquakes but is also an effective theft deterrent since it causes the cat's eye to start glowing different colors if someone tries to remove the device.
Are There Drawbacks?
A humidity sensor is not part of the FGMS-001's arsenal, so you won't be able to control bathroom fans or humidifiers with it. Connection issues are another common problem – the FGMS-001 has trouble staying connected to the Z-Wave network and might reset itself frequently, especially if you place it far away from the hub.
Tech Specs
Dimensions: 1.8 x 1.8 x 1.8 in.
Weight: 0.8 oz.
Detection range: 23 feet
Detection angle: 80°
Sensors: Motion, light, temperature, vibration
Ignores pets: Yes
The Pros
Multicolored LED useful for alerting you at a glace
Can detect Z-Wave network strength
Motion sensor can tell pets apart from humans
Reliable temperature sensor
The Cons
Frequent connection issues
No humidity sensor
4. Ecolink PIRZWAVE2.5-ECO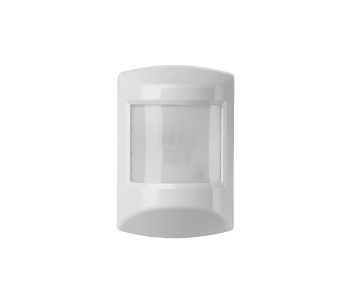 View on Amazon
Editor's Rating: 4.3/5
Many motion sensors fail to make the cut when pet detection is concerned. When it comes to choosing between restricting your pet's movement and getting a reliable sensor, you should definitely go for the latter and get the PIRZWAVE2.5-ECO from Ecolink! It is smart enough not to be phased by pets weighing 55 pounds or less yet reacts to human activity with precision. As if that wasn't enough, the sensor has an exceptional battery, can be mounted in multiple ways, and supports all major Z-Wave hubs.
Overview of Features
The PIRZWAVE2.5-ECO differs from other sensors on review since it is shaped like a cylinder rather than a square or globe. You can either screw it into a wall or stick it on there with included adhesive tape. While other models can only be installed on flat surfaces, the PIRZWAVE2.5-ECO comes with a corner mount as well. Using the mount is the best way of utilizing the sensor's 45-degree detection angle. This is the Z-Wave motion sensor with the best battery life. A single battery lasts a whopping five years with daily use!
There are three jumpers on the PIRZWAVE2.5-ECO's back used to determine its sensitivity. Whichever setting you choose, dogs and cats are able to pass freely without triggering an alert. Speaking of alerts, the PIRZWAVE2.5-ECO has two modes with different behaviors. While in security mode, the sensor sends notifications to your phone whenever it is triggered without interacting with other devices. Automation mode turns the PIRZWAVE2.5-ECO into a key component of your smart home and the trigger for lights, cameras, HVAC controllers, etc.
What We Didn't Like
The PIRZWAVE2.5-ECO's biggest flaw is a long rearming time. It takes five minutes to work again once motion is detected. Luckily, you can remedy this by putting the sensor in test mode at the expense of battery life. This model has a narrow detection angle, so you'll have to carefully plan where to place it to avoid blind spots.
Tech Specs
Dimensions: 3.5 x 2.3 x 1.8 in.
Weight: 3.2 oz.
Detection range: 40 feet
Detection angle: 45°
Sensors: Motion
Ignores pets: Yes
The Pros
Excels at ignoring pets
Can be mounted in a corner
Has two useful operation modes
Excellent battery life
The Cons
Slow recovery time when not in test mode
Narrow detection angle
5. HomeSeer HS-FLS100+ Z-Wave Plus Outdoor Floodlight Sensor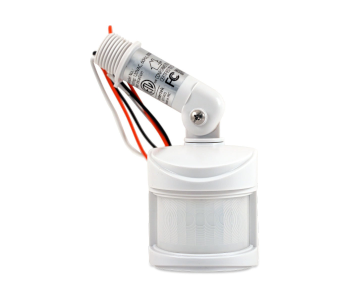 View on Amazon
Editor's Rating: 4/5
The motion sensors we've reviewed so far are all meant for indoor use. HomeSeer makes the first smart motion sensor that can work outdoors! It is perfect for smartening up your existing security lights and letting them become part of your home automation routines. The HS-FLS100+ sensor is straightforward to configure, integrates seamlessly into a SmartThings environment, and has excellent sensitivity.
Overview of Features
The HS-FLS100+ is a specialty motion and light level sensor which is designed to fit onto outdoor security lights. You install it by connecting the hot, lead, and neutral wires to those in the light. You'll need to strip the old wires and connect them to the HS-FLS100+'s, so some electrical knowledge is required. You also get a lock nut that holds the sensor tightly in place. Unscrewing it gives you some leeway and lets you adjust the sensor's angle after installation. No batteries are included or necessary since the sensor draws power from the light.
You can use the HS-FLS100+ in two modes. In security light mode, the HS-FLS100+ acts as a trigger for the lights when certain conditions are met. You set its shutoff time and light sensitivity levels, and the lights will turn on once the threshold is reached. Apart from this set it and forget it approach, there's also smart mode. This mode allows the HS-FLS100+ to send and receive Z-wave commands. It can interact with other smart devices on the network and use them as triggers. For instance, an activated security camera can turn the lights on to light up intruders and make them easier to identify.
The sensor has dials on its back that control light sensitivity and on times in security light mode. In smart mode, these are configured through your hub's dashboard once you download HomeSeer's device handler. Controlling the HS-FLS100+ requires knowledge in your home automation software of choice but allows you to configure features like auto shutoff delay, the maximum amount of ambient light needed for the lights to turn on, and more.
What's Bad About It?
While the HS-FLS100+ works outdoors, you'll need to be mindful of where the light you plan to attach it to is installed. Exposure to direct sunlight and temperatures higher than 100 degrees Fahrenheit drastically decreases the motion sensor's accuracy, so the HS-FLS100+ isn't suited for areas with a hot climate. There's also only one motion sensitivity option.
Tech Specs
Dimensions: 4.9 x 4.3 x 2.9 in.
Weight: 4.6 oz.
Detection range: 39 feet
Detection angle: 120°
Sensors: Motion, light
Ignores pets: No
The Pros
Turns ordinary outdoor security lights into smart ones
Operates in standard security light and smart modes
Draws AC power and doesn't need batteries
Configurable luminance cut off point and motion inactivity shutoff delay
The Cons
No motion sensitivity settings
Unreliable if placed in direct sunlight at high temperatures
6. Best Budget Option – BeSense Z-Wave Ceiling PIR Motion Detector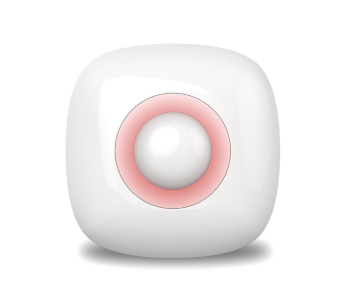 View on Amazon
Editor's Rating: 4.1/5
Sometimes motion sensors are too good at their job, even when on the lowest setting. This is especially annoying if the sensors get triggered by movement in a room they aren't even supposed to monitor! Placing your motion sensor on the ceiling instead of a wall is a clever way of limiting its range to a single room, and BeSense's ceiling-mounted motion detector is the best model for the job.
Overview of Features
This is the largest and heaviest sensor on review. It's also among the most accurate since its placement limits the detection range to a room of your choosing. BeSense's motion detector is ideal for kitchens, living rooms, hallways, and other rooms you want to keep a close eye on without detection bleeding over into adjacent ones.
Pairing the detector to your Z-Wave network takes 30 seconds once you press a switch. The trickiest part of its installation is having to use a ladder to mount the detector on the ceiling. This is another device that uses its battery sparingly. Motion is detected every 3 minutes if you place the device in power-saving mode. Conversely, test mode detects motion every 5 seconds and is the most sensitive. Successful motion detection is accompanied by red flashing LEDs which should give burglars pause.
The detector shows up as two devices in your hub's control panel since it also has a tamper switch. The switch has the same function as the Multisensor 6's vibration sensor – triggering it will send a warning notification to your phone or tablet. Using BeSense's detector with hubs like Samsung SmartThings is intuitive thanks in part to a thorough instruction manual that explains what you need to do to set up a device handler.
This is one of the most accurate sensors on review. The nature of its placement combined with three sensitivity settings means no movement in the room where you install it will be missed. You can always use the lowest setting if you have pets or find the detector to be too sensitive,
Are There Drawbacks?
The BeSense motion detector works fine with SmartThings but has problems with other hubs. There's no support for Wink, for example. Even if your hub does recognize it, the detector is identified as a door sensor, an issue that can only be fixed with a driver meant for SmartThings. Keeping motion detection in test mode drains the battery quickly. You'll either have to switch to a less precise setting or buy a new battery every few weeks.
Tech Specs
Dimensions: 4.5 x 1.5 x 4.5in.
Weight: 5.6 oz.
Detection range: 24 feet radial coverage if ceiling height is 9 feet, 16 if the ceiling height is 7 feet
Detection angle: 360°
Sensors: Motion
Ignores pets: Yes
The Pros
Coverage limited to one room
Lowest sensitivity level ignores pets
Helpful instruction manual
The Cons
Poor battery life
Doesn't work with Wink