6 Best Z-Wave Thermostats of 2019
3D Insider is ad supported and earns money from clicks and other ways.
Smart thermostats like the ecobee4 and the Nest Smart Learning Thermostat are at the forefront of the home automation revolution. They're easy to use and pair with other smart devices, but they're also expensive. You don't need to spend hundreds of dollars for a new smart thermostat though, not if you consider models that connect through Z-wave instead of Wi-Fi.
Z-wave thermostat use the eponymous protocol to connect to a smart home hub. They are recognized as part of your home automation network and can be controlled from your smartphone or with voice commands! Apart from being less expensive, Z-wave thermostats are compatible with a slew of motion and humidity sensors, locks, cameras, and more. This wide selection lets you create a smart home ecosystem with products from different manufacturers, picking & choosing those that complement your thermostat the best.
There's a lot of competition in the Z-wave thermometer market, which is why we've reviewed the six best ones to help you make a selection. Some of them require the Common wire while others run off of batteries as well. Our top picks are similarly priced, but each has at least one unique feature that makes it stand out. Choose the one you like the most and start saving on your heating and cooling bills the smart way!
Budget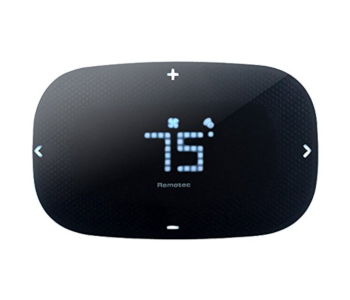 Remotec ZTS-500
4.1/5.0
Weight: 9.6 oz.
Dimensions: 6.3 x 3.9 x 1.1 in.
Cool design and comes with Z-wave encryption.
Check Amazon
Best Value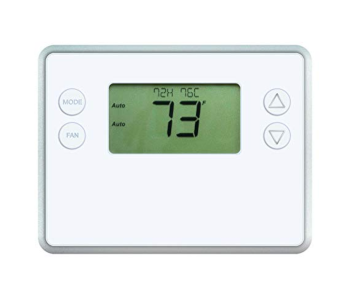 GoControl Thermostat
4.4/5.0
Weight: 1.2 lbs.
Dimensions: 5.8 x 4.5 x 1 in.
Works with a wide array of HVAC systems.
Check Amazon
Top Pick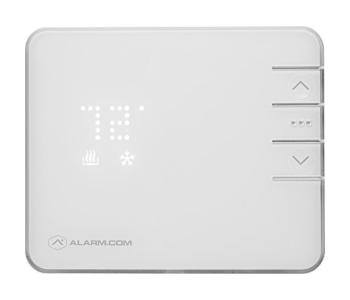 Alarm.com Smart Thermostat
4.6/5.0
Weight: 1.1 lbs.
Dimensions: 4.8 x 4 x 0.9 in.
Works well with other smart home devices and AI assistants.
Check Amazon
Z-Wave Thermostats Comparison Table
1. Best Overall – Alarm.com Smart Thermostat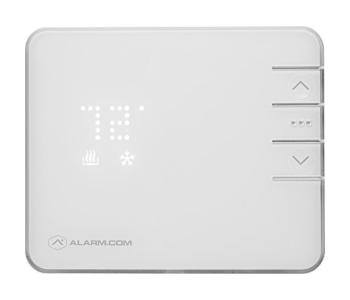 View on Amazon
Editor's Rating: 4.6/5
A thermostat is the perfect tool to pair with your smart alarm – as soon as you leave the house and the alarm is on, it can switch off your HVAC system and save serious money. That's the idea behind Alarm.com's Smart Thermostat, a model which not only natively supports their advanced security systems but connects to other home automation gadgets too. It features a modern look, has an excellent companion app, and even supports Amazon Alexa.
Overview of Features
Unlike most thermostats on review, the one from Alarm.com appears as it belongs in a state-of-the-art 21-st century home. It looks like a plain white box before switched on but quickly shows its sophistication as LEDs light up to reveal the current temperature and which parts of the HVAC are active. You can install it like any other thermostat, but it can also run on batteries, meaning you don't need a Common wire. This makes installing the thermostat much quicker and user-friendly.
The thermostat works best when paired with Z-wave motion sensors. Placing one in each room you want to micromanage lets the thermostat receive multiple readings and direct the HVAC system to only heat or cool the areas that you care about. It also takes into account local weather data and adjusts the temperature accordingly. For example, an abnormally hot day in winter will cause it to use minimal heating to maintain your set temperature.
The app that comes with the thermostat is fantastic! Its interface is made up of large buttons and numbers anyone in the family can navigate with ease. It lets you set up a weekly schedule for both home and away modes, or set the temperature manually at any moment. There's even an option to receive notifications when someone tampers with the temperature settings on the unit itself. The best thing about the app is its potential to serve as your smart home command center. It gives you access to paired security cameras, smart locks, and alarm systems.
Geofencing is another welcome feature. When active, it detects whether your phone is in connection range and saves energy if it isn't. The thermostat receives voice commands from Amazon Alexa! You can ask her to tell you the current temperature, set the thermostat to a specific temperature, or set it a few degrees higher or lower.
What We Didn't Like
There are no physical fan controls on the thermostat. You can only set the fan to one of four settings through the app if you don't want to engage the HVAC as well. The thermostat also shows the temperature as being 3 degrees warmer than it actually is. This offset is constant though, so it's easy to compensate for it.

Tech Specs
Dimensions: 4.8 x 4 x 0.9 in.
Weight: 1.1 lbs.
Battery powered: Yes
The Pros
Sleek modern design
Can run off of batteries
Excellent companion app
Works well with other smart home devices and AI assistants
The Cons
Fan controls are only accessible from the app
Reported temperature is higher than actual one
2. Best Value – GoControl Thermostat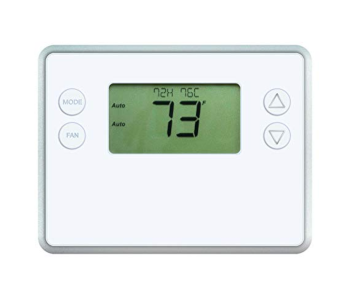 View on Amazon
Editor's Rating: 4.4/5
Would you like to experience the benefits of a connected thermostat but live in an older home? Then get the GoControl Thermostat! This model supports 95 percent of existing HVAC systems, is straightforward to operate, and hides advanced features like Z-wave connectivity and Alexa support behind its ordinary appearance. It can replace any existing thermostat and is a bargain considering how big of an improvement it is over standard models.
Overview of Features
The GoControl Thermostat's appearance is nothing special. There are two buttons on each side of its light-up LCD panels which let you select an operation mode, adjust the temperature, or control fans. Pressing on the mode and fan buttons longer enables you to access the thermostat's main menu and configure more advanced options like which type of HVAC system it is wired into, set the time, and connect it to a smart hub through Z-wave.
Compatibility is this thermostat's strong suit. It works with both 3- and 2-stage heating HVACs as well as ones with heat pumps. The accompanying manual offers detailed instructions on how to wire the thermostat into each type of system. You can use the C-wire for power or insert four AA batteries to speed up installation. The batteries last for two years.
Z-wave makes the GoControl compatible with smart hubs like Wink and SmartThings, and IFTTT is supported too. This lets you control the thermostat remotely, set schedules, and incorporate it into scenes. GoControl works with Alexa, albeit in a limited way. She'll tell you how hot it is and you can adjust the temperature up or down with voice commands, but that's it. Even if the connection breaks, the thermostat will continue to act as a standalone device and won't turn the HVAC off.
What's Bad About It?
There's no remote way to check the thermostat's battery level. Doing so requires you to access an option hidden away in the physical unit's menu. There are no warnings when the battery is low – the thermostat simply stops working. You'll want to check the batteries occasionally to avoid this. The thermostat's features are limited if you don't use it with Z-wave. There are no built-in scheduling options or weekly settings you'd find in cheaper dumb models as a matter of course.

Tech Specs
Dimensions: 5.8 x 4.5 x 1 in.
Weight: 1.2 lbs.
Battery powered: Yes
The Pros
Works with a wide array of HVAC systems
Long battery life
Pairs well with compatible smart hubs
Simple user interface
The Cons
Gives no low battery warning and doesn't let you check battery level remotely
No built-in scheduling options
3. Trane XR524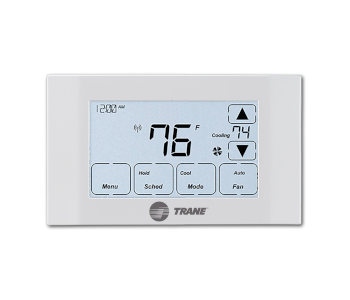 View on Amazon
Editor's Rating: 4.3/5
Being able to program your thermostat from a smartphone is great, but that doesn't mean the physical unit should be limited. Trane has designed the XR524 Z-wave thermostat to be connectable yet also self-sufficient. It features a large display, in-depth programming for each day of the weak, and support for all major Z-wave hubs.
Overview of Features
The XR524 is a thermostat that blends traditional design with modern functionality. It has a large LCD display that glows with pleasant blue light. It features clearly visible temperature & time readouts as well as touch-operated buttons that give you easy access to fan controls, schedules, and other options. Installation takes half an hour if you're an experienced DIY-er and requires that you connect the C-wire since there are no batteries. Only HVAC systems with single stage cooling are supported.
You can access 7-day scheduling from the XR524 itself. Each day has four scheduling options so you can tailor its performance to your family's rhythm. The schedule can be overridden at any time b turning on auto mode. This lets you set a temporary plan when you go on vacation and reset the thermostat to your earlier presets without needing to put them in again.
Trane has a partnership with Nexia and the XR524 will work best with this automation platform. Other platforms like SmartThings and Wink work flawlessly too and should be higher on your list since Nexia requires a monthly subscription. Whichever platform you choose, expect the XR524 to integrate well with lights, cameras, and other smart gadgets. Smart hub apps promptly send notifications when it's time to perform maintenance on your HVAC system. They also let you control the XR524 remotely.
Are There Drawbacks?
This thermostat works only with consolidated HVAC systems. This means that it won't work with setups where heating and air conditioning are controlled separately. Trane's partnership with Nexia can negatively affect your experience. The manual has little to say on connecting it to other Z-wave devices, and tech support isn't helpful either. You'll have to look for solutions online if you encounter connection issues.

Tech Specs
Dimensions: 5.7 x 3.5 x 1.2 in.
Weight: 10.4 oz.
Battery powered: No
The Pros
Great built-in scheduling
Touchscreen interface is easy to operate
Pairs easily with Z-wave hubs
Easy to install
The Cons
Doesn't work with systems where heating and AC are separate
Limited tech support
4. Honeywell YTH8320ZW1007/U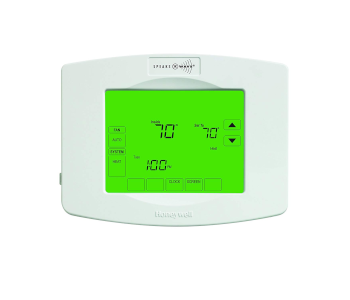 View on Amazon
Editor's Rating: 4.1/5
Honeywell is a respected thermostat manufacturer whose products we've already discussed in our review of the best Nets alternatives. The YTH8320ZW1007/U is less expensive than the Lyric, but its capabilities are almost the same thanks to Z-wave support. You can use it either as a standalone unit with advanced scheduling options, or connect it to SmartThings, etc. for remote control and smart home integration.
Overview of Features
The YTH8320ZW1007/U looks similar to Trane's XR524. The same defining elements are there – a smooth white cover, an LCD touchscreen, and a set of comprehensive controls you can customize with a tap. The big differences lie in the YTH8320ZW1007/U's menu layouts and the glaring green color of its backlight. Installing the thermostat requires a 5th or C-wire. You can still hook it up if you don't have a C-wire as the thermostat comes with an adapter.
Similarities between the YTH8320ZW1007/U and the XR524 continue when you start to program temperature settings and schedules. The 7-day, 4-setting feature is there, but more customizable since the YTH8320ZW1007/U lets you override individual options during the day. They'll reset to your previous settings for next week.
Temperature precision is where this model stands out. Others have liberal swings which don't align with the actual room temperature. The YTH8320ZW1007/U is true though, and the difference between reported and actual temperatures is less than 1 degree.
Z-wave functionality works as intended. Remote monitoring and adjustment as well as triggering other smart devices is supported. Your phone will even send notifications when it's time to change a filter or the HVAC system require maintenance.
What We Didn't Like
The thermostat will continue to work normally in the event of power failure. Its clock resets every time though. Some smart hub apps can override the thermostat's schedule when you set a custom temperature through them. The temperature will remain fixed until you turn the feature off in the app.

Tech Specs
Dimensions: 4.3 x 3.1 x 3.9 in.
Weight: 1 lb.
Battery powered: No
The Pros
Good scheduling options
Can be installed without C-wire
Bright touchscreen
Easy pairing process
The Cons
Power outages reset the internal clock
Some apps permanently override built-in scheduler until turned off
5. Stelpro Z-Wave Plus KI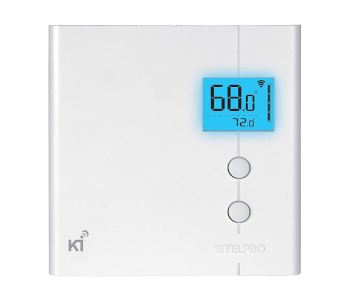 View on Amazon
Editor's Rating: 4/5
Homeowners who have baseboard heating have long been at a disadvantage when it comes to smart thermostats since no model supported this type of heating before. Now, everyone with high voltage heating systems can make them smarter and save some money with Stelpro's Z-wave Plus Ki! This specialty thermostat will carefully control your baseboards to create the perfect climate in every room. Installing it is a breeze, as is setting the target temperature and changing between modes.
Overview of Features
The Ki is a minimalistic thermostat controlled mainly through your Z-wave hub's smartphone app. Manual controls are limited to up and down keys which also act as menu access and confirmation buttons depending on how long you press them. The thermostat has a small blue display that contains information on the current and target temperature, signal strength, heat intensity, and external temperature if an external temp sensor is part of your setup.
Your home is heated gradually thanks to the Ki's 4-level heating power option. Ordinary heaters run on their maximum setting and turn off when the target temperature is achieved. This is wasteful and inefficient since a lot of power is used, and the air isn't heated evenly. The Ki controls the heaters in stages, letting the space around them heat up uniformly. If the temperature drops, a higher stage activates briefly to correct this, which is more energy-efficient.
The easiest way to control the Ki is through your hub's app. There it appears as a thermostat with two target temperatures. Eco is the lower value and used when you're not in the room. Comfort is higher and can be set to activate when you turn the lights on, as part of an evening scene, etc. Both modes come with pre-programmed values which you can adjust manually.
What's Bad About It?
You can't use the Ki with systems that incorporate a fan. The thermostat doesn't have fan control, and you risk blowing a fuse if you try to install it. Indoor temperature sensors aren't supported either and can't be used as guides for controlling the temperature in specific rooms.

Tech Specs
Dimensions: 5.2 x 5 x 2 in.
Weight: 8 oz.
Battery powered: No
The Pros
Supports high voltage electric heating
Has two target temperature settings
Easy to configure as a trigger for smart devices or part of scenes
Heats in four stages
The Cons
Doesn't work with fans
Doesn't support indoor temperature sensors
6. Best Budget Option – Remotec ZTS-500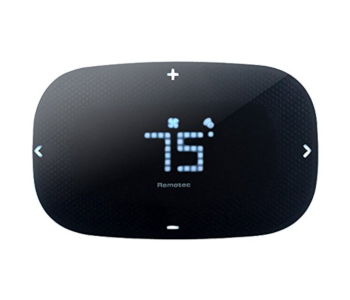 View on Amazon
Editor's Rating: 4.1/5
Lastly, there's the ZTS-500 by Remotec. This futuristic-looking thermostat is easy to operate, supports a wide range of HVAC setups, and costs less than its competitors. The fact that it works with hubs like Vera and can be powered either through the C-wire or batteries only sweetens the deal. Get this model if you want to save a few bucks without giving up on Z-wave connectivity.
Overview of Features
The Remotec ZTS-500 is the best-looking thermostat in the bunch! Its oval shape and intuitive user interface make it not just a functional thermostat, but a conversation piece too. Its four navigation keys deserve a special mention as they're used to adjust the temperature and navigate the menus quickly. Once you're inside a sub-menu, their functions change depending on the context.
The thermostat can either be connected to the Common wire or run for a year off of four AA batteries. Some thermostats can't handle batteries while plugged into the C-wire. The ZTS-500 has no problems with this, meaning you can plug it in and keep the batteries as a failsafe in case of power outages. The thermostat works with single and two-step heating systems regardless of whether they're gas or electric. It supports heat pumps and zones for maximum compatibility.
The ZTS-500 gets recognized by Z-wave hubs without issues and added to their list of smart devices in seconds. The physical unit's controls are limited and it has no scheduling, so you'll be doing the programming and remote control from an app. Since it's a recent model, the ZTS-500's Z-wave connection is encrypted by default. This means your thermostat is protected from hacking attempts from the get-go and needs no input from you to be safe. The manual dedicates a large portion to instructing you on how to connect to Z-wave and troubleshooting common errors.
Are There Drawbacks?
The temperature readout on the thermostat is slow to update, sometimes taking more than five minutes to register a change. This applies to temperature readings sent to your phone too. There's a small chance you'll get a faulty unit that turns the HVAC on and off repeatedly if no batteries are in it. You'll get a replacement if you contact customer support, but this takes time and is a hassle.

Tech Specs
Dimensions: 6.3 x 3.9 x 1.1 in.
Weight: 9.6 oz.
Battery powered: Yes
The Pros
Cool design
Compatible with many different HVAC types
Comes with Z-wave encryption
Excellent value for the money
The Cons
Temperature readings refresh slowly
Small number of units suffer from malfunctions