Headphones Comparison: Jabra Elite Active 65t vs. Bose SoundSport Free
3D Insider is ad supported and earns money from clicks, commissions from sales, and other ways.
The Jabra Elite Active 65t and the Bose SoundSport Free are two of the best and most popular truly wireless headphones that are designed for sports. Both can be bought for less than $200, with the Jabra product being the more affordable one. But while both headphones are primarily intended for sports use, each of them is designed for different preferences when running and working out: one is for those who prefer to block out background noise while the other is designed for better situational awareness, especially during outdoor runs.
In this headphones comparison guide, we'll highlight the pros and cons of both headphones, as well as their similarities, to help you decide with your next purchase.
Quick Look
Jabra Elite Active 65t
Bose SoundSport Free
Form Factor
In-ear
Earbud
Enclosure Type
Closed-back
Semi-open
ANC
No
No
Connectivity
Bluetooth
Bluetooth
Battery
Headphones: 5 hours
Charging case: 10 hours
Headphones: 5 hours
Charging case: 10 hours
Weight
Headphones: 0.43 oz
Charging case: 2.4 oz
Headphones: 0.64 oz
Charging case: 2.8 oz
Price
Amazon
Amazon
Design
There is no clear winner between the Elite Active 65t and the SoundSport Free regarding overall design, as both have their own advantages. The Jabra product has a better IP rating, a better control scheme, and a more compact charging case; while the Bose product is more comfortable to wear for long hours, which is a big plus, and has a more secure magnetized charging case. Both headphones are extremely portable, include the same set of accessories, and are available in different sporty colors.
Fit
Although they look very similar at first glance, the Elite Active 65t and the SoundSport Free are actually different types of truly wireless headphones. The former has a typical in-ear fit and closed-back earpieces while the latter has an earbud fit and a semi-open design, which is quite uncommon among both earphones and earbuds. Both headphones are extremely breathable because they don't cover your ears, and they lack any form of cables that might get caught into gym equipment and other objects while you are working out.
The Bose earbuds are more comfortable to wear for long hours since their ear tips don't enter your ear canals like in-ear headphones or earphones. They stay securely in your ears, with the fins in their ear tips making for a more stable fit. There are three different sizes of ear tips – called "StayHear+" sports tips by Bose – included in the box. Unlike with some sports earphones, you can't remove the stability fins individually and mix and match different ear tip and fin sizes for a more personalized fit.
With their typical in-ear fit, the Jabra earphones are more fatiguing to wear for long hours, especially if you have small ears or can't get a proper fit with any of the included ear tips. They also include three pairs of ear tips (small, medium, large). Although they lack stability fins, they stay securely in your ears and don't easily pop out during runs and more intense exercises.
Build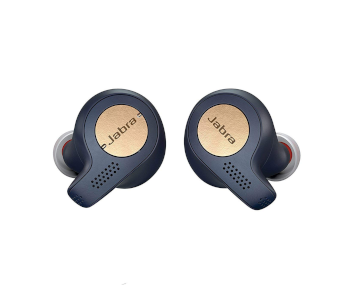 Both the Elite Active 65t and the SoundSport Free are well-built headphones with sturdy and durable housings but are quite bulky for truly wireless headphones. Their respective charging cases are also sturdy and secure. But the Jabra earphones have a better IP rating and look more premium overall due to their nice matte finish. They are rated IP56, which means they are protected against both dust and sweat – an especially beneficial aspect for outdoor training. Moreover, they are better-protected against rain, which is useful for outdoor runners.
With their IPX4 rating, the Bose earbuds are less protected against sweat and rain and don't offer any protection against the ingress of solid particles like dust and dirt. They are also bulkier than the Jabra earphones, making them more noticeable in your ears. But they are still extremely lightweight, with the small weight difference between the two headphones being practically negligible.
Controls
The Elite Active 65t have a more user-friendly and better overall control scheme, though their controls can be confusing at first due to the number of functions. Their earpieces each feature a small button on the backplate: The right unit has a multi-function button that allows you to pause and play music, manage your calls, and enable your voice assistant. You can also turn on or off the talk-through mode, which is usually found in noise-canceling headphones. Meanwhile, the left unit has a rocker-type button that allows you to adjust the volume, skip tracks, and check the battery status.
Featuring a dedicated Bluetooth button and a typical three-button control scheme for call and music management and volume control, the SoundSport Free are not far behind regarding control options. But their control scheme is more difficult to use, especially while on the move. Their earbud buttons are stiff and not easy to press while working out. You may need to remove the earbuds to make accurate button inputs, which can be a hassle.
Both headphones automatically turn on when you remove them from their cases and turn off when you put them back in. The Jabra earphones also automatically pause the audio when one unit is removed from your ear – a feature that the Bose earbuds lack. Once the removed earpiece is placed back into your ear, the audio will resume. You can adjust the auto-pause feature, whose resume time window is set to 60 seconds by default, in the companion app.
Portability
Both the Elite Active 65t and the SoundSport Free are extremely compact and lightweight headphones that are easy to carry for everyday use. They will easily fit into small pockets, which is especially beneficial if you prefer to bring only a small bag – or don't carry a bag at all – when going to the gym and running outdoors. But if you factor in their charging cases, the Jabra earphones are more portable overall because their charging case is more compact.
The charging case of the Bose earbuds is one of the bulkier ones among truly wireless headphones, measuring roughly four inches in length. For comparison, the charging cases of many truly wireless headphones – including the Samsung Galaxy Buds, the Apple AirPods Pro, and the Jaybird Vista – are usually less than three inches long. On the bright side, their charging case is magnetized, keeping the earbuds more secure inside when not in use or while charging.
Accessories
The Elite Active 65t and the SoundSport Free are tied in this category. Both only include a charging case, a USB charging cable, and three pairs of ear tips. For the Jabra earphones, there are no additional foam tips included. For the Bose earbuds, there are no separate sets of stability fins included since their stability fins, as mentioned, are integrated into the ear tips.
Performance
The Elite Active 65t and the SoundSport Free are both good-sounding headphones with decent battery performance. But overall, the Jabra earphones are the better-performing headphones, beating the Bose earbuds in most aspects. Their noise isolation, mic performance, and app customization options are better. Moreover, they support multi-device pairing, charge faster, and have lower sound leakage. They are more suitable for different usages.
Sound
Truly wireless headphones are not particularly known for their sound quality. Many of them are either mediocre or only decent at best in this category. The Elite Active 65t and the SoundSport Free, however, stand out as two of the best-sounding truly wireless headphones on the market. While both are not ideal for critical listening, they are more suitable for audiophiles who are looking for good-sounding headphones in a truly wireless format.
Both headphones sound balanced, with good treble, mid-range, and bass performances. The Bose earbuds have a more accurate bass response and a more open sound, with their semi-open design allowing for a wider soundstage. But their soundstage is not as good as the soundstage of some of the best open-back headphones that are designed for audiophiles and professionals. On the other hand, the Jabra earphones can connect to an app featuring an equalizer, allowing you to modify the sound if the default tuning is not to your liking.
Isolation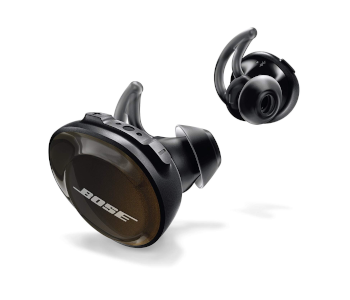 With their closed-back design and tight in-ear seal, the Elite Active 65t provide much better sound isolation. Their passive noise isolation is better while their sound leakage is lower, allowing you to increase the volume without disturbing nearby people with your loud music. They are decent at reducing the sound of bus and airplane engines and are good at blocking out the sound of chatter and high-frequency sounds.
For blocking out ambient noise in the office and while commuting, traveling, and working out in the gym, the Jabra earphones are much more suitable. If you want to monitor your surroundings or talk to someone, you can simply enable the talk-through mode. When the talk-through mode is enabled, the earphones let sound in, allowing you to hear your surroundings without removing your earphones. You can adjust the level of the talk-through mode in the companion app.
It's not surprising that the SoundSport Free have poor noise isolation considering their more open earbud design. They are more suitable if you prefer better situational awareness at all times, especially when running outdoors. Their sound leakage is relatively low, though, which is beneficial if you want to use them for listening to music at the office and while commuting despite their poor noise isolation.
Mic
Featuring a four-mic system, the Elite Active 65t have better mic performance. But while their recording quality is better, they are not much better at noise reduction than the SoundSport Free. Both headphones are best used for phone calls in a quiet environment and allow for easy management of multiple calls.
Battery
Both the Elite Active 65t and the SoundSport Free can run up to five hours on a single charge, with their respective charging cases identically holding two additional charges (10 hours). A five-hour single-charge battery should be good enough for sports use for most people. But for office use and long flights, both headphones will require at least one full recharge. The Jabra earphones charge faster, with 15 minutes of charging time already providing one hour and 30 minutes of playback. The Bose earbuds only provide 45 minutes of playback after the same amount of charging time.
Both headphones also include power-saving features. The Elite Active 65t automatically turn off after one hour of inactivity or after 15 minutes without connection when the earpieces are not in the charging case. If you leave the left earpiece on while using the right earpiece – which is the main unit – in mono mode but you don't place it back into the charging case, it will automatically turn off after 15 minutes without any link to the main unit. Meanwhile, the SoundSport Free enter sleep mode after 20 minutes of inactivity.
Connectivity
The Elite Active 65t and the SoundSport Free both use Bluetooth technology for wireless connectivity and lack the ability to switch to wired mode. Both of them don't support NFC for faster pairing and have high latency, making them unsuitable for gaming. The Jabra earphones can connect with up to two devices at the same time, with easy switching between the two devices, while the Bose earbuds are limited to one.
Regarding app support, the Elite Active 65t are also better. Their Jabra Sound+ app for Android and iOS offers more customization options – including options to modify the sound using an equalizer and adjust the talk-through mode. You also get basic fitness tracking, courtesy of the integrated motion sensor in the earphones. The Bose Connect app for the SoundSport Free, on the other hand, has very limited customization options, which is disappointing.
Both of those apps also include headphone locator features – "Find My Jabra" for Jabra Sound+ and "Find My Buds" for Bose Connect – helping you find your headphones if you lose them. This is especially handy since truly wireless headphones are easier to lose or misplace due to their extremely compact design.
Wrap-up
Jabra Elite Active 65t
The Elite Active 65t are much more versatile than the SoundSport Free, with their better sound isolation being the biggest reason for that. They are the better option if you want to block out ambient noise in the office and while commuting, traveling, and working out. In addition, they have a better IP rating and are much more customizable using their companion app, with the option to modify their default sound. They also support multi-device pairing and have more user-friendly controls. But on the other hand, their typical in-ear fit is not the most comfortable, making them more fatiguing to use for long listening sessions. Overall, the Elite Active 65t offer better value for the money and are more suitable for all-around use.
Pros
Cons

Good sound quality
IP56 rating for dust and sweat protection
Good passive noise isolation
Minimal sound leakage
Good app customization options
Multi-device pairing feature

Short battery life per charge
In-ear fit is not for everyone
Bose SoundSport Free
The SoundSport Free are the better option if you prefer better situational awareness, not only during indoor and outdoor workouts but also while traveling. Their semi-open design allows you to monitor your surroundings without using a talk-through feature. They are more suitable for outdoor runners, with their more comfortable earbud fit making them better for particularly long runs. While their IP rating is unimpressive, their overall build quality is good, with their magnetized case keeping the earbuds more secure when not in use. The SoundSport Free are not as versatile as the Elite Active 65t, but they are still a solid pair of truly wireless headphones that are great for sports use.
Pros
Cons

Good audio reproduction
More comfortable earbud fit
Good build quality
Secure magnetized case
Low sound leakage
Lost earbuds tracker feature

Poor noise isolation
Short battery life per charge
Limited app customization