5 Best Full Tower Cases for Your PC
3D Insider is ad supported and earns money from clicks, commissions from sales, and other ways.
Many PC users would agree that when building a PC, how it looks at outside is almost as important as what it contains inside. A high-quality PC case isn't all about looks but can also significantly affect your PC's performance and how long it lasts. Although it wouldn't hurt to get a case that looks good – after all, you'll be spending a lot of time looking at it.
In this article, we're going over the best options for those who prefer the ample space that full tower cases provide. What should you look for in a full tower case? Check out our buying guide and top recommendations.
What to consider when buying a full tower case
The first thing to keep in mind is that your choice of which full tower case to get should not be your top priority when building a PC. In fact, we would argue that it should be the last priority.
Get all the components you want first including the motherboard, storage devices, CPU, graphics card, and any external devices you may need. When you're confident that you've got the hardware you will need for your use case, THEN decide on which full tower case to buy.
1. Compatibility with motherboard
Although full-tower cases are pretty big, you may still want to check the size of the full-tower case you're eyeing and compare it to the size of your motherboard. Most PC cases are pretty transparent about this and it should only take a cursory look at its specs to determine if the full tower case is large enough for you.
2. Cooling
A high-end PC rig will certainly need advanced cooling solutions, so make sure that your full tower case has provisions for either a liquid cooling system or multiple fans. The size of the full tower case should also be considered if you're planning on building a sophisticated cooling system with a fan assembly and tall heat sink.
3. Number of drive bays
A full tower case will have a limited number of drive days for your HDDs, SSDs, and optical drives, so take stock of exactly how many you need. You might also want to consider the possibility that you will need more in the future.
Keep in mind that many of the newer full tower cases have done away with the 5.25-inch drive bays with the assumption that optical drives are no longer used as much. If you plan on installing a DVD or Blu-ray drive on your PC, then make sure that you're getting a full tower case with the appropriate kind of drive bay.
4. Front panel slots
Front-facing panels have been a great quality of life improvement that we simply can't do without nowadays. We recommend getting a full tower case that supports both USB 3.0 and USB 2.0 ports on the front panel, as well as standard jacks for a headphone and a mic.
Newer models might even have USB 3.1 Type C ports. While there probably aren't a lot of uses for these ports right now, it's not such a bad idea to have it on your PC for future-proofing.
5. Aesthetics
Finally, you will want to get a full tower case that pleases you visually. If you're a hardcore PC builder or gamer, then how your PC looks like is pretty much an extension of your personality. Whether you're going for a sleek and sophisticated look or something more colorful or in-your-face, the aesthetics of the full tower case is not a factor that you should ignore.
Top 5 best full tower PC cases
1. CORSAIR OBSIDIAN 1000D Super-Tower Case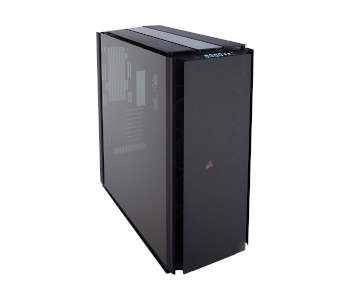 View on Amazon
If it's the sheer size you're after, then the Corsair Obsidian has got it in spades. This behemoth of a full tower case can fit both E-ATX and Mini-ITX motherboards simultaneously, allowing you to run two computers with separate power supplies at the same time. This is perfectly complemented by slots for up to 3.5-inch HDDs and six 2.5-inch SSDs and a massive provision of 18 fan mounts and space for four radiators.
On top of all that real estate, the Obsidian Super-Tower Case is also something to look at. It comes with tempered glass side doors with a smoked finish and fully integrated RGB lights. The triple-chamber design makes wire management very easy, and the RGB LED-lit front panel gives it a bit of extra flair on top of being useful and accessible.
The major drawback of the Obsidian is that it's super expensive. Even with a $500 price tag, this full tower does not with any cooling fans. It might also prove to be a bit too complicated to put together, particularly because of the lack of documentation.
Tech Specs
Size: 27.3 x 12.1 x 27.4 inches
Compatibility: Mini-ITX to E-ATX
Cooling: fan mounts and radiators
I/O: USB 3.1 Type C, USB 3.0, audio in/out
PROS
Large enough for two computers
Allows for both fans and liquid cooling
CONS
Very expensive
Poor documentation
No optical drives
2. Cooler Master H500P MasterCase Mesh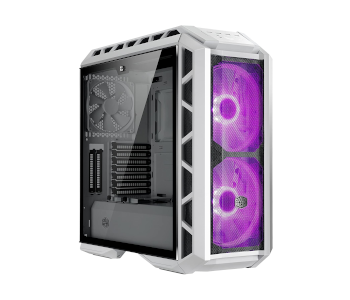 View on Amazon
True to the name of the brands, this MasterCase Mesh from Cooler Master excels in cooling. Not only does it have two RGB LED-lit cooling fans at the front and two optional fan mounts at the top, but its mesh-lined case ensures a high volume of fresh air intake.
All the cooling features, of course, only serve to support all the parts for which the MasterCase Mesh gives room for. The two PCI slots support vertical GPU installation. When combined with the tempered glass side panel, this allows you to show off your graphics card – certainly a mark of pride for any PC builder.
This full tower case also comes with a convenient front-facing panel, although the ports are limited to USB 3.0 and USB 2.0. This doesn't take away from the fact that the case looks great with its mesh design and RGB fans.
Unfortunately, the build quality of the MasterCase Mesh might leave some disappointed. Although the tempered glass side panel looks great, the rest of the case feels like it's made of cheap plastic.
Tech Specs
Size: 21.4 x 9.5 x 21.3 inches
Compatibility: Mini-ITX to E-ATX
Cooling: fan mounts
I/O: USB 3.0, USB 2.0, audio in/out
PROS
Large provisions for cooling fans and radiators
Clear PCI slots
CONS
No optical drives
No Type-C ports
Cheap acrylic construction
3. CORSAIR OBSIDIAN 750D Airflow Edition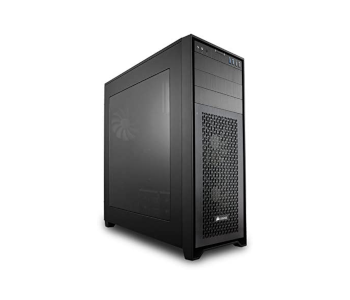 View on Amazon
If you're after a full tower case that dials back on the flair and the cost without losing functionality, then the Obsidian 750 D AirFlow Edition from Corsair sounds perfect. At less than a third of the cost of the Obsidian 1000D, this full tower case is large enough for multiple PCI components and sports a more traditional look.
The appearance of the Corsair 750D is a huge departure from the other entries in this list. This is a decidedly minimalist full tower case made with solid steel and brushed aluminum with a steel black finish. The translucent side panel is its biggest design element that serves to show off your PC's internal components.
Speaking of internal components, the Obsidian 750D has enough space to support up to ten 3.5-inch or 2.5-inch drives and has three 5.25-inch bays for optical drives. The front mesh panel, along with front and rear fan mounts promote high airflow for the internal space.
With the modular cage system for the drives and tool-less options for drive installation, building a PC with the Obsidian 750D is as straightforward as it can be. Cable management might be a bit of a challenge, though, which is a consequence of this case's minimalist design.
The lack of USB 3.0 ports on the front panel is also problematic, particularly for use cases that require high data transfer speeds.
Tech Specs
Size: 21.5 x 9.3 x 22 inches
Compatibility: Mini-ITX to E-ATX
Cooling: fan mounts
I/O: USB 2.0, audio in/out
PROS
Design promotes high airflow
Minimalist look
Has a provision for optical drives
Made from solid steel and brushed aluminum
CONS
No visual flair
No USB 3.0 ports
Poor cable management
4. Fractal Design Define 7 XL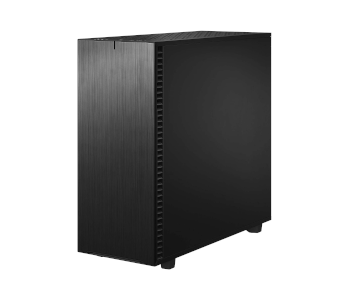 View on Amazon
If there's a word to describe the Define 7 XL full tower case from Fractal Design, then it would have to be elegant. Doing away with all the flashy RGB lights of other cases, the Design 7 opts for a minimalist full aluminum finish that reflects its modular and easy to use nature.
The interior space of the Define 7 has enough room for 18 HDDs and five SSDs. The multi-bracket design means that any unused fan mounts can instead be used to house an HDD, SSD, or even a pump for a custom water cooling system. In case you need to do a lot of work inside, the entire top can be removed and replaced with minimal effort.
Indeed, the strength of the Define 7 lies in the customization options it offers to the user.
The sleek brushed aluminum front panel is one of the defining parts of the Define 7. If needed, this panel can be removed with the convenient dual-handed hinges and magnetic latches. The front-facing ports include a single USB 3.1 Type-C among several USB 3.0 ports.
Tech Specs
Size: 23.7 x 9.4 x 22.2 inches
Compatibility: Mini-ITX to E-ATX
Cooling: fan mounts and radiators
I/O: USB 3.1, USB 3.0, audio in/out
PROS
Elegant aluminum finish
Easy to use trays for HDDs and SSDs
Plenty of cable management options
CONS
No drive bays for optical drives
Heavy
5. Lian Li O11 Dynamic XL Full Tower Gaming Computer Case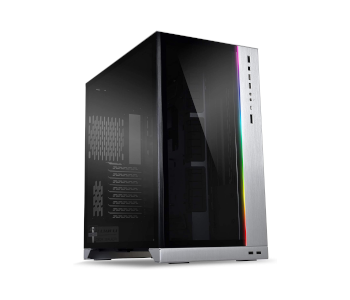 View on Amazon
Building a PC specifically for gaming requires a few special touches, not the least of which is extremely efficient cooling and flashy RGB lights. Fortunately, the O11 XL from Lian Li delivers on both fronts.
On the performance side, the O11 has enough space to house up to 11 SSDs and four HDDs, with all four contained in hot-swappable trays. Being geared towards gaming, the O11 can fit graphics cards up to 446 millimeters in length. The front panel, made with exquisite aluminum, sits alongside an RGB LED strip and provides USB 3.0 ports both at the top and the bottom.
Cooling is one of the focus areas of the design of the O11. Aside from the top and bottom fan assemblies, the full tower case has enough space for a custom water cooling system inside. In fact, the O11 feels like it was made for water cooling with the internal RGB lights and a cable management system that puts water cooling front and center.
With all those things considered, the O11 isn't exactly a full tower case we would recommend to those with no PC assembly experience. A lot of the internals of the case are exposed and it would be a huge test of anyone's cable management skills to make it look as neat as possible. If you can pull it off, though, then this could be one of the best-looking gaming setups you've ever had.
Tech Specs
Size: 23.7 x 15 x 23.3 inches
Compatibility: Mini-ITX to E-ATX
Cooling: fan mounts and radiators
I/O: USB 3.0, audio in/out
PROS
Large internal space
Optimal for water cooling
Has a provision for hot-swappable drives
CONS
No USB 3.1 ports
Complicated assembly
Final thoughts
If you're planning to build a PC, then you probably have a vision in your head of what you want it to look like. However, we suggest taking a more sober stance and placing a priority on what matters most – namely, your choice of motherboard, CPU, GPU, HDD/SSD, and cooling systems. If you can determine the exact specs you will need for your use, then you can move on to choosing a PC case to house all of them.
Full tower cases represent the largest type of PC case you can get. They are perfectly suitable for large motherboards and if you need to have multiple storage devices installed simultaneously. Aside from compatibility and cooling, there's also the matter of aesthetics – how your PC looks like is a reflection of your personal style.