5 Best VR Headsets Under $100
3D Insider is ad supported and earns money from clicks, commissions from sales, and other ways.
We just recently published an article on the best VR headsets that you can get for less than $50, making it apparent that it's possible to get a taste of what VR technology has to offer without spending a lot. Those headsets really only deliver the bare minimum experience, though. If you're willing to spend a bit more – but not much more – then we've prepared this list for you.
With a $100 budget, you can get a VR headset with a few more features. You can also afford something that's a bit more stylish or a model that some access to more content. Check out our list below of the best VR headsets we can recommend for less than $100.
What to look for in sub-$100 VR headsets
You can expect a bit more from a VR headset that costs up to $100. By no means are these top-of-the-line models, but they also aren't the type of headsets that you can mindlessly give to your young kids.
1. Compatibility
At this price range, you're still unlikely to find a VR headset that comes with an integrated display. This is kind of a bummer, but a good LCD screen is expensive. This means that you have no choice but to use your smartphone as a makeshift screen for the headset. Before you decide on getting that headset, make sure that your smartphone will fit on it, especially if you own a huge phone like the Galaxy Note 10.
2. Adjustable IPD and focal distance
Your VR headset needs to be able to adapt to different users and to different phone screens, which is why it's important to get a model with adjustable focal distance and interpupillary distance (IPD). These are pretty standard features and have been around since VR headsets first became a thing several years ago, but it's still worth the time to do a quick check. An IPD or focus that is not adjusted perfectly can result in a lot of eye strain.
3. Comfort
With higher-priced options, you can afford to get a headset with more premium materials. This includes a more solid build, softer face cushions, and more comfortable straps. If you're the type who plans to wear a VR headset for several hours while playing a game or watching a movie, then it's certainly worth the extra cash to invest in a more comfortable option.
4. Interaction
This is probably one of the things that separate headsets that cost less than $50 and those that cost up to $100. Some of the mid-priced offerings at this range will come with some sort of handheld control that you can use to interact with the VR environment or simply to navigate through the menus of the companion mobile app. This can potentially open up a whole dimension of VR content to you, which would have otherwise been inaccessible with a cheaper headset.
5. Portability
Since you're using a wireless headset and a smartphone to consume your VR entertainment, it makes sense to make use of your setup's portability. With a portable VR headset, you don't have to miss out on VR content if you're outside the house or on a vacation. Thus, you'll need to pick a headset that is small and light enough to carry around. You may also want to pick a headset for which you can buy a compatible carrying case.
The top 5 best VR headsets under $100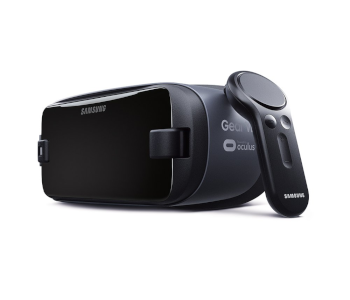 Editor's Rating: 4.9/5.0
There have been numerous iterations of the Samsung Gear VR since 2014, with each one being achieving a fair amount of popularity because of how affordable they are. The version we are highlighting here is the latest release, the SM-325, which was launched two years ago along with the Samsung Note 8. This model is the most expensive Gear VR and only barely goes below the $100 limit of this list.
As with old Gear VR versions, this headset features a comfortable face cushion and a deep nose cutout. An adjustable strap wraps around the back of your head, but the lack of a central thong means that the headset has to be firmly strapped to your face to stay put. This can be uncomfortable in the long run, and you're inevitably going to end up with lines in your face after every VR session.
The lenses of the Gear VR, as usual, are impeccably clear. The Gear VR is pretty well-known for having standard lenses instead of the Fresnel lenses used by HTC and Oculus. Standard lenses, although an older technology, have their fans because of how they avoid the issues with "god rays."
The standout feature of the new Samsung Gear VR is the handheld control that comes with a trigger button, an up-down rocker, and a touchpad. With these controls, you can enjoy a host of VR games and experiences available in the Oculus-powered online store. The Gear VR content library has grown massively over the years with a virtually endless stream of offerings.
The biggest drawback of the Gear VR has always been the fact that it's really only a good option if you already own a compatible Samsung phone. Even then, the Gear VR will be pushing the boundaries of a $100 budget.
Tech Specs
Size: 207 x 120.7 x 98.6 mm
Weight: 345 grams
The Pros
Comes with handheld controller
Very clear lenses
Content powered by Oculus
The Cons
Expensive
No central thong
Limited compatibility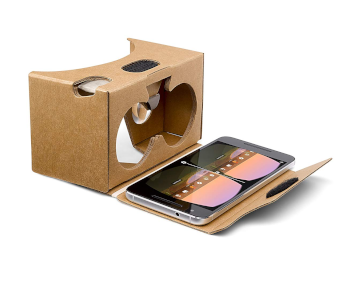 Editor's Rating: 4.6/5.0
One of the earliest VR headsets, Google Cardboard remains one of the most recommended VR headsets for beginners. Aside from how simple and unsophisticated it is, it's also incredibly cheap – you can get it nowadays for less than $10. At that price, you won't feel too bad about ditching the Google Cardboard eventually and moving on to something more advanced.
As the name implies, this VR headset is made of cardboard – or thick corrugated paper, to be more specific. Naturally, you can only expect so much from a carboard-based headset in terms of durability and comfort. It's simply too uncomfortable to wear for long stretches, although the included nose pad helps.
The lack of a face cushion also results in a poor fit, which means that the headset tends to slide down if it hasn't been positioned perfectly.
There are two things that make the Google Cardboard particularly suitable for all-around use: its compatibility with any smartphone that has a screen that measures between 4 to 6 inches, and the Google Cardboard app. The mobile app is your gateway to thousands of VR apps, games, and videos. Since Google Cardboard has been around for many years, its library has become highly extensive through the efforts of both indie and big developers.
The Google Cardboard headset is a great way to get into VR if you're worried about wasting too much money if it doesn't become your thing. It also makes a great gift to kids because it's incredibly easy to use. If you end up ditching it eventually, you don't have to feel too bad about throwing out the cardboard body.
Tech Specs
Size: 149 x 89 x 55.9 mm
Weight: 96 grams
The Pros
Very cheap
Extensive content
Works with a lot of phones
The Cons
Uncomfortable
Poor fit
Flimsy material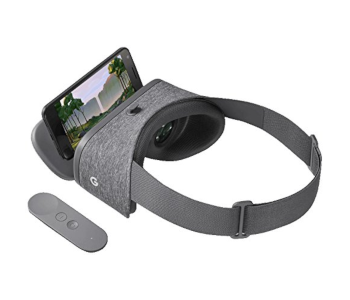 Editor's Rating: 4.8/5.0
Our pick for the best value-for-money VR headset that costs less than $100 is the Google Daydream View, which costs around $70 and is a huge step-up from its Cardboard counterpart.
It's easy to pick the Daydream View apart because of its breathable fabric design with a classy and elegant pattern. This fabric extends to the face cushion and straps, helping make the Daydream View much more comfortable for prolonged VR sessions. There is no central thong on the straps, so the headset will still end up hugging your face.
We like how the face pad can be removed and washed when needed, making the Daydream View a more hygienic option if you intend to share your VR headset with other people.
The Daydream View comes with a handheld controller that comes with a few basic buttons and tracking capabilities. This is a central element to this headset's interactive features which are fully demonstrated by the extensive library of VR content in the Daydream mobile app.
Speaking of the app, the Daydream View headset runs into the same problems as the Samsung Gear VR in terms of smartphone compatibility. The Daydream app is very resource-intensive and will only run on the latest Android phones. The list isn't that long, so make sure that your phone is compatible before your buy the Daydream View.
Tech Specs
Size: 167.6 x 116.8 x 99 mm
Weight: 260.8 grams
The Pros
Made with breathable fabric
Standout design
Comes with handheld controller
Extensive content
The Cons
Limited compatibility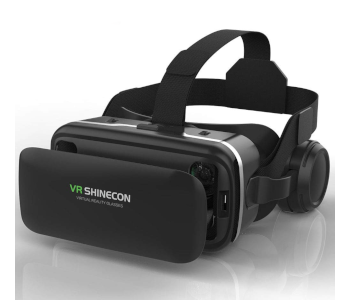 Editor's Rating: 4.2/5.0
Rounding out this list is the VR SHINECON headset, which costs just a little more than the Google Cardboard. This one is made of tough plastic, has a T-shaped strap and a polyurethane-lined face cushion, and a magnetic cover for the phone slot.
The VR SHINECON headset has been around for a while and has gone through several upgrades. The 2019 version, which we are highlighting here, comes with integrated audio and a handheld controller. The handheld controller can be used with either games or multimedia and has a few basic buttons and an analog stick.
The lenses of the new VR SHINECON headset are made with Japanese SLR Optical PMMA material and has been designed to simulate the natural curvature of the human eye. The pupil distance and focal distance can be adjusted individually so that even people with myopia can use them without glasses.
The headset comes with a QR code that gives access to a VR application for APK-based downloading content specially made for the VR SHINECON. There's not much in there, though, so you might want to download another app like Google Cardboard. Take note that the more interactive apps in Google Cardboard aren't exactly compatible with the VR SHINECON's controller.
The VR SHINECON is still an excellent budget VR headset that you can use with just about any smartphone. However, this versatility comes at the price of the absence of a dedicated content library. There are still a lot of VR apps and videos out there, but none that are as conveniently available as those that can be found through Google Cardboard or any Oculus-based online portal.
Tech Specs
Size: 167.6 x 116.8 x 99 mm
Weight: 260.8 grams
The Pros
Cheap
Comfortable
Integrated audio
Comes with a handheld controller
The Cons
No dedicated content library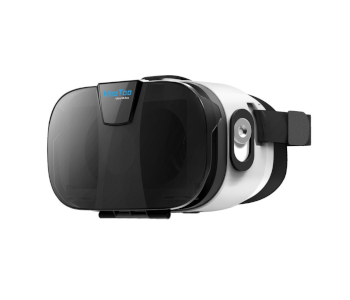 Editor's Rating: 4.0/5.0
The HooToo VR headset is a basic headset that isn't exactly impressive but does not disappoint given its price tag. At around $40, this headset offers a VR experience that is just what we expect – which is still a compliment, as far as we're concerned.
The HooToo VR headset has a front-opening slot for your smartphone, which fits any model that measures 4.85 to 6.25 inches vertically and 2.3 inches to 3.8 inches horizontally. This should cover a wide enough range – form the small iPhone SE to the large iPhone 6S Plus. The innovative design even leaves several air vents to prevent your phone from overheating while inside the headset.
The T-shaped strap distributes the weight of the headset on top of your head, and the soft, breathable face cushion feels comfortable, even after a few hours of use. The inner compartment of the HooToo VR headset is quite generous and is actually large enough to allow you to wear glasses while using the headset.
The magnetic button at the side of the headset is meant for interaction with VR apps and games, but don't expect it to be compatible with more involved apps from Google Cardboard. It's basically just a trigger button when the app you're using requires any sort of input. For anything that requires more complicated input, you're still better off getting a handheld controller.
As with any headset that doesn't come from Oculus, Google, HTC, or Sony, the HooToo VR headset does not enjoy the benefit of having a dedicated content library. There's a lot of VR games, videos, and app that you can find online, of course, but it's going to take some work to find one that is compatible with this headset's limited hardware.
Tech Specs
Size: 167.6 x 116.8 x 99 mm
Weight: 320.3 grams
The Pros
Cheap
Extensive phone compatibility
Can be used with glasses
Adjustable focus and IPD
The Cons
Limited interaction options
No dedicated content library
Final thoughts
You can get lots of perfectly good VR headsets for less than $100, even from big names like Google and Samsung. These still require having a good smartphone on hand, although they may offer more interactive options.
Keep in mind that there is simply no way that a sub-$100 headset can offer the full VR experience – there are still a lot of limitations to the type of VR apps that your phone can run. However, a cheap VR headset is a great way to check out what the technology has in store for you.