10 Best Drones for Professional Photography in 2019
3D Insider is ad supported and earns money from clicks, commissions from sales, and other ways.
Taking aerial photos using drones isn't just fun – it's also one of the most lucrative things you can do with a drone. Estimates put the market size of the global drone photography industry at about USD 4.4 billion, and this figure is expected to grow to USD 63.6 billion by 2025 at a steady annual growth rate of 55.9%.
If you're thinking of getting a slice of this massive pie, then the first thing you need to do is to read up on the best photography drones available in the market right now. Not just any drone will do, especially if you want to stand out in a hugely competitive market. Check out our list of the best photography drones that you can get in 2019.
What to look for in a professional photography drone
The camera drones available today are more advanced than they have ever been, and we continue to see top brands making improvements on them constantly. However, more sophisticated drones are naturally more expensive. To make sure that you get your money's worth, then these are the top considerations you should be making when selecting a drone for photography:
1. Camera quality
2. Gimbal
3. Size and weight
4. Automatic camera and flight modes
5. Flight time
6. Obstacle avoidance
The top 10 best photography drones in 2019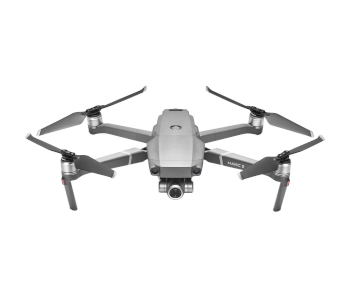 Editor's Rating: 4.9/5.0
The Mavic 2 Pro is our absolute favorite camera drone because of how much technology it manages to cram inside such a compact design. Considered one of the best ultra-portable drones, the Mavic 2 Pro continues to impress a year after its launch.
To start off, the Mavic Pro is equipped with an excellent Hasselblad camera with a 1-inch CMOS sensor that allows it to capture 20 MP stills and 4K videos at 30 fps. This is absolutely one of the best cameras to have ever graced a drone. The color profile is brilliant, giving you more options for color grading during post-processing.
On top of an adjustable aperture (f/2.8 – f/11) and large ISO range (100 – 12800), the Mavic 2 Pro also has a Hyperlight feature which can be used to reduce graininess and noise in low-light shots.
The Mavic 2 Pro uses optical sensors for its ActiveTrack feature, which can be used to automatically track a moving object. This drone can even predict the trajectory of the subject, which helps it follow-through even when the subject temporarily moves out of view. An omnidirectional obstacle avoidance system ensures that the drone does not crash into an obstacle even when you let the autonomous controls take over.
The most amazing thing is that DJI has managed to integrate all of these features inside a drone that is about the size of a large bottle of water when folded up. If you're the type of photographer who is always on the go, then the Mavic 2 Pro is certainly one of the best camera drones that you can get.
Of course, being a small drone does have its limitations, so don't' go flying the Mavic 2 Pro in strong winds. The Mavic 2 Pro costs close to $2000, which may be a bit too much of an investment for a drone photographer who is just starting out.
Tech Specs
Camera: 20MP / 4K
Field of view: 77 degrees
Gimbal: 3-axis
Flight time: 31 minutes
Weight: 907 grams
Size: 214 x 91 x 84 mm
The Pros
Compact and lightweight
Omnidirectional obstacle avoidance
Large camera sensor
Wide selection of camera modes
Rich color profile
The Cons
Expensive
Unstable in strong winds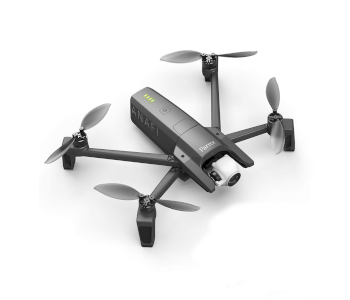 Editor's Rating: 4.6/5.0
Drones for professional photography have to pass some pretty high standards, so we're not exactly scraping the bottom of the barrel when we choose the Parrot Anafi as our budget pick. It still costs close to $700, but let's get here – going into professional drone photography is an expensive undertaking.
The Parrot Anafi was touted as Parrot's 'Mavic killer.' We're not going to discuss if it's worth that title, but it's a pretty good product even without the comparison. Its body is about as plain as you can get, so this is definitely not the type of drone that likes to show off.
Its camera, however, is spectacular. Being able to capture 4K video at 30 fps and 21 MP stills is enough to put the Anafi at par with some of the best camera drones today. The 100-3200 ISO range is quite limited, though, so you may not want to use the Anafi in low light conditions. The digital lossless zoom of up to 1.4x at 4K and up to 2.8x at 1080p is very useful and something that is rare for camera drones in this price range.
The Anafi has a couple of surprising tricks under its flight modes menu. Aside from the usual Follow Me and Orbit modes, the Anafi has three other modes that will have the drone flying around the subject in different arcs while recording. With a camera that can tilt a full 180 degrees, a good filmmaker can easily craft dynamic shots with the Anafi.
Now, the bad news: some of the autonomous flight modes of the Anafi are locked behind a paywall. This is quite frustrating, and we would have preferred that Parrot made the Anafi a bit more expensive and made all the features available to everyone.
The Anafi is a bit bigger than the Mavic 2 Pro but is much lighter. This is mainly because the Anafi is not weighed down by sensors because it does not have an obstacle avoidance system. If you're going to use any of the automatic flight modes of the Anafi, then this lack of crash protection is something you'll have to keep in mind the whole time.
Tech Specs
Camera: 21 MP / 4K
Field of view: 84 degrees
Gimbal: 3-axis
Flight time: 25 minutes
Weight: 320 grams
Size: 239 x 175 x 63.5 mm
The Pros
Compact and lightweight
Excellent camera
Affordable
The Cons
No obstacle avoidance
Flimsy build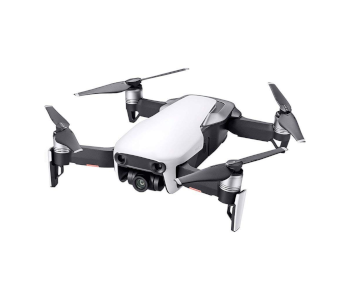 Editor's Rating: 4.7/5.0
The Mavic Air remains one of the most popular drones today. Despite its long-standing appeal to casual drone pilots, this ultra-portable drone is still considered a capable camera drone that is good enough for professional use.
The camera of the Mavic Air is equipped with a 1/2.3" sensor and captures stills at 12 MP and 4K resolution videos. If you want to capture slow-motion videos, the Mavic Air can record at 120 fps with 1080p resolution. Its 100-3200 ISO range isn't the best and may struggle under low light.
The Mavic Air is the most compact drone to be produced by DJI to come with a 3-axis gimbal. It's also the first Mavic drone to come with a true panning function, although this is limited to 12 degrees and has since been outclassed by the Mavic 2 drones.
What sets the Mavic Air apart from all other ultra-portable drones is that it's one of the smallest and lightest, even among a field of highly compact drones. This level of portability is hard to match, especially if you're looking for a drone with a high-end camera and gimbal.
One more thing we like about the Mavic Air is that it has obstacle avoidance sensors at the front, back, and downward directions. Although limited in scope, this is the main advantage of the DJI Mavic Air over the Parrot Anafi.
The Mavic Air costs just a hair more expensive than the Anafi, making these two worthwhile competitors. The Anafi may have the edge in terms of raw camera power and price, but the Mavic Air has good obstacle avoidance. Either of the two budget choices is excellent, but we think that the Mavic gives you more bang for your buck.
Tech Specs
Camera: 12 MP / 4K
Field of view: 85 degrees
Gimbal: 3-axis
Flight time: 21 minutes
Weight: 430 grams
Size: 168 x 83 x 49 mm
The Pros
Very small and light
Good (but limited) obstacle avoidance
Affordable
Excellent camera
The Cons
Short battery life
Too small for flying in strong winds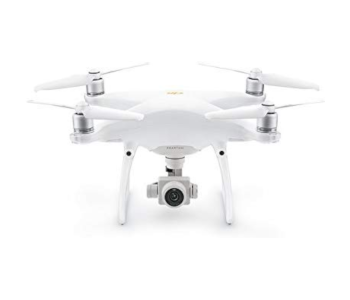 Editor's Rating: 4.6/5.0
No list of the best drones for any professional use can be complete without mentioning the Phantom 4 Pro – a legendary drone that has set the standard for professional drones now and for the future. The model we're featuring here is the V2.0, which comes with a few subtle upgrades from the original model.
To start off, the Phantom 4 Pro V2.0 has a top-of-the-line 1-inch CMOS sensor for capturing 4K video and 20 MP stills. The ISO settings go up to 12800 in Manual Mode, and the lens opens up from f/11 to f/2.8. Couples with a 3-axis gimbal, these camera options should allow you to capture amazing photos no matter what conditions you find yourself flying in.
The Phantom 4 Pro V2.0 is basically a showcase of all the Intelligent Flight Modes that DJI has to offer at the time that it was released. TapFly and Draw mode allows you to set a path or destination for the drone to automatically fly to, while ActiveTrack, Spotlight, and Profile will make it fly along while remaining focused on a subject.
The design and build of the Phantom 4 Pro V2.0 is simply impeccable. All the parts feel solid and give off a premium look, which makes it perfect for professional drone pilots. The design of the Phantom 4 Pro V2.0 is a classic and has been copied several times over by many drone brands.
The updated ESCs in the V2.0 has made the Phantom 4 Pro quieter and more efficient, extending its battery life by 2 or 3 minutes. The improvement is small, but we'll take it.
Aside from the fact that this drone isn't exactly portable, there's also a big reason for why it didn't make it to our top 3: DJI no longer produces the Phantom 4 Pro V2.0. Although DJI has declared that the line isn't going to be discontinued forever, it's already been a couple of months since it was last available in the DJI store. Thus, if you want to get a Phantom 4 Pro V2.0 today, you're going to have to settle with a used one – not exactly a good start for a professional drone photographer.
Tech Specs
Camera: 20 MP / 4K
Field of view: 70 degrees
Gimbal: 3-axis
Flight time: 30 minutes
Weight: 1375 grams
Size: 350 mm diagonal
The Pros
Top-of-the-line camera
Superior obstacle avoidance
Long flight time
The Cons
Bulky and heavy
No longer in production
Expensive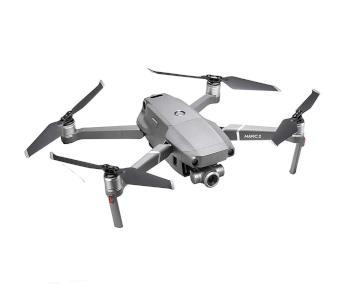 Editor's Rating: 4.5/5.0
Released in tandem with the Mavic 2 Pro, the Mavic 2 Zoom is one of the latest ultra-portable drones to come out of the DJI brand. It's a lot like the Mavic 2 Pro in some aspects. It has a 3-axis gimbal, up to 31 minutes of flight time on a single battery cycle, and an omnidirectional avoidance system.
The unique value proposition of the Mavic 2 Zoom is its 2x optical zoom lens combined with 2x digital zoom. The 4x zoom capability of the Mavic 2 Zoom is impressive and something that not many drones can match. In fact, the Mavic 2 Zoom is the only consumer drone that offers a combination of a 4K camera and an optical zoom lens.
In other aspects, the Mavic 2 Zoom pales in comparison to the Mavic 2 Pro. Its color profile is much smaller, and it has a narrower ISO range. The maximum resolution of the stills it can capture is only 12 MP. We wouldn't go so far as to say it's underpowered – the Mavic 2 Pro just set the bar too high.
Where the Mavic 2 Zoom excels is in the creative photography opportunities that its zoom function offers. It makes capturing focused shots of subjects much easier without having to fly too close to them. The Mavic 2 Zoom also has a couple of unique camera modes that are only made possible by its zoom lens, such as the Super Resolution and Dolly Zoom modes.
The Mavic 2 Zoom holds a distinct advantage over the Mavic 2 Pro: it's about $200 cheaper. For photographers who are less concerned about the resolution of their photos and are more focused on more unique framing and composition, then the Mavic 2 Zoom is the perfect ultra-portable drone.
Tech Specs
Camera: 12MP / 4K
Field of view: 77 degrees
Gimbal: 3-axis
Flight time: 31 minutes
Weight: 907 grams
Size: 214 x 91 x 84 mm
The Pros
Compact and lightweight
Omnidirectional obstacle avoidance
The Cons
Expensive
Unstable in strong winds
Narrow color profile
Editor's Rating: 4.4/5.0
Ultra-portable drones are great for moving around, but sometimes the job calls for something bigger and more powerful. The Typhoon H Pro certainly fits the bill. The flagship hexacopter from the Yuneec brand, the Typhoon H Pro is a versatile and reliable drone that is sure to satisfy any of your professional aerial photography needs.
The Typhoon H Pro has a five-rotor failsafe system that will keep the drone airborne even when one rotor or propeller fails. The retractable landing gear gives the camera a full unobstructed 360-degree view. This design gives you more flexibility in how you use the 4K UHD camera with a wide-angle lens mounted on the anti-vibration CGO3+ gimbal.
One of the standout features of the Typhoon H Pro is the integration of Intel RealSense technology for obstacle detection and avoidance. Using the R200 camera with Intel Atom module, the drone uses stereo camera technology to create a 3D model of its surroundings. The drone uses the information from this model to project a safe trajectory as it flies, whether manually or autonomously.
Moreover, Intel RealSense can remember environments based on location. This means that it can quickly recall a 3D model it has generated for a location it has been in, automatically avoiding the obstacles that it has encountered before.
The combination of a failsafe rotor system and a superior obstacle detection system makes the Typhoon H Pro one of the safest professional photography drones. It's an absolutely huge and heavy drone, though, so it may be challenging to carry around. It costs just about as much as high-end ultra-portable drones from DJI, so you merely need to choose between going big or going small.
Tech Specs
Camera: 12 MP / 4K
Field of view: 98 degrees
Gimbal: 3-axis
Flight time: 29.5 minutes
Weight: 5443 grams
Size: 538 x 432 x 317.5 mm
The Pros
Retractable landing gear
Failsafe rotor system
Exceptionally stable flight
Excellent obstacle detection
The Cons
Bulky and heavy
Underpowered camera
Editor's Rating: 4.2/5.0
It may be surprising to find the DJI Inspire 2 so far below on this list, but it is undeniably a bit too advanced and expensive to be used as a camera drone. If you can afford it, though, you're going to be the owner of one of the most powerful pieces of hardware to have ever graced the hands of a drone pilot.
To be clear, the base Inspire 2 does not come with a camera. You have the option of purchasing a bundle that has as Zenmuse X5S, which can capture 20MP still and 5.2K video at 30 fps. If you need an even more powerful camera, the Inspire 2 is also compatible with a host of other Zenmuse models. Serious professional users will surely appreciate being able to record in either CinemaDNG or Apple ProRes formats for more post-processing flexibility.
Aside from the flight stability that a large drone like the Inspire 2 provides, another benefit of having a large amount of space on the drone is that DJI was able to integrate a dual-battery design in it. This gives you a bit of insurance to catch some last-minute shots even when the main battery runs empty.
The Inspire 2 also doesn't disappoint in the area of obstacle avoidance. It comes equipped with an upward-facing infrared sensor, optical sensors at the front, and another infrared sensor at the bottom. Although the system still leaves some blind spots, these sensors work over a pretty wide range and give the pilot more confidence to fly around nearby obstacles or even indoors.
The Inspire 2 costs somewhere between $2500 to $3000. It's the most expensive drone in this list, and we know that not many people are willing to fork over this amount, especially if they are just about to venture into professional drone photography. For more advanced drone photographers, on the other hand, we cannot recommend the Inspire 2 enough. It's versatile, reliable, and very powerful.
Tech Specs
Camera: Variable
Field of view: Variable
Gimbal: 3-axis
Flight time: 27 minutes
Weight: 4250 grams
Size: 538 x 432 x 317.5 mm
The Pros
Retractable landing gear
Compatibility with Zenmuse cameras
Good obstacle avoidance
The Cons
Bulky and heavy
Very expensive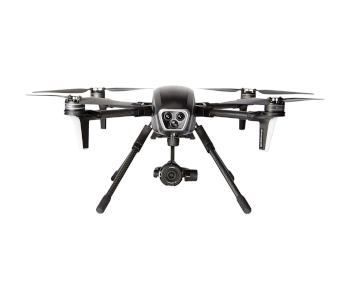 Editor's Rating: 4.4/5.0
While PowerVision isn't exactly a household name in drones, their PowerEye Professional drone has been a pleasant surprise and may just be good enough to compete with more popular brand name models.
The PowerEye is a huge and heavy camera designed to be powerful enough to handle its dual camera setup. This alone makes the PowerEye one of the more versatile camera drones. Mounted on the 3-axis gimbal is a camera with a 4/3" CMOS sensor that can shoot 16 MP stills, videos at cinematic 4K (24 fps), or UHD (30 fps). This camera also has a Micro Four Thirds (MFT) mount, where you can attach a variety of different lenses.
Built into the nose of the drone is a front-facing camera meant for FPV flight. The feed from the two cameras can either be seen simultaneously on a single device or split between two devices, allowing the drone and the gimbal to be controlled separately. This is a very nice setup for professional drone work.
What the PowerEye lacks is any type of automated flight mode. It does not have any obstacle avoidance or even basic camera modes, such as subject tracking or waypoints. This drone was launched way back in 2016, though, which might explain the absence of these technologies.
The PowerEye was a premium drone that cost nearly $4000 back when it was first launched, but you can get it nowadays for a little over $1000. It may not be as "smart" as more modern drone, but the powerful dual-camera system is already more than worth its price tag.
Tech Specs
Camera: 16 MP / 4K
Field of view: No info
Gimbal: 3-axis
Flight time: 29.5 minutes
Weight: 3950 grams
Size: 513 x 513 x 310 mm
The Pros
Dual camera system
Top-of-the-line camera
High lifting capacity
The Cons
Bulky and heavy
Expensive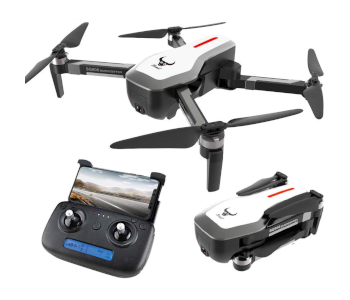 Editor's Rating: 3.9/5.0
The SG906 drone from Teeggi is very basic and is about the cheapest camera drone that you can get and still be a respectable drone photographer. Much like the Mavic drones, the SG906 features a 4K camera mounted on an ultra-portable build.
What we found surprising with the sub-$300 SG906 is that it offers a lot of automated camera modes. It covers the basic ones such as waypoint-based flight and points of interest, but its Follow Me modes can be done either through GPS positioning or by optical identification. All these modes are very easy to use and will help you craft a lot of dynamic drone videos.
The most glaring flaw of the SG906 is one that may be enough for some drone photographers to disregard it entirely as an option – it does not have a gimbal. Instead, it relies on a self-stabilizing electronic anti-shake lens to reduce camera shake and jitter. As we've mentioned, no electronic stabilization technology can create perfectly smooth footage, especially when it gets particularly windy. Under calm conditions, however, you just might be able to get nice shots with the SG906.
At its price range, perhaps it is too much to expect any sort of obstacle avoidance from the SG906. It is what it is – a cheap camera drone. It's a great option for drone photographers who are just starting out and don't have much capital, but you'll need to replace it eventually as your business thrives.
Tech Specs
Camera: 16 MP / 4K
Field of view: 120 degrees
Gimbal: None
Flight time: 25 minutes
Weight: 527 grams
Size: 283 x 253 x 70 mm
The Pros
Affordable
Lightweight and compact
Several flight modes
The Cons
No gimbal stabilization
No obstacle avoidance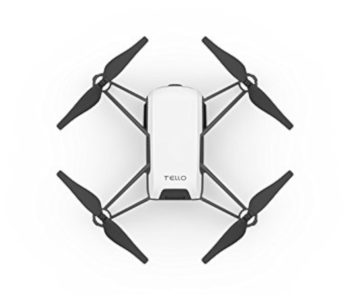 Editor's Rating: 3.6/5.0
It's certainly strange to see the Ryze Tello in a list of professional camera drones because of how incredibly small it is and the fact that its camera can only record videos at 720p and take 5MP photos. To be clear, you're not going to get a high-paying thousand-dollar gig with the Tello, but it's the type of drone we can recommend for those who would like to test the waters. After all, you would not want to spend $1000 on a drone only to find out that you don't have the skill or can't get any clients.
The Tello was developed via a collaborative effort by Ryze and DJI. It's the cheapest and smallest drone to be ever released from the DJI brand. Weighing only 80 grams, the Tello does NOT need to be registered with the FAA. It may look like a toy drone, but the 720p camera makes it one of the most powerful toy drones that you can get.
As a "practice" photography drone, the Tello gives you an Intel-based image processor, an electronic image stabilization technology, and a few automatic modes, including Circle, 360, and Up & Away. It doesn't come with advanced sensors but makes do with a vision-based positioning system to help maintain a stable hover.
The flight time of the Tello is limited to 13 minutes and it can only fly as far as 100 meters from the controller. In short, there's not much you can do with it. The Tello is a really cheap way to get into drone photography. Even if you've never flown a drone before, we can still highly recommend the Tello as your first drone – it's easy enough to learn for beginners but is powerful enough to keep you entertained as you develop your flying skills.
Tech Specs
Camera: 5MP / 720p
Field of view: No info
Gimbal: None
Flight time: 13 minutes
Weight: 80 grams
Size: 99 x 94 x 40.6 mm
The Pros
Very affordable
Compact and lightweight
Good for beginners
No FAA registration needed
The Cons
Low-resolution camera
Short flight time
No gimbal stabilization
No obstacle avoidance
Final thoughts
What could be better than flying drones for fun? Well, flying drones to earn some cash, for one. Drone photography is one of the most lucrative commercial applications for drones. Because it doesn't require an exceptional amount of skill to go into drone photography, it has become a rapidly growing industry in the US and worldwide.
With so many pilots offering the same service, it becomes even more important to stand out from the crowd. To do this, the first thing you need to do is to pick the right drone for the job. Do you want an ultra-portable drone that can fly indoors and that you can fold and stash inside a backpack? Or do you prefer the visual flair of flying a huge hexacopter drone? Obviously, there are a lot more aspects you need to consider aside from the size, and we hope that the guide we have prepared can help you.