The Top 5 Best Dual Extruder 3D Printers in 2020
3D Insider is ad supported and earns money from clicks, commissions from sales, and other ways.
Virtually all of the hundreds of moving parts in a 3D printer are essential to its operations, but there's one that stands out – the extruder. The extruder acts as the delivery system for the filament, feeding it from the spool to the nozzle at a rate that ensures that just the right amount of molten filament is laid down on the print bed.
Two is better than one in the case of extruders. These dual extruder 3D printers allow for much greater design freedom with just a slight increase in complexity. Which 3D printers with dual extruders are the best? We've compiled a list of a few of the stand-out examples.
Why get a 3D printer with a dual extruder?
The main purpose of getting a 3D printer with dual extruders is the possibility of making a 3D print using two different filaments. How could such an advantage be leveraged? Here are some of the best ways to use a dual extruder setup:
1. Printing with special support material
Support structures are an inevitable part of 3D printing when you start exploring more complex designs. However, support structures can also be a pain to remove, especially if they are made with the same filament as the rest of the print. This won't be a problem if you have a dual extruder printer as you can simply print your supports with dissolvable filament, such as HIPS or PVA.
2. Multi-colored prints
This one's pretty straightforward. With a dual extruder printer, you can set each extruder to print a filament with a different color. This allows you to create 3D prints in two colors without having to paint them while post-processing. For the best results, it would still be ideal to combine two filaments with the same material. For instance, you should not have problems printing with both red and white PLA.
3. Multi-material prints
A more radical option would be to combine two filaments that are made of different materials. This can be done to combine both mechanical strength and superior aesthetics, such as by printing a design with a PETG foundation and a composite wood outer surface. You'll have to be quite careful when choosing materials for this option, as it would be best to have filaments that print at similar temperatures. For instance, combining PLA with ABS will likely have you run into warping or layer adhesion problems.
Top 5 best dual extruder 3d printers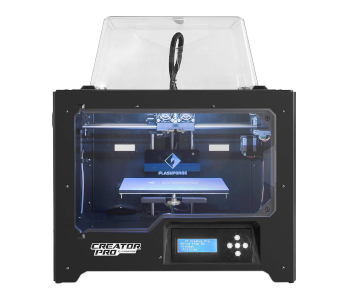 Our top pick is this sleek piece of technology from the ever-reliable FlashForge brand. The Creator Pro comes with a dual extruder setup, a robust metal frame, and an acrylic chamber enclosure.
This is one of the best plug-and-play 3D printers that incidentally is suitable for printing with two different filaments. Perfectly complementing the dual extruder system are two spool holders and two randomly selected filament spools that come bundled with the 3D printer.
The Creator Pro is a massive upgrade to its predecessor. The all-metal frame and metal supports have a better thermal resistance. The added rigidity of the upgraded z-axis guide rod also enhances accuracy by ensuring steady and precise movement. The thick aviation-grade aluminum print bed has good warp-resistance, although upgrading to a glass print bed is always an option.
A minimalistic LED panel provides the user interface and has a readily accessible SD slot. You can also send commands to the printer by hooking it up to a laptop via the USB port.
Overall, the FlashForge Creator Pro is one of the most user-friendly dual extruder 3D printers available today. The integrated chamber enclosure is a nice feature to have, especially if you plan on printing with high-temperature filaments like Nylon or ABS.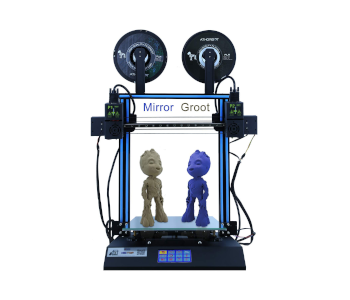 Don't let the simple design of the Tenlog D3 Pro fool you – this is a uniquely flexible 3D printer, even compared to those with dual extruders. What makes this 3D printer special is that it comes with Independent Dual Extruder (IDEX) technology, which means that it can create dual copies of the same design simultaneously. If you need to make multiple copies from a single 3D model, this feature alone will cut your printing time by half.
The Tenlog D3 Pro also has the same trappings as any other dual extruder 3D printer. It has two spool holders at the top, a glass print bed, and a 4.3-inch LCD touchscreen panel. This is a somewhat traditional desktop 3D printer in that it will be delivered to you in pieces. Assembly is easy with the included documentation and should take you less than an hour.
Belying the huge build volume of the Tenlog D3 Pro is its small footprint. HICTOP can do this with the printer's bare-bones design. There's no fancy enclosure here – you only have the essentials. Although the IDEX technology is what makes this printer unique, the dual extruders can also be used to combine filaments into a single project.
The Tenlog D3 Pro is perfect if you only have a small space or if you're looking for a dual-extruder 3D printer as an education tool. It's easy to use, fairly cheap, and perfect for mass reproduction.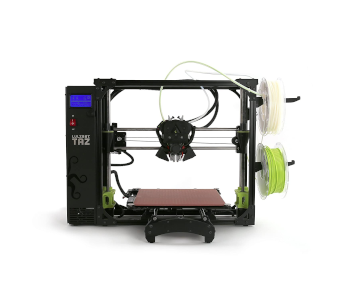 If you own a Lulzbot TAX 5 or 6 3D printer, then this product is heaven-sent. This extruder head will instantly upgrade your 3D printer with dual extrusion capabilities at a very low price and without having to buy a new 3D printer.
Just a word of warning – it's going to take a bit of work to install this in your Lulzbot TAZ. All the instructions are provided via the online installation guide, so there's really no reason for you not pulling it off. You will also need to upgrade your Cura Lulzbot firmware and print profiles to the latest versions.
To be clear, this is a single printhead that comes with two side-by-side extruders. It's effectively a retrofit to your existing 3D printer. This means that the setup is less than ideal. You won't have filament spools located conveniently at the top of the printer. Instead, they will be at the side, and you'll have to carefully guide the filament, so they don't get in the way.
If you do manage to get it working perfectly, then this upgraded extruder head should perform like any other dual extruder setup. You can print with different filaments, or different colors of the same filament. Getting to this point is the biggest challenge – the DIY work needed to put it together is quite substantial.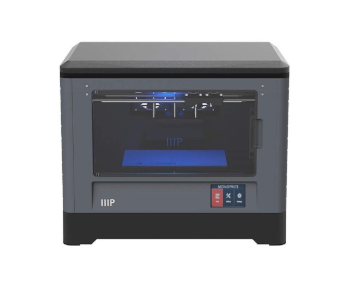 Up next is the dual extruder entry of the Monoprice line of 3D printers. This 3D printer comes with a full enclosure and a heated thick alloy build plate, making it a perfect option for those pesky warp-prone filaments. The dual extruder performs just as well as you would expect, allowing you to print multi-colored or multi-filament projects.
A standout feature of the Monoprice 3D printer is its wireless support. The combination of a Wi-Fi radio and a built-in camera means that you can remotely monitor the status of your printing projects. This is great if you like the luxury of being able to walk away from your 3D printer to work on other chores around the house.
The Monoprice 3D printer isn't exactly the type of printer we would recommend for beginners. Although it requires no assembly, getting the printer to work flawlessly requires a good amount of knowledge on g-codes. It's also a little too expensive to be considered a starter 3D printer.
Despite the high price tag, the Monoprice 3D printer lacks premium build quality. The frame and enclosure feel a little too light and flimsy. Even the touchscreen isn't as responsive as we would like. This is still a great little machine, though it compares poorly with other fully enclosed 3D printers.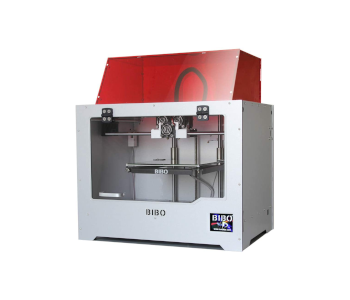 Like the other entries in this list, the BIBO 3D printer has two extruders – no surprises there. It's perfectly capable of printing with two different filaments. What makes it unique is that it comes with a laser engraving module. If you like 3D printing but would like to engrave on wood or leather on the side, then this printer should be worth a look.
The first thing you'll notice is that the BIBO 3D printer looks large and sturdy. Its frame is made of a thick aluminum composite panel and it comes with a removable printing chamber enclosure. The option to remove the enclosure is a great feature for when you just want to print with something easy like PLA.
The BIBO 3D printer also comes with a built-in Wi-Fi module. On paper, BIBO says that it will allow for remote control of the printer via smartphone. While certainly a nice feature, we're unsure how well it can be used in practice without a built-in camera.
The dual extruder setup of BIBO is also capable of printing two copies of the same model simultaneously, like other IDEX-equipped printers. Again, this is a handy feature to have if you need to reproduce a model multiple times.
BIBO isn't exactly a well-known brand in the 3D printing industry, but this product is certainly worth consideration just for its sheer flexibility. It's not enough that it has two extruders and a full enclosure – it even has a laser engraver. We struggle to think of a 3D printer model that is comparable.
Final thoughts
Getting a 3D printer with dual extruders seems like a natural upgrade as you earn your stripes in the world of 3D printing. Dual extruders can certainly expand the possibilities of what you can do with a 3D printer. You can make support structures that can melt away, multi-colored prints with no post-processing, or even projects printed with two different filaments.
Using a dual extruder 3D printer may sound intimidating, but it really isn't all the difficult. After all, these printers will come with software that are specifically design for dual extrusion. If you're getting tired of your old desktop 3D printer, then a dual extruder setup might be worth a shot.
Warning; 3D printers should never be left unattended. They can pose a firesafety hazard.