QU-BD One Up Open Source 3D Printer Kit Launches On Kickstarter For Under $200
3D Insider is ad supported and earns money from clicks and other ways.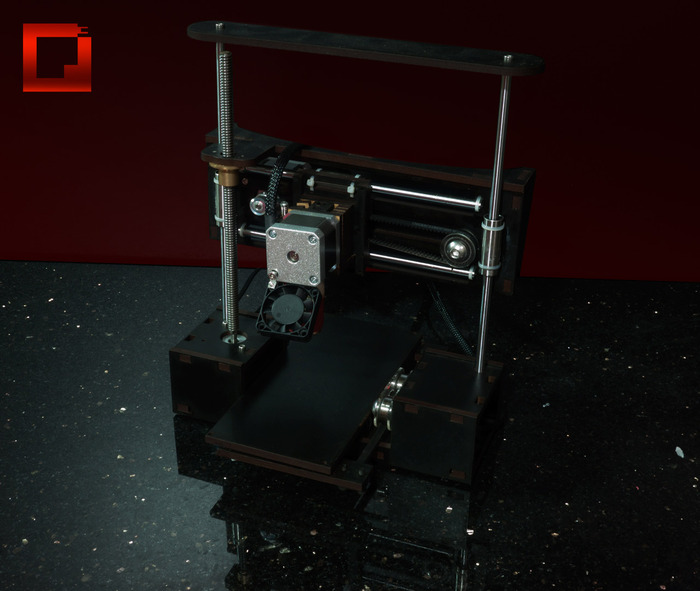 QU-BD has launched their One Up Open Source 3D Printer Kit on Kickstarter that aims to be the "world's first production ready 3D printer to break the $200 barrier." The printer will use standard technology and electronics, while the whole thing will be open source.
One Up's Melamine coated MDF frame can be cut in less than 10 minutes on a 150w CO2 laser. The Arduino electronics are based off the Open Source Printrboard electronics and there are 4 integrated Allegro 4983 stepper drivers along with two MOSFETS onboard. An SD card slot will allow for computer free printing and the 3D printer can be powered by a 60 Watt laptop power supply.
The Anubis extruder is based off the standard PEEK barrel with a groove mount with a PTFE liner which is used as a lubricious insulator. It is then fed into a machined brass barrel that is heated with a machined aluminum heater core that houses the heating element and the thermistor for temperature control. The extruder is designed for 1.75mm PLA filament.
QU-BD One Up / Two Up Specs:
Minimum Layer Height: 50 Microns (Lower is Better)
Frame Material: Black Melamine MDF
Max Travel: Approximately 100x100x125mm / 175x175x125mm
Maximum Travel Speed: 150mm/s
Maximum Print Speed: 100mm/s
Bed Material: Acrylic
Heated Bed: No, electronics support it so it can be added later
Linear Motion Type: X/Y Belts and Linear Bearings | Z Precision ACME Screws / Linear Bearings
X-Motor: NEMA 17 Motors w/ Up To 16x Microstepping
Y-Motor: NEMA 17 Motors w/ Up To 16x Microstepping
Z-Motor: NEMA 17 Motors w/ Up To 16x Microstepping
Electronics: Printrboard Style Electronics
Firmware: Marlin
Extruder: anUBIS w/ PTFE Liner for Reliable Printing
Filament: 1.75mm PLA Only (for now)
The only difference between the OneUp and TwoUp is that the smooth rods on the X and Y axis are swapped for ones that are 75mm longer on the TwoUp, they are identical in every other way.
QU-BD has already received over $36,000 in funding, smashing their $9,000 goal. Backers have the chance to grab themselves a QU-BD One Up for $199 that includes a 100x100x125mm build area. A QU-BD Two Up with a 175x175x125mm build area will set you back $279. Check out their Kickstarter page and the qu-bd.com website.
About QU-BD:
Our team has grown since last time to now include 10 people. Our primary business is serving the OEM manufacturing needs of other 3D printer companies and a few Fortune 500 companies. We are a full service machine shop that uses precision, industrial CNC machines to produce parts in a wide range of fields. We all share a passion for what 3D Printing can do for the world!
Warning; 3D printers should never be left unattended. They can pose a firesafety hazard.