Best 4K Video Cameras of 2019
3D Insider is ad supported and earns money from clicks, commissions from sales, and other ways.
Making award-winning indie films, full feature documentaries, or random snippets at your friend's birthday party has never been more accessible. From ubiquitous smartphone cameras that are becoming more powerful each year to the newest action cam models, every type of filmmaker can finally find the kind of video camera that will suit their projects and needs perfectly.
That's why there's no easy answer when asking about the best video camera available today. A seasoned photographer who's about to branch out into filmmaking will have drastically different requirements than an adrenaline junkie whose death-defying adventures are viewed by thousands online.
That's why this time we've divided our selection into three categories – cameras used mainly for photography, camcorders, and action cams. Each category features our pick for the best video camera in the category along with a great budget option that ought to save you a lot of bucks without skimping out on useful features. If you don't know which category is right for you, check the video camera breakdown to find out.
Budget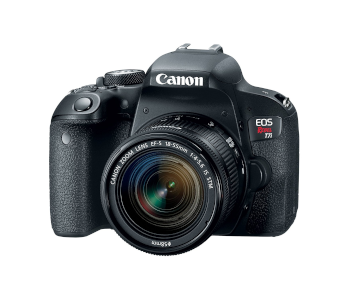 Canon EOS REBEL T7i
4.5/5.0
Type: Camera
Video Modes: 1080p / 60fps, No 4K Resolution
Diverse video modes.
Check Amazon
Best Value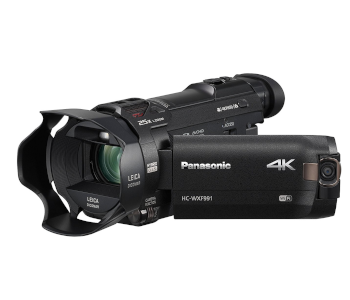 PANASONIC HC-WXF991K
4.7/5.0
Type: Camera
Video Modes: 4k / 30fps
1080p / 60fps
In-camera editing.
Check Amazon
Top Pick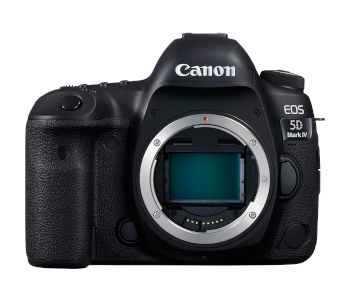 Canon EOS 5D Mark IV
4.8/5.0
Type: Camera
Video Modes: 4K /30fps
1080p / 60fps
Superb video and photo quality.
Check Amazon
What Type of Video Camera Should You Get?
A good place to start when choosing a video camera is to ask yourself what kind of footage you'll be shooting with it the most. Are you a wedding photographer who mixes their photo journals up with clips of the occasion, a reporter trying to record events as they unfold, or a thrill seeker more interested in preserving the memory of your exploits than the perfection of the video's aesthetics? Going for a mirrorless or DSLR is wisest if you're like the 1st person, a camcorder will satisfy the 2nd, and an action cam is ideal for the 3rd.
DSLRs and Mirrorless Cameras
In some ways these are the most versatile cameras of the bunch. Neither action cams nor camcorders can produce still photographs that are as detailed as mirrorless or DSLR cameras. The optical image stabilization methods, diverse focusing options, and precise aperture / exposure settings found on mirrorless and DSLR cameras are most often usable in their video modes too, offering you the greatest customization of mood and lighting. If you want to tell a poignant story or record videos in the most unforgiving of lighting conditions, these are the cameras for you.
Camcorders
While it seems like fewer camcorder models make an appearance each year, those that do come out definitely still have an audience. There's no competition when you need to zoom in on an event from afar and retain 100% of the image quality. Camcorders' built-in microphones might not be on par with dedicated shotgun mics you can mount on mirrorless and DSLR cameras, but they're far better than either their stock ones. Finally, advanced camcorder models come with professional tools like waveform monitors that give precise information on signals the camcorder is receiving.
Camcorders also occupy a sweet spot when it comes to portability, offering 5-axis image stabilization found in photography-focused cameras inside lightweight frames more akin to action cams. Some are even waterproof, and they're embracing 4K as the golden standard as well.
Action Cameras
Although they're the newest kind of camera on the market with a unique approach to videography, action cameras have found a wide following among active and adventurous people who want to put themselves out there. They're by far the most compact and easiest to use – they have only a button or two while most of their operation is taken care of through voice commands or touchscreen.
Action cams use wide fields of view and fisheye lenses to make footage seem more exciting and dynamic. They're also cheaper than camcorders and cameras while providing many resolutions and framerates along with impressive time-lapse and slow-motion capabilities. Ultimately though, they're a niche product that excels at only one approach to making videos.
Comparison Table of The Best Video Cameras of 2019
#1 Best DSLR Camera for Video – Canon EOS 5D Mark IV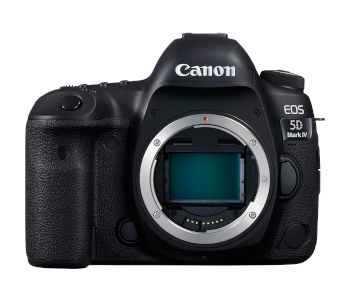 View on Amazon
Editor's Rating: 4.8/5.0
5D is the line of high-quality cameras Canon uses to showcase their cutting edge technical improvements. The first notable one was when FullHD video made an appearance on the Mark II ten years ago. Now the Mark IV brings vivid 4K onto the high-end scene! Add perfectly saturated, noiseless, and focused images on top, and it's easy to admit how Canon have outdone themselves again.
Bringing Crystal-clear 4K to the World of DSLR-s
4K is finally a part of the 5D series, and its debut on the Mark IV is fantastic! Shot at 30 fps and with a bit rate of 500Mbps, the Mark IV's videos might make old hardware sweat, but it looks amazing in return. Shooting on a busy street at night or capturing a landscape early in the morning is a grand experience as the camera's higher ISO settings and full-frame lens allow for enough exposure to capture lots of detail while leaving the footage as noiseless as possible.
Images can be ripped straight from 4K video, or shot in photo mode at an impressive 30 megapixels. 61 autofocus points cover the entire sensor and can be selected manually via the touchscreen. You can set the screen up so that touching one of them also snaps the photo.
The Dual Pixel RAW technology allows the Mark IV to take two pictures at the same time, each with a slightly different focus point. That way you can still salvage some poorly-focused photos in post-production. The Mark IV's 7fps burst speed makes it a capable action / sports shooter too, even more so when paired with high ISO settings.
What We Didn't Like
The Mark IV is the most expensive model in the guide, and the expense is compounded further when you take into consideration the kind of hardware you'll need to have to play back its 4K footage without hiccups. There's a 30-minute clip length limit you'll need to keep in mind too.


Tech Specs
Dimensions: 5.9 x 4.6 x 3.0 in.
Weight: 31.4 oz. with batteries
Sensor: Full-frame CMOS
Megapixels: 30.4
Zoom: 10x digital
Video modes: 4K / 30fps
1080p / 60fps
The Pros
Superb video and photo quality
Diverse and advanced autofocus options
Useful touchscreen
Dual Pixel RAW feature
Great ISO range
The Cons
Beefy 4K codec
Videos limited to 30-minute clips
#2 Best Budget Alternative – Canon EOS REBEL T7i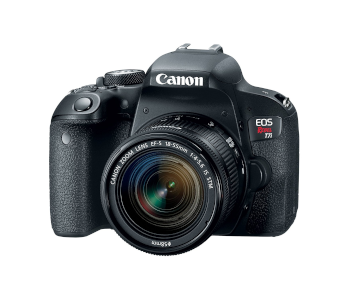 View on Amazon
Editor's Rating: 4.5/5.0
Canon's long-lived line of rebel cameras has been blurring the boundaries between beginner-friendly and professional-grade cameras for over a decade. With the release of the 7th generation in the series last year, the trend continues. Offering excellent picture quality as well as a set of different video options, the T7i is a camera both photographers and filmmakers will love to use.
Better than Its Predecessor, and the Competition
While the same 24.5MP APS-C sensor is still at the core of the T7i, a capable new DIGIC7 processor powers the camera's 45 autofocus points. Coupled with Canon's signature Dual Pixel CMOS autofocus, this helps the camera get a lock on both still and moving subjects quickly. It's so quick that you can shoot up to six frames per second without losing on stability or focus.
Video is limited to FullHD at a seamless 60fps, but there are enough different modes to make filming with the T7i worthwhile. Having a button dedicated to video recording is a welcome feature, as is the ability to manually select a focus point while in this mode. Bringing the framerate down to 30fps allows you to make time lapses, or shoot in HDR mode. The latter increases the T7i's dynamic range. While not as pronounced as HDR used in taking stills, the effect does help under low light and when filming high-contrast footage.
What Should Be Improved?
Canon didn't believe that the Rebel series was ready for 4K just yet, and we hope to see that corrected when the T8i comes out. When taking photos, the T7i can make use of a wide range of ISO settings. While you do get to take images in relatively low light, using anything above ISO 6,400 results in very noisy images.


Tech Specs
Dimensions: 5.2 x 3.9 x 3 in.
Weight: 26.3 oz.
Sensor: APS-C CMOS
Megapixels: 18.9
Zoom: 3x
Video modes: 1080p / 60fps
The Pros
Lots of features for a good price
Diverse video modes
Great autofocus for photos and videos alike
Compact for a DSLR
The Cons
No 4K
Noisy images at the highest ISO settings
#3 Best Camcorder for Video – PANASONIC HC-WXF991K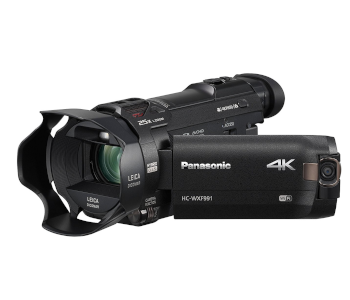 View on Amazon
Editor's Rating: 4.7/5.0
Need a hassle-free 4K-capable video camera that anyone can pick up and use? How about on-the-scene editing features and a nifty 2nd camera option all as part of the same package? Panasonic takes care of all your content creation and videography needs with the HC-WXF991K, a unique and versatile camcorder that ought to satisfy seasoned videographers while starting novices outright
A Movie Within a Movie
The Inception-like subtitle hints at the HC-WXF991K's distinctive 2nd camera found on its moveable LCD. When in use, the camera offers an additional perspective in the form of a small window set within the main one. Why would you need this? If you're reaching out to your followers and want them to see both your face and the content you're filming, or if you're filming a memorable family event and don't want to be excluded, what may seem like a gimmick at first becomes an actually useful feature.
You can capture UHD 4K videos at the standard 30fps. More interestingly, you can access the in-camera editing feature while in 4K and then do all kinds of camera techniques like zooming, dollying, etc. The result will be downsampled to FullHD, but you won't need to move the camcorder to get these nice effects. You can let the speedy autofocus do its own thing, or select a focus point manually by tapping on the touchscreen.
The HC-WXF991K's optics allow for a zoom of up to 20x, while its electronic viewfinder wouldn't feel out of place on a mid-range mirrorless camera. Autoexposure determines the ideal dynamic range for each shot, and there's a quick HDR button that ramps up the black / blowout suppression in an instant. Finally, the HC-WXF991K comes with a quality built-in microphone which can be set to reduce wind and other strong noises.
What's Bad About It?
You'll want to check the lighting conditions before capturing anything with the camcorder as it isn't well-suited for low-light environments. Increasing the gain will help a little, with increased noise as an unwelcome side effect. Also, stay away from thin stripes and other moiré-inducing subjects as the effect is distinct and unpleasant.


Tech Specs
Dimensions: 2.7 x 3 x 6.4 in.
Weight: 14.2 oz.
Sensor: 1/2.3″ MOST
Megapixels: 18.9
Zoom: 20x
Video modes: 4k / 30fps
1080p / 60fps
The Pros
Great picture quality in good light
In-camera editing
Records 4K
Good microphone
2nd camera
The Cons
Prone to the moiré effect
Low contrast or noisy low-light footage
#4 Best Budget Alternative – Canon VIXIA HF R82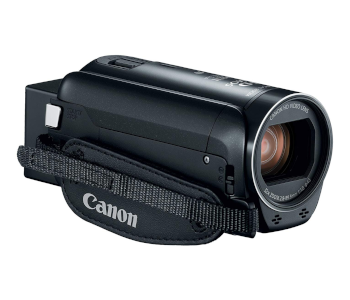 View on Amazon
Editor's Rating: 4.6/5.0
Did you ever want to capture the sort of video where you're encompassing an entire breathtaking vista in one moment and then seamlessly zoom in on a church or other landmark to capture it in equal detail? Canon has made sure that recording such sights is not only inspiring and easy but very affordable too! Their newest entry in the budget-friendly R series, the HF R82 is a diamond in the rough, and a great buy if you don't mind losing out on 4K.
Bright Horizons
Nothing expresses camcorders' continued relevance so poignantly as a good optical zoom, and the HF R82 manages to thoroughly impress with its powerful 57x lens! Being able to shoot objects that are literally miles away with the same clarity as a subject standing 10 feet from you would be reason alone to purchase it, but this camcorder offers even more. Naturally, when you zoom in this much, even the slightest hand tremor can ruin the shot, but that won't happen to clips shot with the HF R82 as it has superb optical image stabilization.
Color fidelity and especially dynamic range are also great. The 1/4.85″ sensor excels at working in bright daylight as the Highlight Priority mode sets the range so that glaring whites are toned down, eliminating a white-washed look and imparting detail to lighter portions of the scene that would otherwise be blown out to a uniform white. Conversely, low-light and nigh modes make sure that even a little light is enough to make the clips you shoot both detailed and beautiful.
You get 32 GB of internal storage expandable to 64 via SD card. Even more impressive is the Li-ion battery pack which allows you to record up to 16 hours of footage, effectively filling up the entire internal storage before needing a recharge. You can connect it to Wi-Fi and access the pics & videos stored on the camera via any PC which shares the connection. Alternately, you can install the camera's app and live stream video from it.
Are there Drawbacks?
The biggest one we can think of is the lack of 4K. Considering Canon's focus on cramming as much quality optics into the HF R82 while maintaining a low price, corners had to be cut. Its smallish sensor will do just fine for 1080p video but may be insufficient if you want to blow up any pictures you take.


Tech Specs
Dimensions: 2.1 x 4.6 x 2.3 in.
Weight: 8.5 oz.
Sensor: 1/4.85″ CMOS
Megapixels: 3
Zoom: 57x
Video modes: 1080p / 60fps
The Pros
Amazing value for the price
Powerful optical zoom
OIS
Good dynamic range
Long-lasting battery
The Cons
No 4K
Small image resolution
#5 Best Action Camera for Video – GoPro HERO6 Black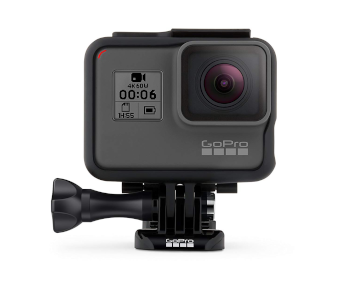 View on Amazon
Editor's Rating: 4.7/5.0
Nothing beats GoPro's HERO series when the only way to make a fantastic video is to jump off a cliff, ride a wave, or snowboard down a steep hill yourself. The newest model's improvements over the HERO5 aren't as revolutionary as earlier upgrades, but the improved framerates and responsiveness alone make choosing the HERO6 a no-brainer.
Same Compact form, Better Framerates & Control
You might think that someone's pulling your leg if you compare the HERO6 to its predecessor side by side since they literally look the same. We can hardly fault GoPro for not lifting a finger to change its appearance as the HERO5 gave us a hardy, waterproof, and responsive outer shell to work with. A keen eye does reveal one subtle difference – the LCD touchscreen is a bit brighter and responds quickly even when wet.
Tired of working with outside manufacturers, GoPro has made the monster G1 chip that powers the HERO6's awesome performance themselves. How awesome? Think standard 4K at 60fps or even more detailed 4K in 4:3 at 30! Lower resolutions have had their framerates increased too so you can make the best quality slow-motion clips to date at 2.7K and 120fps, or slow down all the way to 240fps at FullHD to catch every detail of activities done at break-neck speeds.
Another of the G1 processor's major improvements is advanced image stabilization. This is the first time it has been introduced to 4K video, albeit at 30fps. The framerate cut is easy to accept given the marked improvement over jittery clips you'd have to be content with otherwise. When the adventure is complete, transferring data to nearby devices or streaming via Wi-Fi is now faster too.
What are Its Shortcomings?
Although everything else either stayed the same or got an upgrade, GoPro went a step back by replacing the HERO5's varied FOV options with a more focused, but less detailed digital zoom. Similarly to Canon's 5D Mark IV, you'll need expensive hardware to take full advantage of the 60 frames per second the HERO6 offers in 4K.


Tech Specs
Dimensions: 1.8 x 2.4 x 1.3 in.
Weight: 4.1 oz.
Sensor: 1/2.3″ CMOS
Megapixels: 12
Video modes: 4K / 60 fps
2.7K / 120 fps
1440p / 120 fps
1080p / 240 fps
The Pros
Robust and waterproof
Excellent quality video
Very high framerates in all resolutions
Advanced image stabilization
Responsive touchscreen and voice controls
The Cons
Using digital zoom leads to loss of quality
Short battery life
Optimum playback requires the newest TV-s / computers
#6 Best Budget Alternative – Yi 4K Action Camera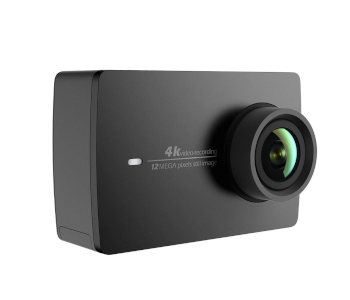 View on Amazon
Editor's Rating: 4.4/5.0
As soon as GoPro became the king of action cams, contenders started popping hell-bent on taking the throne. Two years ago one – the Yi 4K Action Cam – came incredibly close to doing this to the then supreme HERO4. Nowadays Yi's action cam is still relevant and even cheaper, making it a very smart choice for anyone who doesn't want to fork over $400 for a few extra frames.
In the Shadow of Its HERO
It's no secret that Yi has taken a lot of inspiration from GoPro when fleshing out their action cam – the general appearance is similar, as are the beeps you hear when recording starts and stops. Everything feels familiar and you should feel right at home if you've ever held a GoPro before. It's even compatible with pre-HERO5 mounts and other accessories.
Yi's Action Camera creates beautiful videos as well as action-oriented 12MP stills. While the quality of said footage is slightly lower than the newest HERO models', there are no deal-breaking issues with either its sound quality, color grading, or dynamic range. Low-light performance is even better actually, if noisier. Thanks to this action cam's high capacity battery, you'll be able to record 2x longer than with a GoPro!
What Needs Work?
It's very hard to tell what the camera is up to on a bright day – both its touchscreen and the LED-s that indicate the camera's recording status are too dim to be made out in glaring sunlight. Unlike GoPro's recent HERO models, the Yi 4K Action Camera isn't waterproof. Underwater recording is still possible but requires you to buy an additional case.


Tech Specs
Dimensions: 2.3 x 1.5 x 1.1 In.
Weight: 3.4 oz.
Video modes: 4K / 30 fps
2.7K / 60 fps
1440p / 60 fps
1080p / 60 fps
Sensor: 1/4.85″ CMOS
Megapixels: 12
Video modes: 1080p / 60fps
The Pros
Almost as good as the HERO5, but cheaper
Good low-light performance
Supports wide array of accessories
Long-lasting battery
The Cons
Touchscreen and LED are unusable in direct sunlight
Isn't waterproof
No accompanying accessories