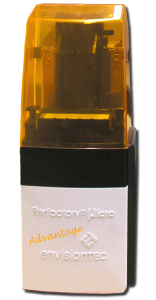 Jeweler's and Artist's currently make up a large percentage of 3D printer users. They can let their creative juices flow and build almost anything they desire. 3D printer manufacturer, EnvisionTEC have seen the potential of these creative people and designed a 3D printer tailored made to their needs.
The new Perfactory Micro Advantage 3D printer from EnvisionTEC boasts a small but adequate 60mm x 45mm x 100mm build volume, an impressive XY resolution of 50 micrometers and a layer height resolution of 25 to 100 micrometers. Despite its small size the Perfactory Micro Advantage can print a wide range of jewelry and can reach a print speed of 10mm per hour. The printer also features a fully automated self-calibration system.
Full specs and features:
Build Envelope – 2.36" x 1.77" x 3.94" (60 x 45 x 100 mm)
Enhanced XY Resolution – 0.002" (50 µm)
Dynamic Z Resolution – 0.001" to 0.004" (25 µm to 100 µm)
Build Speed – Up to 0.394" (10 mm)/hour for full envelope**
Light Source – LED
Data Handling – STL
Warranty – 1 year back to factory including parts and labor
In addition to the new Perfactory Micro Advantage printer, EnvisionTEC also announced the release of its newest casting material, Epic. Epic is wax-based, but offers the same sort of crispness and look as EnvisionTEC's PIC materials. It can be used with the Perfactory Micro Advantage, the Perfactory Mini and the Mini XL. Other materials available for the Micro Advantage include D3 M White (for rigid, stable models), PIC 100 M (for Casting), (EC500 M) Casting and HTM140 M (developed for high temperature modeling).
Find out more over at EnvisionTEC.