During the five day long International Manufacturing Technology Show (IMTS), Local Motors will be 3D printing a car from scratch. Back in April the company announced the world's first 3D Printed Car Design Challenge, which received over 200 entries from more than 30 different countries. The contest has now finished and seven designs were chosen as the winners.
First place went to Strati, a concept car developed by automotive designer Michele Anoè. The car was chosen by the judges for its uniqueness and its ability to be easily printed. MakerBot's CEO Bre Pettis, a member on Local Motors board of directors said the car was "simple and clean, with character."
Lonnie Love, a group leader at Local Motors' partner, Oak Ridge National Laboratory said "Michele's design offers an excellent balance between innovation, complexity and practicality. It has good 3D lines and the retractable roof is really cool."
Strati's main body can be 3D printed in a single piece and removable seats allow for customized designs and colours that match the driver. It also has carbon fibre supports around the windshield, headlamps, mirrors and important electronic components.
In addition to seeing his car being printed at IMTS, Michele will take home $5,000 in cash from Local Motors.
Because of the calibre of the designs submitted another six concepts were chosen to receive prizes. The community vote went to Internal Strut Frame by Greg Thompson. It features an innovative design that utilizes vertical struts to support the main body of the car, reducing weight while increasing strength.
The other five concepts were awarded Innovation Awards by Local Motors (no particular order).
3DPCX by Baunarsch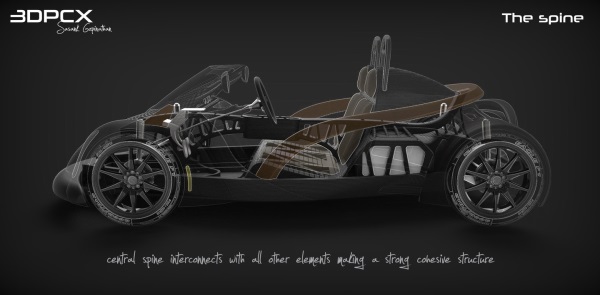 LM Supernova by sebastian.dib10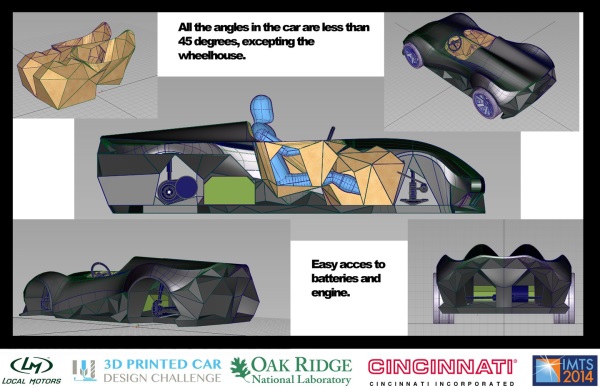 Aeroblade by iMan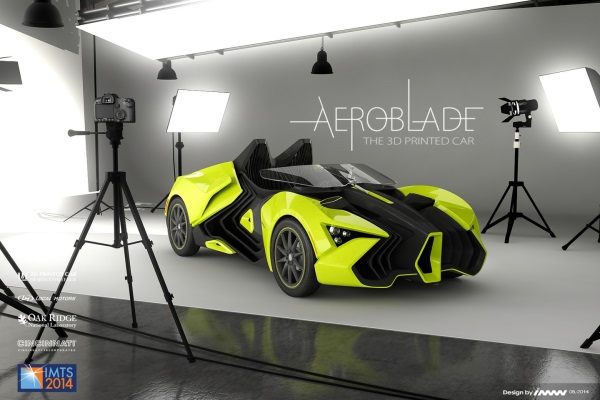 Mirage by velocityopen
LM e-Spider by Chavito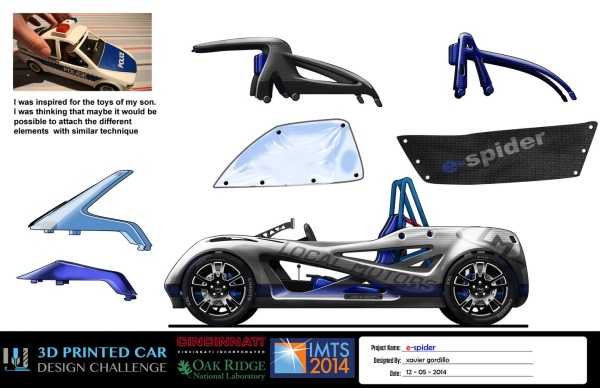 Local Motors CEO Jay Rogers stated "There are three major challenges facing the auto industry today; part count, weight, and the initial cost of tooling when creating and iterating on vehicles. The hybrid Direct Digital Manufacturing process stands to address all three of these. When these hurdles are removed, we open the door to an exciting new era in automotive design and manufacturing possibilities."
Source: Local Motors