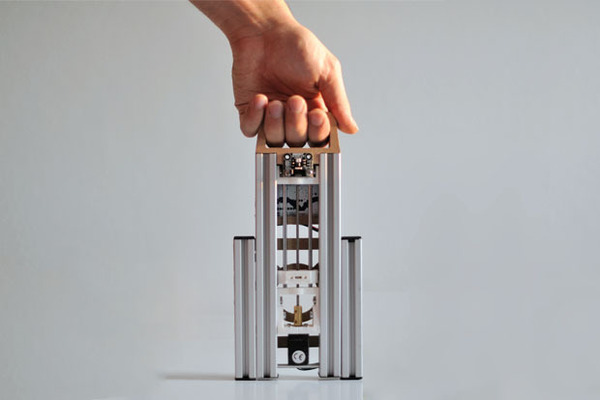 There's a growing interest in resin based 3D printers this year, with the launch of the mUVe3D printer, the Peachy Printer that has already raised a considerable amount of cash and now the LumiFold stereolithography portable resin 3D printer has launched on Indiegogo.
The printer itself has been designed to be small and compact for easy portability. It measures just  250 x 120 x 30mm when folded and with a 90 x 90 x 90mm it can make small prototypes and objects on the go. Lumifold's developers wanted the printer to fit into a backpack or briefcase.
Marin Davide started developing the Lumifold after an inquiry from a customer about cheap, portable and ready to use 3D printers. Davide's final design proved to be so good, he decided to launch a kickstarter campaign for it.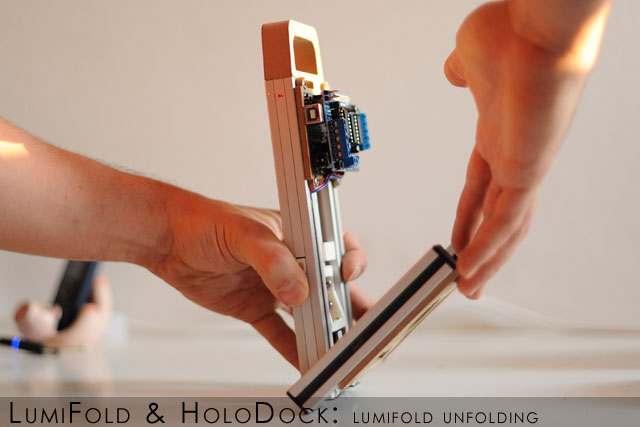 The laser inside Lumifold fuses liquid resin into a solid form to create an object. Once the resin has been fused, you can use almost any projector to cure the resin. With LumiFold, an integrated UV sensor measures the exact UV light level of your projector and automatically adjusts the layer time.
Another interesting feature of Lumifold is its 3D holographic display called HoloDock. It uses a clever re-imagining of Pepper's Ghost to create the impression of a real 3D volumetric image of the object you are printing. It can also be used alone to visualize 3D objects.
The LumiFold has interchangeable building platforms with an engraved grid, so you can automatically adjust the projection for accurate and correct sizing of 3D printed parts.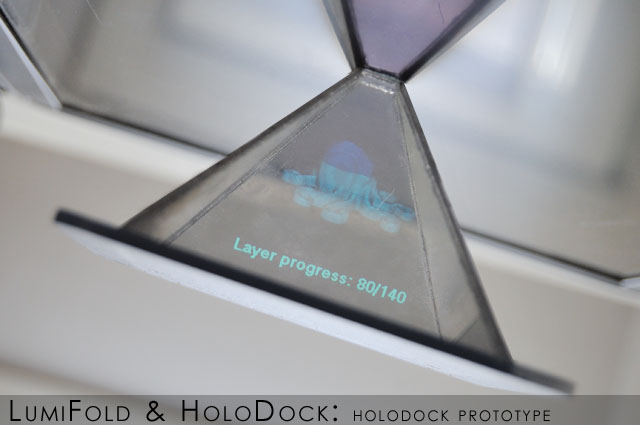 Features:
The smallest Foldable 3d printer!
Low Cost 3D printer, costs half of many 3d printers on the market, and it's portable!
Based on standard/cheap 20x20mm aluminum extrusion
Easy to use: just unfold, place under a projector, and print!
Low energy consumption (approx. 5W)
Interchangeable resin bed and platform, including a smaller one for experimenting and printing small parts
Max Print volume 90 x 90 x ~90 mm
Z resolution up to 0,01mm!
The first 3D printer with a 3D Holographic visualization of the printing progress!
Laser Scanner Platform kit available, will transform the LumiFold in a 3D Scanner
Travel kit with Lithium battery, with the IPad / IPhone control Kit you are ready for printing everywhere in the world!
Backers can get an early bird parts kit of the Lumifold for $390. This includes everything you need to get going, excluding resin. For $429 you can get a fully assembled and tested Lumifold printer, excluding resin. Head over to Lumifold's Indiegogo page for more info.