Radiant Fabrication has announced Lionhead, a desktop 3D printer that combines printing and scanning into one package with Radiant Li, an intuitive and powerful 3D modelling software.
During September, Radiant Fabrication will launch its Kickstarter campaign to introduce its all-in-one 3D printing package to potential markets and raise funds for a full production line. Upon reaching its Kickstarter goal, Radiant Fabrication will start shipping Lionhead Bunny systems in October 2013.
When users want to scan an object all they have to do is press the scan button, place the desired object onto the Lionhead's print bed and close the doors. After a few minutes, a customizable 3D scan of the object will be created. The scan can then be printed with the click of a button.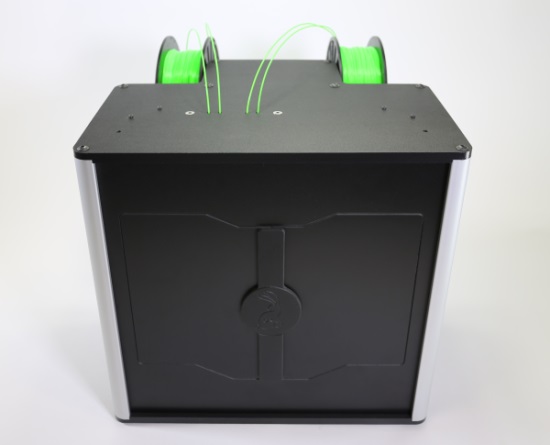 Radiant Fabrication's Radiant Li editing software has been designed for ease of use. The controls are apparently similar popular video games, like Minecraft, making a seamless, easy experience.
Some of the features of Lionhead include:
Multiple printheads
Automatic calibration
High-power heaters
"We created the Lionhead and Li to streamline the 3D printing experience, allowing consumers to model, edit, print, and scan from one piece of software and hardware," said Nathan Patterson, Radiant's co-founder and president. "Together, it means that consumers spend less time and money learning complex software packages and maintaining their printer, and more time using and refining their ideas."
About Radiant Fabrication:
Radiant Fabrication believes that the future of 3D printing lies in accessibility, reliability, and throughput. 3D printer users should have software that enables them to create and modify 3D models simply without worrying about command line switches or triangle intersections. 3D printers shouldn't require users to observe prints and correct for printer mistakes. And 3D printer hardware and software should do their best to respect users' time.
Radiant Fabrication, based in Fitchburg, WI, was formed in 2011 to make 3D printing accessible, fast, and reliable. The Lionhead 3D printer, scanner and accompanying Radiant Li 3D modeling software has been created by the company for this purpose. Radiant's Lionhead offers faster print speeds, improved software, and a streamlined user experience making 3D printing accessible to non-technical consumers.