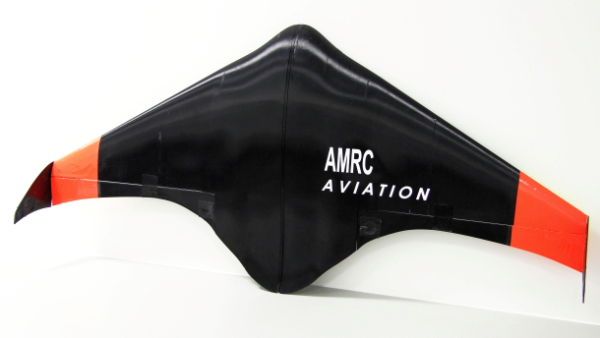 UAV's are widely used in a range of environments from the battlefield to making YouTube videos, but they can often be expensive and time consuming to produce. Engineers at The University of Sheffield's Advanced Manufacturing Research Centre (AMRC) have been developing an unmanned aerial vehicle using rapid prototyping techniques, with the help of Boeing's Design & Prototyping Group.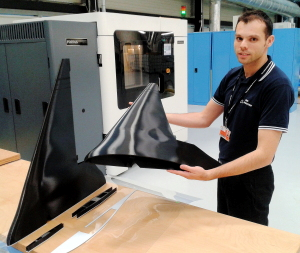 All of the major components were printed with fused deposition modelling (FDM) technology and each part was designed and orientated so that it could be printed without support. It was printed in ABS plastic on a Stratasys Fortus 900mc in less than 24 hours.
The team at AMRC and Boeing used 3D printing to improve and strengthen the wing structure. "The optimum configuration for the diverse requirements of aerodynamic performance and FDM manufacture appeared to be the blended-wing body." said development engineer John Mann who led the detailed design. "This type of design has a number of advantages and, most importantly for this project, lends itself to FDM technology due to the smooth leading and trailing edges over each half-span."
All up, the 3D printed UAV consists of only nine parts – two wings, two elevons, two spars, two wing end fences and a central spine – which clip together with a number of short spars and elevons that provide additional rigidity. The UAV weighs just 2kg despite its 1.5 meter wingspan, a benefit of 3D printing and its low part count.
According to AMRC, the team are continually developing the airframe and internals. "Following successful flight testing, we are now further optimising the airframe to incorporate blended winglets and twin-ducted fan propulsion," says senior design engineer Garth Nicholson. "Future planned developments include full on-board data logging of flight parameters, autonomous operation by GPS, and control by surface morphing technology. We're also investigating concepts for novel ducted-fan designs."
Visit amrc.co.uk for more information.