15 Must-Have 4K TV Accessories
3D Insider is ad supported and earns money from clicks, commissions from sales, and other ways.
As the prices of television sets drop, if you are considering getting one, it is a great time to take advantage of its affordability. Getting a 4K ultra high definition TV is undoubtedly a reasonable entertainment investment since it will be able to provide you with countless hours of fun.
The 4K Advantage
A 4K TV comes with four times more pixels than your regular full high definition 1080p resolution set. It means that it can display a lot more detail since it can cram more pixels into the same space as other TVs.
Ultra HD TVs are often referred to as "4K" since their horizontal resolution contains around 4,000 pixels. No matter what type of display device, getting more pixels in mean better picture detail. The edges appear more seamless, with features highlighted because of the added pixels. On a TV display, this means that you can sit much closer to the screen without noticing individual pixels, giving you more enhanced and immersive viewing experience.
Another advantage of having a 4K TV is the HDR feature. Short for High Dynamic Range allows TVs and other display devices to give colors an added pop, so the picture looks more vivid than regular screens.
4K TV Accessories
Upgrading to a 4K TV is the way to go if you want to enhance your viewing experience. However, you may still need a few more things to take everything to the next level. These extra bits of equipment can help you appreciate the sound more or help you seamlessly connect to different apps that can further enhance your overall experience.
Here are some of the must-have accessories to get so you can enjoy your favorite movies and shows in all its 4K glory.
Soundbars
As TVs get slimmer and slimmer, one of the components that get affected because of the limited space is the built-in speakers. They are also designed to fit in a much smaller space taking away some of their power, so they do not provide the sound that you expect whenever you watch a movie.
Even the best TVs need some sort of external speakers to boost the sound quality. One of the best options to get is soundbars. They are slim devices that match the style and design of your 4K TV. They will not stick out like a sore thumb when you place it beside your television, and they will provide you with it.
On top of the soundbar's aesthetics, they also produce high-quality audio that will let you enjoy the movie or show that you are watching.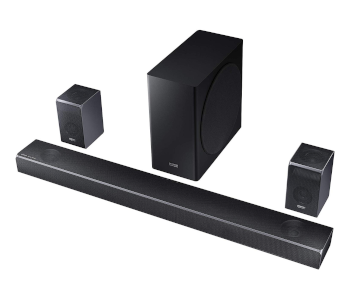 Retail Price: $1,699
Samsung's HW-Q90R is their flagship soundbar that supports both object-based audio of Dolby Atmos and DTS:X. This enables you to enjoy that distinct cinema experience right in your living room. The soundbar makes this all possible by having rear-facing and upward-firing speakers for better playback.
Premium Design
The HW-Q90R boasts a comprehensive design that makes it the perfect accessory for your ultra-wide 4K TV. Even though it is heftier than other soundbars, it does not steal your TV's thunder and only compliments it. Because of its size, you may have a difficult time finding space for it, so Samsung has come up with a wall mounting option.
In the Box
There is a lot to unpack with the HW-Q90R. It is simply not your ordinary soundbar that you position underneath your TV and connect. Similar to other soundbars, it comes with the central unit, which is the elongated speaker bar. The whole package also comes with two wireless satellite speakers for surround sound that have amplification capabilities and must be plugged in, so they provide optimal sound every time. On top of everything, this is a powerful wireless side-firing subwoofer that will give you that much-needed bass.
Unparalleled Performance
As with other premium soundbars, the HW-Q90R supports Dolby Atmos and DTS:X technology so you can feel like you are part of the scene. Coupled with directional speakers that bounce sound around the room, you will be able to enjoy an immersive audio experience.
One feature of the soundbar that impresses everyone who experiences it is its built-in 4K pass-through, which allows you to listen to HDR 10 sources. This substantially matches what you see with your eyes and what you hear. Pristine audio syncs up with crystal clear video so it will not confuse your senses.
Since it supports different wireless connections, it comes with Bluetooth so you can connect your smartphone to listen to your music. This allows you to join the soundbar with other devices such as an Amazon Echo so you can use Alexa with it.
The HW-Q90R soundbar is not just for TV shows and movies. You can also use it for gaming with its Game Mode Pro feature that provides a rich sound so you will feel like you are in the thick of things as you are playing.
The Samsung HW-Q90R is an immersive audio device that will pair well with your 4K TV. The smarts of Samsung, coupled with the sound quality of Harman Kardon, this is truly a premium audio device that will satisfy your audiophile tendencies.
What We Like
What We Don't Like
Excellent sound quality
A little on the pricey side
Truly immersive performance
Only comes with two HDMI inputs
for a premium model
Supports Dolby Atmos and DTS:X
Quick to setup and pair with your
devices
Attractive and solidly built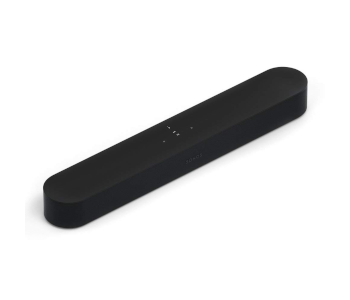 Retail Price: $384
The Sonos Beam is a sort of a hybrid. First of all, it is a soundbar, it can also double as a smart speaker, and definitely everything you expect from a Sonos device. You can expect to control your TV with Amazon's Alexa, which makes it a lot cooler than any other soundbar in the market.
Design
The Beam is a bit more compact compared with other soundbars in the market. At only 25.5 inches wide and weighing a little over 6 pounds, it is significantly lighter, making it easier to move around and install to wherever your TV is.
Operating your soundbar is simple thanks to the touch controls found at the top. You can select the volume up or down, jump on to the next track, and pause whatever it is you are watching. There are also LED lights that indicate the soundbar's status so that you know whether it is muted or not.
At the back, you will find the standard set of ports so you can connect your soundbar to your TV. It comes with an HDMI connection, an Ethernet port, and a Bluetooth pairing button so you can link it with other wireless devices.
A Sonos Device
The Beam is your typical Sonos product, it is more than just a soundbar. It is a wireless speaker that can play from just about any source. You can play music from different streaming services like Spotify, Tidal, Apple Music, Amazon, Google Play, even your smartphone, and other devices that are connected to the same network.
Of course, it connects to your TV via its HDMI port. On top of that, if your TV supports ARC technology, then you can use the Beam's voice support to control your TV like turning it on and adjusting the volume by directly talking to it.
Sound Quality and Performance
When it comes to audio quality, the Beam supports Dolby Digital, so you must make an effort to ensure that your TV can send the right signal to the soundbar. Aside from that, the Beam sounds remarkably good even for its size. It is small, but it does pack a good punch so you can fully enjoy your favorite TV show or movie.
The Sonos Beam is an exceptional device, the Alexa and HDMI support are surely worth talking about. However, do not merely focus on these added features since, like a soundbar, it does perform really well, providing you with clear audio that transforms your overall sound experience.
What We Like
What We Don't Like
Compact design
A little tricky to setup and pair with
devices
Excellent upgrade from TVs built-in
speakers
Comes with HDMI input for TV
control
Great sound quality, especially the bass
it produces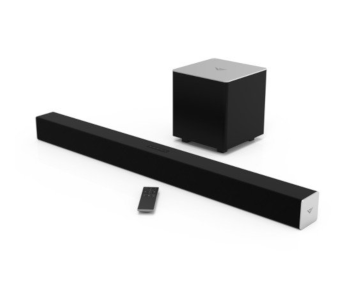 Retail Price: $149
The Vizio SB3821-C6 is a wireless soundbar that can give you decent quality sound, especially if you are on a budget. If you are looking for an entry-level system, then this is the perfect audio companion for your TV.
The Vizio's simple, clean, and sleek design helps make it look neat. It comes with a black grille and panels that wrap around the bar, giving it that ordered look that should match well with just about any 4K TV.
As an entry-level budget device, it does not have a lot of features, but it does come with the essentials. It comes with two 2.75-inch drives with a 5-inch woofer that can give you excellent quality sound for its price.
As a soundbar that is meant to play movies, it supports Dolby Digital as well as DTS TruSurround and TruVolume. The best feature of this set is its wireless subwoofer that can provide you with the right amount of bass so you can enjoy real immersive sound even on a budget.
Vizio is known for manufacturing devices that can give you the best bang for your buck, and the SB3821-C6 is no exception. It might look like a simple soundbar and comes with limited features, but it can give you an excellent performance so you can still enjoy your favorite TV shows and movies.
What We Like
What We Don't Like
Price is reasonable for its overall
performance
The wireless subwoofer has a shorter
range than expected
Produces exceptional sound that is
perfect for watching movies on your
TV
Excellent Bluetooth connectivity
Quick and easy to install
Wireless TV Headphones
Soundbars sure are great, but there are times when you want to preserve the peace and quiet inside your home. This is where wireless TV headphones come into the picture. Wearing a pair allows you to watch late-night movies on your 4K TV without disturbing others. You can even watch at full volume so you can immerse yourself, without anyone hearing a sound.
Most smart TVs have a built-in Bluetooth connection, which allows you to connect any wireless headphones so you can enjoy watching your favorite show or movie in private. Here are some of the best Bluetooth headphones that you can so you will not have to worry about waking other people in your home.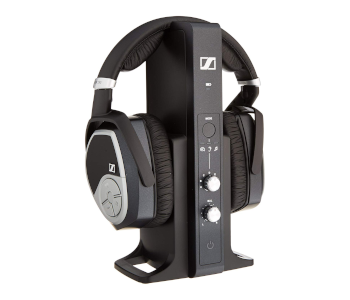 Retail Price: $395
The Sennheiser RS 195 RF is a versatile set of wireless headphones that you can use in just about any situation. It comes with its own base station and RF transmitter, so you do not really need to have Wi-Fi or Bluetooth on the device you want to use it with. The station can broadcast its signal up to 100 meters so you can look for the best position to watch your favorite TV show or movie.
The station is more than just a transmitter, it is also a cradle where you will be able to put the headphones when you are not using them. It balances on top of the base and charges it automatically, so you always have juice for your next viewing session.
Design
Looking at the whole package, it looks bulky, but Sennheiser has managed to make the headphones look hip. It is undoubtedly on the chunky side, but the added padding makes it a comfortable pair to wear. What makes this an exceptional set of headphones is its functionality and ease of use.
It comes with seven different listening profiles that boost specific frequency ranges so you can choose to increase the dialogue or remove ambient noises that might confuse your hearing. Apart from these profiles, you can always listen in standard mode that is your usual audio stream. Using these listening profiles is particularly helpful for those who have a hard time hearing.
Performance
One of the more notable features of the RS 195 RF is its various listening modes. It audibly produces slightly different sounds when tuned to a specific setting. However, in standard mode, it does provide a clean and powerful bass response so that you can enjoy your favorite music, show, or movie.
The great thing about this pair of headphones is that whenever you change listening mode, it will give you what you might expect. For example, switching to dialogue mode helps enhance the speech of whatever program it is you are watching.
The Sennheiser RS 195 RF is an excellent pair of headphones and works well for those who are suffering from hearing loss. Listening modes are a unique way to boost frequency ranges so you can hear them properly. It is definitely a reliable option whenever you are using your 4K TV.
What We Like
What We Don't Like
Extremely comfortable to wear with
all the padding
Does not have noise cancelling
features
Multiple listening modes make it a
perfect headphone for those with
hearing difficulties
Bulky design is not for everyone
Low latency connection for real-
time sound
Exceptional sound quality
Retail Price: $199
If you are looking for a noise-canceling headphone to pair with your 4K ultra high-definition TV, then the Plantronics BackBeat Pro 2 is a dependable and affordable option. Compared to other headphones equipped with the same technology, it is undoubtedly more reasonably priced.
Design and Build
The BackBeat Pro 2 is solidly built and does have a premium feel that can level with other similar wireless noise-canceling models. As a wireless headphone, the features that you notice right away are the controls found on the ear cups. All you need to do is reach out to them to control the volume and playback. Connected to your 4K TV, this will eliminate the need for you to reach for the remote for the most mundane of tasks.
Even though it is a large headphone, it is surprisingly compact since the cups swivel 90 degrees so you can easily slide it into a carrying pouch and into your bag. If you are using this on other devices apart from your 4K TV, then being able to stow this effectively is clearly an excellent feature.
Performance and Quality
The BackBeat Pro 2 is an active noise-canceling headphone, so it does not entirely isolate your ears from the outside world but instead uses acoustics to minimize unwanted sounds. It cuts out low hums from trains, planes, and other ambient sounds so you can listen to your favorite show or movies without having to deal with them.
The headphones connect to your TV using Bluetooth, making it easier to connect. All you need to do is pair it up with your TV so you can start using it. Once connected, it does have a 24-hour battery life so you can watch a few films or episodes of your favorite show without having to worry about charging the device.
The Plantronics BackBeat Pro 2 is an excellent wireless headphone that you can use with your 4K TV. It is not the best at noise canceling, but it does a decent enough job to keep unwanted ambient sound out whenever you are using it to watch films or TV shows.
What We Like
What We Don't Like
Affordable set of headphones with
wireless and noise-canceling
features
On the heavy side
Incredible battery life for
uninterrupted use
Noise cancellation is not quite
similar to that of premium models
Clear and powerful sound that is
perfect for watching movies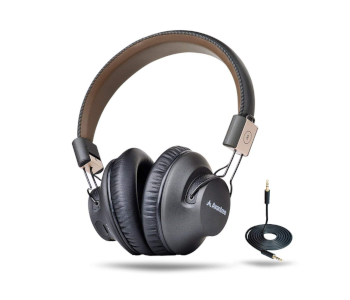 Retail Price: $69
The Avantree Audition Pro is a reliable pair of headphones that will not break the bank. It is a great accessory to use with your 4K TV because its wireless features allow you to listen to your favorite show or film in private without disturbing others.
No Delay Technology
The Audition Pro comes with aptX low-latency Bluetooth technology that virtually eliminates any type of audio delay. This means that what you see on the screen syncs to what you hear over the headphones, preventing any confusion. Most 4K TVs do come with this tech, so you do not have to worry about any of this.
Lightweight Design
Made with lightweight materials, the Audition Pro is lighter than other similar headphones. This makes them extremely comfortable to use so you can binge-watch a TV show without you feeling tired because of a bulky headphone. What makes this possible are the soft earpads and adjustable headband that snuggly fit your head.
Performance and Battery Life
Even though you can consider this as a budget headphone, it still produces superb audio that will significantly improve your TV viewing experience. Dialogue is clear, which makes it an excellent accessory to grab when you are going to watch a movie.
It also packs a set of batteries that can power up the headphones for up to 40 hours of use time in wireless mode. This allows you to watch and enjoy your TV more since you do not have to think about charging your headphones after a couple of films. You can also quickly switch to wired mode if necessary.
The Avantree Audition Pro is an affordable set of headphones that you can use with the 4K TV that can give you the best possible sound quality for its price. Apart from pairing it with your TV, it is also versatile since you can use it with another device that has Bluetooth.
What We Like
What We Don't Like
Very affordable set of wireless
headphones
Ear cups can sometimes be a little to
small
Amazing sound quality for its price
Decent battery life
Wall Mounts
Your 4K TV usually comes with a stand. It does a job to keep your TV upright. However, it is not enough if you are looking for flexibility. A stand will not allow you to change the height, angle, and position of your TV.
To be able to do all those things, you need a good quality wall mount or bracket so you can have more control over how you want to watch on your TV. Getting a wall mount also provides added support while simplifying the entire installation process.
Here are some of the best wall mounts that you can get for your 4K TV.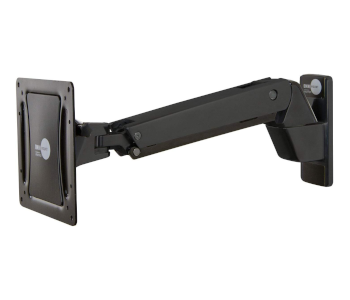 Retail Price: $218
The OmniMount Play40 is an interactive TV wall mount that provides full horizontal and lateral movement that is coupled with an articulating arm. It can virtually move in all three dimensions, giving you a lot of flexibility when it comes to positioning your TV. It is the perfect mount to use if you are always changing your viewing perspective.
The Play40 is a sturdy mount and easily accommodates TVs up to 55 inches and 40 pounds. As long as your 4K TV is not too large, you can use this mount without experiencing any problems.
Movement
The Play40 comes with an articulating arm that provides most of the movement of the mount. The arm is responsible for 20 inches of both smooth vertical and horizontal movement. The arm also extends outward up to 24 inches so you can pull the screen nearer. This gives you the right amount of independence on how you want to position your TV for a more comfortable viewing experience.
With this freedom of movement, you might think that the entire installation is difficult to move around. OmniMount's Constant Force technology allows you to move your TV without exerting too much effort. There are no locks or clips that need releasing so you can just grab your TV, move it to a more comfortable angle, and it will follow.
Installation
The Play40 installs rather easily. You only need a single stud to fix it into your wall. It comes with all the necessary installation hardware, so you do not have to get tools that you will not use in the future. It comes with the right amount of cable management to hide them out of sight.
The OmniMount Play40 is a wall mount that is perfect for your 4K TV. It gives you fluid mobility in all directions so you can adjust to the most comfortable viewing angle. It is not the cheapest mount in the market, but the interactivity makes the price worth it.
What We Like
What We Don't Like
Fluid movement in a wide range of
motion
Does not hug the wall when
retracted
Supports wider and heavier TV
models
Does not require a lot of effort to
change position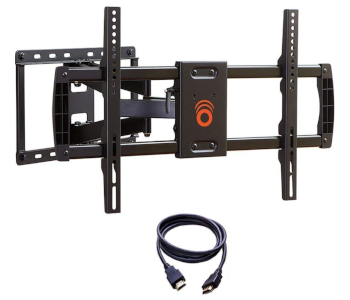 Retail Price: $79
The EchoGear is a full-motion TV wall mount that comes with an articulating arm so you can move it effortlessly. You can extend it up to 16 inches and swivel up to 130 degrees allowing you to view your TV with the perfect viewing angle.
Installation
This wall mount boasts a quick 3-step installation so you will not feel like you are solving a puzzle. To set this wall mount up, first, you will need to attach the brackets to the back of your TV. Then, you will need to mount the wall plate. Finally, simply connect the TV to the plate, and that is it you are done.
Design and Compatibility
One of the notable features of the EchoGear is that it is a sturdy wall mount and can easily support large TVs up to 132 pounds. The entire setup is tested to make sure that all devices are supported up to four times their rated weight, so you do not really have to worry about the EchoGear being able to handle your TV.
This wall mount comes with different screws for just about every brand imaginable. So, whether you are mounting an LG, Sony, Samsung, Vizio, or a different TV, you can quickly attach it and get it up on the wall.
The EchoGear is a wall mount for your 4K TV. It can undoubtedly support your ultra high-definition television up to 70 inches, so you will not have a problem with this in terms of installation. The movement that it allows your TV makes it the perfect accessory to upgrade your overall viewing experience.
What We Like
What We Don't Like
High-quality build to support
heavier TVs
Clips to hold cables fall apart easily,
you can always use Velcro straps
Amazing range of movement
Quick and easy to install with
thorough instruction manual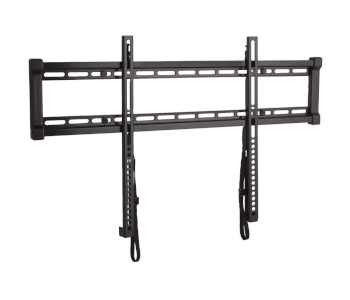 Retail Price: $59
The Sanus low profile wall mount is a fixed type that positions your TV right at the wall for a more modern look. It lies flush against the wall with a separation of about an inch. Even though it is positioned so close to the wall, the mount comes with quick release locks so you can have access to the backside to link cables to the ports.
As a fixed type mount, your TV will not accommodate any form of movement. If you feel like you do not need your set up to move or tilt, then getting the Sanus is an excellent choice. If you are looking for a more modern look with your TV right on the wall with only an inch of wiggle room, then this mount is something that you should consider.
Quick Installation
An advantage of wall mounts similar to the Sanus is that they are significantly easier to install compared to those with a wide range of motion and articulating arms. Simply attach the brackets to the back of your TV, then screw in the wall plate to your wall, and finally hang it up.
One problem with fixed mounts is that you need to measure everything to make sure that your setup is centered and leveled. The Sanus gives you a little bit of adjustment window where you can slide it left and right after hanging to adjust its position.
The Sanus low profile wall mount is a different type of solution to hang your TV on your wall. It certainly does the job and provides your TV a stable base so you can watch at a level that you are comfortable with.
What We Like
What We Don't Like
Sturdy low-profile wall mount
Does not really move due to its
design
Easy to install
Fits just about any model
4K Blu-ray Player
Nowadays, streaming is the best way to consume content on your UHD 4K TV. However, it is not the best option since it is not going to give you optimum picture quality. For that, you want to turn to Blu-Ray players that are capable of playing 4K video.
There are a lot of players out there that you can use with your TV, the great thing is that prices are quickly dropping that the best ones are getting more affordable. Here are some Blu-Ray players that can play 4K movies that will significantly improve your viewing experience.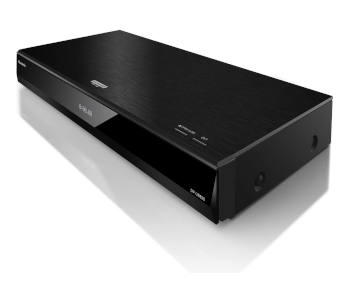 Retail Price: $499
The Panasonic DP-UB820 is the company's mid-range selection that performs like one of their high-end models. This makes it one of the most reasonably priced 4K Blu-Ray players available on the market.
Features
The feature that sets this model apart from other similarly priced Blu-Ray players is its HDR performance and processing. This gives the DP-UB820 the capability to render pictures with brighter highlights and better color detail. It also supports the latest HDR10+ technology, and you are basically future-proofed.
HDR does come with its own set of problems, especially when the content you are viewing is not made with the technology in mind. Panasonic has solved this with their HDR Optimizer feature that allows you to manually pick brightness settings to match what your display is capable of.
Performance
The DP-UB820 does not compromise when it comes to picture quality. The player uses a second-generation HCX processor that will give you the detail and color precision that you would expect from a high-end 4K Blu-Ray player.
The player also comes with 4K Direct Chroma Scaling that quickly converts Full HD videos to 4K for a much-improved viewing experience. This means that you can still enjoy your high definition movies in 4K.
The Panasonic DP-UB820 is a player that will give you value for your money. If you are looking to get a TV with Dolby Vision or HDR10+ capabilities, then this is the perfect companion to get so you can fully enjoy watching your favorite 4K films.
What We Like
What We Don't Like
Multi-HDR support including the
latest HDR10+
Outdated user interface
Built-in streaming apps
Dolby Vision support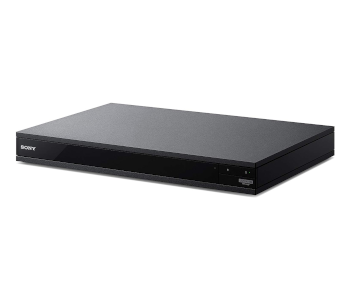 Retail Price: $226
Inserting a disc into a player is still one of the best ways to consume video content, especially if it is in 4K form. The Sony UBP-X800 is one of those players that can provide you with the experience that you deserve for every disc in your collection.
Design and Features
The UBP-X800 comes in an unassuming box that is not in any way flashy, but as soon as you pick it up, you know that it is a premium product that packs a punch. The box, surprisingly, comes with streaming apps like Netflix, Amazon Prime Video, and YouTube so you can enjoy content other than your discs.
You can play just about any type from Blu-Rays to DVDs, even CDs, since the player is built to play discs. If you do not think your old movies will be crisp enough for your TV, then one thing to note is that the UBP-X800 offers premium upscaling so you can watch from your collection in converted 4K.
The player supports HDR and comes with a variety of options, including HDR10. It has no Dolby Vision capability, but TVs that come with this are still not mainstream, so chances are this will be something that you can push aside.
Performance
If there is one player that can consistently provide you with excellent performance, the UBP-X800 is it. Able to play a variety of disc types, and even scaling them up to 4K in near-perfect quality, it is a fixture that you will use over and over.
The audio playback is likewise impressive, supporting both DTS:X and Dolby Atmos 3D surround sound so you can be totally immersed in what you are watching. Sound clarity is impeccable, and listening to songs highlights this even more.
The Sony UBP-X800 is a great device to build your home theater system. Reasonably priced and continually pushing the boundaries of performance, it is definitely going to take your viewing and listening experience to the next level.
What We Like
What We Don't Like
Excellent connectivity with
Bluetooth and an Ethernet port
A little on the large side
Outstanding audio support with
Dolby Atmos and DTS:X
Comes only in black
Comes with premium features at a
midrange price range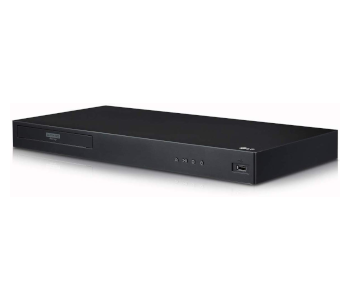 Retail Price: $189
It is fair to consider the LG UBK80 as one of the more affordable 4K Blu-Ray players in the market. This is more along the line of a budget player, with a plain rectangular box design that will blend with your TV and home interior.
Quality and Performance
As a budget option, there are quite a bit of apparent omissions, which are mainly due to keeping the price down. There is no Dolby Vision support, and it only comes with HDR10. Still, it can show sharp and crisp video at 4K resolution with excellent HDR capabilities. It does not feel like you are missing out on several features.
One feature that the UBK80 gets right is its upscaling capabilities. Even SD content is elegantly upscaled so you can enjoy your favorite films in 4K glory after all these years. When it comes to Full HD videos, the player is capable of boosting it to up to 4K and even adding its own improvements to the picture quality and level of detail.
Interface
The UBK80 relies heavily on ports since it does not have Wi-Fi. It comes with a USB port so you can connect an external storage device and access your saved videos. It also has an HDMI port to connect to your TV so you can watch your favorite films. Lastly, it has an Ethernet port, which is mainly for firmware updates since it does not have online functionality.
The LG UBK80 is one of the more affordable 4K UHD Blu-Ray players out there. It does not really show it, but when you take a deeper dive, you will notice features that are not supported like Dolby Vision and Wi-Fi. However, it still does its job by offering excellent 4K and HDR playback with significant upscaling for older discs and content.
| What We Like | What We Don't Like |
| --- | --- |
| Excellent image quality for its price | Does not have Dolby Vision |
| Quick to setup | No Wi-Fi connectivity |
| Good 4K upscaling feature | |
| Reasonably priced player | |
Universal Remote
Now that you have a 4K UHD TV, chances are you also have, or at least plan to get, a soundbar and a Blu-ray player to complete your home theater system. This means you have at least three remote controls to use before you can enjoy watching your favorite movie or TV show.
To streamline all of these, it is crucial that you get a good universal remote control that can link with all of these devices. This radically reduces the number of remote controls that you need. Getting an excellent universal remote will give you that peace of mind, so you do not grab the wrong one and ruin your experience.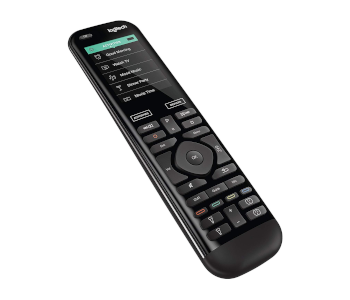 Retail Price: $349
The Logitech Harmony Elite is a powerful universal remote that provides you with an intuitive way to control your entertainment system. From your 4K TV and soundbar to devices beyond your entertainment system like smart thermostats and blinds, it is the only remote you will ever need. You can quickly program the Harmony Elite, so it allows you to control up to 15 entertainment and smart devices around your home with Amazon's Alexa as your own personal assistant.
Touch Control
The Harmony Elite is outfitted with a full-color touchscreen, so all you really need to do is swipe and tap to change channels, turn the volume up or down, fast-forward or rewind, and control smart home devices like the Philips Hue lights. You can program up to 50 of your favorite channels, so you do not need to memorize them. Using the Harmony app on your smartphone, you can control or your programmed devices even when you are away from the remote. You can additionally adjust your smart devices even when you are away from home.
One Touch Activities
An exciting feature of this remote control is how it manages your devices. You can group them by activity, making it possible to set something like "Watch a Movie," and this will automatically power your TV and set your other devices to the right settings. You can simply sit back and watch your favorite film or show. It can also automatically dim the lights, as long as you set it correctly. You can create and set up different activities so that everything will be as quick as tapping the touchscreen.
Extended Range
Out of the box, the Harmony Elite comes with the Harmony Hub that primarily extends the range of your remote. Allowing you to control all of your devices even if you are on the other side of the house. No need to point the remote to the device you want to manage since the Hub can take care of it. An advantage of this is that you can even control devices that are hidden behind walls.
The Logitech Harmony Elite is a universal remote control that can do everything. There is a slight learning curve in programming the remote, but once you get the hang of it, you will be able to take control of a lot of your devices.
What We Like
What We Don't Like
Easy to use remote
Slight issues with the touchscreen
Remote for your smart home system
and home theater in one
App support allows you to use your
phone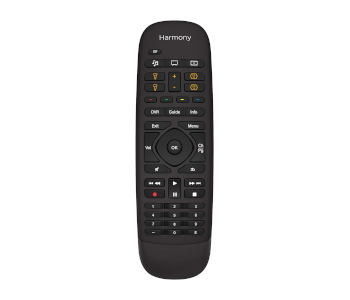 Retail Price: $149
If the Logitech Harmony Elite is the premium version, then the Harmony Companion is a suitable mid-range alternative. One of the most apparent differences between the two is that the Elite comes with a touchscreen for controlling it, while the Companion only has your standard-looking remote.
Do not be fooled, though, since it still comes with similar features so you can control a lot of different devices, not just your entertainment system. The remote integrates blinds, locks, lights, thermostats, TV, home theater systems, and more. It also supports advanced devices like Roku, Apple TV, and even game consoles like the Xbox One.
Smart Features
As a universal remote, the Harmony Companion supports Amazon's Alexa, so you can basically control all of your linked devices with your voice. You can quickly turn on your 4K TV and home theater system just by talking to Alexa.
One feature of the Elite that the Companion comes with is its smartphone connectivity. Linking the remote with the Logitech app on your smartphone turns it into a controller of its own. You can essentially control everything that is programmed on the remote from your phone.
Easy Setup
Setting up and programming your remote is quick as it works with over 270,000 devices from over 6,000 brands. You can quickly connect your TV, cable box, Blu-ray player, and even streaming devices like Roku and Apple TV. All you need to do is connect the remote to your computer and download the commands over the internet so you can start using it right away with all of your home devices.
The Logitech Harmony Companion is the one that you need to cut down on the number of remotes you have lying around. Now, with this universal remote, you can take control of all of the devices in your home.
What We Like
What We Don't Like
Uses RF technology so line of sight
is not needed to control your devices
Programming process can get
complicated
Extensive programmable features for
all types of devices
Reasonably priced with great value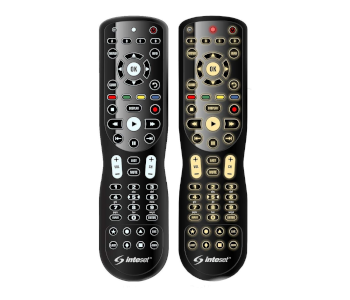 Retail Price: $25
The Inteset 4-in-1 is a universal remote that is designed to work with different streaming devices like the Apple TV, Roku, Nvidia Shield, Xbox One, Kodi, and a lot more. Looking at the remote, at the top, it does come with pre-programmed buttons for different services so you can use it right away without having to set it up.
Build and Design
Holding the Inteset, you instantly know that it is a high-quality product thanks to its solid feel. The features that this remote comes with can only be found on other high-end controllers at a fraction of the price. There are a few differences when you compare it with premium models like Logitech's Harmony Elite, like the touchscreen, but there is a significant price difference between the two.
Supported Devices
The Inteset comes with an extensive built-in database so you can search and select the code for your device so the remote can access it. There is a good chance that your TV and other accessories are supported. If not, you can always program their functions into the remote.
A more advanced mode is the macro programming, where you will be able to set a string of up to 32 commands at the push of a button. This way, you can set up different commands like turning all of your home theater devices on or off at the same time on a single button to make life a lot easier.
The Inteset 4-in-1 universal remote is a complete package that allows you to condense all of your control into one device. It is a simple device to set up and extremely user-friendly that anyone can use it and program it to your liking.
What We Like
What We Don't Like
Built-in programs for streaming
services are awesome
May not support some devices from
the get-go
Easy to use remote for your devices
Device database is extensive
Enhance Your 4K Experience
A 4K UHD TV is undoubtedly an excellent entertainment investment, but sometimes it may not be enough to satiate your hunger for a truly high-quality experience. Even the most premium 4K TV model has its own set of drawbacks, and the only way to enhance it is to get a complimentary accessory that will improve that area.