10 Best Electric Scooters for Adults
3D Insider is ad supported and earns money from clicks and other ways.
Electric scooters are extremely popular toys for kids, but they are capable of more than just fun and entertainment. They are highly compact mobility tools that can help adults move around their neighborhoods. Some people have use their electric scooters on their regular commutes to and from work. Besides, there is no reason that adults can't ride an electric scooter just for fun.
For this article, we have compiled a list of the best electric scooters for adults available today. These electric scooters have specs that are a little higher than those of the models made for kids and are designed with enough weight capacity for an adult to ride safely.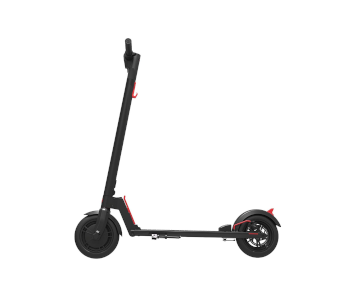 If you are looking for a robust and reliable electric scooter that you can use for your regular commute, then it would be hard to find a better choice than the GOTRAX GXL Electric Scooter. The GXL can move up to a maximum speed of 15.5 mph, which is reasonably fast. With a maximum weight capacity of 220 lbs, kids and adults alike can comfortably ride the GOTRAX.
Powerful 36V batteries allow the GOTRAX to travel up to 12.5 miles in a single battery cycle. This distance should be more than enough for typical back-and-forth commutes. Charging the batteries daily is not a problem, as they only need 4 hours to be charged to full capacity. With its foldable design, the GXL can be put away easily in a closet at the end of the day.
GOTRAX has incorporated several features to make the GXL a true commuting scooter. 8.5 inch pneumatic tires with anti-slip treads allow the GXL to negotiate gravel, asphalt, wet surfaces, or uneven roads. An ultra-bright headlight makes this electric scooter highly visible even at night. It even features a dual front and rear braking system that allows riders to react to highly dynamic traffic conditions.
More than being a control mechanism, the handlebars of the GXL also provide useful information with a digital speedometer and light indicators that show the remaining battery level. In terms of practical use, there are probably few electric scooters that can rival the GOTRAX GXL.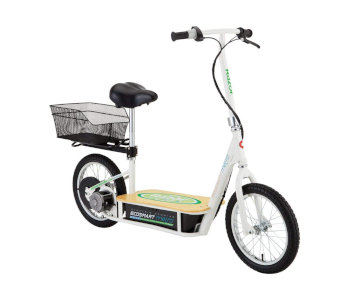 The EcoSmart Metro Electric Scooter from Razor touts itself as an environment-friendly means of transportation. This makes sense: by running on battery power, electric scooters produce zero emissions. In fact, it has been argued that using a battery-powered bike or scooter has a smaller carbon footprint than riding an old-fashioned manual bike. Sounds crazy, right? Although this is true for all electric scooters, the EcoSmart is the only major electric scooter to embrace it. The deck is made from renewable bamboo.
The EcoSmart scooter is not just about being green. It also has a powerful 500W extra high torque motor that allows it to move at a maximum speed of 18 mph. A 36V battery gives up to 40 minutes of continuous use. A padded seat and 16-inch bicycle-sized wires complete the look of the EcoSmart scooter, making it a great choice for an electric scooter meant for regular commutes to work or for a quick trip around the neighborhood.
Standard-sized adults and kids should be comfortable riding the EcoSmart scooter, which has a maximum weight capacity of 220 lbs. It also comes with a removable luggage rack and basket. The EcoSmart comes with all the practical features of an electric scooter that you will find yourself riding everyday.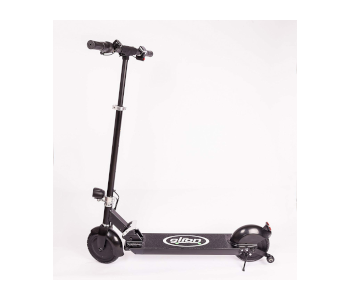 The Glion Dolly electric scooter is the ultimate model when it comes to portability. It weighs only 28 pounds and it has a pull-out trolley handle. This means it takes little effort to roll. In its folded form, the Dolley can even stand up by itself, which is a great feature if you happen to be waiting for the bus or the train.
More than being portable, the Glion Dolly is also a powerful machine. With its 250W brushless motors, the Dolly can travel at a maximum speed of 15 mph and carry a maximum weight of 255 lbs. The Dolly can run for 15 miles in a single charge of its 36V lithium ion batteries, which can be charged to full capacity in about 3.5 hours. With no gears or chains, the whole electric scooter setup runs whisper quiet.
The Glion Dolly is made commute-friendly with its 8-inch never-flat tires, an anti-lock electronic brake safety mechanism, and a pedestrian bell. A battery indicator mounted on the handlebar means you never have to wonder if your battery has enough juice to make it all the way to your destination. An ultra-bright headlight and a built-in tail reflector keeps you safe and visible when riding at night.
Overall, the Glion Dolly is a great choice for an electric scooter if your regular commute involves getting into buses or trains. The Dolly is very portable and easy to bring along even when you are not riding it.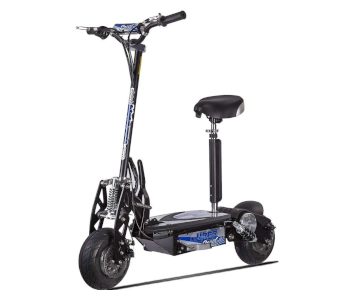 The Uber Scoot from EVO Powerboards stands out with raw power, having a top speed of 24 mph and a capacity of up to 256 lbs. Its 36V SLA-gel batteries allow the Uber Scoot to travel up to 10 miles on a single cycle. Owners of this electric scooter even have the option of upgrading to lithium-ion batteries which further increase the range of the Uber Scoot to an impressive 24 miles. With numbers like these, the Uber Scoot is sure to be an exciting ride for adults.
Beyond just being powerful, the Uber Scoot was also designed with comfort in mind. It comes with a removable cushioned seat in case you prefer to be comfortable on long commutes. It also comes with 10-inch pneumatic street tires that can absorb the shocks of uneven terrain.
Powerful motors, a big battery, and a cushioned seat combine to give the Uber Scoot a hefty weight of 79 lbs. This is far from being a portable weight, but the Uber Scoot does not seem to put much stock on being portable. If a speedy and long-lasting electric scooter is what you're looking for, then the Uber Scoot is the perfect choice.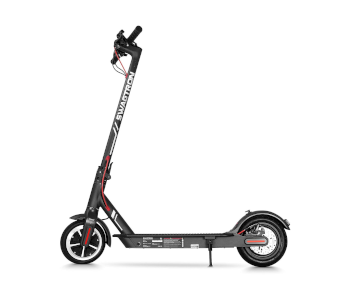 The Swagtron Swagger 5 is probably the smartest and most high-tech electric scooter available today. Aside from a having powerful motor, it boasts of mobile app connectivity at a level of sophistication that we have not seen equaled by any other electric scooter in the market.
A 250 watt hub motor allows the Swagger 5 to travel at a maximum speed of 18 mph and climb inclines of up to 20 degrees. More impressively, the Swagger 5 has a weight capacity of 320 lbs – enough for practically any size of an adult. Potholes and cracks on the street are not a problem with its maintenance-free tubeless tires. Charging the batteries of the Swagger 5 to full capacity only takes about 3.5 hours, which should give you enough power to travel a maximum of 12 miles.
A feature of the Swagger 5 that really makes it stand out is its ability to connect via Bluetooth to an app on your mobile device. Using the app, you can view useful information such as your GPS location and your speed. Moreover, the app lets you turn on your headlights and activate cruise control. The handlebars of this electric scoter even have a built-in phone mount. This makes it easy to turn it into a navigation display.
On top of having impressive specs, the Swagger 5 seems to be the first step towards the next generation of electric scooters that are smarter and more geared towards giving the user better control.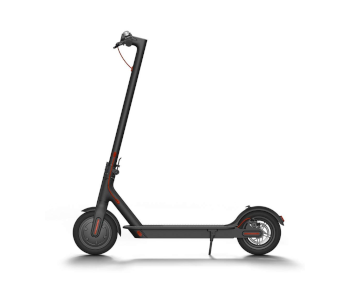 The Mi Electric Scooter is one of the best-selling electric scooters in the market today. Backed by a popular brand name, the Mi Electric Scooter is a highly portable model that integrates innovative battery technology to deliver a unique user experience.
A powerful 250W electric motor gives the Mi Electric Scooter a max speed of 15.5 mph and max load weight of 220 lbs. It boasts of a long-range battery that allows up to 18.6 miles in a single battery cycle without recharging. This battery life blows away most of the Mi's competitors in the electric scooter market, thanks to its smart regenerative energy system. This works by converting the kinetic energy generated by acceleration and storing it in the battery as electric power.
The aerospace-grade aluminum build of the Mi makes it extremely lightweight at only 26.9 lbs. In its folded form, carrying the Mi Electric Scooter by hand requires very little effort. Despite the lightweight build, this electric scooter is chock-full of safety features such as anti-slip treads on 8.5 inch front and rear tires, red brake lights, ultra-bright headlights, and a dual front and back braking system.
Xiaomi takes their expertise in smartphone manufacturing to create an easy-to-use app. Connecting to the mobile app via Bluetooth allows the user to view the current speed, mileage, and the remaining battery power of the electric scooter. Xiaomi continuously updates the app, so perhaps we can expect even more features to come up soon.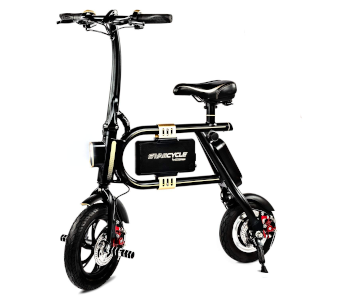 The SwagCycle has a unique form factor that looks a little more robust and industrial than its counterparts. It is designed to move at a speed of about 10 mph, which may not be that fast compared to other electric scooters but is certainly faster than what most people can manage to pedal with a manual bike. With its 36V lithium ion-battery that can be fully charged in 2.5 hours, the SwagCycle can travel up to 10 miles on a single battery cycle.
With a low riding cushioned seat, the SwagCycle looks more like a moped than an electric scooter. This makes for a comfortable ride, although you will probably feel the need to stretch your legs every now and then. With its lightweight aerospace-grade aluminum frame, the SwagCycle has a total weight of only 29 lbs. Its front stem collapses to make a more compact bundle, but it is nowhere near as compact as typical stand-up electric scooters.
A nice touch in the SwagCycle is the provision of a micro USB port in the battery compartment that you can use to charge your mobile devices. Using this port naturally eats up on your riding time, but it is still nice to have the option available. The handlebar of the SwagCycle provides all the information and controls you will ever need to drive it, including a battery life display, a switch to turn on the head light, a button for the horn, and controls for acceleration and braking.
The SwagCycle does not have much in terms of power but makes up for it with a mobile device charging port that feels like it should be a standard feature of electric scooters. It is truly the electric scooter designed for the modern commuter.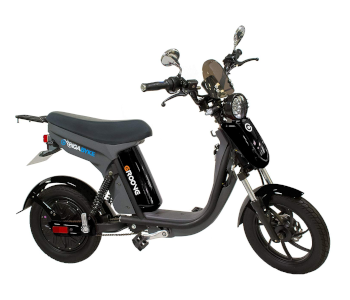 The GigaByke Groove looks less of an electric scooter and more of a full-on electric motorbike. This makes it infinitely more comfortable than any stand-up electric scooter with its full-sized cushioned seat that can comfortably sit two people. Don't overdo it, though, as the Groove only has a capacity of 250 lbs.
The V2 version of the GigaByke Groove features an upgraded motor that is capable of higher torque and more consistent top speeds. This is great news, as the 20-mph max speed of the Groove is probably something most riders will aspire to reach. Powerful 48V batteries allow the Groove to travel an impressive 35 miles per charge, with the batteries only needing 6 hours to be fully charged.
The GigaByke Groove is designed to be road-ready. It comes equipped with an LED headlight, a digital speedometer, tail lights, and turn signals. A dual braking system consisting of a front wheel disk brake and a rear wheel hydraulic brake makes the Groove remarkably responsive in any situation.
There is no mistaking the GigaByke Groove for a toy, especially considering its steep price tag. However, comfortable full-sized seats and a superior range are more than enough to justify its price. The GigaByke Groove is an excellent choice for buyers who need an electric scooter for regular long commutes, and who value some degree of comfort.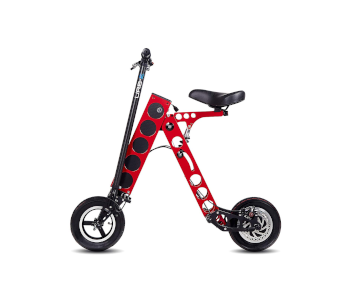 The URB-E Electric Scooter belongs in a different league compared to the other entries in this list. It is a 100% American-made product that is built by hand in Pasadena, CA. It undergoes a quality inspection system that is at a level usually reserved for cars, so you can be sure to receive a high-quality product when you order. In terms of both form factor and price range, the URB-E easily stands out.
With a frame that is composed of aircraft-grade aluminum and carbon fiber, the URB-E is remarkably durable and lightweight. Weighing in at only 35 pounds, the URB-E has a load capacity of up to 250 lbs. It can move at a top speed of 17 mph aided by its 350W brushless motor, while its 35V 50-cell lithium-ion batteries give it a range of 20 miles in a single battery charge.
The URB-E is very easy to carry around and put away. It features a folding mechanism that engages in less than a second. Deployment of the URB-E to its full size is just as quick. Even opened up, the URB-E probably has one of the most compact designs for electric scooters. It's almost unbelievable how much power the manufacturers of the URB-E were able to fit into such a small package.
With a price that is 4 to 6 times higher than most of the other entries on this list, the URB-E Pro GT is probably only for the savvy commuter who needs a serious mobility upgrade. The URB-E Pro GT promises a riding experience that is unlike any other electric scooter in the market. However, its steep price tag might make the URB-E unappealing to many casual buyers.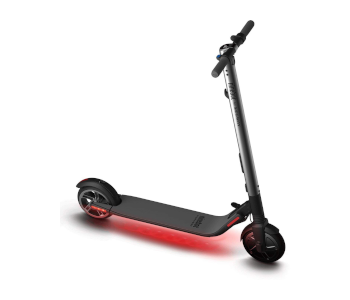 Coming from the Segway brand, the Ninebot ES2 has a lot of expectations to live up to. An upgrade to the successful Ninebot ES1, the ES2 features a faster max speed of up to 15.5 mph and a farther 15-mile range. You also have the option of installing a battery extension to the ES2 which increases its range to about 27 miles. With a total weight of only 28 lbs and a one-click folding system, the ES2 is highly portable for times when you need to carry it around.
Solid rubber tires make the ES2 a low-maintenance electric scooter that is perfectly usable in all types of terrain. Potholes and uneven surfaces are not a problem, as the ES2 features a rear shock absorption system that will keep you comfortable even in rugged conditions.
A nifty feature of the Ninebot ES2 is its Bluetooth connectivity to the Ninebot mobile app. Through the app, you can access various functions of the electric scooter, such as activating cruise control, setting the speed limit, and adjusting the lighting effects. The mobile app also includes a one-key lock function that keeps the wheels from rolling, effectively keeping the scooter from getting stolen.
The Ninebot ES2 electric scooter is a reliable model whose specs don't exactly stand out but has a couple of nice features going for it. Peace of mind being a valuable commodity, the security functions integrated in the Ninebot mobile app should be a welcome feature of any potential buyer.
Final thoughts
Although electric scooters make great toys for kids, they can also serve more practical purposes for adults. Electric scooters are an excellent and affordable way to commute to work. Having zero emissions also means that using electric scooters for transportation results in you doing your part to reduce carbon footprint.
Electric scooters are some of the most popular gift items during the holiday season. This year is not going to be an exception. These electric scooters will be flying off the shelves. If you're on the market looking for an upgrade to your means of daily commute, then you can pick any of the top picks we have listed in this article. We guarantee that you will not disappointed with any of them.