5 Best Smart Fridges of 2019
3D Insider is ad supported and earns money from clicks, commissions from sales, and other ways.
Has the milk run out again and you didn't bother to let anyone know? Does the inside of your fridge reek of rotten salad and cheese whose mold wasn't part of the original deal? If so, you may need a fridge that keeps track of such things for you, an appliance that not only cools your food but also makes its storage more hassle-free.
You'd have to pay a king's ransom just a few years ago to get a smart fridge, but luckily times have changed for the better! Today's models are both smarter and more affordable than ever. Their prices rival those of regular French door models, yet their convenience and advanced features make smart fridges clear winners.
Some give you nuanced control over temperature settings and notifications, others let you create shopping lists and draw your attention to expired foodstuffs. In short, smart fridges are the best example of tomorrow's appliances today. The question is, will you embrace them sooner rather than later?
We're already happily using ours! To get you on board as well, we've compiled a list of the five best smart fridges you can currently get and are showcasing each through exhaustive reviews. Pick a favorite and experience their impressive quality-of-life improvements first-hand.
Budget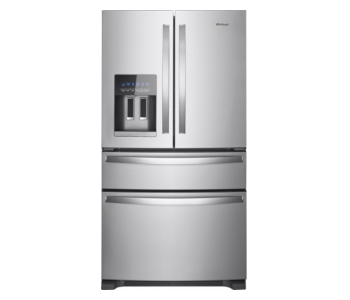 Whirlpool WRX735SDHZ
4.5/5.0
Fridge capacity: 17.8 cu. Ft.
Freezer capacity: 6.7 cu. ft.
Lots of space for jugs and other unusually-shaped items.
Check HomeDepot
Best Value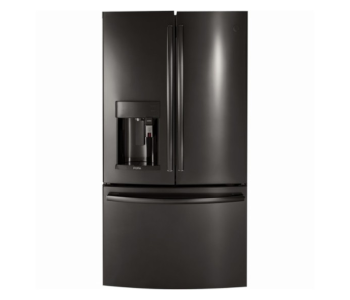 GE Profile PFE28PBLTS
4.8/5.0
Fridge capacity: 18.6 cu. Ft.
Freezer capacity: 9.2 cu. ft.
It has separate temperature controls for fridge & freezer.
Check Home Depot
Top Pick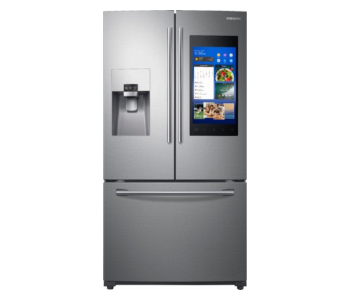 Samsung Family Hub 2.0
4.9/5.0
Fridge capacity: 16.2 cu. ft.
Freezer capacity: 8 cu. ft.
Has a large responsive screen and a good selection of apps.
Check Home Depot
What to Look For In a Smart Fridge
Temperature & Humidity Control
Filtration
Sensors & Alerts
Connectivity
Best Smart Fridges Comparison Table
#1 Best Overall – Samsung Family Hub 2.0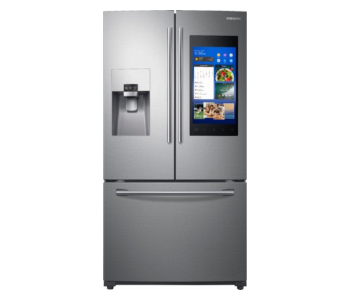 View on Amazon
Editor's Rating: 4.7/5
Samsung's first Family Hub was a step in the right direction as smart fridges go, but it felt rushed and lacked essential features like voice commands and SmartThings integration. We're glad that most of the kinks are ironed out now, and 2.0 is better in almost every way.
It would have been a beautiful and spacious high-end fridge in its own right even without all of its smarts. Add the abundant and highly useful smart capabilities it comes with though, and you have a truly futuristic appliance. Some of its apps might seem gimmicky at first, but give it a few weeks and see if you could ever live without them again!
The Well-rounded Smart Fridge
Samsung has decided to adopt a French door design for the Family Hub 2.0. It has a beautiful black or dark grey metallic finish that enriches any modern kitchen space. Its interior houses an abundance of compartments that can be neatly organized and offer enough space for the weekly food requirements of a sizeable family. The fridge can dispense ice and cool water and has shelves which can be tucked away to free space up for larger items. There's also a pantry drawer with variable temperature settings.
The obvious eye-catching feature you'll get the Family Hub 2.0 for in the first place is its responsive 21.5-inch LCD screen. It allows individual family members to set up their avatars, track diets, come up with grocery lists, leave messages, and much more. Whenever the doors are closed, internal cameras snap pictures of your food which can be brought up either on the screen or on a connected phone. You can tag items and set reminders about their expiration dates, or just use the picture as a reference when grocery shopping.
The fridge integrates seamlessly into a Samsung environment. Thanks to SmartThings, you can use it to check up on your security cameras, control the lights, your thermostat, and other compatible devices. Owners of Samsung's smart TVs can also mirror their contents onto the screen to never miss a show. If you don't want to use the touchscreen or have dirty hands, everything can be controlled via voice thanks to Bixby.
What We Didn't Like
The Family Hub 2.0 operates smoothly, but it's quite a loud refrigerator. After a little while, you'll get used to all the sounds it makes though. Apart from that, the TV mirroring feature has its limits – the TV in question can't be too far away, and walls between it and the fridge can cause the connection to suffer.

Tech Specs
Dimensions: 70 x 35.8 x 35.6 in.
Fridge capacity: 16.2 cu. ft.
Freezer capacity: 8 cu. ft.
Water filter: No
Integrates with: Samsung SmartThings
The Pros
Much more affordable than previous model
Large responsive screen
Good selection of apps
Internal cameras
Excellent smart home integration
The Cons
Loud
Spotty connection to Samsung TV-s
#2 Best Value – GE Profile PFE28PBLTS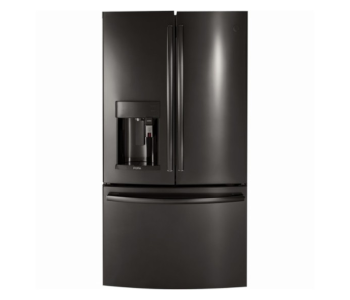 View on Amazon
Editor's Rating: 4.6/5
Any old fridge can make ice for you with varying degrees of success. How many of them can actually heat water though? GE's PFE28PBLTS cones with a built-in water heater and highly effective water filtration system, allowing you to brew fresh coffee at a moment's notice. That's just a useful novelty however – the fridge's real power lies in its intelligent design, variable temperature settings, and top-notch smart features.
Some Like It Hot
The PFE28PBLTS looks like your typical modern French door fridge, the only difference being the Keurig water heater located by the ice dispenser. Once you open it up, you'll discover a wealth of space both within the fridge and the freezer area. The latter is particularly deep, allowing for storage of large amounts of frozen goods inside two differently-sized trays.
Thanks to TwinChill, the freezer and fridge maintain two separate climates, so adjusting the temperature of one won't affect the other. Do you tend to open and close the fridge a lot? Turn on Turbo Cool to quickly bring the temperature down after each opening.
Inside the fridge, you'll find a full-length drawer whose temperature can be controlled individually. There's an LED that lights up in different colors based on the temperature setting. Speaking of LEDs, the lighting inside the PFE28PBLTS is strategically placed so that it gives a good overview of even the farthest foodstuffs, and separate lights inside the doors make for an attractive food showcase that's perfect for impressing friends.
GE's app lets you schedule when water should be heated up, monitor & change the fridge / freezer temperature, and check on its status remotely. Alternatively, you can connect the fridge to Alexa and do all of these with your voice too.
Are There Drawbacks?
The Keurig water heater is a great addition, but we wish they'd have put it on the dispenser's left side. Since it is to the right, you can't hold a cup right next to the opening conveniently with your right hand. The water heater is also more prone to malfunctioning than the refrigerator itself, so don't be surprised if a replacement is in order before the warranty expires.

Tech Specs
Dimensions: 70 x 35.8 x 36.3 in.
Fridge capacity: 18.6 cu. Ft.
Freezer capacity: 9.2 cu. ft.
Water filter: Yes
Integrates with: Amazon Alexa
The Pros
Built-in water heater
Separate temperature controls for fridge & freezer
Advanced water filter
Turbo Cool feature
Scheduling & status updates through the app and Alexa
The Cons
Awkward water heater placement
Water heater prone to malfunctions
#3 Kenmore Smart 75043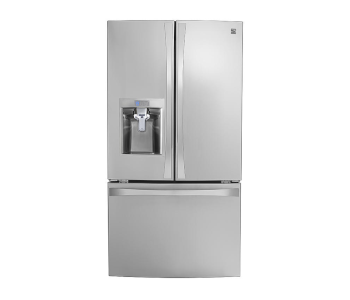 View on Amazon
Editor's Rating: 4.4/5
Fancy apps and touchscreens are nice & all, but when it comes to choosing a good refrigerator, the ability to keep ingredients fresh for as long as possible always comes first. Kenmore concentrates on precise temperature control and introduces innovative filtration technologies to extend your food's lifespan – with great success! The 75043 has its fair share of smart features as well, but they're just the icing on the cake.
Keeps food fresh, longer
The Smart 75043 boasts a sleek & elegant design, its prominent ice dispenser being the only element that breaks up the smooth surface. It's big enough to fit even large pitchers under, and the ice is created rapidly. You can choose from five different color options including black, white, and various shades of stainless steel. Each is coated with a print-resistant film that keeps the fridge doors spotless no matter how many times they're opened.
The layout within gives you ample room for organization. The doors are deep, the freezer has multiple compartments of varying sizes, and there are two shelves that can slide up to create extra space if needed. Ingredients are kept fresh and dry thanks to superb airflow management. A sophisticated filtration system supplies the interior with fresh air while getting rid of odors. Want to maximize the lifespan of fruit & vegetables? Place them in the airtight crisper bin to keep their freshness and firmness intact.
The Smart 75043 has Amazon Alexa support, as well as a comprehensive smartphone app. You can tell Alexa to check on the door status, turn the ice maker on, or adjust the temperature to specific as well as recommended settings. All of this can be done through the app too. It also provides info on the filter status and sends you alerts if maintenance is required.
What's Bad About It?
The fridge itself is solidly built and isn't prone to breakdowns. If something does go wrong however, you'll have to deal with Kenmore's customer service, which isn't all that great. Certain replacement parts are always on backorder, and processing even small, reasonable requests tends to take a long while.

Tech Specs
Dimensions: 68.9 x 35.8 x 30.9 in.
Fridge capacity: 16.1 cu. Ft.
Freezer capacity: 7.9 cu. ft.
Water filter: No
Integrates with: Amazon Alexa
The Pros
Well-organized
Great cooling and air filtration
Useful app
Well-integrated Alexa support
The Cons
Unreliable customer support
#4 LG InstaView ThinQ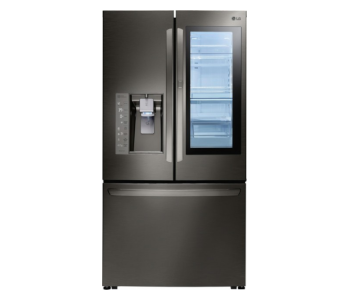 View on Amazon
Editor's Rating: 4.4/5
Sometimes you just want to grab a cold one real quick, nothing else. Sadly, you end up with a wide-open fridge door and a lot of wasted cold air. LG's InstaView takes a much smarter approach to quick fridge visits with its door in door feature. Just tap on the glass, check out what's good, and take it out without upsetting the fridge's delicate climate.
A Touch of Glass
The InstaView is one of the most beautiful smart fridges out there! This is thanks to a marvelous print-resistant stainless steel finish, but also due to the signature glass door on its right side. The glass is tinted, and if you knock on it a couple of times the light turns on while the glass becomes transparent to let you see what's inside. Then you can just open the glass part of the door up and have access to its shelf space. A ColdSave panel divides the door shelves from the rest of the fridge's interior, so very little cold air will escape when you go to grab something out of them.
Inside the InstaView is meticulously organized! There are your standard sliding shelves and a set of three fruit & veg containers. However, this fridge also has what LG calls Glide'N'Access shelves and an additional Glide'N'Access compartment. These slide effortlessly out from the fridge and are a real godsend when you need to get something bulky without upsetting the rest of your fridge's contents. The ice maker is another clever feature. It is built into the left door and can be controlled via touchscreen.
The InstaView originally supported only Google Assistant, and now it can be given commands through Alexa too. It is part of the LG SmartThinQ eco system of more than a hundred appliances, and the SmartThinQ app acts as the hub, allowing you to check up on and control the fridge from a dedicated section within it.
What Should Be Improved?
The temperature inside the InstaView's interior is uniform. The same can't be said for the door temperatures though. On one hand, you've got items in the left that are close to the icemaker and are naturally colder. On the other, frequent opening of the door in door on the right can cause the temperature of the items within to rise. The ice maker control panel displays the temperatures for the refrigerator and freezer. These are the targeted temperatures – not the actual ones.

Tech Specs
Dimensions: 70 x 35.8 x 30.1 in.
Fridge capacity: 15.6 cu. Ft.
Freezer capacity: 7.9 cu. ft.
Water filter: Yes
Integrates with: Google Assistant
The Pros
Excellent door in door features
Ice maker leaves minimal footprint
Excellent overall use of space
Supports both Alexa and Google Assistant
The Cons
Items kept in door shelves have inconsistent temperatures
Control panel displays target temperatures instead of actual ones
#5 Best Budget Option – Whirlpool WRX735SDHZ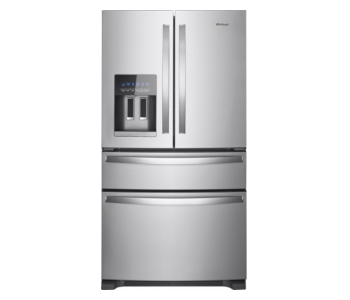 View on Amazon
Editor's Rating: 4.2/5
LG isn't the only fridge manufacturer to come up with a clever way of reaching for the essentials. Whirlpool's WRX735SDHZ solves the problem of easy access to frequently used items by introducing a separate drawer that stirs up the classic French door design. This is an inexpensive fridge with many features seen on higher-end models and will take care of your family's food and refreshment needs flawlessly.
A Fridge That Draws Attention
The WRX735SDHZ exudes a certain charm with the pleasant blue glow from its LED touchscreen controls. The above average-sized ice maker and extra drawer make it stand out, and its smudge-resistant stainless steel exterior ought to keep it spotless and eye-catching for a long while.
The drawer has proven to be more useful than we anticipated – it is both deep and wide enough to be loaded with snacks, cans, and other smaller items for easier reach. You can also store more perishable goods inside without contaminating the rest of the fridge's contents if you happen to leave them in past the due date.
The main compartment is divided into functional sections. For example, you can place awkwardly-shaped items or large jugs inside the right-hand door, and use two smaller humidity –controlled drawers are there for produce storage. The freezer has a two-tiered system of wire shelves which can be further customized by using a set of plastic dividers.
You can fine-tune the fridge's performance by using the LED touch panel. This gives an overview of the current fridge / freezer temperatures, gives you control over the lights, and even lets you lock the fridge. Ice maker controls involve selecting the type of cubes you want it to dispense, and a precision fill option which lets you specify the exact amount of cold water for your next pitcher of Kool-Aid.
What Should Be Improved?
The ice maker takes up a lot of internal space. This isn't an issue on its own, but it does make the shelves on the left door rather small. There is an alert which sounds when you leave any of the doors or the drawer open, but it kicks in only after five minutes.

Tech Specs
Dimensions: 70 x 35.6 x 34.8 in.
Fridge capacity: 17.8 cu. Ft.
Freezer capacity: 6.7 cu. ft.
Water filter: No
Integrates with: N/A
The Pros
Very affordable considering its features
Separate refrigerated drawer
Lots of space for jugs and other unusually-shaped items
Versatile ice & water dispenser
The Cons
Ice maker is bulky
Open door alert is slow to respond