6 Best Blue Yeti Alternatives in 2020
3D Insider is ad supported and earns money from clicks, commissions from sales, and other ways.
Blue Yeti has become so ubiquitous that it's now the de facto microphone choice for streamers and beginner podcasters. We can't blame them – it's reasonably-priced, has a polar pattern on-hand for any situation, and looks cool to boot. However, is a Yeti the be-all and end-all when it comes to the audio side of content creation?
It turns out that there have been many developments since the Yeti's arrival. The market is saturated with affordable, great-sounding microphones that are breathing down its neck. Want to go against the grain without sacrificing audio quality? Then read our guide on the six best Blue Yeti alternatives and enhance your vlogs, podcasts, or streams with first-class sound.
Budget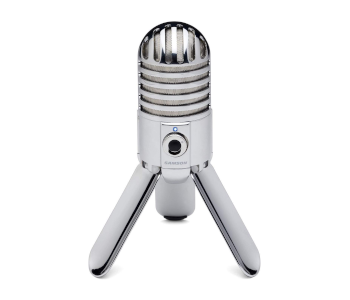 Samson Meteor Mic
4.1/5.0
Connection type: USB
Max SPL: 120dB
Great mobile microphone at a low price.
Check Amazon
Best Value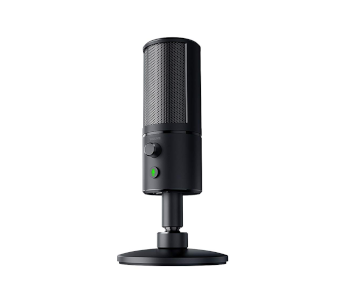 Razer Seiren X
4.6/5.0
Connection type: USB
Max SPL: 120dB
Has a straightforward plug & play approach.
Check Amazon
Top Pick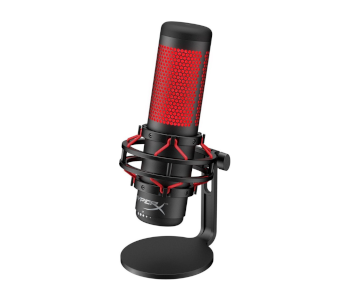 HyperX QuadCast
4.8/5.0
Connection type: USB
Max SPL: 120dB
Four polar patterns and decent sound quality.
Check Amazon
Blue Yeti Alternatives Comparison Table
1. Best Overall – HyperX QuadCast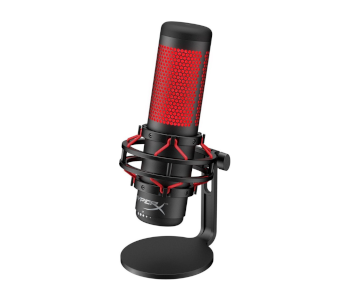 View on Amazon
Editor's Rating: 4.8/5
Lack of proper competition was the main reason why the Yeti has reigned supreme for so long, but Blue will need to step its game up now that the HyperX QuadCast is here. It features an award-winning, intuitive design along with outstanding audio quality made more versatile by the same four polar patterns the Yeti uses. We believe that this is the microphone to get in 2020 whether you're a Yeti fan or not.
Overview of Features
The QuadCast is the most unique-looking mic on review. It has a large black grille whose insides light up in orange and red when the mic is on. Not only does this look awesome for twitch streams, but it also makes accidentally saying something when you didn't mean to impossible.
Kingston's quirky design extends to the mute and gain controls too. The top of the mic is the mute button, i.e., you have to tap it for the sound to cut off. That's an ingenious design decision as it allows for quick muting without having to search for a small button. You adjust the gain by rotating the QuadCast's bottom.
There are two ways of mounting the QuadCast. It comes with a high-quality shock mount that keeps the microphone suspended away from its stand. This kind of setup minimizes the impact bumping into the QuadCast or the desk would have. Alternately, you can attach the mic to a boom pole and minimize the chances of recording keyboard strokes.
There are four polar patterns at your disposal. You'll be familiar with them if you've used the Blue Yeti. There's cardioid for streams and podcasts or bidirectional for interviews. Omnidirectional or stereo come in handy too when you're capturing music or all the sounds in a room. All four patterns work well in practice, but we've found cardioid to be the most practical for everyday use.
The QuadCast is easy to set up since it's a USB mic with a plug & play approach. Expect no trouble with recognition even though there are no drivers to install. You'll have to make do with CD-quality sound due to USB's limitations. Still, this shouldn't be a problem considering the bandwidth restrictions and audio quality awareness of your general audience.
What We Didn't Like
The QuadCast doesn't have a pop filter. Rather, there's a foam-like material inside the grille that gets rid of most noise. It's decent at isolating plosives but has problems with sibilants, so mind your Fs and Ss or get a dedicated filter. You might not like the red light if it clashes with your room setup or brand identity. It's a factor to consider when setting up lighting as well.
Tech Specs
Dimensions: 5 x 4 x 9.8 in.
Weight: 1.5 lbs.
Connection type: USB
Polar patterns: Cardioid, bi-directional, stereo, omnidirectional
Frequency range: 20 – 20,000Hz
Max SPL: 120dB
The Pros
Unique, intuitive design
Four polar patterns
Decent sound quality
Easy to set up and use
The Cons
Built-in pop filter struggles with sibilants
Not everyone will enjoy the always-on red light
2. Best Value – Razer Seiren X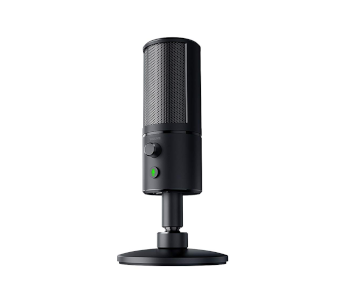 View on Amazon
Editor's Rating: 4.6/5
Streamers love the Blue Yeti because of its versatility and ease of use. Razer's Seiren X embodies these same features while being less expensive. It's a condenser mic that offers nearly identical sound quality, is effortless to set up, and portable enough to travel with you wherever you go. It has a single polar pattern, though, so it's suitable for a narrower audience like streamers and beginner podcasters.
Overview of Features
Razer has opted to give the Seiren X a minimalistic design. It's available in three colors and made from quality plastic. There's a single button that turns the mic on or mutes it, as shown by an LED that glows either green or red. The only other control is a volume dial for your headphones. The Seiren X can act as a pass-through, allowing you to connect the headphones into its 3.5mm jack instead of a computer. This greatly helps with cable management.
The microphone is ready to work and recognizable straight out of the box. Plug in its USB cable and your streaming software of choice or other recording programs will recognize it without the need for a driver. Coupled with its small weight and detachable stand, this makes the Seiren X portable and independent of your other hardware.
The Seiren X uses a capsule with a super-cardioid polar pattern. Its shape is similar to a cardioid mic's with the addition of slight noise pickup from the back. That won't be a problem unless your computer is on the desk, in which case you should position the mic to the side so that it doesn't pick up its fans. Noise-canceling works great otherwise as the Seiren X focuses on your voice while minimizing surrounding sound inputs.
What's Bad About It?
Mechanical keyboard users might want to avoid this mic because it will pick up key presses, especially if you have blue switches. The USB jack is angled weirdly. Keeping the cable taut or yanking on it will loosen the input after a while, so you'll have to pay attention to microphone and cable positioning.
Tech Specs
Dimensions: 4.1 x 7.7 x 8.4 in.
Weight: 13 oz.
Connection type: USB
Polar patterns: Super-Cardioid.
Frequency range: 20 – 20,000Hz
Max SPL: 120dB
The Pros
Less expensive than Blue Yeti but has comparable sound quality
Straightforward plug & play approach
Lightweight and easily disassembled
Can act as headphone pass-through
The Cons
May record loud keyboards
Weirdly-angled USB cable
3. Samson G-Track Pro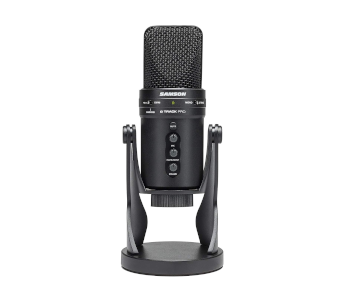 View on Amazon
Editor's Rating: 4.5/5
Do you split your time evenly between podcasting or streaming and music production? If so, you're going to love Samson's G-Track Pro! It's a sturdily built microphone with a unique 6.3mm jack that lets you plug in a guitar, a separate mic, or any other compatible device and record them onto a separate track. It has three polar patterns, produces crisp, clear sound, and costs just a few dollars more than the Yeti.
Overview of Features
The G-Track Pro is built like a tank. Both its body and the stand are made from die-cast zinc. That makes them tough to damage while giving the mic enough weight that it won't tip over when nudged accidentally. There are a lot of physical controls, but they're all straightforward. Two switches control the polar pattern and mix, while three dials adjust the microphone gain along with volumes for headphones and whatever you plug into the 6.3mm jack. There's also a handy mute button above the dials.
The best thing about the G-Track Pro is its built-in mixer. You can set it to mono for single-track output or switch to 2 track to record two separate channels. This is incredibly useful for musicians who can now record vocals and an instrument simultaneously. Additionally, you can hook up a pair of headphones and turn on audio monitoring to listen to the input in real-time.
The G-Track Pro has a low noise floor and won't interfere with recording clarity. Its lowest frequency response is 50Hz, which shouldn't be a problem if you're recording voices or music without deep percussions. The microphone omits a stereo polar pattern but gets by with three without issues. Its cardioid pattern is focused, while switching to omnidirectional gives a richness to music tones, especially mids. The microphone's loudness tolerance isn't the highest on the list, but the indicator light starts flashing red if you exceed it.
What's Bad About It?
Samson was stingy with the G-Track Pro's accessories. You get neither a pop filter nor a shock mount. A stand adapter isn't included either, so you're stuck with paying extra or using the mic as is. The red warning light may sometimes start blinking even though the G-Track Pro isn't picking up loud sounds. While this doesn't impact performance, it can get annoying since you won't be sure when to lower your voice or lower instrument volume.
Tech Specs
Dimensions: 6 x 6 x 11 in.
Weight: 1.5 lbs.
Connection type: USB
Polar patterns: Cardioid, bi-directional, omnidirectional
Frequency range: 50 – 20,000Hz
Max SPL: 120dB
The Pros
Excellent build quality
Three versatile polar patterns
Can record two inputs separately
Has headphone monitoring
The Cons
Lacks stand adapter and other standard accessories
Excessive noise light may start to blink randomly
4. Rode NT1-A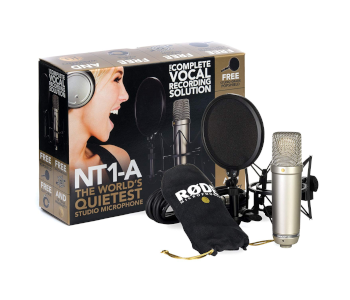 View on Amazon
Editor's Rating: 4.4/5
Rode is not only known for creating excellent-quality shotgun mics – its lineup of condenser studio models is impressive, too, as evidenced by the NT1-A. The original NT1 is seventeen years old now, and the fact that Rode felt little need to improve upon it in the Anniversary edition is a testament to the microphone's excellence. Yes, it is more expensive than the Blue Yeti, but it's also a noticeable step up in quality for anyone who's serious about recording podcasts or music.
Overview of Features
The NT1-A is a striking, heavy condenser microphone with a stainless steel finish and gold-plated capsule tucked inside a large grille. It runs on phantom power, so you'll need either a voice recorder or an audio interface that provides at least 24V of power to use it. The microphone comes with a 20-foot XLR cable, a robust shock mount, and a filter that minimizes popping and hissing.
Rode labels the NT1-A as the world's quietest studio mic. That's because it produces a mere 5dB of noise, making its interference in any recording almost non-existent. The mic can also pick up sounds as quiet as -31dB. While that means your studio needs to be absolutely silent, it also makes for clean-sounding whispers and other slight noises. On the other hand, the mic can handle sounds that are 134dB loud without cutting off or distorting the recording.
The NT1-A has a cardioid polar pattern and records what's in front of it in a heart shape. It can be unintuitive to use at first since you have to position it to the side of a speaker's face or an instrument for best results. The best thing about this mic is its flat frequency response. Whether you record music or vocals, the microphone doesn't artificially make some ranges louder or quieter. That leads to recordings that sound as close to natural as you're going to get for $200.
Are There Drawbacks?
The NT1-A's pop filter isn't as high-quality as the mic itself. You'll want to pick up a better one if there are pronounced Fs or Ss on your recordings. You'll have to take care when attaching a cable to the mic as its XLR input is prone to falling off.
Tech Specs
Dimensions: 2 x 2 x 7.5 in.
Weight: 0.7 lbs.
Connection type: XLR
Polar patterns: Cardioid
Frequency range: 20 – 20,000Hz
Max SPL: 134dB
The Pros
Excellent sound quality for vocals and music alike
Flat frequency response
Makes little noise
Comes with long XLR cable
The Cons
Needs better pop filter
Flimsy XLR input
5. Audio-Technica AT2020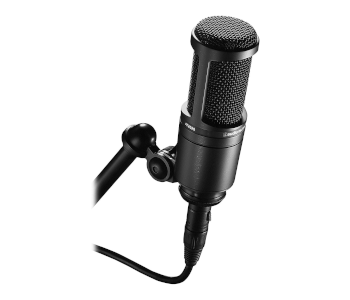 View on Amazon
Editor's Rating: 4.2/5
Audio-Technica made the AT2020 with one goal in mind – to deliver the best cardioid experience for as little cost as possible. It's not as versatile as the Blue Yeti and requires a preamp or voice recorder for a supply of phantom power. Still, the AT2020 is clearly superior in sound quality whether you're streaming, podcasting, or recording an acoustic cover of your favorite song.
Overview of Features
The first thing that stands out about the AT2020 is its build quality. The mic is made from solid metal, as is the two-part grille. Its outer layer protects the 16mm cardioid capsule from harm while the inner one lessens popping. It's no substitute for a filter but will do in a pinch. The mic comes with an elegant travel pouch and a stand mount.
The audio quality of the AT2020 is superb, given its asking price. Its capsule does an admirable job of focusing on frontal sounds while excluding everything else. Neither noisy GPU fans nor the clackety-clack of your keyboard will make it onto a track. Quiet sounds will, if you want them to, as the AT2020 can register sounds at -36dB. It's even better-equipped to handle loud noise than the NT1-A with a tolerance threshold of 144dB.
Recordings made with the AT2020 sound true to life with a hint of boost in the 5 kHz range and up. You'll love this mic if you've got a deep voice since none of a baritone's richness or rumbling is lost. On the other end, the AT2020 captures highs without sounding tinny. It's an excellent choice if you frequently break out into song as the sounds of guitars, woodwind instruments, or drums are as faithful to the originals as vocals.
What We Didn't Like
The AT2020 has an innate noise level of 20dB. You won't notice it during heated gaming sessions, but the issue might become apparent during quiet podcasts. You need an XLR cable to use this microphone, but one isn't provided.
Tech Specs
Dimensions: 2 x 2 x 6.4 in.
Weight: 12.1 oz.
Connection type: XLR
Polar patterns: Cardioid
Frequency range: 20 – 20,000Hz
Max SPL: 144dB
The Pros
Outstanding audio quality
Rugged build
Cardioid pattern isolates distractions well
Double grille reduces popping
The Cons
No XLR cable
Emits faint noise in quiet surroundings
6. Best Budget Option – Samson Meteor Mic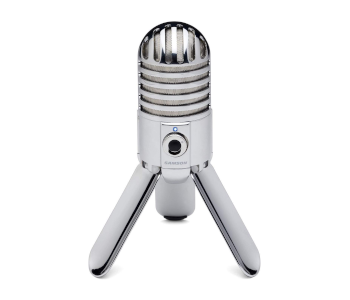 View on Amazon
Editor's Rating: 4.1/5
Our second Samson pick is the budget-friendly Meteor Mic. This cute-looking, compact microphone is a real boon for podcasters and vloggers who occasionally leave the studio but insist on good sound quality nevertheless. It features three stable legs, great voice recording quality for the price, and headphone input for real-time monitoring.
Overview of Features
The Meteor Mic gets our ward for being the cutest model on review. It's only four inches high before deployment as its legs are positioned upwards and to the side. Extending them raises it by two inches and gives the mic a solid, three-sided base to stand on. Its controls and ports are equally elegant. The front is dominated by a headphone volume dial with a mute button at its center, while 3.5mm and USB ports are on the bottom and easy to reach.
You can fine-tune the Meteor Mic's position relative to your mouth as its legs have three angle settings. You might want to invest in a stand given the microphone's height, though. Mounting it to one is simple thanks to a universal thread. It connects to PCs and Macs via USB but supports smartphones and tablets too through adapters.
The Meteor Mic's cardioid capsule focuses on clearly capturing sounds in front of it. This may take some getting used to since it forces you to face toe mic directly. A narrow pickup angle makes the Meteor Mic a god fit for lone podcasters and vloggers since your voice dominates over any other noise. It's not as suitable for conducting interviews as the guest's voice won't be as loud.
Are There Drawbacks?
The mute button makes an audible sound when pressed, so take care not to do so if you have no intention of editing this out. The feet end in small rubberized pads for extra stability. They fall off easily and should be glued on to avoid frustration.
Tech Specs
Dimensions: 6 x 3 x 5 in.
Weight: 9.1 oz.
Connection type: USB
Polar patterns: Cardioid.
Frequency range: 20 – 20,000Hz
Max SPL: 120dB
The Pros
Great mobile microphone at a low price
Adjustable feet
Intuitive controls
Isolates your voice well
The Cons
Mute button can be heard when pressed
Rubber feet tips fall off easily