Curved Monitor Cyber Monday Deals are Ending Soon
3D Insider is ad supported and earns money from clicks, commissions from sales, and other ways.
A good monitor can make a huge difference, whether you are working or playing your favorite games. The most significant trend when it comes to computer displays are wide monitors, and sometimes being a bit too large can be uncomfortable on your eyes. To limit the strain, makers have started to create curved monitors so you can take in all the information at once.
There is a wide range of Cyber Monday deals for a curved monitor. Whether you are looking for a premium model with all the bells and whistles, or a reliable workstation display, or even a budget gaming one, there is definitely one that will fit your needs.
A good deal on a curved monitor can save you hundreds of dollars, making that upgrade a bit more viable to fit within your budget. Here are some of the best-curved monitor deals this Cyber Monday.
Featured Curved Monitor Deals
SAMSUNG 49-INCH CRG90 CURVED GAMING MONITOR

Original Price: $1,499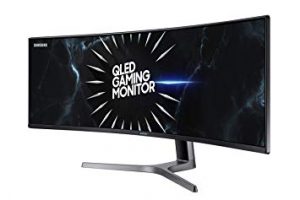 Cyber Monday Price:$1,048
The big advantage of getting an ultrawide monitor is the screen real estate that you're going to have. The Samsung CRG90, in particular, feels like two monitors put together side by side, making it an excellent display if you are always multitasking. This feature comes in handy if you are also using the monitor for work tasks apart from gaming.
As a gaming monitor, its 1440p resolution and 120Hz refresh rate make it an excellent display device. Although not the best when it comes to gaming performance, its versatility makes it an excellent choice for any setup.
The massive 30% discount this Cyber Monday makes it an excellent pick up whether you're going to use it for gaming, productivity, or both.
DELL ULTRASHARP U3415W 34-INCH CURVED LED-LIT MONITOR

Original Price: $799

Cyber Monday Price: $629
Even though it is significantly more affordable compared to the Samsung CRG90, you can still consider the Dell Ultrasharp U3415W, a premium monitor. One major feature of this Dell monitor is its color accuracy, it is impressive. It is one of the most accurate ones on the market, making it the perfect display device for graphic design and photography tasks.
You also get a lot of additional screen real estate with its 21:9 aspect ratio and QHD display. However, it only runs at 60Hz, so you don't get that buttery smooth effect as you're working. It may not be a gaming monitor that will blow your mind. But the color accuracy makes it a display that graphic designers and photography professionals will love. 
SCEPTRE C275B-144R 27-INCH CURVED GAMING MONITOR

Original Price: $262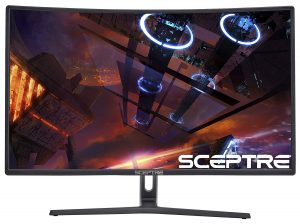 Cyber Monday Price: $149
Curved monitors do not need to be ultra-expensive. In fact, there are some great budget ones on the market, and the Scepter C275B is one of them. A 27-inch curved gaming monitor gives you that immersive feeling whenever you play games. It's not only just for games since you can definitely use this for a variety of productivity tasks.
It does come with a 144Hz refresh rate, so as long as your rig can handle the gaming requirements, you will be able to play with smooth framerates. This is definitely one of the best budget monitors on the market. With the additional 43% discount, it makes this a must-have if you're looking to get your feet wet into the curved monitor experience.
LG 34UC98-W 34-INCH 21:9 CURVED ULTRAWIDE QHD IPS MONITOR

Original Price: $899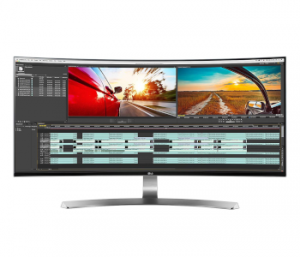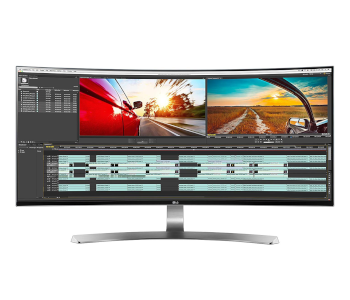 Cyber Monday Price: $749

The LG 34UC98 is a curved monitor that comes at a much lower price point for similar features. It's not as pricey as other premium models, and this Cyber Monday, you can save as much as $150, making it a great deal. One aspect where this LG monitor shines is its color accuracy. Combined with the added screen real estate makes this a great device to edit videos. This way, you see more of your timeline and check to see if your colors match from scene to scene.
ACER ED273 27-INCH CURVED GAMING MONITOR

Original Price: $279

Cyber Monday Price: $199
Another budget option that makes our featured list is Acer's ED273 curved gaming monitor. For one, it supports Nvidia G-Sync, so you can use that if you have a gaming rig that comes with an Nvidia graphics card. The curved screen and 144Hz refresh rate provide an immersive gaming performance with a smooth performance for games and work tasks.
Whether you're a casual or a competitive gamer, this is a display that will work for you. So, if you're looking for a widescreen display to play your games on or simply want that ultra-smooth performance whenever you move your mouse, this monitor is something that you should consider. At 29% off, it comes at a very attractive price point.
Premium Curved Monitors
SAMSUNG 49-INCH CHG90 144HZ CURVED GAMING MONITOR

Original Price: $1,099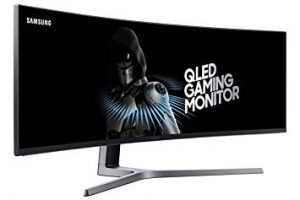 Cyber Monday Price: $799
If you're looking to get a multi-screen setup, then the Samsung CHG90 can easily replace two 27-inch monitors. The ultrawide display gives you the feeling of VR without the glasses since what's in front of you wraps around you. It comes with a high refresh rate making it the perfect display for fast-paced games. The CHG90 is definitely a great deal, and the 27% that you will be saving this Cyber Monday makes it an even better buy. It is an impressive beast that you can use for just about anything but shines in gaming scenarios. 
SAMSUNG 34-INCH CJ791 ULTRAWIDE CURVED GAMING MONITOR

Original Price: $899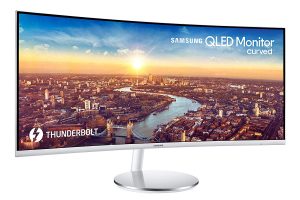 Cyber Monday Price: $569
Let's take a look at another display that's in the premium end but at a slightly lower price point. The Samsung CJ791 is a display that comes with different connection options allowing you to connect it to Apple devices using Thunderbolt. USB and HDMI connectivity also makes it an excellent dock for laptops so you can display it on a much larger screen.
Its ultrawide design gives you a lot more space for work or gaming. Additionally, it is very color accurate, so using it for photography and video tasks just makes sense. At 36% off this Cyber Monday, this is a monitor that is worth another look.
ASUS ROG SWIFT PG27VQ 27-INCH CURVED GAMING MONITOR

Original Price: $649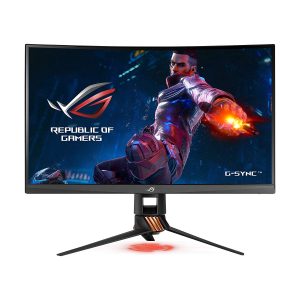 Cyber Monday Price: $599
If there's a curved monitor that excels in gaming performance, it's the Asus ROG Swift PG27VQ. You can say that it is optimized for games since it will be able to support much higher framerates even with a mid-range graphics card. It also comes with Nvidia's G-Sync technology, so you will not experience any form of screen tearing and lag. This is a curved monitor that can boast its gaming performance.
More Deals
Budget Curved Monitors
SAMSUNG 32-INCH UR590C UHD 4K CURVED GAMING MONITOR

Original Price: $499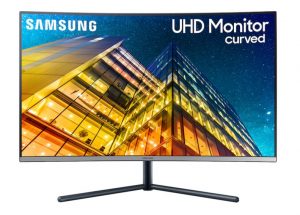 Cyber Monday Price: $399
The Samsung UR590 is not your typical budget curved display. You can consider this as the most expensive you can afford, whenever you're looking for a monitor with decent specs. One of its most sought-after features is its UHD 4K capabilities and stunning image quality. Pair it with a fast graphics card, and you can enjoy solid gameplay and smooth framerates.
This is an excellent 4K monitor that will not break the bank. The Cyber Monday deal of 20% also adds more value to what this display is already capable of.
SAMSUNG 27-INCH CRG5 240HZ CURVED GAMING MONITOR

Original Price: $399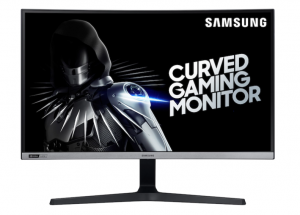 Cyber Monday Price: $299
The Samsung CRG5 is a fast monitor. By that, we mean its 240Hz refresh rate, making it a display that's great for competitive esports. If you're someone who takes their games seriously and wants buttery smooth performance on the first-person shooter games you play. It also means that if you are using this display for productivity tasks, the response is velvety smooth, which makes it perfect for graphics and video editing.
Unlike the UR590C, it only comes with 1080p resolution, which is often enough for most. The CRG5 is all about speed, its 240Hz refresh rate, without sacrificing performance and accuracy. This Cyber Monday, it is $100 off, bringing its price down to just below $300.
More Deals