5 Best DIY Electric Skateboard Kits
3D Insider is ad supported and earns money from clicks, commissions from sales, and other ways.
High quality electric skateboards can cost quite a bit, and that's one of the main reasons why some would prefer getting their hands dirty by using a kit. Who doesn't want a good quality board at a fraction of the price?
One of the main challenges with a DIY kit though is that you'll need to roll up your sleeves and assemble it yourself rather than buying it off a shelf and enjoying it right away. It does require a little bit of skill and interest so you can finish the entire project and get yourself a skateboard that you can use for recreation or commuting.
Making your Own Skateboard
Making your own electric skateboard from scratch is now possible all thanks to a lot of different DIY kits available for sale. The great thing about these kits is that it makes the entire process a whole lot easier. These kits make sure that all the essential parts you need to build your own skateboard are in one place. The complete collection includes components like the deck, wheels, trucks, batteries, motors, drivetrain, and enclosures.
So, if you're ready to show your crafty side and decide to create your own electric skateboard, you'll definitely need the best kits out there. Getting an excellent quality kit translates to a high-quality skateboard, so it's crucial that you get the best one according to your needs.
To help you decide, here are five of the best DIY electric skateboard kits that you can get so you can assemble your very own board that's significantly more affordable and on par with similar premium quality vehicles.
The Best DIY Electric Skateboard Kits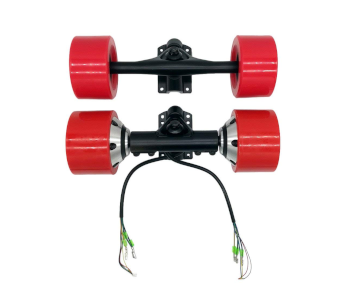 Retail Price: $139
If you're feeling extra crafty, this skateboard hub motor and wheel kit from ZXMOTO is something you might consider. It's not the complete package in terms of the components you need to make your own electric skateboard since it only comes with the hub motor set with trucks and wheels.
You will clearly need to get your hands on other essential components like the board itself and a set of lithium-ion batteries to complement the motors. It is definitely not a complete kit, but it does come in handy if you're particular about every detail of the board you're creating.
With these types of kits, it's necessary to know its compatibility with other components, especially the batteries. That being said, this motor can be connected to a 24V to 42V batteries. The higher the voltage, the faster the speed this motor is able to provide.
A 550W motor is definitely more than enough for an electric skateboard. The motor's speed is rated at 70kV, and has the capability to accelerate your board up to 12 to 15 miles per hour. This speed and power output are equivalent to mid-range to premium boards in the market.
This is unquestionably a motor set with a lot of power, and the great thing about this is it does not get hot quickly so you can continue to ride it until your batteries run out of juice. The motor kit comes with plugs so you can easily connect this to the control unit of your choice.
The motor kit also comes with wear-resistant wheels that are smooth and silent that can provide you with better performance in any condition. The wheels are meant to last long so if you're looking to make a commuting electric scooter, you can definitely use them.
The ZXMOTO kit is a powerful hub motor for your electric skateboard. It's a reliable power unit that you slap on to your skateboard to transform it into a machine that you can use for commutes or for fun.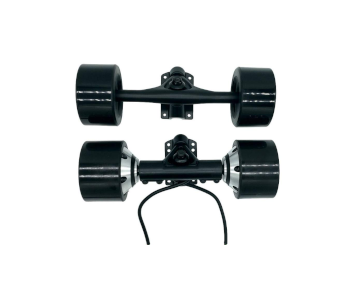 Retail Price: $189
The ESK8CLUB is a DIY dual hub motor that you can easily mount on your skateboard to convert to an electric device. It comes with 90mm wheels and trucks for easy assembly into your board. This kit only includes the motor though and not the entire skateboard assembly. However, this allows you the freedom to select your board and other relevant components like the control unit. You get to create your own electric skateboard with your specifications according to your needs.
Similar to the ZXMOTO motor kit, it's going to give you a lot of freedom, but you would need to have a little bit more knowledge when it comes to assembling your own electric skateboard. If you like playing around with tools and making your own stuff, then this is clearly a worthy choice.
This set is a 450W hub motor that is installed inside the wheels, giving you maximum potential every time. The complete kit does come with two sets of trucks and wheels. However, only one of them is powered. The power behind these motors will be able to give you a top speed of between 10 and 15 miles per hour depending on your battery.
You can connect batteries between 24V to 42V, so you can surely choose the one that's an excellent fit for your needs. The higher the voltage rating of your battery, the more power it can provide the motor and give you more speed. This allows you a great deal of flexibility so you can choose longer battery life over top speed. Your electric skateboard can now either be a commuter or a high performance one.
The motors have excellent heat dissipation properties so you can slap in a high-performance battery to allow you to go further. It is also designed to keep out water and dust so you can use your board in different conditions, even in light rain.
The ESK8CLUB DIY motor kit is a reliable power unit to transform your current skateboard into an electric one. It has decent power and is compatible with a lot of different major components so you can use this for a lot of different builds.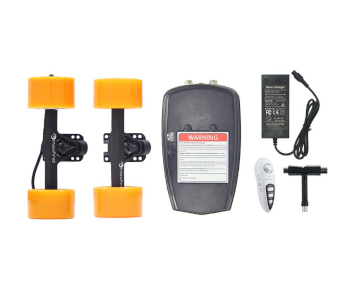 Retail Price: $359
Compared to the previous two kits, the Maxfind DIY electric skateboard kit is a bit more complete. Apart from the motor, trucks, and wheels, this kit also comes with a wireless controller and an LG battery. The only thing you need to worry about with this kit is the right deck for you since you can easily fit this to just about any.
Maxfind also made sure that the assembly is a piece of cake. They made sure that the entire assembly process is just a few steps away. Namely, screw everything to the deck and go, which makes everything a lot easier. With this kit, there are no wires to connect, so a complete beginner can make their own board.
The 500W motor the kits come with is a monster. It's a 90mm high performance power unit that can push the board to a maximum speed of up to 17 miles per hour. That's fast for a decently priced electric skateboard. A great thing about this motor is that when you run out of juice, it can freewheel so you can still get to your destination.
The battery is an LG 36V lithium-ion battery that is swappable. You can definitely get a spare so you can easily swap them out when you run out of power. One of the reasons why you should certainly get a spare is that the battery only has a range of about 6 to 8 miles. It's serviceable if you're always using your board in a controlled situation like a routine commute. However, you might want to get a spare battery pack so you can extend your ride time when you want to use your board recreationally.
This Maxfind electric skateboard kit is unmistakably a more complete package. It still gives you a healthy amount of flexibility, since you can always upgrade other components like the battery if the need arises. It is friendly for beginners and those who have little experience constructing stuff on their own. It also gives enthusiasts enough room to change some bits out to suit how they want to use their board.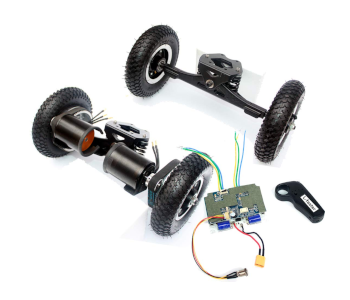 Retail Price: $499
The L-Faster off-road electric skateboard kit is a high-performance motor set that you can attach to your skateboard deck of choice. The kit comes with a power unit and wheel installation. It does not include a battery pack similar to that of the Maxfind. However, this is a unique set since the performance rating of the motor is insane.
The hub motor is built into the skateboard truck, and all you really need to do is attach it to your deck, and you're all set. It is a 1650W power unit that is rated at 200kV and has a top speed of up to 25 miles per hour.
The advantage of getting a kit like this is that you can select your own battery pack. A powerful motor such as that of the L-Faster needs high performance cells so you can truly enjoy it. Use a cheap battery, and you'll just end up using all of the power in 10 minutes. The motor is rated at 36V, and there are a lot of battery packs that you will be able to use that will give you an hour or more in ride time.
An attractive feature of this kit is its off-road tires. You will be able to use them on just about any surface. They are also air-filled to provide you with a more pleasant ride every time you use the skateboard. The trucks also come with springs to give you a certain level of shock absorption so you can easily use your board on surfaces like grass, gravel, dirt, even bumpy pavements.
The kit also includes a control board and a wireless remote. The only thing that you'll be getting is a deck that suits you and batteries that can handle the insane power of the L-Faster motors.
The L-Faster electric skateboard kit gives you a healthy amount of flexibility with your build. It will take a bit of research to look for the right components that will match the motor's performance and your riding needs. Once you assemble everything together, you will be rewarded with a fast and fun board that you can use for just about any situation.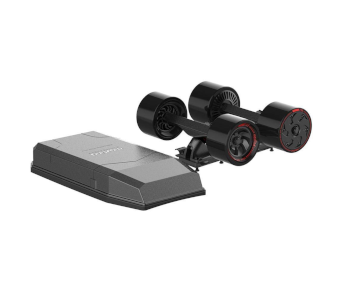 Retail Price: $599
Here's another Maxfind kit, but this time, this one is on steroids. If the first one we reviewed was a 500W motor set, this one is rated at 1,000W. Two hub in-wheel motors power this one to speeds up to 25 miles per hour.
The difference between this and the L-Faster is that batteries are now included. It comes with high performance swappable batteries that give it a range of about 13 miles on high performance or can be extended to about 26 miles in cruise mode.
Similar to the previous Maxfind kit, the batteries on this is also swappable. That means you can carry a spare to extend your range. Swapping them is simple, all you need to do is open the battery cover, remove and replace the battery packs, and close the lid. That's it, it's that simple. Getting the batteries to full charge only takes two hours, but having a spare gives you more flexibility, especially when you're on the road.
The entire drive kit, control electronics, and battery installations are water and dustproof. That means you can use the board anywhere and in any condition. Light rain or snow won't stop you from using it for your commute or having a little fun. You can also effortlessly ride on puddles without worrying about the condition of your motors and other components.
The kit also includes a Bluetooth remote control, and what's surprising about this particular device is that it is programmed with three ride modes. There is even a beginner mode that helps new riders adjust to the board. In beginner mode, the skateboard accelerates slowly and smoothly while you make your way to the advanced riding settings that will unleash the full potential of the board.
The Maxfind DIY dual motor electric skateboard kit enables you to transform your favorite deck into a full electric riding machine. It is designed to be mounted on just about any board with minimal adjustments. The performance is also on the level of many premium boards in the market today, and for a fraction of the price, you will be able to create your own.
Guide to Buying Your Own DIY Electric Skateboard Kit
It is surprising the number of choices you can have when it comes to DIY electric skateboard kits. Simply said, there are a lot of them, and there are a lot of varieties as well. Making that decision of what to get can sometimes get complicated.
Here are some of the things that you need to take into account for you to make a decision that you won't regret. These should help you understand the different types and variations there are and how each unique part will affect the performance of your skateboard.
What You Should Look for in a Kit
Similar to when you're searching for the best electric skateboard for your needs, the things you need to keep an eye on when shopping for a DIY kit remain the same. The first thing you want to look at are the most obvious ones like speed and range. It is essential that you get a kit that will satisfy your need for power and versatility.
A close second would be the rest of the performance issues that are related to the motor like power and torque. You also want to look at battery capacity and charging time to make sure that you have a skateboard that you can use for a variety of purposes.
Thirdly, you want to be particular about the durability and the maximum load that the skateboard can handle, so you'll exactly know if it can take you to your destination. You'll want to check out the wheel size and speed controls, so you have an idea on how to use your board.
Do remember that different kits carry different levels of performance, durability, and other related features so it is crucial that you exactly know what you want out of your board so you can choose the right kit. Getting a DIY kit means that you'll have to assemble your own board, and that takes time. So, it's useful to get your research done beforehand.
How to Make Your Own Electric Skateboard
Making your own electric skateboard has definitely become a lot more accessible over the years. Different components are, in a sense, standardized that it's easy to swap them around. This just means that between two 500W motors, they're pretty much alike so that for your build you can use any power unit you can find as long as they fit your board.
To make your own electric skateboard, the first thing that you need to do is to find a base board that fits your needs. Everything will revolve around this base. Once you have selected a suitable base, now it's time to look for kits that can be fitted to your board.
An essential thing you need to consider is the way you will use your skateboard. Your activity will determine the type of set you're going to get. If you want to use your board for your daily commute to work or school, then you want to get a kit that is durable and will offer you more mileage so you can make the trip. If you live in a place that's hilly, then you might want to get a kit with a motor that can effortlessly climb inclines.
Once you have these concerns covered, you can now get the kit that's perfect for your needs and start assembling your board. The great thing about these kits is that they include tools and virtually everything that you might need to put your board together. However, it does help if you're crafty and have some experience with using tools and building things.
Final Thoughts
Electric skateboard kits allow you to convert any of your existing skateboards into a personal transport device. Using a DIY kit is often cheaper when compared to other boards with similar specifications. The best thing about going DIY is that you can tailor fit your skateboard according to your needs.
There are a lot of great electric skateboards in the market. However, you can't always get everything you want on a single board. There are compromises to be made, especially if you're on a budget. If you want a high-performance skateboard that can go off-road and travel on dirt trails, you might lose out on battery life. You might get a commuting skateboard with excellent range, but you might lose out on some of its power.
Going the DIY route gives you a lot of flexibility with your build. As long as you're willing to get your hands dirty and do a little research here and there, you'll definitely get the best electric skateboard for your needs.
It may sound a little daunting at first, but once you understand the process of building your skateboard from a bunch of parts, the entire journey becomes rewarding. Now, you will be able to ride an electric skateboard that is comfortable and has everything you might need in terms of aesthetics and performance.