Using an External Microphone with the DJI Osmo Pocket
3D Insider is ad supported and earns money from clicks, commissions from sales, and other ways.
Note:
We have 10 exclusive coupons for 20% of the Osmo Pocket.
Learn More
.
The Osmo Pocket is pretty much a dream come true for casual vloggers and travelers who appreciate the video stability that only a 3-axis gimbal can provide. As its name implies, the Osmo Pocket is also incredibly small – it is, in fact, the smallest handheld gimbal product available in the market today.
While the video quality of the Osmo Pocket is unquestionably good, audio is a completely separate topic that deserves a discussion all on its own. How does the audio quality of the Osmo Pocket hold up? More importantly, is it absolutely essential that you use an external microphone with the Osmo Pocket?
Doesn't the Osmo Pocket have an internal microphone?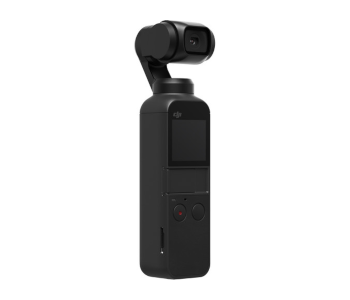 Yes, the Osmo Pocket does have built-in dual microphones. DJI has even given these microphones advanced noise-canceling algorithms to allow them to record cleaner, high-quality audio. One microphone is located at the front face of the gimbal in a tiny hole below the LCD screen. The second microphone is located at the bottom side of the gimbal handle.
How is the quality of audio recorded using the built-in microphones? At best, we would consider the quality passable. While the sound is clear enough, it's far from being professional-grade and is a notch lower in quality compared to what the GoPro Hero 7 can record. The audio quality will also suffer if you are recording sounds from a source that is not directly in front of the microphone.
As the microphones receive audio via holes that are integrated into the handle of the gimbal, it can be very easy to end up holding the gimbal the wrong way and ruin the audio you are recording. This can be a frustrating experience for vloggers who could go through an entire spiel only to find that their hands have been covering the microphone all along.
Even with the noise-canceling features of the Osmo Pocket's microphones, we find that it struggles in very windy conditions. This is quite important, especially if the Osmo Pocket is being marketed as an alternative to the GoPro Hero 7, meaning that it can be subjected to a host of outdoor elements.
All in all, the internal microphone of the Osmo Pocket is not terrible, but it has a lot of room for improvement. If you're going for professional-quality audio, then we think that the internal microphones simply won't do. Getting an external microphone is the easiest and most reliable upgrade to the Osmo Pocket's audio recording capability.
Why use an external microphone?
An external microphone is one of the most versatile tools you can use if you're into handheld video recording. There are hundreds of external microphone models out there, each one designed for specific applications. Most external microphones come with their own noise-canceling technology and can better handle wind noise and directional variations.
Depending on your needs, you can choose from a variety of external microphones. If your primary objective is to record your own dialogue, then you can settle with a simple lapel mic. If you want to do capture audio from interviews or from other very distinct sound sources, then a shotgun mic is a good bet. Meanwhile, a heavy-duty stereo microphone may be appropriate for capturing surround sound during your adventurous trips.
An external microphone extends your capabilities as a vlogger, in as far as audio recording is involved. If you're intent on capturing clear, noise-free, and high-quality audio, then you simply need to invest in a good quality external microphone.
How do I connect an external microphone to the Osmo Pocket?
Herein lies the problem: the Osmo Pocket does not have a 3.5mm socket for connecting an external microphone. What it does have is a USB-C port located at the bottom side of the gimbal and a recently released microphone adapter.
The USB-C to 3.5mm socket adapter looks a bit awkward protruding at the bottom of the gimbal's handle, but it does a good job of making sure that your external mic does not get in the way of the camera. While we haven't had any problems with it yet, its placement feels like its one errant hand motion away from getting knocked out or snapped. On the other hand, we like that it's a very small accessory which does not detract from the Osmo Pocket's ultra-portable design principle.
One thing to take note of is that the Osmo Pocket adapter has a 3.5mm TRS socket. If you're not familiar with the terminology, all you need to know is that audio jacks come in three types: TR, TRS, and TRRS. A lot of external microphones available out there use a TRRS jack, which means you'll need to get another TRRS to TRS adapter to use them with the Osmo Pocket 3.5mm adapter. All of this sounds more complicated than it actually is – we're sure you can handle it for the sake of superior audio quality.
At launch, the Osmo Pocket 3.5mm Adapter was released with a $39 price tag. The price is kind of steep for such a small accessory, but we think it's a small price to pay if you think that good audio quality is important for your videos. There's also the fact that there's no reliable alternative – third-party adapters have been in the market for a long time, but none of these have worked well with the Osmo Pocket.
Is the microphone adapter worth it?
At $39, the Osmo Pocket 3.5mm adapter isn't exactly cheap, but it's not so expensive either. The product feels durable and performs just as expected. It's also a one-time investment that will go a long way towards much-improved audio in all your vlogs and other personal videos.
Strangely enough, you can probably get a good external microphone that is cheaper than this adapter. Not that we're complaining, because this is actually a pleasant surprise. This means that you don't need to spend more than $100 for a high-quality audio recording setup to go with your Osmo Pocket. Your videos will be so much better with the right tools, and your viewers will surely thank you for it.
Final thoughts
When the Osmo Pocket was announced, it was easy to see how it can be a revolutionary product. Its compact size and mechanical stabilization capabilities excited a lot of vloggers and professional videographers. Simply put, there was no other product like it.
While the built-in microphones were objectively not terrible, the audio quality they recorded left a lot to be desired. Finally, DJI has released a 3.5mm adapter designed to work with the Osmo Pocket, and it performs just as expected. The improvements in audio quality using an external microphone are so palpable that we can hardly imagine recording using the Osmo Pocket's built-in microphones again. This is a great little product which adds a lot of value to the humble Osmo Pocket.