Ecobee Smart Thermostat Black Friday 2018 Deals
3D Insider is ad supported and earns money from clicks and other ways.
Ecobee just announced their Black Friday deals. You will be able to get the Ecobee4 and the Ecobee3 Lite at discounted prices. You can save up to 20% during the sale. It's not known when the sale will end, but it's possible it will continue through Cyber Monday.
Ecobee is a home automation company that's best known for smart thermostats  The smart thermostat marketplace has been dominated by Nest, but Ecobee brings much needed competition to the space.
Ecobee4 Smart Thermostat
Black Friday Price: $199 Retail Price: $249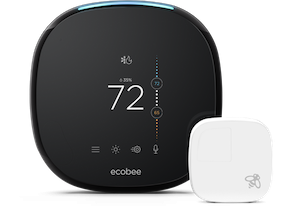 The Ecobee4 Smart Thermostat is a smart home device with great temperature control capabilities. It will allow you to save up to 23% in heating and cooling costs. It is ENERGY STAR certified, which means that it has consistently demonstrated energy savings and provides positive environmental benefits.
The Ecobee4 is an iOS and Android compatible smart thermostat that sports a color LCD touchscreen. Its refined modern look ensures that it doesn't look out of place. Additionally, it is also compatible with Apple Homekit so it can be used on just about any smart home hub. You can use the touch display or the well-built app to set temperature, create cooling and heating schedules, and adjust settings.
The Ecobee4 uses two types of temperature regulation controls. You can set schedules or use its geofencing capabilities to adjust heating and cooling cycles for your home. The smart thermostat does a great job at turning systems on or off depending on the schedule as long as you configure it properly.
One interesting feature that's included with the Ecobee4 is a microphone and speaker so that the device can access Amazon Alexa or Google Assistant. Integration with Alexa enables you to control the Ecobee4 and your other smart home devices. Its microphone responds well to commands and the Alexa integration allows you to command it to play music, read the news, or order groceries.
The Ecobee4 also sports temperature, humidity, motion, and proximity sensors. The proximity sensors tell the thermostat if you're at home allowing it to set the temperatures properly.
The Ecobee4 is simple to install and there's a detailed installation guide included. If you're not comfortable handling electrical wiring, you can always hire a professional to help you install the thermostat.
Ecobee3 Lite Smart Thermostat
Black Friday Price: $139 Retail Price: $169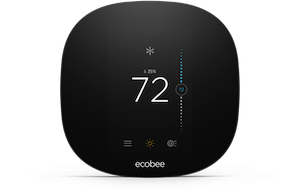 The Ecobee3 Lite Smart Thermostat is Ecobee's budget option and it lacks some of the premium features of the Ecobee4. However, it is a good choice for small apartments. It is easy to use and integrates with other smart home devices, plus the ability to monitor the temperature makes it a great addition to your home.
Similar to the Ecobee4, the Ecobee3 Lite has a 3.5-inch color touchscreen that allows you to change the temperature. You can also control the device using the Android or the iOS app.
The biggest difference with the Ecobee4 is that the Ecobee3 Lite does not come with a separate room sensor out-of-the-box. You can pair it with sensors, but you'll just have to purchase them separately. However, if you're using the Ecobee3 Lite in a small apartment, you probably won't need the extra sensor.
Like the Ecobee4, the Ecobee3 Lite is integrated with Amazon, Google Home, Apple Homekit, Samsung SmartThings, IFTTT, and other home automation systems. The Ecobee3 Lite is a reliable smart thermostat that comes at a great proice.
Overall, Ecobee has released some great Black Friday deals this year. Ecobees are very easy to use and they have seamless integration will almost all smart home technology. Now is your chance to get a smart thermostat at a discount