Essential DIY Electric Skateboard Parts List
3D Insider is ad supported and earns money from clicks, commissions from sales, and other ways.
Electric skateboards are the rage nowadays. There's just a lot you can do with them. Apart from the usual recreational activities that these devices provide, you can also use them as a reliable commuting tool. They're handy, portable, and most of all efficient that's why a lot of people choose them as their transporter.
People living in the cities who have a long commute ahead of them are one of the most common electric skateboard users. The size, speed, and efficiency greatly help them improve their commuting experience. They can weave in and out of traffic or use the sidewalk and zip by everyone. They can hop on a bus or train and bring their board with them. These boards are small enough that they easily fit in the trunk of your car. You can use the electric skateboard in tandem with other forms of transportation and still get to work or school fresh and on time.
Your Typical Skateboard
Everyone is familiar with skateboards. They are basically long, thin pieces of wood with wheels attached to them and help you move a lot faster for less effort. You ride it by pushing off with one foot while the other is planted on the board.
Traditional skateboards are mostly for fun and recreational use. They are popularly known because of the number of tricks you can do on them. Although not as fast or efficient as their electric cousins, these boards are still popular among enthusiasts.
Electrifying Your Skateboard
Recently, with the advancement of technology, motorized skateboards are becoming more mainstream with consumers and commuters. The main difference between traditional and electric boards is that you don't need to push off with your foot in order for you to move. They come with motors that propel you forward.
It is essentially a skateboard with motors and a battery pack as its power source. Of course, there are other components like the controller that tell the board whether you want to go forward, brake, or reverse. The miniaturization of many elements, especially the motor and rechargeable battery technology, enabled the evolution of the electric skateboard from their traditional counterparts.
Electric Skateboard Parts
To get an electric skateboard to work, you'll need the following components. Each of these is crucial, and missing any of these can be detrimental to both your experience and safety. Some of these parts are needed to slow you down safely and make sure that accidents are minimized.
Here are the essential electric skateboards parts that you need to make one:
Skateboard Decks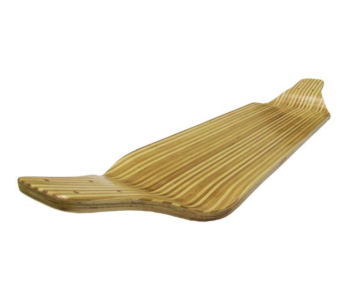 Undoubtedly the most vital part of any skateboard is its deck. Without it, you only have wheels, which are of no particular use to you. The skateboard deck is the flat piece of board that you stand on as you ride your skateboard. The majority of them are made of wood like maple or bamboo. There are other types, and they are made from a variety of materials like carbon fiber, aluminum, even composites.
No matter what your skateboard deck is made of, what's important is that it's stable, durable, and slightly flexible to give you a more comfortable ride. Remember, you're the one who's going to ride it regularly, so your deck needs to suit you before anything else.
For electric skateboards, it is recommended that you get a deck with a longer wheelbase as it gives you more stability. This is particularly useful for long rides or commutes since it will be able to provide you with better balance and a comfortable experience overall.
Skateboard decks also come in different shapes and there are a lot of them. There is the standard "popsicle" and others that are squarer or tapered. The deck is all about function and comfort, it's simply a matter of what type of deck you feel the most relaxed when riding. Remember, there will be times where you'll be on your board for minutes at a time and you want to feel comfortable and calm as much as possible.
Our Recommended Decks
TGM DROP DOWN ZEBRA BAMBOO LONGBOARD DECK
Retail Price: $59
MOOSE DROP THROUGH SKATEBOARD DECK
Retail Price: $37
Retail Price: $59
LOADED BOARDS TAN TIEN BAMBOO LONGBOARD SKATEBOARD DECK
Retail Price: $194
Wheels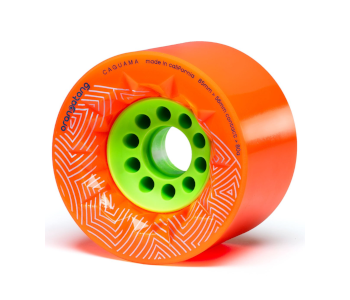 Similar to the deck, you also have quite a few options when it comes to the wheels of your electric skateboard. Skateboard wheels are popularly made of urethane, a type of hard plastic that provides superior grip and durability compared to other materials. There are a lot of different wheel types as well, like rubber that's great for an all-terrain board.
Skateboard wheels have two distinct traits that you need to take into account, size and suppleness. These two characteristics can significantly impact your ride. When getting an electric skateboard, your wheel size and suppleness must match your riding style and needs.
The size of your wheels can seem a little trivial to you. However, it can noticeably affect your board's performance. One with a larger diameter will weigh a bit more, but it will also give your board a bit of a boost at top speed. A much larger wheel also helps elevate the profile of your board as it raises the entire deck, but it can significantly affect maneuverability.
Wheel suppleness is all about the hardness of the wheels. In skateboarding terms, they call this the "duro." This characteristic determines how much grip it has and its shock absorption capabilities. The softer your wheel is, the grippier it is and the more shock it can absorb.
Harder wheels aren't all that bad, though. One great thing about using harder wheels is that you have a lot of feedback since you will be able to feel everything you travel over. This can come in handy, especially when you're cruising down the sidewalk or going through paths in the park. Using much harder wheels also gives you a more responsive board so you can maneuver around heavy pedestrian or vehicle traffic.
Our Recommended Wheels
ORANGATANG CAGUAMA 85mm LONGBOARD WHEELS
Retail Price: $88
MBS ALL TERRAIN LONGBOARD WHEELS
Retail Price: $69
ABEC 11 LONGBOARD WHEEL FOR ELECTRIC SKATEBOARDS
Retail Price: $142
Trucks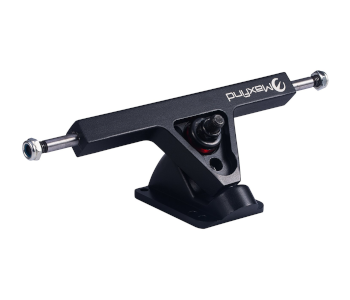 Electric skateboard trucks are the object that keeps your wheels in place underneath the deck. They are basically the link between these two parts, you can consider them as your board's axle. Trucks are essential since they help you control the way you turn and translate all your movements from the deck to the wheels. Since it's an indispensable component, you need to use the right ones for your skateboard deck.
This is where truck width comes in. You'll need to figure out the right size and make sure that it is roughly the same width as your deck. Installing one that's too narrow will result in a very unstable board, while a truck that's too wide can result in your shoes rubbing against the wheels accidentally.
You also want to take note of the truck's height as there is a performance difference between the two. Using one with a low truck height translates to better stability since you're positioned much closer to the ground. It provides a more stable ride that's responsive to your controls.
A tall truck height, on the other hand, provides better clearance between the deck and axle. It is useful when you're looking for an off-road board where you're looking to use larger tires. You can also make tighter turns, which is useful when you're riding around the city.
Taller trucks are recommended for electric skateboards, especially if you want to use your board for commuting. The improved maneuverability does come in handy when you're weaving through pedestrians or riding in between cars that are stuck in traffic.
Our Recommended Trucks
MAXFIND LONGBOARD 7-INCH TRUCKS
Retail Price: $19
CALIBER CAL II LONGBOARD TRUCKS
Retail Price: $52
Electric Skateboard Electronics
Now we come to the heart and soul of the entire device. The main difference between an electronic skateboard compared to a traditional one is the electronic components. Without this, all you get is your regular foot and muscle-powered board. This is where all the performance of your board will come from.
Motors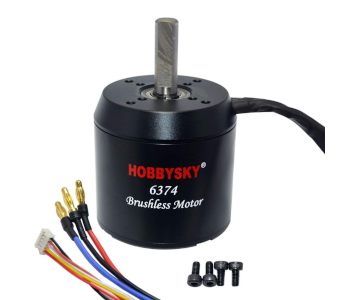 This is one of the most critical components of an electric skateboard. This is where you're going to get all that power. Your board's top speed will be determined by the performance of your electric motor.
One activity that riders of non-powered skateboards don't like is going uphill. The motors on an electric skateboard change all of that. Instead of kicking to move forward, you can now rely on the power of the electric engine to get you uphill without breaking a sweat. The ability to climb hills is one of your main factors when choosing a motor.
When it comes to electric motors, there are three features you need to take a close look at. These are total power output, torque, and voltage. Each of these has an effect on the overall performance of your board.
The total power output is commonly referred to in watts. So, one that's rated at 1000W definitely has more grunt than a 500W. If you want a board with higher top speed, then you want to get a motor with the highest power output that's within your budget.
The next characteristic you need to look at is torque. If you want your electric skateboard to be able to handle hills or steep gradients, then you need a motor that has more of it. There is a downside to having too much of it, though. Having more torque means you'll need to compromise on top speed since they have an inverse relationship. It's definitely a delicate balance.
Lastly, let's take a closer look at the voltage rating. If you want more speed without sacrificing torque, the only way you'll be able to achieve that is by increasing it. Most electric motors have a rating of either 24V, 36V, or 48V. The more voltage you feed through it, provided it can handle it means more speed.
Motor performance can be very subjective. A 1000W low-torque motor won't be able to satisfy your needs if you have to deal with a couple of hilly sections in your neighborhood that you want to ride through. As long as the motor you get meets your expectations and performs the way you want it to, then that's the one you should get no matter what the numbers tell you.
Our Recommended Electric Skateboard Motors
HOBBYSKY 190KV BRUSHLESS OUTRUNNER BELT MOTOR
Retail Price: $79
MAXFIND 500W ELECTRIC SKATEBOARD BRUSHLESS HUB MOTOR
Retail Price: $59
Retail Price: $136
VANPRO 270KV BRUSHLESS OUTRUNNER BELT MOTOR
Retail Price: $53
Control Electronics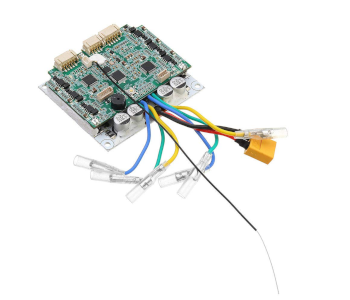 The control electronics or sometimes called the ESC is the brains of your electric skateboard. This piece of hardware essentially controls the motors. It tells them to either use more power or less, and to slow down. Without this, your power units are useless since you won't be able to control your board correctly.
The purpose of the control electronics is simple, and you might be tempted to use the cheapest one available. These might be cheap, but they may not have the best reliability record. The small parts of the controller are sensitive to the slightest changes in voltage and current, and can quickly get burned in the blink of an eye if you're not careful. It's better to invest in a quality controller that will last.
Our Recommended Control Electronics
ESK8CLUB DIY ELECTRIC SKATEBOARD ESC KIT WITH REMOTE CONTROL
Retail Price: $89
SODIAL ELECTRIC SKATEBOARD CONTROLLER WITH REMOTE
Retail Price: $57
HOBBYSKY DUAL MOTOR ESC FOR BRUSHLESS BELT MOTOR WITH REMOTE
Retail Price: $89
Wireless Remote
Compared to other personal transporters, the electric skateboard does not have a place where you can control it. Electric bikes have handles where you can connect the controller to a throttle device, hoverboards use gyroscopic technology to regulate speed. Skateboards are traditionally a hands-free vehicle, and it's stable on four wheels so you can't use weight distribution sensors.
There is only one choice when it comes to controlling an electric skateboard, and that's through a handheld wireless remote. This setup allows you to tell the motors to either speed up or brake just by pushing some buttons on a device you carry in your hand.
Batteries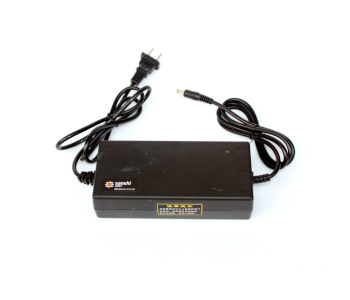 Another component that you won't find on traditional skateboards are the attacks. These inject power to your motor in order to propel you to where you want to go. When it comes to choosing the right one, there is only one number that matters – the range.
If you think range anxiety is not real, then you're mistaken. Everyone who owns any type of electric vehicle knows this too well. There's nothing worse than heading out on your electric skateboard and suddenly realizing that you don't have enough battery power to reach home. You can always carry your board with you, but it would be helpful if you had more juice on it.
Bigger is always better when it comes to batteries. The larger it is, the more power you can store on it and significantly increase your range. Not all batteries are created equal, though it is recommended that you get premium cells from recognized companies like Samsung and LG.
For electric skateboards, and other electric personal transporters, the rule of thumb is about an hour of ride time. So, if you have a motor that can push you to 20 miles per hour, your battery should give you at least 20 miles of range.
There are also other factors that can affect the performance of your batteries like weight. The heavier you weigh, the more power you're going to demand from your motors, so it will definitely affect your range. Make sure that you get batteries with better capacities to maximize your range.
Our Recommended Electric Skateboard Batteries
ELECTRIC SKATEBOARD 36V BATTERY PACK
Retail Price: $168
Drivetrains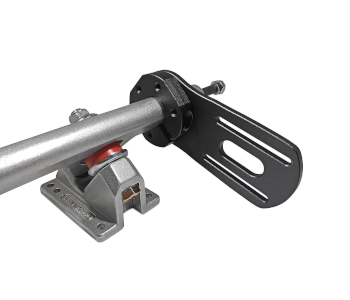 The drivetrain is the electric skateboard part responsible for delivering power from the motors to the wheels. Without it, there's no way to spin the wheels. Getting the right one is crucial for you to be able to enjoy your skateboard.
There are two primary types of drivetrains when it comes to electric skateboards. For the longest time, belt-driven ones were the more popular option. They are efficient, easy to install and maintain. They definitely come in handy for DIY boards. Then hub motors came around and became popular since they are simple, affordable, and very effective.
The belt drive is more popularly considered to be the more traditional electric skateboard drivetrains. It connects the wheel and motor together with belts and pulleys. One of its advantages is that it's a tried and tested drivetrain used on electric skateboards since they were a thing. Belt drives deliver better torque compared to others that are similarly priced.
There are some downsides when it comes to using belt drives, though. The system considerably limits free rolling, and it's harder to kick-push. Maintenance also takes a bit of an effort because of all the moving parts.
Hub drives are gaining a lot of traction nowadays. They're simple, affordable, and most of all, don't need any maintenance. They also operate very quietly where you'll be able to free-wheel them whenever you run out of batteries. You can ride them both ways either as an electric skateboard or a traditional one.
They also have their own downsides. Using hub motors only allows you much thinner wheels, and that hugely affects ride comfort since you'll be losing out on a lot of shock absorption. Hub motors also have lower torque and braking capabilities compared to belt drives.
There are other types of drivetrains to choose from. However, these two remain the most popular ones. Still, it all depends on your priorities. They both have their own advantages and downsides, and what type you get considerably depends on how you want to use your electric skateboard.
Our Recommended Electric Skateboard Motor Mounts
PREMIUM DIY ELECTRIC SKATEBOARD MOTOR MOUNT
Retail Price: $35
PARIS AND ROUND TRUCK COMPATIBLE MOTOR MOUNT
Retail Price: $32
XCSOURCE DIY ELECTRIC SKATEBOARD PULLEY AND BELT KIT
Retail Price: $23
DIYE 36-TEETH PULLEY AND DRIVE KIT FOR ELECTRIC SKATEBOARDS
Retail Price: $34
Skateboard Enclosures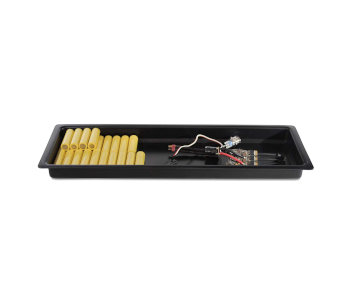 Now that you have all the components ready, including the electronics, you would want to protect all of them. You don't want everything exposed to the elements as you're riding down the street. To wrap everything up, you will need some sort of enclosure. One that's sturdy and breathable so your important components are safe at all times.
You want to protect your ESC, batteries, cables, and receivers since they are going to be sensitive to the elements. A little unwanted moisture might cause everything to malfunction, so it's better to have them secured in place with an enclosure.
Our Recommended Enclosures
DIYE ELECTRIC SKATEBOARD BATTERY AND ELECTRONICS ENCLOSURE
Retail Price: $37
HOBBYSKY BATTERY AND CONTROLLER BOX WITH BATTERY INDICATOR
Retail Price: $59
Final Thoughts
Electric skateboards are more than just for fun. There are a lot of ways that you'll be able to enjoy them. Whether you're using them for recreational purposes or for your daily commute to work or school, you want to know how each of these parts works so you can choose the best ones that are a perfect fit to your needs.