5 Best Electric Tricycles of 2019
3D Insider is ad supported and earns money from clicks, commissions from sales, and other ways.
As electric vehicles slowly gain popularity, more manufacturers are expanding their line of products. It seems like they're putting electric motors on just about any type of transport device, including the tricycle.
The tricycle is known primarily as a bicycle with three wheels which are used mainly for recreation, exercise, and sometimes light cargo carrier because of the extra space. It is also the vehicle of choice for children and senior adults due to the improved stability with the addition of the third wheel.
Electric tricycles or trikes are for those who want to enjoy the feeling of riding in the open without worrying about balance. That's why this is the vehicle of choice for those with mobility problems. You can enjoy the stability with a decent enough cruising speed and even better storage space compared to other electric transporters. You can easily do the groceries at your nearest supermarket without the hassle of driving your car or lugging everything you bought.
Riding an Electric Tricycle
These devices operate a bit differently compared to other personal transporters. For one, the electric version of the tricycle simply modifies the tried and tested design and adds an electric motor to the drivetrain. This means that operation is the same as non-electric versions where you have to pedal. The main difference now is when you pedal, the electric motor kicks in and helps you by giving you additional power. This results in faster speeds with minimal effort. If you're too tired to pedal, there are varieties that you can ride like an electric scooter, you can push a button or twist the hand throttle to let the power unit do all the work for you.
An advantage of having the motors installed in the drivetrain is that it supplements your pedaling, so you won't feel as if you're being shoved forwards when the power kicks in. It will feel like you're just moving faster than your legs are capable of pushing you, so everything feels very natural unlike other electric vehicles such as an electric skateboard or a hoverboard, the motors are located on the wheels.
The Best Electric Tricycles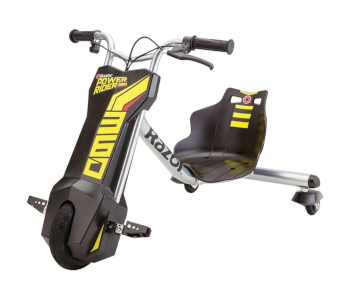 Retail Price: $181
The Razor Power Rider 360 is an electric trike that's built mainly for those that are generally lighter than 120 pounds. So, it's more of a tricycle for kids and teens to enjoy. It's a simple machine but agile, and is best used for recreational purposes at the park or around the neighborhood.
The trike is designed to be very simple to ride and control. There is no pedal, it uses a button throttle so all you need to do is push it and you're moving. It's so easy to use that kids can instantly get the hang of it and do full 360-degree spins after a few minutes on the trike. You can even perform drifts to wow everyone that happens to be looking at you.
The Power Rider 360 is definitely not the fastest of the electric trikes on this list since it's designed mainly for kids and teens. However, it does carry some performance that anyone who rides it will enjoy. It has a maximum speed of up to 9 miles per hour with a range of about 4.5 miles. It's clearly a machine that kids and teens will enjoy out in the park.
The Razor Power Rider 360 is undoubtedly a unique piece of machinery. It's leaned more towards recreation rather than a tool to supplement mobility or even a cargo carrier. The great thing about it though is that Razor has definitely hit it on the head. It's a fun, quirky ride that you can take to the park and around the neighborhood for your amusement.
The Pros
Safe electric tricycle for kids and teens
Made to do a lot of tricks like spinning and drifting
Build quality is awesome
Good amount of performance for a device designed for kids and teens
The Cons
The rider weight limit is definitely an issue as it can accommodate only 120 pounds
Can only provide up to 30 minutes of continuous riding, so it's not a suitable mobility tool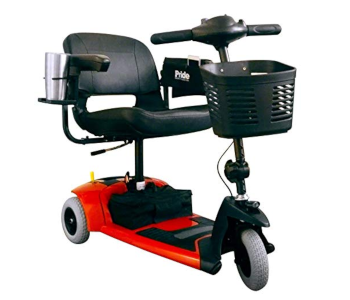 Retail Price: $599
There are a lot of electric scooter types out there, and the Travel Pro Premium is not just any trike, it's a mobility scooter. It's designed mainly for those who have problems moving around or generally have trouble going from one place to another even if they are close.
Being able to go around the house or move around shopping malls independently means a lot to those who have mobility issues, and a trike such as the Travel Pro Premium can change all that. The footprint of the trike is small enough that you can move it around hallways and doorframes. The three wheels also make sure that it's stable so that whenever you need to maneuver in tight spaces, you won't topple over.
As a mobility device that is used by seniors or those with problems moving around, it's not the fastest thing out there. It has a top speed of 4 miles per hour, which is decent, and matches a relaxed walking pace so you can move at the same rate as those beside you. This is particularly helpful when you're driving around the park or shopping malls with your family. The mobility scooter comes with a large battery that gives you a range of about 6.3 miles, which is more than enough to get you through the day.
An important factor with mobility trikes and scooters is its transportability. Are you able to put it in the trunk of your car so someone can use it when you arrive at your destination? The Travel Pro Premium can easily be disassembled so you can use it for your next trip to the park or the mall.
Another factor that you want to consider is the rider's comfort. For the most part, the one that's going to be using this electric trike are seniors who have problems with their legs or those with medical conditions that don't allow them full use of their lower extremities. This trike has got you covered with a fully padded seat that can be adjusted depending on the height of the rider. It can accommodate virtually anyone since it also has a maximum load of up to 275 pounds.
A great thing about this trike is it's got a cup holder and a small saddle bag for everything you need to carry with you as you're traveling back and forth inside your home or going around the block for a little ride.
The Travel Pro Premium mobility scooter is a vehicle that's going to give you a lot of independence, especially when you have issues with moving around. It allows you to move from one place to another comfortably, and keep up with family on trips to the park or mall. It's a comfortable ride and easily transportable so you can carry it with you wherever you go.
The Pros
Designed to be used inside and outside the home the maneuverability is great, and you can go around tight spaces easily
Can virtually accommodate anyone with its high max load so you don't have to worry about who uses this
Mobility independence for those who have trouble moving around
Comfortable seating and extra storage space for anything you might need when using the trike
Fits in the trunk when disassembled for easy transport
The Cons
A little slow compared to other electric trikes, but it's a good walking pace so you can keep up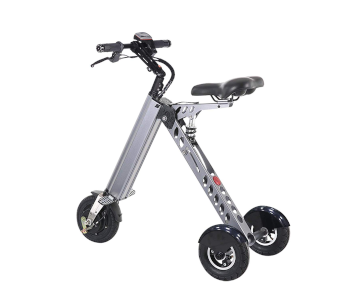 Retail Price: $639
The majority of electric tricycles are not really designed to improve your commute. However, there are a few machines out there that are built for fast and efficient travel like the Topmate ES30.
When you think of trikes, no matter how small they are, their footprints are still too wide to fit in narrow hallways and elevators. This makes them a little tricky to bring into the office or school buildings. Most trikes are not really portable, you simply can't fit them in the trunk of your car. This is where the ES30 comes in.
This electric trike is built for the urban environment. It's foldable, quick, and has an insane range and it can effortlessly handle virtually any type of commute. One of the main differences between the ES30 and other electric trikes out there is its portable design. It's remarkably lightweight, weighing only 22 pounds. That's enormously light for a tricycle. It does sacrifice the trike's cargo capabilities, but it wasn't really meant for lugging groceries around.
The ES30 comes with a 250W motor that allows it to accelerate up to speeds of up to 12 miles per hour. It utilizes a high capacity 36V lithium-ion battery and has a range of up to 22 miles. With that range, you can use it for just about any commuting situation. Charging up the devices only takes 3.5 hours, which means you can plug it in during the evening and have full batteries by the time you wake up ready for your next journey.
Unlike other trikes where the motor is on the drivetrain and supplements your pedaling, the ES30 doesn't have any, so it feels more like an electric motorcycle with three wheels. All you need to do is twist the hand throttle so the motors can start to generate the power to drive the wheels, and off you go.
The Topmate ES30 foldable electric tricycle is a great commuting tool. Its small compact size enables you to bring it onboard buses and trains. It is also small enough that you can store it under your desk at work or at school.
The Pros
Compact and foldable, you can easily carry it on buses, trains, and the trunk of your car
Fast and the extended range allows you to use the ES30 to commute just about anywhere
Fast charging to ensure you have enough battery power for your next trip
The Cons
Does not have the traditional cargo carrying capacity of other electric trikes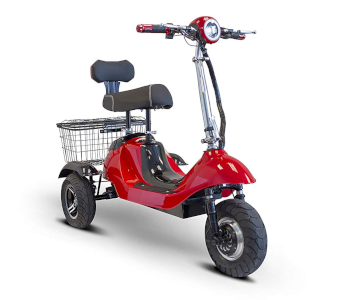 Retail Price: $999
The E-Wheels EW-19 has a design similar to that of a mobility scooter. The central difference is that most mobility scooters are slow and are made to match a casual walking pace, while the EW-19, however, is made to go fast. It is capable of reaching speeds of up to 15 miles per hour and a range of 21 miles on a single charge.
The performance of the EW-19 is clearly unbelievable. This is all possible because of the 500W motor that's installed on the device. Since the trike has more space, it carries more battery cells and gives it that extended range compared to other similar electric vehicles like skateboards and hoverboards.
Similar to other mobility scooters, rider comfort is at the forefront of the design. The EW-19 is definitely a comfortable trike with a cushioned seat that fits just about any user imaginable. It also comes with a covered storage basket for any type of cargo as long as it fits inside. You can certainly use this trike for your weekly grocery runs.
Since it's primarily designed as a mobility scooter, it needs to be safe. The EW-19 achieves this by putting in three different speed settings so anyone can ride the trike without worrying about running too fast. Senior adults can select a speed setting that's comfortable for them without compromising the overall performance of the trike.
The E-Wheels EW-19 is more than just a mobility scooter. Looking at the entire package, it comes with features and performance for everyone. Kids can use it for fun going around the neighborhood. Senior adults can use it as a proper mobility trike to help them move around. Mom or dad can then use it to ride to the nearest grocery store to make use of the storage space.
The Pros
Different speed settings make it a very flexible vehicle for everyone
Designed to go fast so you can use it for quick trips to the store to grab something you may have missed buying
Comfort is made a priority for those who will use it for long periods of time for independent mobility
Removable seat and folding handles for easy transport
LED lights so you can use it at any time of the day
The Cons
Not the most compact electric trike
Definitely one of the heavier trike out there at 128 pounds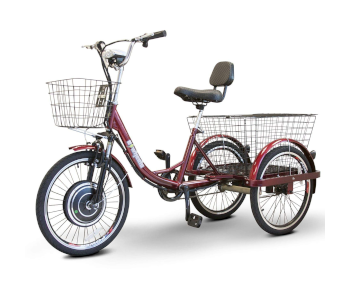 Retail Price: $1499
If you're looking for a more traditionally designed electric tricycle, then the E-Wheels EW-29 is something you would want to consider. It is powered both ways, pedaling and electric motor. The great thing about this trike is you can even combine those. The advantage of this duality is that you can continue to use this even when you have no more juice left on the batteries. If you don't like to pedal, you can fully utilize the motors and not break a sweat.
The trike can reach speeds of up to 15 miles per hour with a 20-mile range on a single charge. Of course, if you pedal, you'll be able to extend that, but 20 miles seems like a good enough range for your needs.
One of the notable features of the EW-29 is its storage capacity. It has a front storage basket on the handles and a significantly larger one behind the seat. This makes it the perfect trike for groceries or running quick errands to a nearby store. You can even bring your pets with you for a ride.
When it comes to electric trikes, comfort is always a focus. To make things comfortable, the EW-29 is designed with a low step-thru frame so anyone can get themselves to sit on the seat. That little feature makes sure that virtually anyone can use it from kids to adults to even those who have trouble riding regular bikes or trikes.
The trike also comes with front LED lights so you can use it even in the evenings. A horn is also fitted so you can notify other motorists or pedestrians that you are coming through. It even comes with a battery indicator so you know exactly how much power you have left so you can decide to pedal or take it easy.
The E-Wheels EW-29 is clearly a complete package when it comes to electric tricycles. It has everything you need in a trike. It has more than enough cargo space so you can lug around just about anything that fits in the baskets. It's fast, and by not removing the pedals, it allows the vehicle to be flexible so you can use it however you want.
The Pros
Flexible trike with the 100% electric power option or you can combine it with pedaling
Storage space is insane with two baskets that fits just about anything, including your pet
Comfortable seating for long rides
The 400-pound weight capacity is good for just about any passenger plus your cargo in the basket
The Cons
Definitely a large and heavy trike that is not compact or portable
What to Consider When Choosing One
Similar to other electric vehicles, there are a lot of features to consider when you're buying an electric tricycle for you. You want to know which one is the best for you and your needs. Do you want one that will help you with mobility? Or do you want one mainly for recreation? These are some of the questions you need to consider, so you buy the best one that's a perfect fit for your needs.
Here is what you need to check out so you can make the right decision.
Batteries
This is one of the more critical components you want to look at when you're buying any form of electric vehicle. Battery packs for electric trikes are often attached behind the seat, and they can be quite large. The batteries on these trikes can provide them with an insane range compared to other similar vehicles. Some trikes can give you up to 45 miles of range, which is a lot.
One thing to note, though, is that battery life hugely depends on how you use your trike. Using it in full electric mode like a scooter will drain your batteries quicker compared to when you use it for pedal assistance. So, think about how you want to use the trike so you can gauge how much juice you want the batteries to have.
Motors and Speed
The size of the power unit can vary between electric tricycles. Most trikes are equipped with motors in the range of 500W to 750W. The more powerful the motor, the faster the top speed. The rest of the performance still depends considerably on other factors, like the total weight of the vehicle. However, you can expect trikes to go as fast as 10 to 20 miles per hour, and some premium models that go even quicker.
Your motor and speed requirement depend on how you want to use your electric trike. If you're looking to improve your mobility and not travel for miles at a time, then a trike with a decent top speed could be the perfect fit for you. However, if you're looking to use your trike for some recreational activities, then you might want to look at those with larger motors that can provide you with a higher top speed.
Design
There are a lot of variations with electric tricycles. Some are specifically built for seniors, which means they are generally lower and more comfortable to ride for those who have mobility issues. There are the traditional-designed trikes and even chopper-like trikes. You can also choose to get between trikes that have all-terrain tires or those specially built for urban commutes.
There are a lot of different choices, and it all boils down to who is going to use the trike or how do you want to use it. If someone who has mobility problems wants to ride one around the house and neighborhood independently, then you want to look for a trike that's designed to accommodate their needs. The same goes when you want to ride an electric trike to help with your commute.
Storage
Storage or cargo space might not be at the top of the list when choosing other electric vehicles, but with the extra space on a trike, it's a feature that you might want to consider. Many users of electric trikes primarily buy them because of the amount of load you can carry. You can load up on more substantial cargo like groceries, and your trike will still be reasonably easier to pedal compared to a non-electric one.
That's why having a large cargo basket is useful, especially when it comes to these kinds of trikes. It can definitely make a difference if your nearest grocery store is just a few blocks away and you can avoid taking your car when you do your shopping runs.
Wrap Up
Choosing the perfect electric tricycle really depends on your needs. Whether it's for mobility, carrying capacity, or commuting as long as you can address it, then you're on the right track. We have included different types of electric trikes in our guide to help you determine your needs and which one is the most suitable for you.