Fitbit Christmas Deals Released (Alta, Charge, Blaze, Ionic)
3D Insider is ad supported and earns money from clicks and other ways.
Fitbit makes the best fitness trackers that you can buy. They've earned a reputation for quality smartwatches that can track your heart rate and provide you with the motivation you need to get fit. The company has released deals for Christmas that are live right now.
You can save up to 26% on a Fitbit watch for Christmas. Fitbits are a great gift for anyone who is health conscious or looking to get healthier. It's not known when these deals will end. Quantities are limited and its recommended that you order early to get it shipped on time for Christmas.
Fitbit Alta HR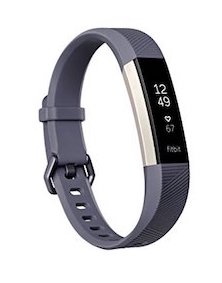 The Fibit Alta HR is the company's smallest smartwatch with a heart rate monitor. It was designed in response to people who think the Fitbit Charge is a little too large for their wrists. This device is ultra-slim and it will match any outfit with its changeable bands.
The Alta HR normally sells for $149, and you can get it for $129 for their Christmas sale. That's a savings of $21 off the retail price.
The battery life on the Fitbit Alta HR is longer than just about any watch from the company at up to 7 days. That means you will rarely have to think about charging it and you can wear it to sleep confident that it will record your sleep quality. The Fitbit Alta HR will monitor your REM sleep cycles and even wake you up with a silent vibrating alarm on your arm.
The Alta HR does everything a normal Fitbit does including counting steps, calories burned, and floors climbed. It will also give you text, call, and calendar notifications. You can customize the watch face to show what's important to you. If you have been sitting for too long, the watch can be setup to remind you to get moving.
Fitbit Charge 2
The Fitbit Charge 2 has all of the features of the Alta HR with a larger screen. Many people find the larger screen easier to use and customize. It is the same price as the Alta HR at its sale price of $129.
The Charge is the smart watch series that made Fitbit a household name. The latest version features a larger screen and more features while maintaining the battery life of around 5 days.
The Charge 2 has connected GPS, which is something the Alta HR does not have. This allows you to get GPS data that can tell you your pace, distance, and a map of your route post exercise. The Charge 2 is also different because it has guided breathing sessions. This allows you to find moments of calm in the day based on your heart rate. It will help you relax and destress.
Although the Charge 2 is larger than the Alta HR, it still fits comfortably on the wrist and you get used to it quickly. This is a great smartwatch at the price.
Other Fitbit Watches
Those looking for a Christmas smartwatch gift that's closer to the Apple Watch will want to look at Fitbit's other models. Fitbit has two more advanced watches called the Blaze and the Ionic.
The Fitbit Blaze is selling for $148 for Christmas. This represents a savings of $52 off its retail price of $199.
The Blaze has all of the features of the Charge 2 with a large color screen that has apps from all your favorite companies including Facebook, Gmail, and more. You can control the music that you are playing on your phone just by tapping on your watch. It also has a built-in coaching program called Fitstar that will give you step-by-step workout suggestions.
The Blaze is surprisingly light and comfortable. It's easy to forget that it's on your wrist. It has a battery life of up to 5 days compared to 18 hours for the Apple Watch 3.
The Fitbit Ionic is the company's most sophisticated watch. It was released just a few months ago in August and it is surprising to see that the company listed it for sale. It's selling for a $30 discount at $269.
This smartwatch has built-in GPS, as opposed to the phone dependent setup of the Charge 2 and Blaze. It can store 300 songs on the device so that you can go for a run without bringing your phone and still listen wirelessly to music.
Fitbits will be popular Christmas gifts this year. They are sure to bring a real smile to almost any friend or family member.