Fitbit's Cyber Monday 2018 Deals (Alta HR, Charge 3, Ionic, Versa)
3D Insider is ad supported and earns money from clicks and other ways.
Black Friday is over, but you can still get a Fitbit smartwatch on sale. Fitbit has reduced the price of their fitness trackers by up to 38% during the sale. Cyber Monday is the last day of the Thanksgiving sale season where you can grab Fitbit's smartwatches at a very low price.
Fitbit is known for their highly popular fitness trackers that can help you achieve your fitness goals. Their products are also one of the most popular Christmas gifts and with these awesome deals, you don't have to spend a fortune to get one.
Fitbit Alta HR
Cyber Monday Price: $79 Retail Price: $129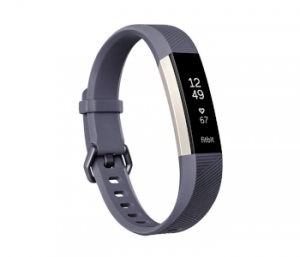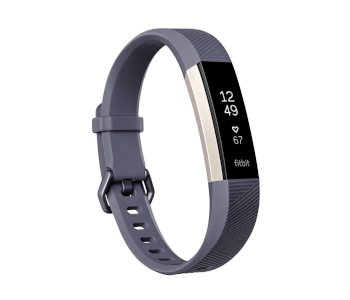 The Fitbit Alta HR is one of Fitbit's more popular models. Users are attracted to its slim design and smaller watch face. This is the Fitbit to get if you want a light fitness tracker that won't bother you on your wrist. It is also highly customizable with interchangeable wrist bands so you can change it whenever you need to look formal or casual.
Don't let its size fool you though, the Fitbit Alta HR has an impressive 7 day battery life. You won't have to think about charging it often.
The Fitbit Alta HR tracks steps, calories burned, and heart rate. It also tracks your sleep quality and sends you a detailed report every morning when you wake up. You can also set up a silent vibrating alarm to wake you up in the morning.
The device is linked to your phone so you'll be able to receive call, text, and calendar notifications without pulling your phone out of your pocket.
The Alta HR also has an inactivity notification. Research has shown that sitting too long is bad for your health. As a result, Fitbit has introduced a feature that will alert you to get up and start moving.
The Fitbit Alta HR's Cyber Monday price of $79 is the cheapest it has ever been. The Black Friday price last year was $99.
Fitbit Charge 3
Cyber Monday Price: $119 Retail Price: $149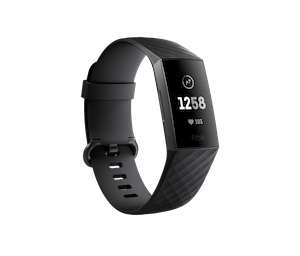 The Fitbit Charge 3 is new to the market. Just released in October, it has greatly improved on its predecessor. A slimmer profile and a 40% larger screen are some of the most visible changes. The one change that's not easily seen is that it's 20% lighter thanks to its aluminum construction. It is now much easier to use and navigate with the full touchscreen, compared to the tap screen of the Charge 2.
The Fitbit Charge 3 now sports an increased battery capacity that lasts up to 7 days, compared to the 5 days of the Charge 2. You don't need to think about charging it that often.
Finally, one of the biggest changes is that it is finally waterproof. You can go swimming with your Charge 3 and dive up to 50 meters. It can now track your fitness information while you swim.
You can connect the Charge 3 to your phone for GPS information so you can easily track the pace and distance of your walks and runs.
There have been some early reports regarding a buggy interface but it is likely that all it needs is a software update to fix the issues.
The Charge 3 is a significant improvement from the Charge 2 and it packs a lot of new features that is enough for your fitness tracking needs.
Fitbit Ionic
Cyber Monday Price: $199 Retail Price: $269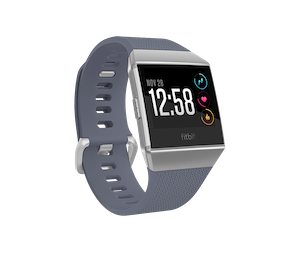 We're now entering the high-end smartwatch market with the Fitbit Ionic. It competes directly with the new Apple Watch and the Samsung Galaxy Gear line. The glaring difference between the other smartwatches and the Ionic is battery life. It can provide you with a solid 4 days of battery life.
The Fitbit Ionic was designed to be more of a standalone smartwatch and fitness tracker. That means you don't have to carry your smartphone with you when you're working out. It has Bluetooth connectivity so you can pair your wireless headphones and listen up to 300 stored songs.
The Ionic also has built-in GPS tracking the pace and distance of your runs even when it's not connected to a smartphone. It also has a built-in secure wallet named Fitbit Pay allowing you to stop by and grab coffee without carrying cash, pretty handy when you're out for a long run.
The Ionic also comes with a ton of popular apps that you can install on your device. Apps like Pandora, Starbucks, Strava, and many more can be downloaded from the app store to improve your Fitbit experience.
You also get all the features of cheaper Fitbit variants like standard notifications for texts, calls, and social media. It is also waterproof so you can take it for a swim. It also has built-in coaching to guide you with different workouts.
Fitbit Versa
Cyber Monday Price: $149 Retail Price: $199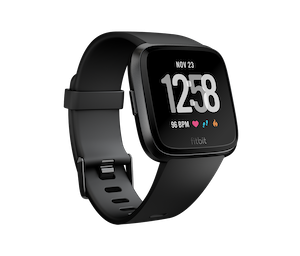 The Fitbit Versa was released in April of this year. The goal is to offer customers a budget smartwatch option. The Versa is perfect for those who are looking for a well-designed and well-built smartwatch but without the sophisticated features of the Ionic.
The main difference between the Versa and the Ionic is the GPS. The Versa uses connected GPS that is linked to your smartphone. This is a great option for you if carrying your smartphone while on your run or working out does not bother you.
The Versa has a similar battery life to the Ionic. It also has Fitbit Pay for secure cashless transactions and it can store up to 300 songs to listen to while you work out.
Fitbit Ace
Cyber Monday Price: $59 Retail Price: $99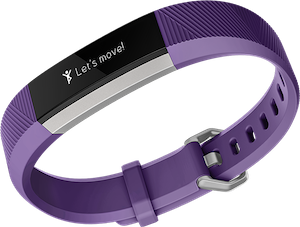 The Fitbit Ace is an affordable fitness tracker that's built for kids. It has all the basic fitness tracking features like tracking steps and sleep. But it does not have a heart rate monitor. The Ace is also showerproof so parents don't need to worry when kids get their devices wet.
As a fitness tracker, the Ace encourages kids to exercise for 60 minutes per day so kids are active outdoors rather than playing video games or spending hours on their phones. You can also setup a family account so you can track your kids' activity and compare stats.
The Ace is equipped with a battery that has a capacity of up to 5 days so you don't need to charge it that often.
The Ace's straps are made to fit kids that are aged 8 and up.
Summing up Fitbit's Cyber Monday 2018 deals, the Ionic and Versa are great deals and go head-to-head with the Apple Watch but at a lower price point. The Charge 3 and the Alta HR are for those who prefer a sleek and lightweight fitness tracker that they won't notice as they go on with their activities during the day.
Cyber Monday is a great opportunity to get any of these Fitbits and save up to 38%. We weren't sure that Fitbit was going to discount the Charge 3 since it just came out last month. This is a great opportunity to get a brand new watch at a discounted rate.