GoPro Cyber Monday 2019 Deals (Hero 8 and Hero 7 Black)
3D Insider is ad supported and earns money from clicks, commissions from sales, and other ways.
GoPro is the most recognized name in the world of action cameras, and with reason. The HERO series has always been the industry's leader as each new release brings something that pushes the boundaries and makes the competition work harder.
Cyber Monday is your chance to get a GoPro as there are discounts to be had for new and old models alike. Pick one and immortalize your experiences in a fun and unique way.
Some stores have limited availability and the pricing will vary for these deals. BH Photo is also offering the Hero8 Black bundle.
GoPro Hero 8 Black 4K Bundle Special
Original price: $499.99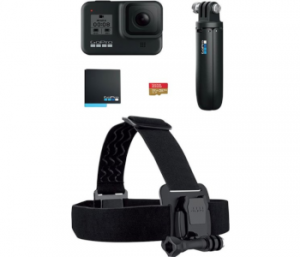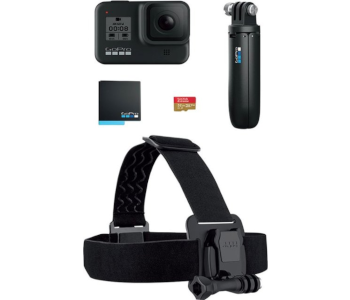 Cyber Monday Price: $349.99
The HERO8 Black is GoPro's most advanced and best action camera to date. It's the perfect choice for intrepid explorers and people who want to document their travels in a spectacular way. The device is small yet extremely rugged, shoots videos at 4K in crystal clarity, and comes with a host of editing & sharing options. This special bundle edition makes it even better, as it includes some much-appreciated accessories.
The GoPro HERO8 has a rubberized metal housing that can withstand impact and is waterproof down to 33 feet. There's a monochrome LCD in front which shows info like battery life and recording mode at a glance. The back is reserved for a bright touchscreen display used to access the camera's more advanced functions. There are built-in mounting clips on its bottom to make attaching gimbals, tripods, and other accessories easier.
You can control the HERO8 via the touchscreen, from its mobile app, or by using your voice. It now has an additional frontal microphone that picks voices up well, even in windy weather. Wind can also be minimized by using the appropriate setting in the camera's Protune section.
Videos are shot with the characteristic fish-eye look, but the angle can be narrowed when you're shooting more conventional footage. The GoPro comes with a variety of resolutions and aspects suitable for directly uploading to Instagram, Snapchat, or YouTube. Videos can also be edited into QuickStories, small clips containing highlights from a longer video backed up by transitions and music, and condensed into clips your followers will love to watch.
GoPro cameras are lauded for their exceptional image stabilization, and the HERO8 comes with its best application to date. Expect amazingly smooth videos whether you're riding a rollercoaster or taking a time-lapse that varies in speed based on movement.
The accessory bundle contains a head mount, a fast 32GB SD card from SanDisk, an extra battery, and Shorty. The latter is a combination of tripod and small extension pole perfect for vlogging.
GoPro Fusion
Original price: $292.99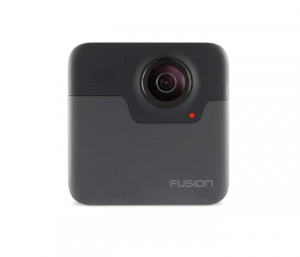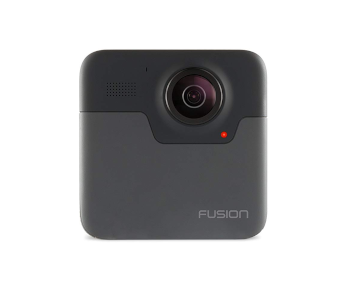 Cyber Monday price: $219
The fusion is a 360 camera, meaning it records everything around itself thanks to two wide-angle lenses on opposite ends. The resulting footage is spectacular when viewed with a VR headset. It represents a new & exciting approach to both photography and filmmaking. The Fusion records videos at a resolution of 5.2K at 30 fps. Dropping to 3K will make everything softer but enables 60fps smoothness.
This isn't an action camera, but it's built like one. You'll see the characteristic rubberized housing along with the monochrome display. There's no touchscreen, though, as framing is done from your phone. The fusion is waterproof down to 16 feet and performs well in wet weather.
The best thing about shooting 360 clips with the Fusion is that you can direct them afterward. The clips are available in 360 views but can also be converted to 16:9. That view allows you to lead the viewer's attention to the action and deliver a dynamic experience like nothing before it.
GoPro HERO5 Black
Original price: $250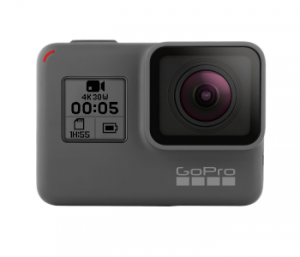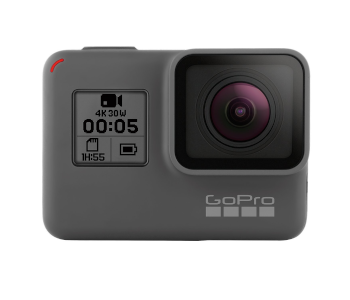 Cyber Monday price: $169.99
Another great thing about new GoPros is that older models receive a hefty discount upon their release. The HERO5 Black is now a couple of generations old but is still a fantastic action camera, especially at Cyber Monday prices. 
There's little outward difference between the HERO5 and newer models. This was the first model that introduced the recognizable compact shape and waterproofing that doesn't require housing. It also saw the application of a new mount. As a few years have passed since its release, the HERO5 is now compatible with a multitude of useful mounts and accessories.
The action camera's maximum resolution is K4 at 20fps. While not as smooth as that of its successors, the videos it makes still benefit from digital image stabilization and look great when shot with enough light. A 12MP sensor lets you take high-quality pictures of your exploits too. The battery hasn't changed since this model, either. That's a good thing if you go for the HERO5 as less intense options mean longer runtime.