Hoverboard Cyber Monday 2019 Deals
3D Insider is ad supported and earns money from clicks, commissions from sales, and other ways.
A hoverboard is as much of an electronic toy as it is a personal mobility tool. When you hop onto a hoverboard, it feels really cool to be whizzing around without having to walk. Hoverboards can be excellent in situations where you have to talk for long durations or long distances.
The two major metrics that you want to focus on when buying hoverboards is the speed at which it can go and the battery life that the board's battery pack will give you. Some new hoverboard models also come with Bluetooth connectivity, speakers, and fancy LED lighting.
Hoverboards can easily cost you upwards of $100. Hence, you can save some money by opting to purchase hoverboards during a Cyber Monday sale. Below are some attractive Cyber Monday deals that we found for hoverboards. 
Hover-1 Drive Self
Original Price: $199


Cyber Monday Price: $99
The Hover-1 Drive Self is a useful hoverboard for short-distance travel. It can go up to a speed of 7mph. This hoverboard also has LED lights that can be used during the night time for greater visibility. The hoverboard has a weight limit of 160 lbs.
The maximum operating range on the Hover-1 Drive Self is 3 miles. The battery capacity is 2 Ah. It takes 5 hours to recharge the Hover-1 Drive Self. You get a 3-month warranty with this Hoverboard. Best Buy is running a Cyber Monday sale on this hoverboard. You can get it for half price. Pay $99 and go for a ride on your new hoverboard.
Hover-1 Origin Self
Original Price: $199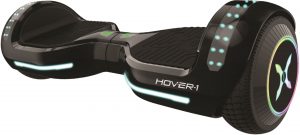 Cyber Monday Price: $129
The Hover-1 Origin Self is an upgrade on the Hover-1 Drive Self. It has Bluetooth connectivity that allows you to stream music wirelessly. The hoverboard goes up to speeds of 7 mph and has a battery capacity of 4 Ah. 
The Hover-1 Origin Self can support a maximum weight of 220 lbs. The hoverboard also has LED headlights and fender lights which add to nighttime visibility. You get a 3-month manufacturer's warranty with this Hover-1 model.
Take advantage of Best Buy's Cyber Monday special on this hoverboard and pay $129, a significant discount on an original price of $199.
Hover-1 All-Star
Original Price: $198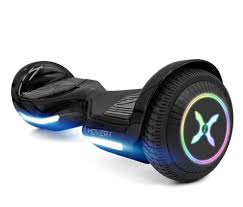 Cyber Monday Price: $89
The Hover-1 All-Star is a UL certified hoverboard with a maximum speed of 7 mph. It can support 220 lbs of weight. It has a water resistance of IPX4 and can travel a distance of 6 miles. It can do climbs of 10 degrees as well. So, you can use this hovercraft in a wide variety of environments and it can be used by all sorts of age groups.
You get a choice of 6 colors to choose from when you purchase the Hover-1 All-Star. The LED lights on the head of the board give decent nighttime visibility. Purchase this useful hoverboard for only $89, which is a discount of more than 50% on the original price of $198. Thank Walmart for giving you this Cyber Monday opportunity. 
Hover-1 All-Star Combo
Original Price: $198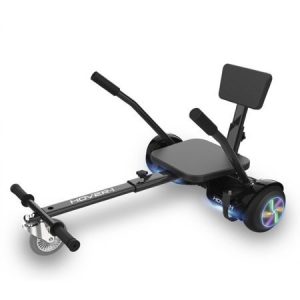 Cyber Monday Price: $148
Some people will say that the Hover-1 All-Star Combo is not really a hoverboard. It is more of a hoverkart. But, this combo uses a hoverboard. The only difference is that there is a seat on top of the board and the user can hand-operate the board for forwarding movement and braking.
A 220 lbs weight limit allows people of all ages and body sizes to hop onto this fun mobility gear. The hoverkart is rear-wheel-drive and the seat has an adjustable frame as well. LED lights on the head of the board and on the wheels makes the combo look cool.
The speed limit is 7 mph. This hoverboard uses a couple of 200W motors for powering the kart. It is a UL certified product. You can purchase the Hover-1 All-Star Combo for $148. Walmart is offering this deal as part of its Cyber Monday lineup.