HTC Vive Cyber Monday 2019 VR Headset Deals
3D Insider is ad supported and earns money from clicks, commissions from sales, and other ways.
Famous Taiwanese company HTC has teamed up with American video game developer Valve to develop cutting-edge virtual reality headsets under the brand name HTC Vive. These headsets allow users to move into virtual 3D space using handheld controllers.
The design of the headset is also quite ergonomic. It allows for adjustments like IPD and lens distance which provide eye relief. HTC Vive VR headsets are meant to prevent the strain and headache that conventional VR headsets used to cause.
You can enjoy virtual reality games and videos by putting on HTC Vive headsets. These headsets have positive reviews and are known for their performance. The headsets are also accompanied with controllers that have joysticks. The headsets that we reviewed for Cyber Monday are wireless.
Normally speaking, HTC Vive headsets cost substantial amounts of money. They tend to go above $1000. Some entry-level models can be bought for around $700. But, that is still serious money for a gaming headset. Check out the Cyber Monday deals on HTC Vive headsets and enjoy excellent discounts.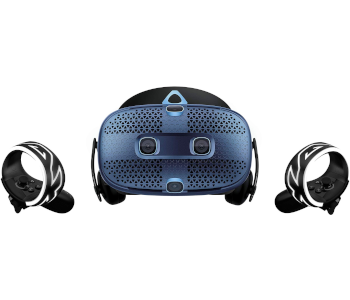 HTC Vive Cosmos
Original Price: $699
Cyber Monday Price: $599
The HTC Vive Cosmos has 6 tracking cameras to get a comprehensive field-of-view and movement coverage. It offers a resolution of 2880 X 1700 with a refresh rate of 90 Hz. The IPD can be adjusted for visual comfort as well.
The HTC Vive Cosmos is wireless and allows easy movement of the user. It can pair with a range of VR-enabled desktops and laptops. There is no need for bulky base stations. Another smart piece of design that HTC has incorporated in the Vive Cosmos is a flip-up design. It allows you to switch between the real world and the virtual world with impressive ease.
The HTC Vive Cosmos normally costs $699. However, you can get a $100 discount this Cyber Monday by heading over to Newegg's website and grabbing this deal.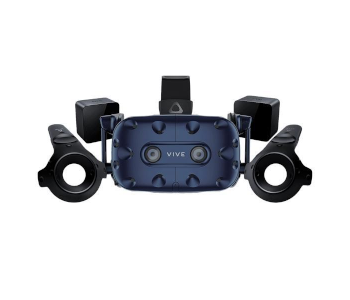 HTC Vive Pro Starter Kit
Original Price: $1121
Cyber Monday Price: $899
The HTC Vive Pro Starter Kit is more than just a headset. It is a kit that contains the Vive Pro headset, a Link Box for the Vive Pro, a base station, and controllers. Buy this kit and you will be ready for some serious VR gaming.
The use of the Vive Pro does require your computer to have the GeForce GTX 970 or the Radeon R9 290 or a better graphics card. However, once you sort that out, you get a serious VR headset. The Vive Pro offers 2880 X 1600 visual resolution. It has 360-degree tracking of movements and high-impedance headphones that deliver amazing sound.
It would normally cost you $1121 to purchase the Vive Pro Starter Kit. However, Cyber Monday gives you the opportunity to purchase this excellent headset kit for only $899. You can save more than $200 with this deal.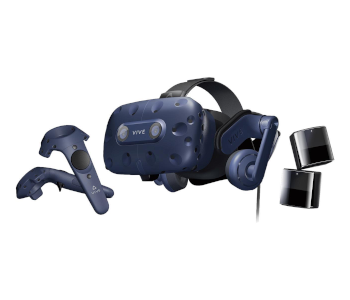 HTC Vive Pro Kit
Original Price: $1399
Cyber Monday Price: $1298
If the HTC Vive Pro Starter Kit is not enough and you want to go the full distance, then have a look at the HTC Vive Pro Kit. This combo is geared more towards enterprises that want to better engage with their customers using virtual reality.
The Pro full kit contains the Vive Pro headset, second-generation controllers, Stream VR Tracking 2.0, and offer 7M X 7M room-scale stage. The pixel resolution is 2880 X 1600 and the refresh rate is 90 Hz. Adjustable IPD, headphones, and headstraps add to the ergonomics of this headset.
Being an enterprise-level product, the HTC Vive Pro full kit is priced at $1399. However, you can get a $100 discount and purchase this headset for $1298. The Cyber Monday sale on Newegg is running this deal.