6 Best Intercom Systems of 2019
3D Insider is ad supported and earns money from clicks, commissions from sales, and other ways.
Before intercom systems became a thing, the only way to communicate with someone in another room was to either yell or leave your comfy chair in search of them. The first intercoms were bulky, and their sound quality was terrible though. Luckily, the technology that powers intercom communication has come a long way, and there's never been a better time to invest in a modern intercom system.
Why would you need an intercom in the day & age of video calls and instant messaging? Other than letting you communicate for free once they're installed, intercoms are ideal for less tech-savvy family members. An intercom is an indispensable tool for monitoring babies, checking in on sick or elderly loved ones, and finding out who's at the door before answering it. The most advanced intercoms can even act as the basis of a smart home environment!
It's tough to pick the right intercom system since there are so many models and different approaches out there. We've selected the six best intercom systems you can buy to make a choice easier. From basic units your grandma won't have any trouble using to the most sophisticated examples of two-way communication, there's an intercom system in here that will suit your family's needs perfectly.
Budget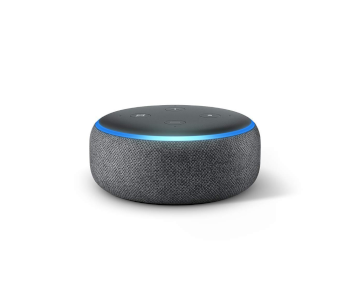 3rd-Gen Echo Dot
4.5/5.0
Has a camera: No
Portable: Yes
Controls smart devices and has a fully-functional Alexa.
Check Amazon
Best Value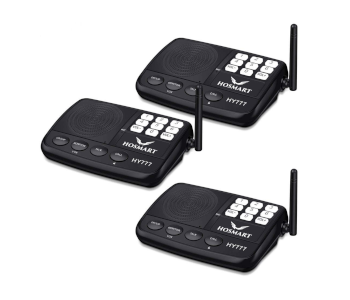 Hosmart 7-Channel Wireless
4.5/5.0
Has a camera: No
Portable: Yes
Portable, stable and has a long-range connection.
Check Amazon
Top Pick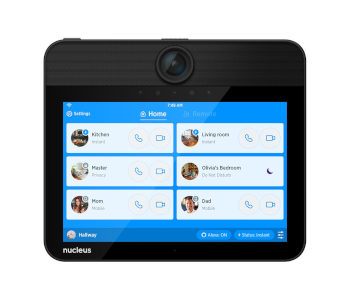 Nucleus Anywhere Intercom
4.7/5.0
Has a camera: Yes
Portable: Yes
This is simple to use for people who struggle with technology.
Check Amazon
Intercom Systems Comparison Table
1. Best Overall – Nucleus Anywhere Intercom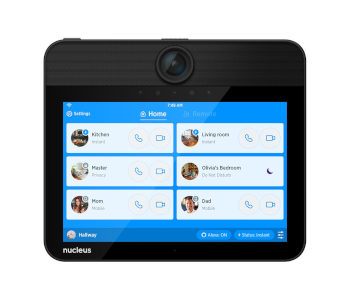 View on Amazon
Editor's Rating: 4.7/5
Do you have small kids or parents you want to be able to check in on at any time of day wherever you are? In that case, the Anywhere Intercom by Nucleus is by far your best option. Its stand-out feature is the ability to establish a call without the other person needing to press a button first. This lets you quickly pop in to deliver a message or check in on someone. On top of being an excellent intercom, Nucleus Anywhere is also a smart device since it supports Amazon Alexa.
Overview of Features
The Nucleus Anywhere is a rectangular tablet-like device with an 8-inch LCD touchscreen and a prominent camera lens. It is thin enough to be mounted onto a wall, but you can also place it on any horizontal surface thanks to a flip-out stand. Setting the device up involves registering an account and assigning a room name to it. The process is quick and easy.
You're given a home code once you set up the first intercom. This is used to connect any subsequent intercoms or smartphones into the same network. The other devices show up on Anywhere's dashboard. Each has a name and a picture associated with it as well as buttons on the side for making video and audio calls. Tapping on the desired call type will establish that call directly without the need for the person on the other end to approve the call. This is exceptionally useful for elderly people who may have trouble with technology, and small children you need to make sure are OK.
Naturally, there are times when you don't want to be disturbed by surprise calls. That's why there are privacy settings you can adjust to either answer calls by tapping onto a confirmation icon or not receive calls at all.
The call quality isn't the best, but it serves its purpose. You'll be able to make out a family member half the country away and talk to them clearly. Smaller details like text on paper are beyond the Anywhere's capabilities though.
Alexa integration is another useful feature. Through Alexa, you can automate your home, listen to music, or get the latest traffic reports by speaking the appropriate voice command. Ring video doorbells were supported too, but they have since been discontinued due to frequent changes in Ring's API.
What We Didn't Like
Video and audio start to lag if a conversation has been going on for a while. A more severe problem is the intercom's tendency to not turn on after power outages and lost Wi-Fi connections. You'll need to power it on and reconnect to the Wi-Fi manually, which might be impractical if you're using the device to monitor far-away parents.

Tech Specs
Dimensions: 9 x 7 x 0.9 in.
Weight: 2.1 lbs.
Has camera: Yes
The Pros
Simple to use for people who struggle with technology
Responsive touchscreen
Works with Alexa
Easy to set up and add more devices
The Cons
Calls start lagging after a while
Won't turn on and reconnect to Wi-Fi on its own
2. Best Value – Hosmart 7-Channel Wireless Intercom System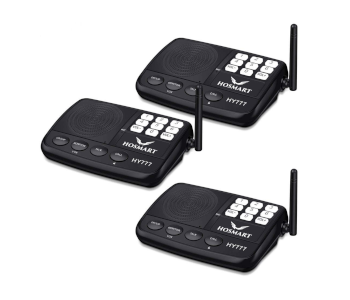 View on Amazon
Editor's Rating: 4.5/5
Do you have a large property but still want to communicate with the house without taking out your cellphone? Hosmart offers a robust intercom system with an impressive half-mile range! It's effortless to set up, has several call options for different situations, and can be installed anywhere. The basic pack contains three units, which is a real bargain considering it costs less than $100!
Overview of Features
Hosmart's intercom system supports a maximum of seven units. These can be placed within half a mile radius of each other and still work flawlessly. Walls reduce the maximum range slightly, but this doesn't have an effect on their performance in a typical household. Each unit can either be plugged into a standard outlet or through a power bank thanks to a USB port. This lets you place the intercom units anywhere on your property!
Programming the intercom is easy. There are three frequencies listed on the back. You set one unit to the frequency that comes through clearest and match the other units to it. After that, you assign a number to each unit and call it by pressing the corresponding numerical key. Signal strength and sound quality are both outstanding, even when a unit is near the range limit.
There are three different ways of making a call. You can call each unit separately or make a conference call to broadcast a message to all of them. There's also the monitor function that leaves the channel between two units open for 10 hours. This is a fantastic feature for new parents and caretakers since it turns the intercom into a monitor for babies and the elderly.
What's Bad About It?
The intercom's sound quality isn't the best. You can make yourself understood, but the quality is on par with devices that were manufactured 20 years ago. Communication through the system isn't instantaneous. The person on the other end hears a ring first and needs to press a button to respond.

Tech Specs
Dimensions: 7.2 x 4.3 x 1.9 in.
Weight: 3 lbs.
Has camera: No
Max monitored devices: 7
Portable: Yes
The Pros
Stable and long-range connection
Portable
Excellent value for the money
Has monitor mode
The Cons
Mediocre sound quality
Calls need to be answered to go through
3. Optex IVPDH IVision+
View on Amazon
Editor's Rating: 4.4/5
A stranger ringing your doorbell can be a cause for concern. The IVision+ by Optex is the ideal solution if you want to check who it is without putting yourself in danger. It features two-way communication, night vision, and great range. The handheld unit can be carried around the house and has only essential buttons which makes it easy to use for elderly people who don't want to fiddle with smartphones.
Overview of Features
The IVision+ consists of a doorbell camera you mount beside the front door and a handheld unit with a charging station. The doorbell can either be wired into an existing doorbell's electrical setup or powered by AA batteries. These last for a year with regular use. The charging station needs to be plugged in, but you can use the monitor anywhere as long as it's less than 300 feet away from the doorbell.
The camera delivers a crisp overview of the doorbell's surroundings. It has a narrow viewing angle which means that only what's in front of the camera will be captured. On the other hand, there's no barrel distortion so you'll get an excellent view of a person's face. The camera is augmented by LEDs which you turn on at night for better night vision. It doesn't have a motion sensor, but Optex does sell one separately. Combining them will announce someone's presence and trigger the camera at the same time.
The handheld unit has a 2.4-inch screen and a handful of large buttons that are easy to read. With it, you can answer the doorbell, end a call, and adjust the audio volume. You're also able to take pictures and short video clips of the camera's feed. These are stored internally but can be transferred to a computer via USB.
The basic IVision+ package contains one doorbell and one handheld unit. A single handheld unit can monitor two doorbells, while one doorbell supports four handheld units. This means that you're able to monitor the door from different locations in your home with additional purchases.
Are There Drawbacks?
The battery compartment on the doorbell is sealed tightly and hard to open. You'll need to apply considerable force to get to the compartment and might risk damaging the lid in the process. The handheld unit's volume is low. It's hard to hear from an adjacent room, so you'll need to position the unit where it will be in earshot.

Tech Specs
Dimensions (package): 7.2 x 4.3 x 1.9 in.
Weight: 2.1 lbs.
Has camera: Yes
Max monitored devices: 4
Portable: Yes (handheld unit only)
The Pros
Video intercom system that's easy to operate
Hassle-free installation
Adequate picture quality and night vision
One handheld unit works with multiple doorbells and vice versa
The Cons
Battery compartment lid is hard to open
Low volume
4. Samcom 10-Channel Wireless Intercom System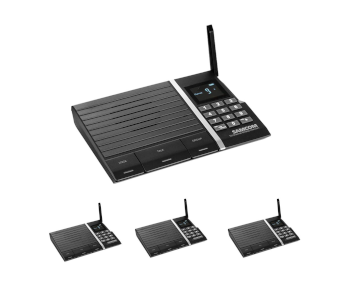 View on Amazon
Editor's Rating: 4.1/5
Samocom's intercom system is the best choice if you're looking for a model that performs well in both home and business environments. It supports 10 channels and can even communicate with two-way radios if set to the same frequency. This is a versatile and straightforward system anyone can learn how to use. It's also cost-effective since you can get four units for less than $140!
Overview of Features
Design-wise, Samcom's intercom system looks like it never left the 90s. While it won't be winning any awards, it is simple to use and looks natural in an office or at a job site. The large Lock, Talk, & Group buttons can be pressed even if you're wearing gloves. To the right of them is a numerical keyboard used to set the frequency and dial other units. On top of it is a screen with large glowing numbers, so you always know which channel you're talking to.
The intercom's range is 1,000 feet, enough to cover an entire job site or warehouse. Individual units can either be plugged in or powered via USB like Hosmart's. Best of all, they don't need to be portable since they can communicate with two-way radios. Set the frequency of both devices between 462.6625 and 467.7125 MHz, and you'll be able to talk to workers in the field without picking up a radio or leaving your office!
This intercom system is a good choice for homes too. It is portable but can also be wall mounted. It rings loudly when someone is calling and can be heard several rooms away. Parents will appreciate the group call option the most as it lets them inform everyone that dinner is ready at the same time.
What's Bad About It?
Learning how to speak into the intercom takes some trial and error. It doesn't have built-in gain adjustment, so talking loudly and close to the unit will sound garbled while talking softly and away won't be heard. The units' plastic shrouds are flimsy. While they don't fall off on their own, accidentally dropping a unit will likely cause its cover to crack and break.

Tech Specs
Dimensions: 7.2 x 4.8 x 1 in.
Weight: 11.5 oz.
Has camera: No
Max monitored devices: 10
Portable: Yes
The Pros
Supports two-way radios
Great for homes and businesses
Easy to operate
Long range
The Cons
It takes a while to find the correct volume and distance from which to speak into a unit
Breaks easily if dropped
5. JeaTone Intercom System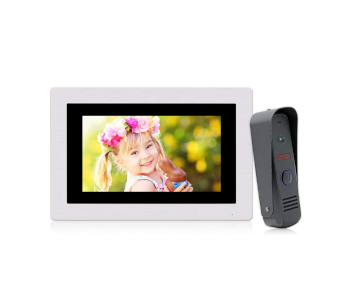 View on Amazon
Editor's Rating: 3.9/5
JeaTone is another intercom manufacturer that makes intercoms connected to video doorbells. Their intercom system is lower on the list than the IVision+ because older folks might not find its touchscreen as intuitive as an old-fashioned keypad. Still, the system has a lot going for it. This includes superb modularity, a large monitor with good picture quality, and the ability to hook up a CCTV camera and turn it into a full-fledged security system.
Overview of Features
The basic version of JeaTone's intercom is made up of a doorbell camera and a monitor. Unlike the IVision+, the monitor isn't portable. It needs to be mounted on a wall inside the house and feeds power to the doorbell. This can make installation tricky, but everything is explained in an in-depth manual. The doorbell is water and weatherproof and works perfectly whether it's hot or way below freezing outside.
The monitor unit is a 7-inch touchscreen display used to answer the door and even unlock it if you have a compatible lock. It features a straightforward interface that lets you change the ringtone, adjust volume & color, and snap pictures. Its internal memory holds 86 pictures but is expandable with an SD card.
The camera has a resolution of 800×480 and a wide viewing angle, meaning you get a clear view of both the person ringing the doorbell and the street. It has photosensitive IR sensors that turn night vision on once it's dim enough. Audio quality is better than the IVision's.
This system is intriguing because of its modularity. You can upgrade the base system with additional doorbells or monitors, but JeaTone also offers CCTV cameras and motion sensors if you need to beef up security without investing in a separate system. One monitor supports two doorbells, and one doorbell supports four monitors. The monitors can communicate with each other too, albeit only through audio.
What We Didn't Like
Placement options for the monitor are limited since it has to be in close range of the doorbell to power it. Connecting to additional units is also done via cable, which can become messy. The camera's night vision is terrible. The video is grainy, the infrared LEDs have a short range, and faces are hard to make out at night.

Tech Specs
Dimensions (package): 11 x 10.7 x 0.5 in.
Weight: 2.9 lbs.
Has camera: Yes
Max monitored devices: 4
Portable: No
The Pros
Expandable with additional useful devices
Good video quality during daytime
In-depth ringtone and picture customization
Multiple monitors can communicate with each other
The Cons
Lousy video quality with night vision on
Doorbell draws power from monitor
6. Best Budget: 3rd-Gen Echo Dot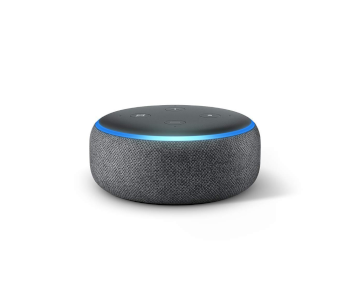 View on Amazon
Editor's Rating: 4.5/5
Our last and most budget-friendly recommendation is a little different. Amazon's Echo speakers weren't initially designed as intercoms, but the addition of the Announcements, Drop In, and Intercom features transformed them into worthy alternatives. We've chosen the Dot since it is the cheapest Echo speaker, but all other versions including the Spot and Show can act as intercoms too. The Echo Dot is a dependable intercom, but it does much more thanks to Alexa. You can make do with just one Dot but will probably get more once you see its potential.
Overview of Features
The dot is a puck-like smart speaker whose 3rd iteration brings improvements across the board. As an intercom, it is better than its predecessor since the sound it emits comes from the sides rather than the top. This makes conversations sound more natural and lets the person on the other end be heard from farther away. Other physical characteristics include intuitive buttons that adjust the volume and turn the microphone off as well as power and 3.5mm jacks. The Dot uses Bluetooth, allowing you to stream a conversation to other Bluetooth speakers in your home.
Enabling Drop In is easy and required just once per Dot. You'll need to access the Dot through the Alexa mobile app, turn Drop In on for it, and name the device so Alexa knows whom to call. You'll also need to approve the contacts that are allowed to drop in for security & privacy reasons. Echo devices can be called from one another or from your smartphone, meaning your intercom system is accessible from anywhere!
The Dot is usable as an intercom in three ways. Drop in is the most straightforward intercom option and works like the Nucleus Anywhere. Saying "Alexa, drop in on [name you gave to a specific Echo]" will connect to the speaker without asking permission. Of course, you can temporarily turn Drop In off by setting it to Do Not Disturb. Intercom works the same way but is treated as an incoming call so the person on the other end needs to answer it. Announcements broadcasts your message to all Echos in the house.
Alexa is another strong reason to choose the Dot as your intercom. She excels at creating appointments in your calendar, answering trivia questions, or putting together to do lists. Alexa is also the driving force behind many home automation devices since they're controllable through voice commands you give her. Finally, Alexa lets you take care of shopping by purchasing items online. The amount of Alexa skills and features continues to grow, so you don't need to worry that your Dot will become obsolete or unusable.
Are There Drawbacks?
The 2nd-gen dot came with a USB cord and adapter. Strangely, the newer version has a traditional cable and adapter instead. The cord can't be removed either, which restricts its portability and use. The microphone array inside the Dot isn't advanced as that of the regular Echo. This causes Alexa to sometimes misinterpret your commands. She does what you want her to eventually, but having to repeat yourself is annoying.

Tech Specs
Dimensions: 3.9 x 3.9 x 1.7 in.
Weight: 10.6 oz.
Has camera: No
The Pros
Versatile intercom you can reach from anywhere
Controls smart devices
Has fully-functional Alexa
Good sound quality for its size and price
The Cons
Power cable isn't removable
Alexa has trouble interpreting commands