Kindle Cyber Monday 2019 Deals
3D Insider is ad supported and earns money from clicks, commissions from sales, and other ways.
Amazon is celebrating Cyber Monday by offering huge discounts on the entire Kindle lineup. If you've been eyeing the most popular e-reader in the world, now's your time to get one at an amazing price.
Amazon Kindle
Original price: $109.99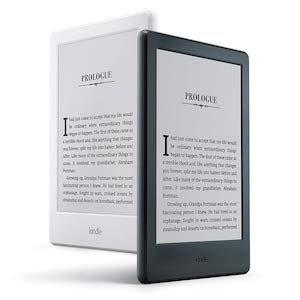 Cyber Monday price: $79.99
Kindle's basic version has had a major refresh in spring and is now better than ever. It finally has a backlight, which lets you read that one last chapter before you go to bed. The backlight also improves performance during the daytime and makes the Kindle's non-glare screen look even more like a traditional page.
The reader comes in either dark gray or white. It has a thick bezel that's slightly elevated above the screen to keep it from scratching. There's only one button on its bottom, so you can comfortably hold the reader and tightly hold onto the sides. These are made from plastic and not as high-quality as those on more expensive models, but the Kindle still looks good and performs well.
The Kindle's battery life is excellent! If you read thirty minutes a day, you can expect it to last a whole month. It takes only a couple of hours to charge through the supplied micro USB cable.
The screen has a resolution of 167 dots per inch. That's enough to read conventional books regardless of font. Coupled with the backlight and a 6-inch diameter, it provides a pleasant reading experience whether you're at home or sneaking in a few lines during your commute. Lovers of graphic novels or reference books with complicated illustrations or diagrams should invest in a more advanced model as the screen isn't detailed enough to display nuances accurately.
The best thing about the basic Kindle is that it has almost all the software features the PaperWhite and Oasis have. You can choose between different fonts, adjust their sizes, and select different line spacing. There's an advanced search function that lets you quickly find something in a text. X-ray is a similar feature that displays additional information on characters or events to help you contextualize them. There's a translation feature, a dictionary, and a thesaurus. Is a book you're reading filled with obscure words? Turn on Wordwise, and you'll get definitions as you read to make getting through the book more enjoyable.
Kindle PaperWhite
Original price: $149.99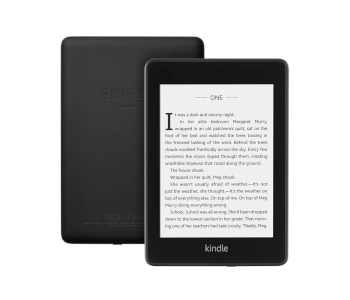 Cyber Monday price: $104.99
The PaperWhite is on its fourth iteration and is Amazon's best-selling E-reader ever. It bridges the gap between the basic model and the Oasis, offering several premium features at a great price. The newest model's design also addresses some long-standing issues, making it the most refined PaperWhite experience to date.
The most obvious upgrade is the addition of a fifth LED. Earlier models experienced unpleasant shading with the LEDs on. The additional light has fixed this; the screen is now uniformly bright and easy to read. Its diameter is the same as Kindle's, but the DPI has been raised to 300 DPI a smoother reading experience. The PaperWhite is now waterproof and can be submerged in six feet of water for an hour.
The barebones version of the PaperWhite comes with 8GB of storage while spending more increases that to 32GB. You'll need it too as all three Kindles support listening to audiobooks through Audible. Doing so takes a hit on the battery, which can power the PaperWhite for six weeks of reading.
Kindle Oasis
Original price: $269.99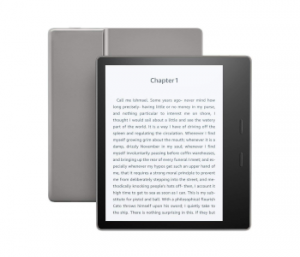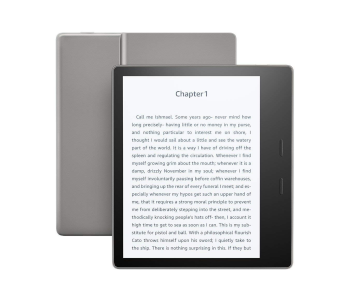 Cyber Monday price: $194.99
Oasis is the premium kindle model intended for serious reading enthusiasts. This holiday season is the first time ever it's going on sale, and what a sale it is! For less than $200, you're getting Kindle's biggest screen, LEDs with adjustable color temperature, and a dark mode that lets you flip the black and white portions of the screen for less eye stress.
The reader has a metal body instead of plastic and a bevel to one side for easier holding. There are also page change buttons that sit naturally in your hand while reading. The Oasis has a 7-inch screen with a DPI of 300 and displays even minute details accurately. It has the same waterproof rating and battery life as the PaperWhite.
This is the brightest Kindle yet as there are 25 LEDs illuminating its screen. These work well both during the day and at night. You can adjust the brightness manually or let the Oasis do it automatically based on ambient light. There's also a warmth setting that shifts light color from white through yellow to orange. The latter is most useful at night as it strains your eyes less.
Like all Kindles, the Oasis has access to millions of titles through Amazon's eBook store. Readers looking to share their experiences with others will be pleased by its Goodreads integration. It's easy to manage your Goodreads lists, check out reviews written by friends, and even read comments of other people who've finished the book you're currently on.