How to Install SportsDevil Kodi Add-on
3D Insider is ad supported and earns money from clicks, commissions from sales, and other ways.
Kodi is one of the most used free and open source media player worldwide. However, what makes Kodi so powerful are third-party add-ons that are developed by various developers worldwide. The add-ons extend the functionality of this media player from just a home media organizer to the best online media streamer. They make it possible to scrap for content from various online streaming websites.
There are hundreds of Kodi add-ons with others are being developed every day, but one of the most used and legendary Kodi add-ons is SportsDevil.
SportsDevil Kodi Add-on
SportDevil is a Kodi add-on that also acts as a search engine that queries public source websites on the Internet to return live media. The add-on itself does not host any streams.
This add-on is often referred to as the 'granddaddy' of sports add-ons. This is because other add-ons that offer live sports streams take them from Sportsdevil, and then repackage them. It's also because this is one of the oldest sports add-ons and provides a wide variety of content.
After its development about 5 years ago, its popularity increased over a short period. However, some of the original streaming websites have complained that Sportsdevil is compromising their ad revenue. This has led to its removal from some repositories.
SportsDevil Repositories
For quite some time, SportsDevil has had a home in Smash Repo and the Colossus Repository. However, these two have been out of the game since October 2017. The other source, Ares Wizard, also faced the same fate in November, leaving many SportDevil fans frustrated.
However, the add-on has found a new home in the Supremacy Repository. This is one of the repositories that guarantee you an updated version of SportsDevil, and you will be able to access updates whenever they are available.
You can also find SportDevil on Kodil Repo (Kodi Israel), Maverick Repo, and Bookmark Lite.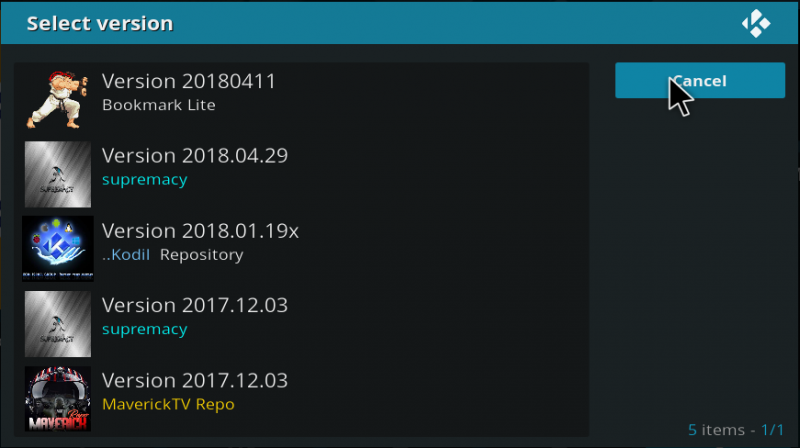 Why SportsDevil Kodi Addon?
SportsDevil is the Holy Grail of sports lovers and enthusiasts. One reason why SportsDevil is such a darling among sports fans is the fact that the add-on offers a wide array of content in HD. SportsDevil can scrape for content from all over the Internet, allowing you to stream live FIFA World Cup 2018 on Kodi, EPL, other Football matches, NFL, UFC, Cricket, Wrestling, Boxing, and many more.
You won't have to miss a match with this add-on installed on your Kodi device. You can watch live sports action, or even watch highlights if you missed match. SportsDevil presents this content with 720 HD playback option.
How to Install SportsDevil Kodi Add-on
It's easy to install SportsDevil Kodi add-on. To make it even easier for you, we have split the process into parts.
Before you can install SportsDevil, the first thing you need to do is enable third-party add-ons. This applies if you haven't done it already.
Allowing Third-Party Add-ons
Click on the Settings Icon on the top left corner.
Go to "System Settings"
Select "Add-ons" and then turn on 'Unknown Sources.'
A warning box will pop up. Hit 'Yes.'
It's now possible to install third-party add-ons on Kodi. You won't have to repeat this process when you need to install another add-on.
To install SportsDevil Kodi add-on, let's use the Supremacy Repo.
URL: http://supremacy.org.uk/zip/repo
Adding Supremacy Repo
Click on the Settings Icon on the top left corner to open the system menu.
Select File Manager, and then double-click "Add-Source" to open a panel.
In the window that opens, type the URL http://supremacy.org.uk/zip/repo
You can then name it "Supremacy," and click "OK."
Adding Supremacy Repo Add-ons
Now go back to the Kodi Home Screen and select "Add-ons."
Click the open box icon at the top of the menu bar.
Select "Install from Zip File"
Select the repository you just added above (Supremacy).
Now, you will get an option to select the specific repo. Select "repository.supremacy-2.3.zip." The version may vary. Choose the latest.
The repository should now install. You will get a notification when it's ready.
Installing the add-on
While still at the Add-ons menu, select "Install from the repository."
Scroll down to "Supremacy" and click on it.
Under the sub-menu, choose "Video Add-ons."
Under the list of add-ons, scroll down till you find SportDevil, and then Click on it.
You will now have an option to install SportsDevil. Hit "Install" option.
After installation is complete, you will get the notification, "SportsDevil Add-on installed."
SportsDevil has now been added to your list of add-ons. You can utilize this giant streamer to enjoy your favorite sports action.
Stay Safe, Use a VPN
In some countries, Kodi users do not have access to links in SportsDevil or other add-ons that use SportsDevil as a dependency. This is because the Internet providers in such countries block most of the websites within SportDevil.
Apart from that, streaming copyrighted content is also illegal in many countries. Depending on where you live, this may land you in trouble.
3D Insider does not in any way promote streaming of illegal content, and therefore you are wholly responsible for your online behavior. This calls for you to protect yourself, and the best way to do so is to use a VPN.  A VPN secures you and also gives you anonymity such that the activities you do online can't be linked back to you. One of the best VPNs that can guarantee you top-notch security and privacy is Private Internet Access.
Remember to turn on your VPN before you install SportsDevil. You can then enjoy its unlimited sports entertainment.