8 Best Microphone Stands
3D Insider is ad supported and earns money from clicks, commissions from sales, and other ways.
The best mic stands live up to users' needs and expectations. Many of them look the same, but they can be quite different. Things to consider are the materials used, weight, durability, and versatility. Novice buyers often choose a microphone stand based on looks and price. Don't make the same mistake. A heavy mic on a lightweight boom arm—for example—is an accident waiting to happen.
Microphone stands fit into six categories, so let's check them out.
Budget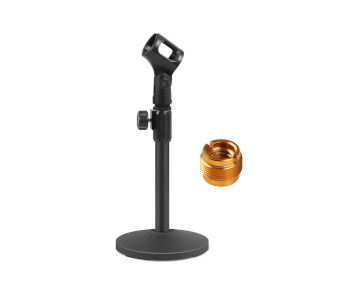 InnoGear Mic Stand
4.6/5.0
Max Height: 15.4"
Weight: 1.85 lbs.
This is sturdy and hard to knock over.
Check Amazon
Best Value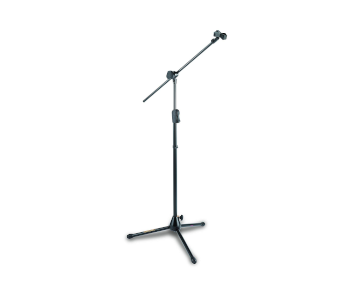 Hercules MS533B Mic Boom Stand
4.7/5.0
Max Height: 95.5"
Weight: 5.7 lbs.
This is a user-friendly, versatile stand.
Check Amazon
Top Pick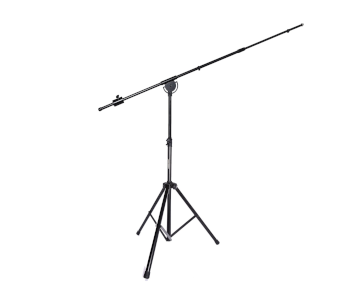 LyxPro SMT-1 Pro Mic Stand
4.8/5.0
Max Height: 169"
Weight: 11.3 lbs.
It has an adjustable 180° boom angle.
Check Amazon
6 Types of Mic Stands
The trouble with sales pages is that they don't always use real people in the ads. That makes it hard to get an idea of a product's actual size. It's a problem if you don't read past the headlines to look at the full descriptions or specs. User feedback is full of comments that highlight such oversights. Remarks like it's bigger, smaller, lighter, heavier, and less flexible, are quite common.
You must know the type of mic stand you need before you buy anything. The 6 categories are:
Desktop mic stands
Tripod mic stands
Tripod boom stands
Round-base mic stands
Low-profile mic-stands
Overhead mic stands
The next section looks at each of the above mic stands and their uses in more details.
#1 Desktop Mic Stands
#2 Tripod Mic Stands
#3 Tripod Boom Stands
#4 Round Base Mic Stands
#5 Low-Profile Mic Stands
#6 Overhead Mic Stands
Best Mic Stand Buyer's Checklist
Use the list below to help narrow down your selection when looking for a mic stand.
Does the height range (min/max) suit your needs?
Consider the clutch tightening preference, i.e., twist or grip
Weight: heavier is usually better, but think about portability if you travel
Portability: think size, weight, carry bags, and how well the mic folds down, if at all
Budget (min/max): spend as much as you can afford
Accessories: what else can you attach to the stand, if anything?
Finally, make sure the stand you choose is a perfect fit for your microphone. Ask an expert if you're in any doubt. Most use a standard universal thread, but always check. Also—and most important of all—is that your stand must be able to support the weight of your mic and any accessories.
Summing Up
There are a few boxes to check once you know what kind of mic stand is right for you. My advice? Always buy the best support for your microphone that you can afford. Anything too cheap and tacky may not hold the mic, and that could result in broken or damaged equipment.
About My 'Best Mic Stands' Buyer's Guide
There are 8 mic stands reviewed in this guide. They cover products for desktop, short base, studio, and stage. These are some of the current favorites in their category. My shortlist is the result of thorough research of dozens of products. I also took the views of recording experts and user feedback into consideration. The first 3 mic stand reviews are for Best Budget, Best Value, and the Top Choice.
Mic Stands Comparison Table
1. InnoGear Adjustable Desktop Mic Stand | Best Budget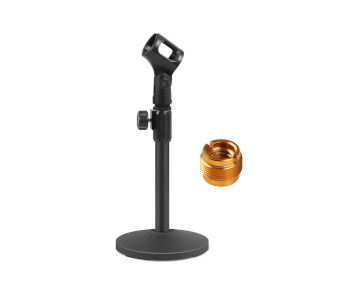 View on Amazon
Editor's Rating: 4.6/5
The Best Budget review goes to the InnoGear Adjustable Desktop Microphone Stand. It's a small yet sturdy support that's difficult to knock over thanks to the heavy iron material.
InnoGear Desktop Stand Highlights
Small desktop mic stands are often too light, too fragile, and have little adjustability. There's no such problem with this one as it's both stable and adjustable. This stand won't topple over with accidental knocks of moderate force. The lowest setting is around 10.6" and reaches 15.4" at the highest point. On the bottom of the iron-base are non-slip cottons that prevent sliding and protect the desk.
The compact design and adjustable parts make it quick to pack and easy to carry. This stand is ideal if you want a discreet, stable support for Blue Yeti—and other larger mics—or portable audio recorders.
The Not So Good
There's not much to play with when it comes to adjustments. If the minimum and maximum height meet your needs, it's perfect. Or, consider another product if it doesn't go low or high enough.
Tech Specs
Brand: InnoGear
Color: Black
Stand Type: Upright desktop
Height Adjustable: 10.6–15.4"
Base Spread: 5.1
Base material: Iron
Dimensions: 5.1 x 10.6 x 5.1"
Product Weight: 1.85 lbs.
The Pros
Low-profile, discreet design
Metal (iron) construction
Sturdy, hard to knock over
Screw-in base
Adjustable height
Compact and portable
Non-slip protective cottons
Microphone clip
3/8-5/8″ screw adapter
The Cons
Limited adjustments
2. Hercules Hideaway Mic Boom Stand | Best Value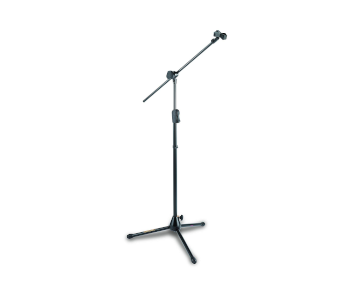 View on Amazon
Editor's Rating: 4.7/5
The Hercules MS533B Hideaway Boom is a full-sized upright mic stand and the Editor's Best Value pick. You can use it as a boom or a simple straight support depending on needs.
Hercules MS533B Mic Stand Highlights
The MS533B is an incredibly user-friendly mic stand. It's 2-in-1 boom clamp adjusts both the angle and length of the boom arm at the same time. And you can hide the boom away in the central tube when it's not needed. The Quik-N-EZ Clutch is another timesaving feature. It makes light work of height adjustments by using a simple press and release mechanism.
Then there's the Quik-N-EZ Adaptor for instant mic attachments. Hercules has designed this stand with versatility and simplicity in mind. It's also sturdy and stays firm once set up. Some think it's a tad heavy, but the heft adds to its stability. And it's still light enough to lug around with relative ease.
The Not So Good
The only negative to this mic stand is that its boom arm doesn't swivel. That's an inconvenience if you need to rotate it as you must physically reposition the stand.
Tech Specs
Brand: Hercules
Color: Black
Stand Type: Tripod boom
Height Adjustable: 42.1–94.5"
Boom Length: 30.7"
Base Spread: 13.4"
Mic Clip: Detachable
Dimensions: 38.6 x 3.7 x 3.7"
Product Weight: 5.7 lbs.
The Pros
User-friendly, versatile stand
Well-built, sturdy construction
Hideaway adjustable boom
2-in-1 boom clamp
Quik-N-EZ Clutch
Quick-release height adjustment
Quik-N-EZ Adaptor
Long-lasting product
Value for money
The Cons
Boom arm doesn't swivel
3. LyxPro SMT-1 Pro Microphone Stand | Top Pick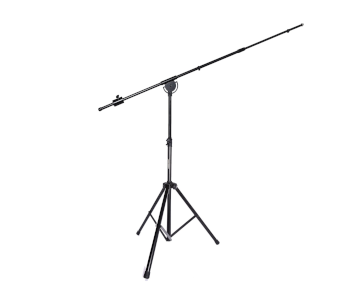 View on Amazon
Editor's Rating: 4.8/5
We have the LyxPro SMT-1 as the Top Pick. It's a professional-grade, heavy-duty microphone stand with an overhead studio boom. It's an excellent product if you need what it offers.
LyxPro SMT-1 Pro Mic Stand Highlights
LyxPro's SMT-1 professional mic stand is suitable for both studio and stage use. It's a versatile support for a whole variety of mic-mounting setups. Consider the LyxPro SMT-1 if you need a heavy-duty, reliable tool for instrument and vocal applications. It boasts a flexible folding platform for easy storage and transport. And its extension safely supports those weightier large-diaphragm microphones.
The mic's telescopic boom arm has a range of 45 to 76 inches and an adjustable 180° angle. Its extendable shaft starts at 59 inches and reaches up to 93 inches. And the stand's maximum height when fully-assembled is 169" inches or 14ft. A moveable counterweight, non-slip feet, and integrated clips add further to the appeal of the LyxPro SMT-1 Pro.
The Not So Good
This stand is heavy, and that's one of its attractions. But its overall heft may be too much unless you need all that it offers. A common newbie blunder is to buy a mic stand in ignorance that's too tall, too small, or too heavy. The other downside is with the plastic adjustment knobs. Quality plastic is usual on mic supports. Still, I can't help but feel metal would've been better on a pro product like this.
Tech Specs
Brand: LyxPro
Color: Black
Stand Type: Overhead boom
Adjustable Boom: 45–76"
Adjustable Boom Angle: 180°
Adjustable Shaft: 59–93"
Stand Max Height: 169" (14ft)
Threaded Upper: 5/8-3/8
Dimensions: 53 x 5 x 4.5"
Product Weight: 11.3 lbs.
The Pros
Heavy-duty, pro-level stand
Overhead studio boom
Versatile mic support
Flexible folding platform
Adjustable 180° boom angle
Moveable counterweight
Non-slip feet
Integrated clips
The Cons
Heavy stand
Plastic adjustment knobs
4. Ammoon MS-12 Mini Foldable Desktop Mic Tripod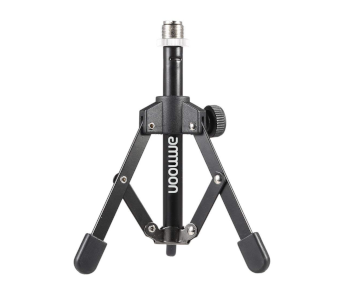 View on Amazon
Editor's Rating: 4.5/5
Meet the Ammoon MS-12. It's a mini-sized foldable desktop tripod microphone stand. It's the cheapest tabletop stand in this guide, but don't be too deterred. It's a well-made product with a lot to offer.
Ammoon MS-12 Foldable Mic Tripod Highlights
This tiny mic stand is not a cheap, lightweight plasticky product. Its build uses iron, durable PVC, and nylon materials. Its tripod legs fold close to the body, making it easy to carry and store. The legs have non-slip rubber feet to keep it steady and to protect the desk from scratches. And a 5/8" to 3/8" threaded screw accommodates all standard mic clips.
A simple clutch locks the stand and keeps it nice and steady for small to medium mic setups. It's an affordable choice for any situation where you need a mic supported on the desktop.
The Not So Good
The Ammoon MS-12 is a sturdy little mic stand, but it's still small and has height restrictions. Make sure the height meets your needs if you're interested in this product. The mini size doesn't provide the best support for the heavier, large-diaphragm condenser type microphones.
Tech Specs
Brand: Ammoon
Color: Black
Stand Type: Desktop tripod
Max Height: 6.5"
Threaded Upper: 5/8" to 3/8"
Dimensions: 8.2 x 6.2 x 2"
Product Weight: 0.41 lbs.
The Pros
Well-made desktop mic tripod
Foldable, storable, easy to carry
Non-slip rubber feet
Houses all standard mic clips
Stabilizing clutch
Affordable
The Cons
Height restrictions
Not ideal for larger, heavier mics
5. Pyle Universal Mic Mount W/ Heavy Base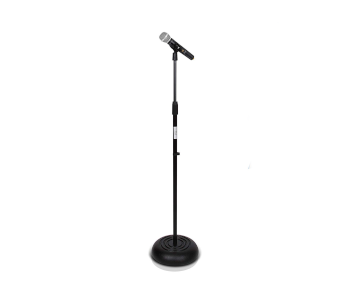 View on Amazon
Editor's Rating: 4.3/5
The Pyle Universal Mount is a bestselling microphone stand for home, studio, or office use. It's a rugged yet lightweight product that's easy to assemble and simple to use.
Pyle Universal Mic Mount Highlights
This stand is a superb choice for anyone who needs affordable mic support. Its metal base is substantial and uses non-slip rubber to keep it secure and balanced. The adjustable shaft is easy to slide with a height range of 33.5—60.24 inches or 5.02ft. Clips on the pole help to keep cables tidy. At the top is an US-standard M-6 pivot-angle variable mic clip attached to a 5/8" thread.
One of the stand's bestselling features is its lightweight and compact base. That makes it ideal for small venues where tripod legs may otherwise get in the way.
The Not So Good
Pyle's Universal Mic Stand is not as high as some rival products. That's something to think about if you're a tall performer. The mic holder is also quite small, and the plastic collar seems vulnerable. Overall, though, and considering the price, it offers excellent value if it checks your boxes.
Tech Specs
Brand: Pyle
Color: Black
Stand Type: Compact base
Microphone Clip: US M-6
Height Adjustable: 33.5–60.24"
Base Spread: 9.25 diameter
Threaded Upper: 5/8"
Dimensions: 1.7 x 8.9 x 8.9"
Product Weight: 9.92 lbs.
The Pros
Rugged, yet lightweight design
Quick and easy to assemble
Stable, compact metal base
Non-slip rubber support
Adjustable shaft
Pivot angle adjustable mic clip
Cable management clips
Ideal for use in small venues
Highly affordable
Value for money
The Cons
May not be tall enough for some
Smallish mic holder
Cheap, plastic collar
6. Gator Frameworks Short Weighted Mic Stand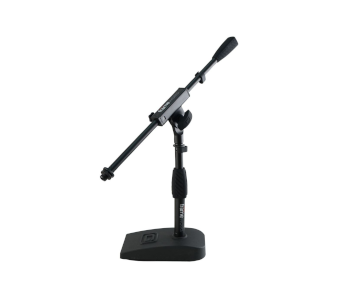 View on Amazon
Editor's Rating: 4.6/5
This is a popular, streamlined short weighted base mic stand by Gator Frameworks. It's an excellent tool for those who need versatile desktop support with room for adjustments.
Short Weighted Base Mic Stand Highlights
The GFW-MIC-0821 short stand for microphones is a multi-purpose support. It's heavy-duty weighted base makes it ideal for heavier mics that need extra balance. It acts as a versatile desktop stand, but it's especially popular among musicians for floor applications. They can include miking kick and bass drums, guitar cabs, keyboard amplifiers, and so on.
Height adjustment is a cinch with the soft-touch twist clutch. This small stand comes with a boom arm that has two adjustable points. Other highlights include a non-slip gasket that reduces vibrations, and a cable management clip. The stand is compatible with both US and Euro sized mic holders.
The Not So Good
The tube joints are not welded but pressed. The difference being that welded joints are fixed, whereas pressed joints have the potential to loosen over time. Another con is that it's still possible to move the boom section at the tightest setting. It should hold steady, but it would have been better if it locked firmly into place after tightening.
Tech Specs
Brand: Gator Frameworks
Color: Black powder-coated
Material: Steel
Stand Type: Short weighted base
Height Adjustable: 11.4–14"
Boom Arm Length: 18.5"
Base Spread: 4.5″ X 8"
Mounts: 3/8" and 5/8"
Product Dimensions: 23 x 6 x 13"
Product Weight: 7 lbs.
The Pros
Smart, streamline mic stand
Short weighted base
Small and compact design
Versatile use
Adjustable boom arm
Accommodates heavier mics
Soft-touch twist clutch
Compatible with US EU sizes
Non-slip gasket
Cable management clip
The Cons
Pressed joints, not welded
Boom doesn't fully tighten
7. Hola! Music HPS-150TB Pro Tripod Mic Stand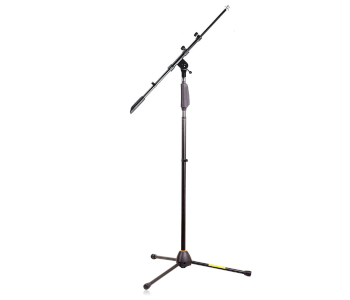 View on Amazon
Editor's Rating: 4.9/5
The penultimate review goes to the popular Hola! Music HPS-150TB. This is a semi-professional full-sized tripod mic stand. It has a simple one-hand height clutch and much more to boot.
HPS-150TB Tripod Mic Stand Highlights
This mic stand is super-rugged and made from 1" steel tubing throughout, including the legs. Assembly is as easy as it gets. All you do is screw the included boom arm to the main stand and the job's done. Or. You can attach the mic directly to the mic's pole if you don't need the boom. The main shaft adjusts from 43–67 inches or 5.5ft. That makes it ideal for seated or standing performers.
A T-handle adjusts the boom to whatever angle you need at any given time. It can accommodate solo vocalists, sit-down guitarists, or even reach low to mike amplifiers. The boom length is also adjustable from 4–27 inches or 2.25ft. The mic stand comes with cable management clips to keep the wires tidy. Finally, the tripod legs automatically lock into place once folded out, so no issues with screws there.
The Not So Good
The legs of the tripod stick out a bit and could be a trip hazard if you're not careful. Some users may find the 2-piece boom a tad light for larger mics when fully extended. It's not bad, but a little extra heft would instill more confidence with heavier, large-diaphragm mics.
Tech Specs
Brand: Hola! Music
Color: Black
Stand Type: Tripod boom
Shaft Adjustable: 43–67"
Boom Arm Adjustment: 4–27"
Threaded Upper: US 5/8"
Package Dimensions: 39.8 x 4 x 4"
Product Weight: 6.65 lbs.
The Pros
Perfect size-to-weight ratio
Good-looking mic stand
Rugged, steel construction
Fast assembly, detachable boom
Variable angle boom (low to high)
Intuitive one-hand clutch
Cable management clips
Auto-lock legs (no screws)
Exceptional value
x
The Cons
Legs potential trip hazard
Light boom for heavier mics
8. K&M 21070 Tripod Mic Stand & Boom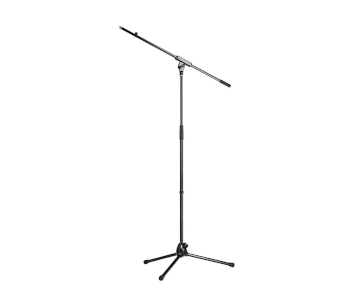 View on Amazon
Editor's Rating: 4.8/5
The last best mic stand review goes to the simple K & M tripod with boom arm. The brand is well-known in the industry for high-quality products that are made to last.
K&M 21070 Tripod Mic Stand Highlights
König & Meyer (K & M) has been around for something like 65 years. That means its stood the test of time and continues to offer exceptional music accessories. The K&M 21070 microphone stand here is no exception. It uses precision steel tubes with constant tolerances and dimensions. The fact that K & M manufactures all its metal and quality plastic parts in-house is also worth mention.
This full-size tripod support has a detachable 31.69" boom arm. The adjustable height range is 39.76—67.72 inches or 5.64ft. It's a favorite choice for both live and studio applications. The German-made stand folds up, making it easy to store and transport. It may not be the prettiest mic stand or the most versatile. Despite that, it's beautifully engineered and should last a lifetime with proper care.
The Not So Good
Could use a little more heft to support some live applications and heavier mic setups. Still, that's a minor nitpick all things considered. The boom arm has a fixed rather than adjustable length. That's either a concern or it's not, depending on the user. A minor gripe is that there's no mic clip included.
Tech Specs
Brand: König & Meyer
Color: Black
Stand Type: Full-size mic tripod
Adjustable Height: 39.76—67.72"
Boom Length: 31.69" (fixed)
Threaded Upper: 5/8"
Product Dimensions: 33.5 x 4.3 x 3.1"
Product Weight: 4.36 lbs.
The Pros
High-quality, German-made
K & M is an industry leader
Precision steel tubes
Long folding legs
Boom arm
Adjustable shaft
Ideal for studio and stage
Long-lasting value
The Cons
Could use little more heft
Fixed-length boom arm
No mic clip included