7 Best Microphones for Streaming
3D Insider is ad supported and earns money from clicks, commissions from sales, and other ways.
First, there were podcasts and now there is streaming. While Let's Play videos may have already seen their golden age, there's still a thriving market for new and entertaining streams. From gamers working their way through their favorite games, to game and tech reviews, and even vlog and podcast-style content producers, there are many markets, and consumers, you can attract with well-produced videos.
But nothing is a faster turn off for viewers than low audio quality. Image resolution and other technical problems can be overcome much more easily than tinny audio, static, and annoying background noise.
A good microphone should be one of the first investments any serious streamer considers.
Even experienced and established streamers should keep their audio equipment in good working order and update occasionally to stay ahead of technical advancements and higher quality expectations.
Budget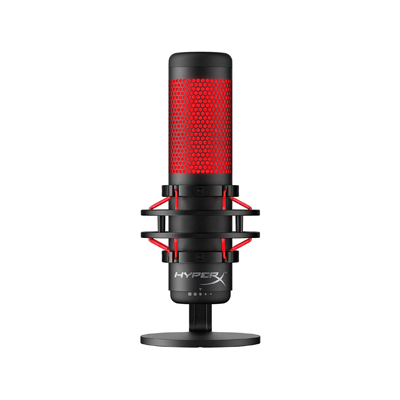 HyperX QuadCast – Gaming Microphone
4.5/5.0
Polar Pattern: Four Polar Settings
Frequency Response: 20-20,000 Hz
Designed for streaming and gamers specifically, USB connection is simple and easy.
Check Amazon
Best Value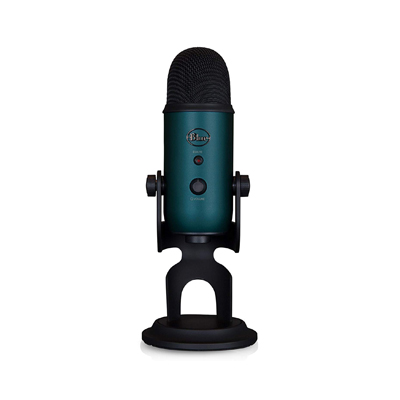 Blue Yeti Teal USB Microphone
4.6/5.0
Polar Pattern: Four Polar Settings
Frequency Response: 22-20,000 Hz
Well known microphone from a well-known brand, high quality, and consistency.
Check Amazon
Top Pick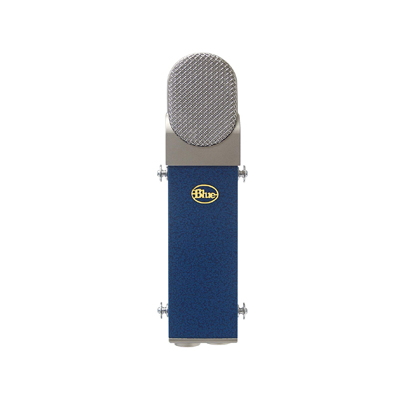 Blue Blueberry Cardioid Condenser
4.9/5.0
Polar Pattern: Cardioid Single Pattern
Frequency Response: 22-22,000 Hz
Comes with a stand that helps protect the mic and preserve audio quality.
Check Amazon
Fortunately, there are many high-performing microphones to choose from in almost every price range. We're here to point you toward some of the best microphones in each bracket. We'll also discuss the pros, cons, and specs of each microphone.
By the end of this article, you'll have the information you need to pick the right microphone before your first stream.
7 Best Streaming Microphones Comparison Table
7 Best Microphones for Streamers: Detailed Review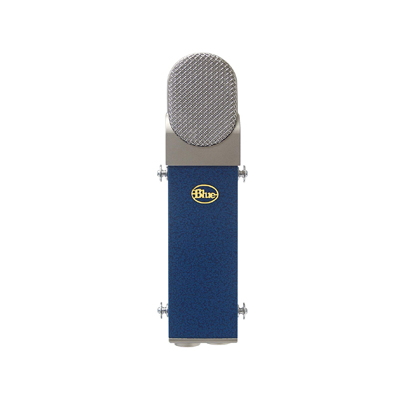 View on Amazon
Editors Rating: 4.9/5
We have to admit; this microphone is a higher-end model than you'll usually see on a streaming microphone list. But, with streaming becoming more and more mainstream, and streamers looking for more professional setups, we felt it important to include some higher-end microphones in our list.
The Blueberry is one of those microphones. It's designed for home studios, which means that it not only picks up buttery vocals but can also handle a variety of musical inputs well.
Blue is also well known for being one of the few microphone manufacturers that handles every detail of their manufacture. Each part is a Blue part, not a standardized model. The individual parts are tested before being put together into a microphone.
The completed microphones are also individually tested before being released for sale. That kind of high standard for quality control is rare to find in microphone producers. The result is microphones with a much lower rate of lemons and technical errors than average.
But, none of that speaks to the particular qualities of the Blueberry.
The Blueberry is not Blue's highest-end microphone. But, it's certainly a high-quality microphone. At this level, the difference between prices is audible with only the very best equipment and a trained ear. For the purpose of your average home-studio, and certainly, for streamers, the Blueberry is one of the best microphones you could ask for.
Included with the Blueberry is an S2 Shockmount. This mount is a high-quality device, which protects the mic while you're recording, and increases recording quality. That is because your mic can record every jostle and jolt during your session without a proper mount.
This is far from the only mount you can use with the Blueberry. It's compatible with most mic setups, so you can customize your home studio to your needs and recording preferences.
Recordings made with the Blueberry undergo compression well. As you're processing and editing sound, you'll encounter fewer artifacts of the compression process. You'll also maintain a high degree of audio fidelity through compression, an especially important feature of vocal recording.
Since streaming recordings are primarily vocal, we thought it important to select microphones that particularly shine in vocal recordings. Fortunately, the Blueberry hits the mark in this important category.
We also found that this mic captures the low end of male voices, and the airier heights of female voices, equally well. Spoken word captures well, and if you ever look to expand your streaming business to music, the Blueberry will serve you well.
However, it's a little more expensive than other mics well-suited to streaming needs. If you aren't looking for the absolute highest quality in audio, you may be better served by a mid-tier microphone rather than a high-end model like the Blueberry.
Tech Specs
Cardioid Mic: Yes
Sensitivity: 21mV/Pa
Frequency Response: 22-22,000 Hz
Signal to noise ratio: 68db Max
Power Requirement: 48-volt phantom
Connector Type: 3-pin XLR
The Pros
Audio handles compression and editing extremely well
Comes with a stand that helps protect the mic and preserve audio quality
Comes in an attractive cherrywood case that protects the mic in storage
Directional audio capture works well for vocal recording
Distinctive appearance adds a professional flair to any studio
The Cons
More expensive than some streaming mics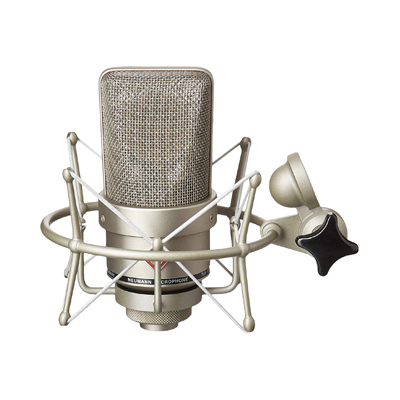 View on Amazon
Editors Rating: 4.8/5
Another high-end microphone option, the TLM 103 is designed for either a home studio or a professional studio. It's a good option for streamers because it captures vocals, including tone and inflection, particularly well.
While this mic is more expensive than many streaming mics, it's an affordable option in terms of professional quality mics. Microphones, like gaming computers and other tech, can be as expensive as you're willing to spend. But this mic is a good argument for not spending more than you need to.
Like the Blueberry, a shockmount is included with the TLM 103. While you'll likely want to invest in other mounting equipment and filters, that's at least one piece of equipment off your list.
The TLM 103 also has a distinct advantage for streamers in that it tends to sound warm. Many microphones can sound tinny or flat. Spoken word recordings require quite a bit of delicacy and range, which the TLM 103 supplies without making the recording sound overly flat or cold.
A cardioid or single polarity, microphone, the TLM 103 records sounds from a single direction. That can help reduce background noise, while also capturing more of the dynamic range of your voice.
That said, the TLM 103 is a mic that needs a well-designed studio. If you're trying to record out of your bedroom, or a computer room without any sound treatments, the TLM 103 won't sound as good as it should.
It can also tend to be a very bright microphone, which is a problem for some higher-pitched voices and requires specific placement. Alternatively, pop filters and other studio equipment can help even out the tone of recordings.
Tech Specs
Cardioid Mic: Yes
Max SPL: 138dB
Frequency Response: 20Hz-20kHz
Signal to noise ratio: 87dB
Product weight: 1 lb
Connector Type: XLR
The Pros
High end, professional studio quality microphone
Works particularly well for vocal work
Maintains the warmth and tones of your natural speaking voice
Cardioid design works well for voice recording, helps to eliminate background noise
Comes from one of the big names of microphones, helping ensure quality and consistency
The Cons
Can be a little bright, and may need additional filters for high voices
Doesn't perform as well outside of audio treated rooms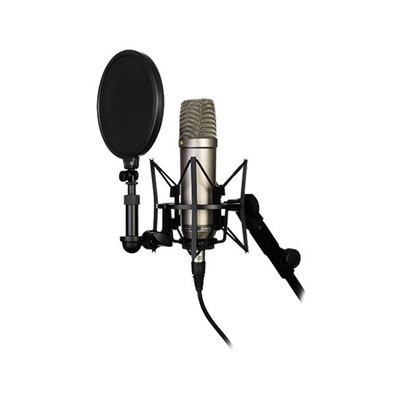 View on Amazon
Editors Rating: 4.8/5
If you're looking for a slightly more affordable option that can still play with the premium microphones, the Rode NT1-A is a good option. The NT1-A often features on the top of lists for streaming microphones, though it's priced as a mid-range option.
However, like the other microphones on our list, it's a particularly good microphone for vocal recordings. It captures spoken words well, needs fewer filters and less editing than many microphones, and is flexible enough to work in a number of setups.
It also has a wide dynamic range, which will help to capture your every tone and inflection while you stream. Viewers will be able to hear the joy in your successes, thoughtfulness faced with a puzzle, and every other emotion as well.
This mic also comes with a pop filter, shockmount, and other important recording equipment, which make setting up your home studio simple. The included sound filter also reduces the need for other audio treatments in your home studio.
Like most condenser microphones, this mic sounds best used with vocals and acoustic instruments. It's a touch bright, but not enough to cause problems in most settings and studios.
As a cardioid, or single direction, microphone, it is better suited to home studios with less than perfect audio quality and isolation.
Overall, this is a good medium-priced option, with some of the features and benefits of a high-end microphone, and few of the weaknesses of cheaper models. For streamers, it's bright tone and overall audio quality, are a good fit and support high-quality video production.
Tech Specs
Cardioid Mic: Yes
Built-in condenser: Yes
Frequency Response: 20Hz – 20kHz
Equivalent Noise: 5dBA
Maximum Output: 13.7mV
Connector Type: XLR
The Pros
Medium Price point
Comes with a pop filter and other recording aids
Works reasonably well in rooms not designed specifically for audio recording
Captures voice well
Friendly to beginners and experienced users alike
The Cons
Slightly less quiet than other microphones, some background interference
Not a true con of the mic, but it's worth noting that some users report receiving a counterfeit version of this mic when ordering online.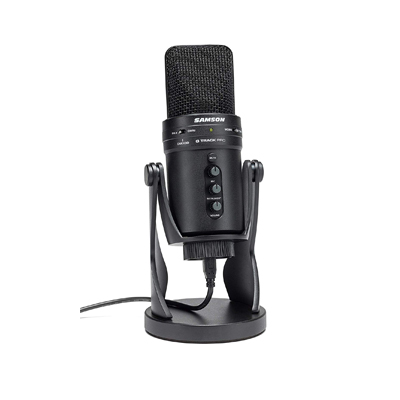 View on Amazon
Editors Rating: 4.7/5
The first multi-polarity microphone on our list, the Samson G-Track Pro is one of the more flexible microphones on our list. It's well designed to work with a number of different room considerations and streaming styles.
While you'll always benefit from a mic from each participant, the less focused directional settings allow for multiple speakers in the same recording.
This is another mic that features in many streaming mic lists, because of that versatility. If you're looking to get into streaming but want to avoid some of the highest start-up costs for your sound system, this is a good option.
In fact, the G-Track is designed with streaming, podcasts, and similar recording styles in mind.
Compatible with both Mac and Windows, it's well suited to most home studios and recording programs. A standard size and works well with a tripod and a boom stand, you're able to customize your setup and change it, relatively easily.
We recommend this mic for new streamers and streamers on a budget who still need high-quality audio. It's also a reasonable choice for a portable mic, thanks to its versatility. The G-Track Pro is less attached to its main setup.
Audio recordings on this mic don't have any notable character abnormalities. It's got a good rate of audio fidelity, although it may flatten your tone and inflection slightly. It's not warm, nor does it tend toward cold recorded sound, and it's crisp without being lifeless.
Tech Specs
Mic: USB connection condenser microphone
Audio Interface: On-Board 24-Bit/96 kHz
Frequency Response: 50-20,000 Hz
Zero-Latency Monitoring: Yes
Mixer: On-Board Mixer with Level Controls
Includes: Cardioid, Omnidirectional, and 8-track polar modes
The Pros
Great price
Reasonably flexible in recording style and portability
Not overly picky about room conditions and other recording challenges
Plug and play design requires very little settings changes and customization
Knobs are clearly labeled and relatively durable
The Cons
The stand is less shock-absorbing that other versions
Doesn't have the range and high audio fidelity of a premium microphone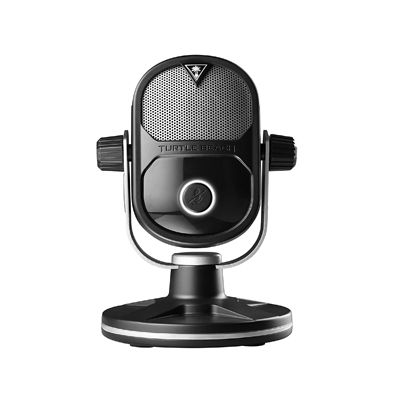 View on Amazon
Editors Rating: 4.4/5
This mic is an excellent choice if you're looking to stream directly from a console instead of a PC or using multiple computers and devices for your recordings. This mic is universally compatible and works well with Xbox, PlayStation, PC, and Mac.
It's three polar settings, Cardioid, Super Cardioid, and Omnidirectional, are well suited to multiple studio arrangements. Instead of having to move your equipment into a studio space, you can bring this mic to the most comfortable place for you to game.
It's designed as a all-in-one recording mic, meaning it's able to record vocals, music, and a range of podcasting and streaming styles. However, that also means that it's not well optimized for any one application.
It does well with podcasts and streaming recording style, however. This mic is designed with gamers in mind, so it does particularly well capturing voices, despite not being truly optimized.
It's compatible with both stands and booms and works with almost all standard microphone equipment.
This is a great option if you want to stream off of consoles, and a good option for other streamers.
Tech Specs
Condenser: Electret condenser
Sample Rate: 48kHz
Frequency Response: 20Hz – 20kHz
Polar Patterns: Cardioid, Super Cardioid, Omnidirectional
Bit Rate resolution: 16-bit
The Pros
Compatible with consoles directly
USB plug and play connection style
Records voices well
Multiple polar settings
Designed with gaming streamers in mind
The Cons
Somewhat less versatile in audio recording than premium models
Constant movement and relocation will impact recording quality over time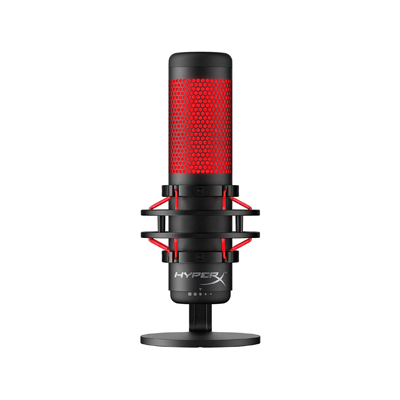 View on Amazon
Editors Rating: 4.5/5
The HyperX QuadCast is a well-balanced USB microphone, designed for gamers, and meant to produce high-quality buttery audio without the price tag and complicated setting hoops.
This microphone is a great entry-level mic and a good option for streamers on a budget or looking for a little more flexibility in a mic. It features a shockmount more like a premium mic, but a USB connection more commonly seen in mid and low-end models.
It's easy to set up and use, with touch controls and good audio quality. The touch mute button turns on without lag and has an LED indicator so you can be sure you're muted.
Compatible with a range of different gaming machines, you'll be able to work almost immediately and with a minimum of devices between you and your streaming audience.
We wouldn't recommend going for a microphone any cheaper than this one, but you'll be getting more than your money's worth. This mic makes our Best Bargain rating because it performs well above what we expect in a relatively cheap mic.
Mics at a similar price point, around $100, tend to be the start of high-quality parts and good audio quality. Less than $100 and you're likely sacrificing more than materials and durability, but also losing sound quality. Over $1,000, the quality differences between mics are less substantial and more a matter of character and preference differences than actual sound quality.
That said, this is a good introductory and mid-range mic. It doesn't have some of the sound customization features that a higher-end mic boasts. The QuadCast will work well for many Streamers but may not be suitable for streamers looking to create a rich and unique sound.
Still, this mic is well worth investigating if you're looking for a low-cost starter mic that still creates good audio for your streams.
Tech Specs
Microphone: Electret condenser microphone
Condensers: Three 14mm condensers
Frequency Response: 20Hz – 20kHz
Polar patterns: Stereo, Omnidirectional, Cardioid, Bidirectional
Maximum Power Output: 7mW
Certified?: Certified by Discord and TeamSpeak
The Pros
Designed for streaming and gamers specifically
Mute button and other touch controls easy to use
USB connection is simple and easy
Shockmount helps protect audio quality and preserve the mic
The Cons
Less dynamic and with fewer sound options than higher-end microphones
Construction of the microphone is less durable, will likely only last for a few years of regular use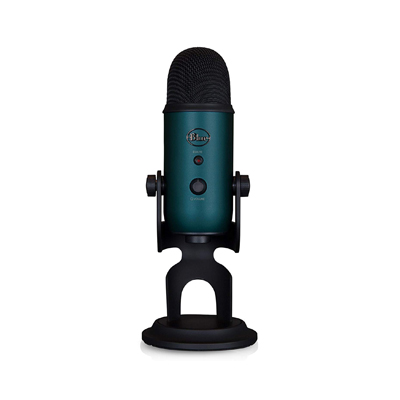 View on Amazon
Editors Rating: 4.6/5
Another Blue Microphone, the Yeti is one of the most constant options for good sound quality on a reasonable budget. Neither a low end nor a high-end microphone, the Yeti continued Blue's tradition of releasing mid-tier microphones at low prices while still boasting impressive performance.
A bit more advanced than the Snowball, another common streaming microphone, the Yeti's massive design offers a wider dynamic range and greater audio fidelity in low registers. It works particularly well capturing voices since that wide range allows each voice's unique distinctions to shine through.
However, the Yeti does have one significant drawback. Almost a foot tall, the Yeti lives up to its name in stature. It's not a very portable microphone and is best suited toward permanent installation in your home studio.
Yet, that may be less of a drawback when you consider the many polar options, dynamic sound, and high-quality audio produced by the Yeti.
Plus, Blue's microphone lives up to its standards for solid construction and durable design. You'll be able to use this microphone for years without seeing a decline in audio quality or appearance.
While the Yeti won't overwhelm you with settings options and customization, it will also empower you to create a unique sound and adapt to a wide variety of sound situations. Accurately capture the loudest and quietest sounds without distortion or drop off, simply by adjusting the settings.
This microphone gets our best Value rating because it performs more like a premium microphone than a mid-range option. Despite its large size, this microphone acts like a professional device and will give you audio quality and sound dynamics to match its size.
Tech Specs
Cardioid Mic: Yes
Condenser: Three condenser capsules
Frequency Response: 22-20,000 Hz
Polar patterns: Bidirectional, Omnidirectional, and Stereo Polar Patterns
Connector Type: USB Connection
The Pros
Well known microphone from a well-known brand, high quality, and consistency
Designed to meet a wide variety of challenges
Reasonable price point
Easy to control settings dials
Easy to set up and use
The Cons
Very large and not easily maneuverable
The setting dials are plastic, unlike the rest of the metal housing
Conclusion
In this article, we've covered some of the best microphone options for streamers. These microphones all capture spoken-word audio, from muttering about a puzzle to yelling at your game's latest jump scare, in crystal clear recordings.
Each of them has some pros and cons, from easy to use USB microphones with limited control to more advanced models that require an audiophile's ear and a decent amount of technical knowledge to use. However, we're confident that one of these microphones will serve you well.
Think about your setup. The room you're going to use to stream. Do you have room for a flexible but low-cost giant like the Yeti? Or would you be better served by a higher-end microphone that will show off your audio design and quiet studio space?
Thinking about your needs, and the particulars of your setup will help you pick the right microphone.
Happy streaming!