Neato D7 Connected vs. Roomba i7 – Which High-End Robot Vacuum Is Better?
3D Insider is ad supported and earns money from clicks and other ways.
Robot vacuum cleaners have been around for more than 20 years. They've progressed from models that kept bumping into everything they came across to ones that intelligently map rooms, avoid obstacles, and communicate with other smart devices.
iRobot and Neato are today's leading robot vacuum manufacturers. Each company has a long history of innovation and success spurred on by technological advances and a friendly rivalry. The Roomba i7 and D7 Connected are currently their best-selling high-end models.
This article examines the leading robovacs across a range of capabilities like cleaning effectiveness, navigation, and speed. If you don't want to get bogged down by the details, there are tables with tech specs and reasons to get each. You can't go wrong with either, but this in-depth comparison will help you determine the best high-end robotic vacuum cleaner for your needs.
Neato D7 Connected
Roomba i7
Dimensions
12.9 x 13.2 x 3.9 in.
13.3 x 13.3 x 3.6 in.
Weight
8 lbs.
7.5 lbs.
Dustbin capacity
20.3 oz.
16.9 oz. (basic version)
13.6 oz. (Plus version)
Power (cubic feet per minute)
20
17
Battery life
120 min.
75 min.
Intelligent mapping
Yes
Yes
Max memorized floor plans
3
10
Loudness
66dB
62dB
Auto-Empty Bin
No
Yes
Supports AI assistants
Yes
Yes
Supports IFTTT
Yes
Yes
Price
$648
$710 (basic version)
$960 (Plus version)
Design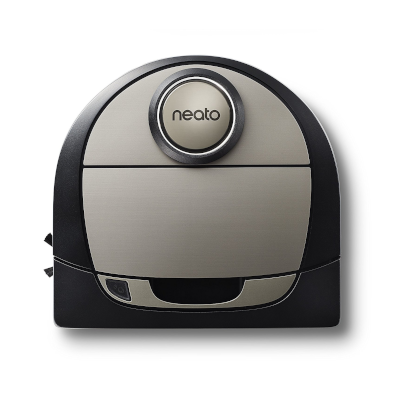 It's hard to declare a winner when it comes to design as both robot vacuums have unique features that make them stand out from the competition.
The D7 Connected owes its name to Neato's distinctive D-shaped design. Its flat front side allows the D7 to pick up substantially more dirt from corners than round models with limited range. The front of the vacuum is equipped with a set of bristle brushes running its entire length. There's a rotating brush on its right side that picks up debris from the corners and feeds it into the cleaner.
There's a single multifunctional button which powers the D7 on, cycles between cleaning modes, and initiates charging. Four LEDs light up to indicate its power and connection status as well as signal that the battery needs charging or the dustbin needs emptying.
At 3.9 inches, the D7 Connected is the taller of the two. This makes it harder for it to pass under furniture, so you'll still need a traditional vacuum cleaner if you have low beds and sofas.
Roomba's i7 has the traditional puck-like appearance, but its look is polished to a high degree. There's its appealing black finish, responsive touch buttons dust can't get into, and a space reserved for its camera. The i7 is shorter than Neato's model and has less trouble with bumping into the tops of chairs or refrigerators.
While its top is luxurious yet familiar, the Roomba's bottom side is unique. The first thing you'll notice about it are the V-shaped rollers. There are two of them at the i7's center along with a rotating brush to the right that is much larger than the D7's. The rollers' distinct pattern picks up dust and feeds it into the Roomba without causing a mess. You won't need to clean them as often as ordinary brushes either since there are no bristles for the dust to get stuck in.
Draw
Navigation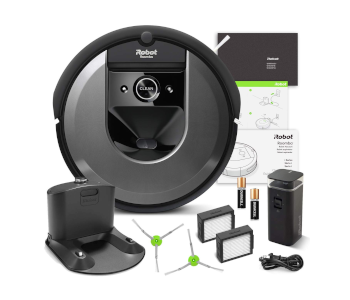 Each model uses a different form of navigation controls, and both come with advantages as well as shortcomings.
The D7 Connected traverses your home with the help of lidar-based sensors. It effortlessly recognizes walls and furniture, indicating both on the mobile map. You can schedule the D7 to work at night without having to turn the lights on. This model also has advanced proximity sensors which detect changes in elevation and won't tumble down the stairs. Spring-loaded wheels are a unique feature exclusive to the D7. They work like shock absorbers and make the transitions between surfaces smoother.
The Roomba i7's navigation system is based on an array of sensors and a camera. The camera points at your ceiling and helps the i7 map a floor with increased accuracy. Roombas, in general, are known for their advanced obstacle avoidance, and the i7 is no exception. It might snag on a cable or sock, but standard obstacles like table legs and appliances are no problem. It's worth noting that the i7 performs well on black rugs which other brands have a harder time detecting. You can even set it to clean a dark carpet that's near a set of stairs, and the i7 will detect the drop in time.
+1 for Roomba i7
Mapping
Mapping your home and cleaning only parts of it that are actually dirty is one of the best high-end robot vacuum features. Both models in this showdown produce accurate maps you can make adjustments to, but the Roomba i7 is the winner by a slim margin.
The D7 impresses with its mapping speed and accuracy. Once you activate its special cleaning mode, the vacuum will make a thorough pass through your house and produce an accurate map on its first go. The i7 needs three full sweeps to come up with a similar result, although you don't need to clean each time since it has a training mode.
Maps created by the Roomba are easier to split into zones. The app lets you draw boundary lines and label each room. Then you can set the i7 to clean one or a set of rooms while leaving others untouched. Neato's approach is similar and called No-Go Lines. You draw these lines from any wall across to another, and the D7 won't enter the virtually cordoned-off space until you make adjustments.
Map storage and usability are where the i7 shines. Unlike the D7 Connected which can only store 3 floor maps, the i7 keeps track of 10. That means you could map a sizeable multi-story office space or clean multiple houses with the same unit! The Roomba also isn't dependent on the location of its charging station and will completely clean a floor regardless where you place it. Meanwhile, the D7 needs to start each cleaning from the charger, or it will get lost.
+1 for Roomba i7
General cleaning
A high price demands cleaning excellence, and both models perform well in an array of challenges from picking up dust and crumbs to tackling dirt and hair. However, the D7 Connected inches into the lead thanks to its distinct shape.
Even though its rotating brush is bigger, the i7 picks up noticeably less dirt from corners and when moving alongside moldings. The i7 makes up for that by transitioning seamlessly from hard floors to carpets. It has no trouble removing ingrained dust from shag rugs either. The D7 Connected does a better job on average in less time though, and also excels at sucking up fine particles.
+1 for Roomba i7
+2 for Neato D7 Connected
Cleaning up after pets
The robot vacuums are neck and neck in cleaning up after your pets. Either will take care of dander, hairs, and any particles they encounter. Dog owners should get the i7 because its proprietary roller design does a fantastic job of pulling hairs of all sizes out, even from shag rugs. Cat lovers will find the D7 Connected more useful as it is better at picking up kitty litter.
Draw
Spot cleaning
Even the most advanced robovacs can't get rid of every hardcore stain on the first try. Both contenders have spot cleaning methods, but the i7's is superior. The D7 Connected has a spot cleaning mode which makes multiple passes over the same 4 by 6-inch area whether most of it is dirty or not. The i7 notes areas it didn't manage to clean straight away and returns to them to finish the job. It's a concentrated and effective way of ensuring your home is spotless.
+1 for Roomba i7
Battery life and charging
Both vacuum cleaners have no trouble finding their way back to the charging station before the battery dies. However, the D7 has a significant advantage. On the one hand, it runs almost twice as long as the i7, 120 minutes as opposed to 75. On the other, it has smart charging.
The D7's app shows you the battery's remaining charge percentage and how that translates into actual running time. The vacuum will find its station once the battery is low. It takes 150 minutes for it to recharge, but if charging interrupted a scheduled cleanup, it will recharge just enough to complete the run before returning to the station again. That means your floors will get clean faster regardless of how much juice the battery had when cleaning started.
+1 for Neato D7 Connected
Speed
If there's one robot vacuum feature worth spending top dollar on, it's speed. Low-end models take hours to clean even a modest space and have to recharge mid-way, which prolongs the process. Both the i7 and the D7 Connected are light years ahead of the competition in terms of speedy cleaning. However, the D7 Connected is the winner.
The robovacs look similar on paper as both have a standard CFM or cubic feet per minute rating of 17. In practice, the D7 outperforms its competitor in normal mode and cleans 80% faster in Turbo mode as the CFM goes up to 20. Expect the D7 to clean an entire floor in 30 minutes and have juice left for three more!
+1 for Neato D7 Connected
Capacity
The D7 Connected looks like the clear winner because its dustbin is 25% larger and easy to remove. However, the i7 has an advantage – the clean base. This accessory is part of the Roomba's charging station and holds 30 times its capacity! The garbage is kept inside a sealed bag attached to the base with a plastic clamp. The bag is easy to remove and minimizes the amount of dust you get into contact with, making the i7 an excellent solution for allergy sufferers.
+1 for Roomba i7
Noise
Even though neither vacuum is whisper-quiet, the i7 is more bearable. At 62 dB, it lets you have a conversation in the same room without having to raise your voice. While the i7 is quiet, its clean base isn't. Transferring dirt from its dustbin to the base makes a lot of noise, so you should schedule cleaning during the day.
The D7 Connected has a loudness of 66dB. Its presence in a room is tolerable, but you won't be able to concentrate on a book or have a casual chat while it's working. There's an Eco mode which conserves power, but it is barely quieter. On the other hand, engaging Turbo boosts suction power but ramps up the noise as well.
+1 for Roomba i7
Smartphone apps
Whichever robovac you go for, their smartphone apps are easy to navigate and use. Each has a detailed overview of the map you can make adjustments to or mark certain areas as being off-limits. Both apps also offer scheduling options, let you switch between cleaning modes, and have a statistics page.
The Neato Robotics app has a white & teal color scheme with a few basic screens for the D7's various operations. You can tweak its scheduling system on a day-by-day basis and select whether to use Eco or Turbo mode with each cleaning. The stats page shows how long the cleaner has been active each day and how many square feet it cleaned. The app also sends you notifications if the D7 gets stuck with instructions on how to help. If you're even unsure what to do, it can also guide you through the setup process and offer cleaning tips.
The iRobot Home app has a similar clean design with a focus on clarity. There's a huge clean button on its dashboard for instant access, but you can also schedule cleanings for every day of the week. Designating rooms is easy, as is checking a detailed map of each cleanup in the stats page. iRobot takes customer satisfaction seriously and lets you reach customer services directly from the app.
Draw
Connectivity
Robot vacuum cleaners have become an integral part of the Internet of Things, so it's unsurprising that Roomba and Neato both support IFTTT and voice assistants. You can ask Alexa or the Google Assistant to locate them, have them start a cleaning cycle, check on the battery level, and more.
IFTTT allows you to integrate the vacuums into your smart home in lots of creative ways. For example, they can start cleaning when no one is home or pause when you receive a phone call. Roomba has more native and partner skills like tweeting to start cleaning or activating the i7 when your Uber arrives. Both vacuums respond well to voice and IFTTT commands, but the i7's broader recipe selection gives it an advantage.
+1 for Roomba i7
Price
At the time of writing, you can get the D7 connected from Amazon for $650. When buying the i7, you have the choice between the Plus version which goes for around $950 and the regular version which is $250 cheaper. The difference is that upgrading to Plus gets you the clean base while the basic i7 has a bigger dustbin to compensate. Considering its excellent performance and noticeably more affordable price, the D7 Connected is the obvious choice if you're looking to get a premium-quality vacuum and still save money.
+1 for Neato D7 Connected
Conclusion
Why choose:
Neato D7 Connected (5 points)
Roomba i7 (7 points)
• Exceptional overall cleaning performance
• Excellent battery life & smart charging
• Fast cleaning
• Reasonable price
• Superior mapping abilities and navigation
• Good overall cleaning performance
• Superior spot cleaning
• Quiet operation
• Self-emptying with the clean base
• Better support for smart homes and AI assistants
Even though the Roomba i7 is our overall winner, we're happy to recommend the Neato D7 connected too. You won't go wrong with either model and can expect remarkable cleaning performance along with stable & intuitive apps from each one. Pet lovers will find that either vacuum sucks pet hair up with ease.
Still, if you're looking for the best robot vacuum cleaner, the Roomba i7 is the model to get. Convenience is its main selling point as you can literally use it for months without interacting with the robovac or the fruits of its labor. You can set to work and control it from anywhere without having to buy a charging station for each floor. Lastly, the i7 handles rugs most other robovacs can't clean like a champ.
If you don't mind spending close to a thousand dollars on it, the i7's Plus version is a comprehensive automatic cleaning system that will save you hours of cleaning time while keeping your home spotless.