Nest Hello Smart Video Doorbell Cyber Monday Deal
3D Insider is ad supported and earns money from clicks and other ways.
Cyber Monday is nearly upon us and Nest has extended their Black Friday discounts for their Nest Hello smart doorbells. This is your last chance to get a Nest product on sale. The Nest video doorbell has been discounted by 20%.
Nest Hello is an intelligent piece of equipment that's always looking out your front door. You'll never miss anyone who's knocking. If you're interested in adding an additional layer of security for your home, then the Nest Hello system is something that you should consider getting this Cyber Monday.
Nest Hello Smart Doorbell
Cyber Monday Price: $179 Retail Price: $229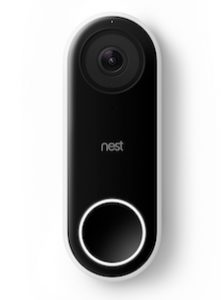 The Nest Hello Smart Doorbell is a sleek and slim device that is designed to fit in the frame of your front door. This slim design enables you to install it in tight places around your door. It's much smaller than most video doorbells. It works perfectly with Nest cameras, which are also on sale.
One of the things that you should consider when getting the Nest Hello is that it needs to be hard-wired to your home's electrical system. You'll need expert help to make sure that you install it the right way. One advantage of this setup is that you'll never need to think about charging it or replacing the batteries as it is connected to power the whole time.
The Nest Hello can connect to your home Wi-Fi network. This comes in handy since you can connect the Nest Hello to your smartphone via the Nest app. The process of syncing with the Nest app is simple so you can start using it right away.
The Nest Hello has an HDR camera that records video. This camera allows it to have face recognition so it can identify the person knocking at your door. The camera is very responsive and notifies you as soon as it detects someone approaching your door. Once the device notifies you via the app, you can then view a live video stream. The stream is also equipped with two-way communication thanks to the microphone embedded in the device. This allows you to talk to whoever is at the door. The Nest Hello's camera also has a night mode that allows you to distinguish people at your door in the dark.
A novel feature of the Nest Hello is that it has the capability to play pre-recorded messages much like an answering machine. You can set this in such a way that it plays whenever you're not available to speak.
One drawback of Nest's smart doorbell is that it only saves video clips and not continuous videos. The video clips it records are only those of detected motions from the past 5 days. Video clips older than 5 days are deleted and replaced. One way to get around this is to get a Nest Aware subscription package where you'll get the capability to record continuous videos straight to the cloud. There's a variety of Nest Aware subscriptions from 5 days, 10 days, and 30 days.
The Nest Hello is a feature-packed, well-designed smart doorbell that can double up as a security camera. It is not the cheapest of home security devices, but it has its uses, especially if you're always away from home.
The Nest Hello is still on sale up to Cyber Monday and this is your chance to get one on sale. You can still save 20% on this Cyber Monday deal.