8 Best News Reporter Microphones
3D Insider is ad supported and earns money from clicks, commissions from sales, and other ways.
This introduction looks at how to choose the right news reporter microphone for the job. You want a mic that's versatile, and flexible enough to match your style of journalism. That may be on-the-go commentary, interviews, or both. Know how to choose the right mic for different situations. It can be indoor reporting or outside, in a controlled environment, or impromptu. Keep reading to learn more.
The second half of this guide reviews 8 microphones to match different reporting requirements.
Budget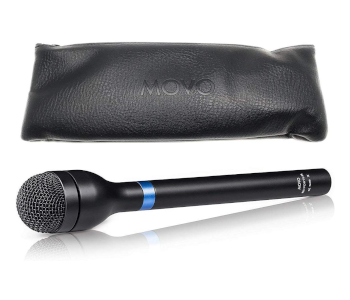 Movo HM-M2 XLR Mic
4.7/5.0
Mic Type: Handheld Dynamic
Pattern: Omnidirectional
Metal build, lightweight, long handle, built-in windscreen, carry pouch.
Check Amazon
Best Value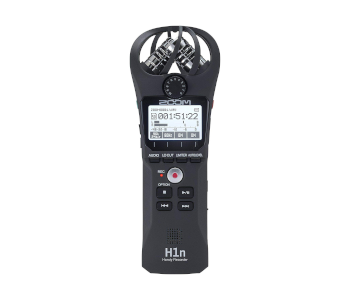 Zoom H1n Audio Recorder
4.5/5.0
Mic Type: Handheld Recorder
Pattern: X/Y pattern
Affordable, compact design, one-touch controls, playback speeds.
Check Amazon
Top Pick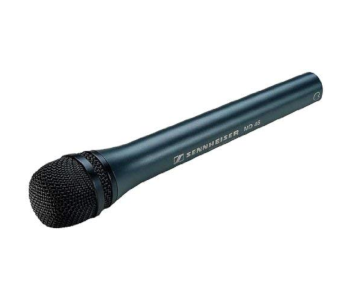 Sennheiser MD 46
4.6/5.0
Mic Type: Handheld Dynamic
Pattern: Cardioid
German-made, double-layered grill, broadcast quality audio.
Check Amazon
The Right Microphone for the Job
Having the right microphone for the job is vital if you're to succeed as a freelance news reporter. Not all mics work for every situation. A reporter who works out in the field has a kit that looks like this:
One or more microphones with windshields
A reliable handheld digital audio recorder
Pair of quality headphones
Spare batteries and other vital extras
Other thoughts are which polar or pickup pattern to choose, but there's more. A mic can be a dynamic type or a condenser, which relates to a microphone's inner workings. Let's start with pickup patterns.
Importance of Polar Pickup Patterns
Reporter mics pick up sound using any of the three polar patterns below:
Cardioid pickup
Hypercardioid (shotgun)
Omnidirectional (omni) pickup
#1 Cardioid Mics for reporting
The cardioid polar pattern mics capture most of their sound from the front. It picks up a little sound from the sides and rejects most noise that comes from the rear. The biggest drawback of this pattern is that it's more susceptible to plosives than omni mics. Still, reporters out in the field like to use cardioid mics. That's because they do an excellent job of alleviating handling noise.
#2 Hypercardioid Mics for Reporting
The hypercardioid pattern is typical with shotgun type microphones. The long reach of a shotgun makes it an ideal audio tool when the primary sound source is some distance away. The hyper-cardioid polar pattern is narrower than the regular cardioid. That means it rejects even more sound from the sides and ignores everything from the back.
Omni Mics for Reporting
Omnidirectional mics pick up sound from every direction using a 360° polar pattern. That can be useful if you want to include additional sound sources and natural ambiance into your recordings. Another plus for the omni mic is that it's less prone to wind noise and plosives than the other patterns.
OK, the next section looks at dynamic and condenser type mics.
Dynamic Vs. Condenser Mics
All microphones are transducers that convert mechanical energy into electrical energy. Dynamic and condenser—also capacitor—mics can look similar on the outside. However, the way they convert energy on the inside is quite different. Dynamic mics have moving coils around magnets that convert sound waves into weak electrical audio signals.
Condenser mics convert energy differently. They have ultra-thin, ultra-light membranes or diaphragms suspended above backplates. As sound waves hit the membrane, the capacitance of the circuit changes to impart a small electrical output. That's as technical as I'll take it in this beginner's guide.
When to Choose a Condenser Mic
Condenser microphones are well-known for their clean, crisp, and present sound. They are sensitive to loud noise when compared to the dynamic options. That makes managing levels awkward when working in some lively environments. Thus, condenser microphones are generally better for controlled indoor settings and purpose studios. They also need a phantom power supply to operate.
Phantom power can come from a handheld recorder, but its batteries drain faster. Some condenser mics have internal batteries, which spare the audio recorder. Condenser mics are less rugged and more expensive than the dynamic ones. That makes them less favorable for some types of reporting.
When to Choose a Dynamic Mic
Dynamic mics are the rugged workhorses often favored by news reporters. They resist moisture and stand up to the rigors of journalistic abuse better than condensers. Moreover, they can handle high sound pressure levels (SPLs) well. That makes them ideal for reporting in overly loud settings like factories and at live events. Dynamic mics don't need a phantom power supply either.
Versatile and opportunist news reporters have at least two mics with them at any given time. That typically includes a dynamic and condenser mic with different polar patterns (see above).
About My 'News Reporter Microphone' Guide
It's not easy to sift through so many products if you're a novice reporter. I've put together a shortlist of 8 excellent news reporter microphones. My reviews cover all budgets and mic types for various journalistic styles. They are popular choices among real users and get good feedback from industry experts. The first 3 are the Editor's Picks for Best Budget, Value, and the Top Choice.
News Reporter Microphones Comparison Table
1. Movo HM-M2 XLR Handheld Mic | Best Budget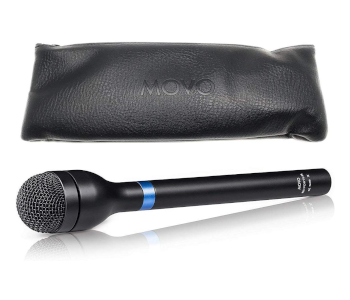 View on Amazon
Editor's Rating: 4.7/5
The Movo HM-M2 makes the Best Budget news reporter microphone pick. It's an XLR long handle, handheld microphone made for journalists who work outdoors and inside.
Best feature 1: Designed specifically as a presentation and interview tool
Best feature 2: Broadcast-quality microphone
Plus points: Metal build, lightweight, long handle, built-in windscreen, carry pouch
Minus points: Sounds a tad hollow, no XLR cable
Movo HM-M2 XLR Dynamic Mic Highlights
Movo's HM-M2 is an excellent entry-level XLR microphone for budding news reporters. Don't let the affordable price tag fool you into thinking it's an inferior product because it's not. This mic is custom-built for speech applications. Its frequency response is 70Hz–15kHz, so it rejects much environmental interference. That results in less unwanted noise and more focus on the sound source.
Reporting on a Budget
The mic has a sturdy aluminum alloy build. It looks smooth, and the long handle makes it comfortable to hold for extended periods. The grill is also metal and has zero give. Moreover, the mesh head includes an integral plosive screen to reduce popping sounds. It's not an Electro-Voice 635A or a RODE Reporter, and nor does it claim to be. But for the money, the HM-M2 by Movo offers exceptional value.
The Not So Good
The audio of the Movo HM-M2 is never going to compete with mics that cost three times its price. It is clear, clean, and perfectly audible, but it's also a tad hollow when compared to costlier models. Despite that, the mic produces a sound that's easy on the ear, so it does the job Movo made it for. There's no XLR cable included. Those who don't have a cord should order one when they buy the mic.
Tech Specs
Brand: Movo
Mic Type: Handheld dynamic
Output connection: 3-pin XLR
Polar Pattern: Omnidirectional
Power Supply: Plug-in device
Frequency Range: 70Hz to 15kHz
Output Impedance: 200 Ohms
Sensitivity: -56dB
Dimensions: 12.1 x 4.6 x 2"
Product Weight: 6.7 oz.
Warranty: 1 year
The Pros
Comfortable reporter mic
Slim, all-metal, lightweight build
Long handle (vital for reporting)
Clean, clear voice reproduction
No batteries required
Doesn't need phantom power
Internal filter to reduce plosives
Rejects environmental noise
Soft carrying pouch
Excellent value
The Cons
Sounds a tad hollow
No cable included
2. Zoom H1n Recorder for Reporters | Best Value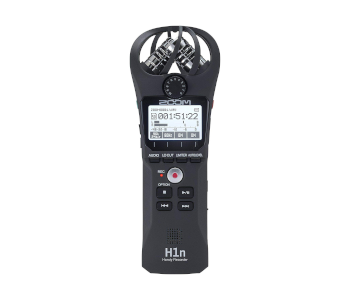 View on Amazon
Editor's Rating: 4.5/5
Zoom's H1n makes the Best Value slot. This is a compact and highly-portable audio recorder that's comfortable to hold. It has dual stereo condenser microphones set at 90° protected by a cage.
Best feature 1: Built-in X/Y Stereo microphones
Best feature 2: Takes cards up to 32 GB
Plus points: Affordable, compact design, one-touch controls, playback speeds, soft pouch
Minus points: Plasticky, flimsy SD card slot
Zoom H1n Handy Recorder Highlights
The Zoom H1n is a perfect entry-level and affordable handheld digital recorder for reporters. It's a no-fuss audio tool with a conveniently compact design that makes it easy to carry. The one-touch controls and intuitive menus make light work of navigating the H1n. You can record in MP3 and WAV file formats. A single AA battery should give up to 10 hours with normal use.
Many of the features appeal to novice reporters. Some of those include the external mic line-in and headphone line-out. Micro SDHC card storage of up to 32GB is another welcome feature. Recording functions include stereo overdubbing, playback speed control, and a voice emphasize filter. And the H1n can handle a maximum SPL up to 120dB for distortion-free audio.
The Not So Good
Zoom's H1n Recorder is popular because it does what it says on the box, but it's not perfect. One of the biggest criticisms is its cheap, plasticky feel. This is done to keep costs down. Still, the toy-like quality of this otherwise serious recording tool loses it a few points. Moreover, the door for the SD card slot has a design flaw. It can be so awkward to open and seems incredibly flimsy.
Tech Specs
Brand: Zoom
Mic: 90° stereo condensers
Battery: 1 x AA alkaline
Battery Life: 10 hours
File Format(s): MP3 and WAV
Storage: MicroSD, SDHC max 32GB
Max SPL: 120dB
Display: Monochrome 1.25" LCD
Dimensions: 5.4 x 1 x 6.4"
Product Weight: 2.4 oz.
The Pros
Affordable handheld recorder
Convenient compact design
Takes Micro SDHC up to 32 GB
One-touch controls
Intuitive display
Built-in X/Y stereo microphones
Stereo overdubbing feature
Voice emphasize filter
Powered by a single AA battery
Stereo overdubbing
Playback speeds
Soft pouch
The Cons
Plasticky feel
Flimsy SD card slot
3. Sennheiser MD 46 Reporter's Mic | Top Pick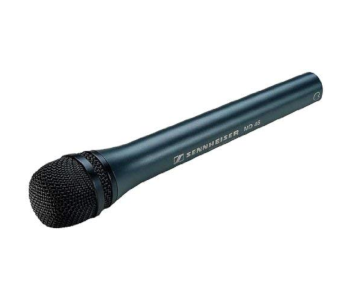 View on Amazon
Editor's Rating: 4.6/5
The Top Pick goes to a workhorse in the news reporting industry. The Sennheiser MD 46 shields its sound source well in loud environments. It has low-handling noise and is comfortable to hold.
Best feature 1: Tough metal housing
Best feature 2: Optimized for challenging environments
Plus points: German-made, double-layered grill, broadcast quality audio, excellent value
Minus points: Quite heavy, blatant logo
Sennheiser MD 46 Cardioid Mic Highlights
Most things made in Germany are of superior quality, and that includes the MD46 microphone. It's a dynamic handheld mic with a tough metal housing and a double-layered grill. The long reporter's handle and perfect balance make the MD 46 comfortable to grip for extended periods. Sennheiser optimized this mic so it can handle the abuse often encountered in reporting environments.
The sound quality is spot on for a pro-quality reporter's mic. It doesn't suffer from the same handling and wind noise that some of its rivals do. It's also insensitive vocal plosives despite the cardioid pickup. The lows produced are warm and smooth while the midrange remains consistently clean.
The Not So Good
This mic is quite heavy when compared to some reporter mics like the Movo HM-M2. Some complain that it feels weighty when held for a long time. Reporters who record audiovisual are not fans of the blatant "Sennheiser MD 46" logo that runs down its side. It's a cheeky way for Sennheiser to advertise their product, but it can also be an unwelcome distraction.
Tech Specs
Brand: Sennheiser
Mic Type: Handheld dynamic
Connection: 3-Pin XLR
Polar Pattern: Cardioid
Power Requirements: N/A
Frequency Response: 40Hz–18 kHz
Output Impedance: 350 Ohms
Product Dimensions: 9.8 x 1.9"
Product Weight: 12 oz.
Warranty: 1 year limited
The Pros
German-made microphone
Tough metal housing
Double-layered grill
Optimized for rough environments
Long handle, comfortable to hold
Perfectly balanced
Insensitive to plosives
Almost no handling noise
Broadcast quality audio
Excellent value
The Cons
Quite a heavy microphone
Blatant logo down the side
4. Shure VP64A Handheld Interview Microphone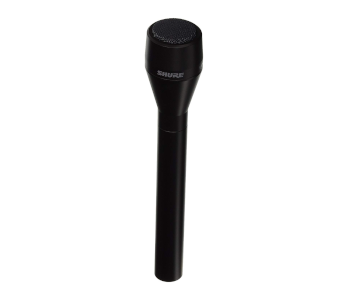 View on Amazon
Editor's Rating: 4.5/5
Meet the Shure VP64A, a sleek-looking and capable handheld interview mic for reporters. It's an affordable dynamic mic with an omnidirectional pickup pattern. Let's check it out.
Best feature 1: Comfortable ergonomic long-handle design
Best feature 2: Water-resistant metal mesh grill
Plus points: Rugged build, skinny, comfortable handle, built-in isolation mount, windscreen
Minus points: Some handling noise
Shure VP64A Handheld Mic Highlights
The Shure VP64A is a good-looking mic, and that helps when doing on-camera interviews. It's a superb outdoor tool thanks to its mesh grille that offers some water-resistance. The long, skinny handle is comfortable to clasp and makes it easy to pass the mic between others. Being a Shure product, it's quite rugged too and can take some abuse. That's a crucial selling point for any reporter mic.
This microphone has an omnidirectional pickup. That means there's no need for precise positioning during interviews. It's tailored frequency response results in crisp audio and speech clarity. There's also a windscreen included to reduce wind noise outdoors and speaker plosives. However, I'd suggest spending a few dollars on a furry dead cat for outside reporting.
The Not So Good
The biggest issue with the Shure VP64A is its handling noise. That came as quite a surprise for a Shure mic explicitly designed as a handheld interview tool. It also has a built-in isolation mount that's supposed to reduce handling noise. It's not a major concern if you have a firm, steady grip. But avoid this mic if you tend to fidget and roll the mic with your fingers.
Tech Specs
Brand: Shure
Mic Type: Dynamic interview mic
Connection: XLR
Polar Pattern: Omnidirectional
Power Supply: Plug-in device
Frequency Response: 50Hz–12kHz
Dimensions: 11.2 x 4.9 x 2.7"
Mic Weight: 5.6 oz.
Warranty: 2years limited
The Pros
Ergonomic long-handle
Rugged, lightweight construction
Water-resistant mesh grill
Crisp, clean audio
Tailored frequency response
Built-in isolation mount
Included windscreen
The Cons
Some handling noise
5. Rode Reporter Omni Dynamic Interview Mic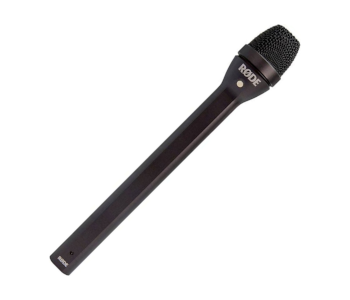 View on Amazon
Editor's Rating: 4.4/5
The Rode Reporter is a well-known omnidirectional dynamic XLR microphone. It has an attractive price yet doesn't skimp on build or sound quality.
Best feature 1: Durable, die-cast aluminum alloy construction
Best feature 2: Designed for outdoor broadcasts
Plus points: Ultra-long handle, superb audio, built-in wind protection, tough multi-layer grill
Minus points: Some handling noise, gimmicky mic flag
Rode Reporter Microphone Highlights
Rode's Reporter microphone has an all-metal construction but maintains a comfortable handling weight. It has a sleek yet rugged build made for outside broadcasts. The ultra-long handle has ergonomic grips for tight, comfortable, and precise handling. That makes it a perfect tool for reaching inside those often-hectic media scrums. Rode tailored this mic for speech, and that's significant.
The sound quality is among the best in its price category for reporting and video interviews. It rolls off beautifully at the bottom end. The multi-layer mesh does an excellent job of protecting the microphone from wind noise. And the omni pickup lets reporters use the mic with confidence without fear of going off-axis. A cardioid pickup would need much more direct placement.
The Not So Good
There's a little handling noise as with most reporter mics. It's not as apparent as the Shure VP64A above, though. I'm not sure why Rode included a gimmicky mic flag with this one. It looks cheap and ugly, and it doesn't fit too well. I think it's more of a stocking filler than something anyone would want to use. It's not a deal-breaker, but it is a waste. Invest in a 3 or 4-sided flag if you need one.
Tech Specs
Brand: Rode
Mic Type: Dynamic Reporter
Connection: 3-pin XLR
Polar Pattern: Omnidirectional
Power Supply: Plug-in device
Frequency Response: 70Hz–15kHz
Output Impedance: 150 Ohms
Sensitivity: 1.6 mV/Pa
Mic Dimension: 11.0 x 2.0"
Mic Weight: 9 oz.
Warranty: 1 year
The Pros
Durable, die-cast aluminum build
Designed for outdoor broadcasts
Useful ultra-long handle
Superb audio quality for speech
Built-in wind protection
Tough, multi-layer grill
The Cons
A little handling noise
Gimmicky flag
6. Shure MV88 Condenser Microphone for iOS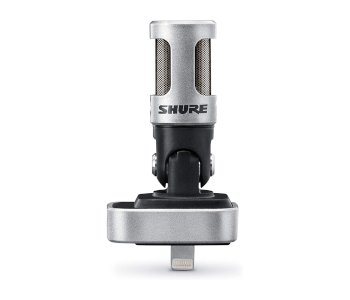 View on Amazon
Editor's Rating: 4.4/5
Shure's MV88 is a versatile microphone designed for users with iOS devices only. It's a superb choice for amateur reporters who want a portable interview mic with a multifunctional appeal.
Best feature 1: Small, light, and highly portable
Best feature 2: High-quality sound with crisp highs and rich-sounding lows
Plus points: Versatile use, ShurePlus app, multiple polar patterns, windscreen, storage case
Minus points: Restricted movement, can't charge while recording
Shure MV88 iOS Condenser Mic Highlights
Shure designed its MOTIV MV88 to work with all iOS devices via a Lightning connector. It's a small, digital condenser mic packed with potential. As a reporter's tool, it offers portability, fast set up, and high-quality sound. You can expect crisp highs and rich-sounding lows. It's perfect for those intimate two-person indoor interviews. The mic is versatile and serves many other uses outside of reporting.
Free ShurePlus MOTIV mobile App
All free audio apps have their pros and cons, including this one. However, the updated ShurePlus MOTIV app gives users plenty of control over their recording. Some of the highlights include a gain control, a mute function, and 5 Digital Signal Processors or DSP modes. There's also EQ control, and an option to adjust the stereo width. The ShurePlus MOTIV app gets better with each new update.
A final plus point goes to the MV88's multi pickup patterns. It's something that can prove invaluable for changing situations. They include stereo, mono cardioid, mid-side, and mono bidirectional.
The Not So Good
You can adjust this mic but only by 90°. That means you must unplug and then reattach it if you need to flip around the other way. It's a minor inconvenience, but a hassle nonetheless. A more justified complaint is that you can't use the mic while the battery is charging. Being able to record when charging would have been a major benefit and moved the MV88 closer to 5 stars.
Tech Specs
Brand: Shure
Mic Type: Stereo Condenser
Connection: Apple Lightning
Polar Pattern: Multi
Power Supply: Plug-in Device
Recording Quality: 24-bit
Dimensions: 1.4 x 1 x 2.6"
Weight: 1.44 oz.
Warranty: 2 years
The Pros
Plug-and-Play simplicity
Small, light, and highly portable
Wide iOS compatibility
High-quality sound
Versatile use
Rotating mic element
ShurePlus free app
Multiple polar patterns
Headphone adapter cable
Windscreen
Smart storage/carry case
The Cons
Restricted swivel movement
Can't charge while in use
7. Audio-Technica AT8004L Mic Interview Kit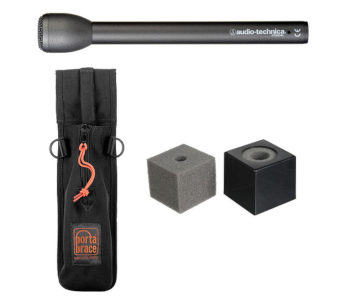 View on BH
Editor's Rating: 4.7/5
The penultimate news reporter mic goes to Audio-Technica's dynamic omnidirectional AT8004L. It's another long-handled tool designed for reporters on location.
Best feature 1: Internal shock mount to minimize handling noise
Best feature 2: Natural sound reproduction
Plus points: Long handle, rugged build, lightweight, forgiving pickup
Minus points: Background noise
Audio-Technica AT8004L Mic Highlights
You can't mistake the AT8004L for anything but a purpose interview microphone with its 9.3" handle. It's a worthy choice for ENG (Electronic News Gathering) style reporting. The mic boasts a rugged housing and all-metal grill, which makes it ideal for field applications. And the built-in shock mount minimizes interference typically caused by a moving cable and handling noise.
Reporter mics typically come with a cardioid or omnidirectional polar pattern. Both types have pros and cons, and the one you choose is down to reporting style. The AT8004L has an omni pattern that captures a little surrounding ambiance. It's also more forgiving than a cardioid pickup. Thus, the omni pattern benefits fast-paced interviewers who switch between subjects.
The Not So Good
The omnidirectional pickup does bring a fair amount of background noise into normal recording. It's not always a disadvantage if you need ambiance, as many reporters do. But background noise can be a distraction if you don't, and therefore a cardioid pickup would fare better.
Tech Specs
Brand: Audio-Technica
Mic Type: Long handle dynamic
Connection: 3-pin XLR
Polar Pattern: Omnidirectional
Power Supply: Plug-in device
Frequency Response: 80Hz–16kHz
Output Impedance: 300 Ohms
Dimensions: 9.4 x 1.4"
Mic Weight: 7.6 oz.
Warranty: 1 year
The Pros
Rugged, metal build
Lightweight and comfortable
Internal shock mount
Clear, natural sound
Long handle
Forgiving omni pickup
The Cons
Hears background noise
XLR cable not included
8. Audio-Technica AT8035 Condenser Microphone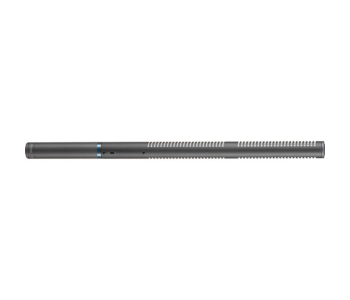 View on BH
Editor's Rating: 4.6/5
The last of these current reviews goes to another microphone by Audio-Technica. This is the company's AT8035. It's a long handle line + gradient (shotgun) condenser type mic.
Best feature 1: All metal construction
Best feature 2: Incredibly long
Plus points: Battery or phantom power, high-pass filter switch, windscreen, mic mount, case
Minus points: Unforgiving tight polar pattern, long, awkward size
Audio-Technica AT8035 Mic Highlights
Audio-Technica's AT8035 is for specialized use more so than general reporting. It's incredibly long at 14.53" without the included foam windscreen. This mic is primarily for outdoor use, and you can hold it or mount it onto a boom arm. It comes with a mic mount and a 5/8" to 3/8" stand adapter.
Consider the AT8035 if you need a long reach and a tight directional shotgun polar pattern. The sound rejection from the sides and back is impressive. So, the main benefit of this audio tool is if you need to record and isolate a distant sound source. It has a remarkable reach both physically and electronically, and that's the point. The sound is natural, albeit a tad bright, but still perfectly okay for reporting.
The built-in high-pass filter is another welcome feature of this microphone. Finally, the AT8035 can function using either a single AA battery or by phantom power, which adds further to its versatility.
The Not So Good
This microphone is not much use for indoor work like voiceovers or podcasts. Its pickup is so tight and unforgiving that you'd have to clamp your head when speaking into it for long periods. It's also a big mic to carry around. That's something to think about if you're a reporter who needs a more lightweight and portable solution. So, Audio-Technica's AT8035 has a place only if you need what it offers.
Tech Specs
Brand: Audio-Technica
Mic Type: Long shotgun condenser
Connection: 3-pin XLR
Polar Pattern: Lobar, supercardioid
Power Supply: Battery or Phantom
Battery: 1 x AA
Circuitry: Solid-state
Low-Cut Filter: 18 dB
Dimensions: 14.53 x 0.83"
Product Weight: 6. oz.
Warranty: 5 years limited
The Pros
All metal construction
Incredibly long reach
Battery or phantom power
High-pass filter switch
Windscreen
Microphone mount
5/8" to 3/8" stand adapter
Carrying case
The Cons
Tight, directional pickup
Long, awkward size