Nikon DSLR Black Friday 2019 Deals
3D Insider is ad supported and earns money from clicks and other ways.
Black Friday is one of the best times to bag excellent deals on cameras and photography products. Nikon is one of the leading camera brands in the world and they are known for their world-class cameras. Nikon is offering some pretty attractive deals on its full-frame and crop-frame DSLR cameras. Some of the deals are available as a camera body plus lens combo as well.
If you plan your camera purchase in advance, then you can take advantage of these Black Friday deals and get excellent value for money. These deals will be live starting on November 27th.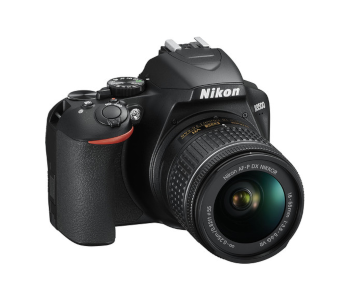 Nikon D3500 with 2 lenses
Original Price: $499
Black Friday Price: $399
The Nikon D3500 is a great entry-level DSLR camera. It has an APS-C crop sensor that produces 24.2-megapixel images. The great thing about the D3500 is that it uses the relatively newer EXPEED 4 image processor. The camera also has a stellar ISO range of 100 to 25600. The D3500 is capable of shooting 5 frames per second. So, fast-moving subjects are beautifully captured with this DSLR.
On the video recording front, the D3500 can shoot full HD 1080p at 60 frames per second. For an entry-level camera, the D3500 has 11 autofocus points. For a low price, you get plenty of solid features in this deal.
The 2 lenses that are part of the deal are the 18-55mm f3.5 to 5.6G and the 70-300mm f4.5 to 6.3G. Both lenses are Dx. The two lenses together cover a wide range from a low of 18mm for indoor and street photography to a high of 300mm for those zoom shots. The only shortcoming is the aperture. The maximum you can get is f3.5 which won't to very well in low-light conditions.
However, for $399, you get a pretty decent deal that will get any beginner started in his/her photography journey. This bundle will be available at Best Buy.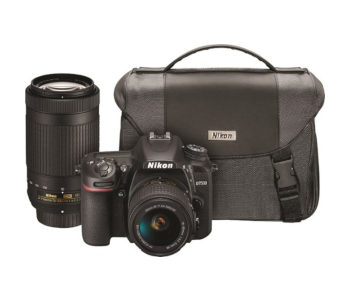 Nikon D7500 with 2 lenses
Original Price: $1699
Black Friday Price: $999
If you are somewhat experienced with DSLR photography and are looking for a more advanced option, then the Nikon D7500 lens combo deal will interest you. For $999, you get the D7500 camera body along with the 18-55mm f3.5 to 5.6G VR and the 70-300mm f4.5 to 6.3G VR. The VR denotes vibration reduction, a feature that ensures that you can take low-light images without a tripod. Special sensors stabilize the lens and cancel out your micro hand movements.
The D7500 uses the latest EXPEED 5 image processor. It can take 20.9-megapixel images and has an amazing 100 to 51200 ISO range. The autofocus system is also quite powerful with 51 autofocus points. Even though the D7500 is a crop sensor camera, it is one of the highest-end cameras within that category.
Whether it is home photography, event photography, or a wildlife safari that you want to shoot, this combo deal will get you ready for the job. The only downside is the selection of lenses that come with the camera. None of them have a very wide aperture and hence low-light photography will not be the best. For such situations, you might need to purchase a better lens.
An added bonus of a camera bag is also included in this deal. You can't go wrong with a D7500 is you are looking for crop-frame cameras. This offer will be available at Best Buy.
Nikon D750 Camera Body
Original Price: $1499
Black Friday Price: $999
If you are ready to take your photography to the next level and graduate to a full-frame DSLR, then Best Buy's Black Friday lineup has good news for you. You can purchase the Nikon D750 for a sub $1000 price.
The D750 has a full-frame Sony sensor that delivers 24.3-megapixel images. The D750 is a slightly older model and hence it uses the previous generation EXPEED 4 image processor. However, the build quality is simply excellent. Wet weather is no problem with the D750.
The ISO range is 100 to 12800, but it can be expanded to 51200. Whether it is bright light photography or low-light photography, the D750 handles all of it quite well.
You also get Wi-Fi capability with this full-frame camera. Sharing images or uploading them onto other devices becomes easy with such connectivity. The camera also has a 3.2-inch tilting LCD screen.
51 autofocus points are sufficient for shooting in a wide range of environments. It can record full HD video at 60 frames per second. The burst mode can do 6.5 frames per second.
One downside is the bulkiness of the camera body. The D750 is not a light camera. It weighs about 1.62 kgs.
Overall, this camera pretty much has everything you need to take professional-grade photographs. What will matter most is the lens that you pair this body with. Choose correctly and your photographs will impress you (and your family/friends/clients).
This camera deal will be available at Best Buy.
As you can see, there are numerous Nikon camera discounts that you can get this Black Friday. DSLRs are getting cheaper and high-quality photos are now in reach for everyone.