Oculus VR Headset Cyber Monday 2018 Deals (Rift and Go)
3D Insider is ad supported and earns money from clicks and other ways.
Cyber Monday is your last chance to buy excellent Oculus products at a discount. The Oculus Go Standalone 32 GB VR Headset is available for $179.00, down from its regular $199.00 retail price. You also have the option of getting the 64 GB version for $229.00, also a $20 discount from the original retail price of $249.00.
You can get the Ocular Rift + Touch Virtual Reality System for a more interactive VR experience. It has been discounted from its retail price of $399 to $349 during the sale. Oculus was one of the pioneers of VR technology. They have maintained their steady presence as one of the leaders when it comes to innovation and creativity.
Oculus Go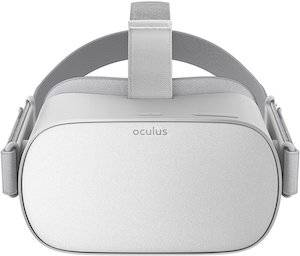 When Oculus Go was released, it was the only standalone VR headset product from Oculus. Being a standalone product, it does not need to be tethered to a PC or have a smartphone slotted into it for it to be used. It is also one of the most affordable high-quality VR headsets available. With its friendly price and the little setup involved, the Oculus Go can be considered on the most accessible and beginner-friendly VR headsets in the market.
Being cheap has not made the Oculus Go an inferior VR headset. It is equipped with a Qualcomm Snapdragon 81 Processor, integrated speakers and microphones, and a high-resolution screen that an improved color detail and reduced motion blur. The headset also comes with simple handheld controller.
The Oculus Go also lets you take advantage of the huge library of content that Oculus has amassed over the years. Buying apps and setting up your Oculus Go is better done with a smartphone, but that's about all the help the Oculus Go will need from an external device. All in all, the Oculus Go is one of the most affordable, stand-alone VR devices you can get.
Oculus Rift + Touch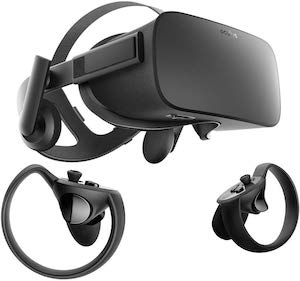 The Oculus Rift is the flagship VR headset of Oculus. This VR headset is jam-packed with features, from its 2160×1200 OLED displays, to its integrated headphones, and sensors that provide rotational and positional tracking. A 90 Hz refresh rate and a 110-degree field of view further enhances the VR experience. This bundle comes with a pair of Oculus Touch handheld motion controllers. Each controller comes with analog stick, three buttons, and two triggers, and can be fully tracked in the physical 3D space. This combination creates one of the immersive and smoothest VR gaming experiences you can get today.
Final thoughts
With their excellently designed but affordable VR devices, it's no wonder that Oculus has maintained their position as one of the leaders of VR technology. This Cyber Monday is your chance to get one of these Oculus VR devices at an even lower price than usual.