Oral-B Black Friday 2019 Electric Toothbrush Deals
3D Insider is ad supported and earns money from clicks and other ways.
Proper oral hygiene now can save you from excruciating pain and hefty medical bills later in life. It's never too early to start taking better care of your teeth, and Oral-B offers a broad selection of toothbrushes to help you stick with it. Check out Oral-B's Black Friday deals and start working on your new smile.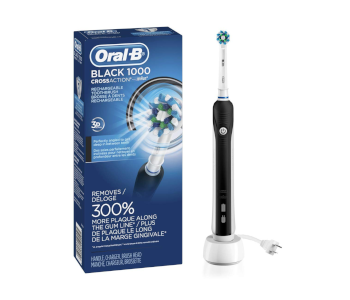 Oral-B Pro 1000 Electric Toothbrush
Original Price: $49.99
Black Friday Price: $29.99
The Pro 1000 is one of Oral-B's most affordable and successful electric toothbrush models. Its features are basic but so well implemented that switching to a more expensive option isn't necessary. The Toothbrush is as easy to use as a regular one, has a handy charging base, and benefits from Oral-B's broad-brush head selection.
The best thing about the Pro 1000 is its handle. There are thick strips of rubberized material covering its front and back. This makes the brush very sticky and helps keep it firmly in place even when your hands are wet. The handle is also home to an on/off button and two LEDs. The upper one is battery-shaped and lights up when you start charging. The lower one is red and indicates the battery is low.
You get a tiny induction charger that takes up little space on the bathroom counter. It has a nib the toothbrush attaches to and begins charging right away. Oral-B says that a full charge lasts for seven days of brushing, but you can expect to get more done out of one while the battery is fresh.
The Pro 1000 is compatible with seven brush heads. CrossAction is the most popular since its angled brushes do an excellent job getting rid of stubborn food rests and plaque. You can also get harder or softer heads as well as ones for sensitive gums or people with braces. All the heads pulsate as well as oscillate, meaning they move forward and back. The two motions combined guarantee more thorough cleaning.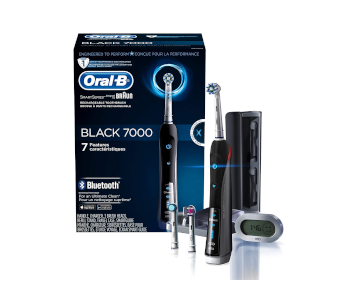 Oral-B 7000 SmartSeries
Original Price: $129.94
Black Friday Price: $119.69
Do you easily lose motivation to brush your teeth correctly and regularly? In that case, Oral-B's premium toothbrushes are the answer. The 7000 SmartSeries comes with a wireless timer that tracks your progress and also has a companion app that keeps you motivated. It's an investment even with Black Friday discounts, but your teeth will thank you for it.
The 7000 SmartSeries is a stylish black toothbrush that arrives with lots of accessories. There's a small base for induction charging, a well-made travel pouch, and three different brush head replacements. These are great for determining what kind of brush you prefer or if multiple people use the same brush. Some have crossing bristles for a thorough cleaning, while others focus more on whitening or delicate gums.
Once you start brushing, the wireless timer activates and shows which quadrant of your mouth is active along with how long you need to brush still. It changes every 30 seconds and vibrates once two minutes are up. You may then continue to brush or turn the 7000 SmartSeries off. That extra time is best spent cleaning your tongue as the toothbrush has a unique tongue mode that slows the brush head down, massaging the tongue and getting rid of bad breath.
The companion app isn't necessary but helps keep you motivated. It tracks how long your brushing sessions last, if you've been applying too much pressure, etc. The data is stored indefinitely, so you get a good indication of how your habits improve.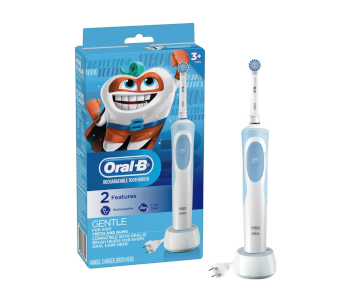 Oral-B Kids Electric Toothbrush
Original Price: $29.99
Black Friday Price: $19.99
Your kids should learn how to properly brush their teeth while they're still little. If you have toddlers, Oral-B's Kids Electric Toothbrush is the one to get. It's designed for children age three and up, gentle on their gums, and it's the ideal first toothbrush for forming healthy habits.
The toothbrush is light and easy for kids with small hands to grasp. There's only an on/off button, so operating it isn't complicated. There are multiple themes to choose from featuring characters from favorite Disney shows.
Like other Oral-B toothbrushes, this one has a wireless charger. It takes a day to top it off, but a full battery lasts for eight days of brushing.
A soft circular brush is included, designed specifically for young children's sensitive mouths. It's as effective as other Oral-B brushes at removing plaque and cleaning teeth. The handle is compatible with seven different brush head types, so your tyke doesn't need to get a new one once he or she is older.
The brush has only one essential feature – a two-minute timer. Brushing until the timer stops teaches kids how long to brush and ingrains a positive habit they'll stick to long after they've outgrown the brush that started it all.