Ring vs. Ring Pro & Ring 2 – Which Video Doorbell Is the Best?
3D Insider is ad supported and earns money from clicks and other ways.
Ring is the company responsible for making the video doorbell a reality. Its first model was released to critical acclaim and demonstrated the potential installing a connected, smart doorbell camera has for home security. This single innovation has since sparked an entire line of high-quality smart security devices with healthy competition and an ever-growing presence.
In this in-depth comparison article, we're taking a look at Ring's lineup of doorbell cameras. Which one is the best? Do they have any unique features? How does the original doorbell camera stack up to its successors? Read on to find out, or take a look at the spec sheet & comparison table for a quick rundown of each doorbell's strong suits.
| | Ring | Ring Pro | Ring 2 |
| --- | --- | --- | --- |
| Resolution | 720p | 1080p | 1080p |
| Field of view | 180° | 160° | 160° |
| Custom motion detection zones | No | Yes | No |
| Battery power | Yes | No | Yes |
| Needs wired power | Optional | Yes | Optional |
| Supports Amazon Alexa | Yes | Yes | Yes |
| Supports IFTTT | Yes | Yes | Yes |
| 5GHz Wi-Fi | No | No | Yes |
| On-demand live view | If wired | Yes | If wired |
| Dimensions | 5 x 2.4 x 0.9 in. | 4.5 x 1.9 x 0.8 in. | 5 x 2.5 x 1 in. |
| Price | $100 | $250 | $200 |
Design
All three devices are considerably larger than your regular doorbell. However, the Ring Video Doorbell Pro takes the lead as it is the smallest and most elegant. It is slimmer and has a more aesthetically pleasing faceplate which is a cinch to remove.
You get interchangeable faceplates with the Ring Pro and the Ring 2. Original Ring owners need to buy alternative faceplates separately. The Pro comes with a Venetian and black finish while you also get satin nickel and pearl if you purchase Ring 2.
Ring and Ring 2 look identical. The second version is slightly larger since there needed to be space for the removable battery. Otherwise, they have the same brick-like appearance with room for the camera & motion sensor on top and a prominent button in the middle.
+1 for Ring Video Doorbell Pro
Installation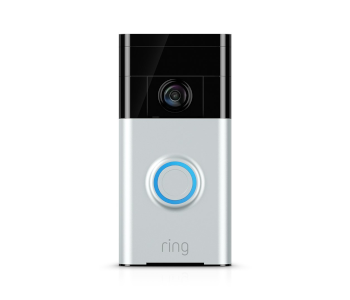 The main draw of the Ring and Ring 2 is their simple installation. The packaging contains a mounting plate, screws, a drill bit, and the screwdriver you need to mount the doorbells. There's also an instruction booklet with step-by-step instructions you can consult if you get stuck.
Installing the two doorbells involves mounting the baseplate to the wall and attaching the devices using hooks. You need to tighten two screws with the included screwdriver. After that, and you're done. The installation process for the Ring Pro is more complicated since it needs to be wired. Still, the extra steps amount to turning the power off, removing the old doorbell, and connecting the new one's wires. You can do this on your own if you have basic electrical knowledge or call a professional for peace of mind.
Installing either the original doorbell or Ring 2 takes less than 10 minutes. Like the Ring Pro, they can be wired instead of your old doorbell. Installation for all three models takes less than 30 minutes in that case. All doorbells are also easy to pair with the Ring app. You install it like any other smartphone app, create a new Ring account, and then follow the in-depth setup instructions.
+1 for Ring Video Doorbell
+1 for Ring Video Doorbell 2
Power usage
The Ring doorbell Pro requires a wired connection. On the one hand, this gives it a constant power source and allows for a sleeker design. On the other, you have to hook it up to your home's doorbell wiring and are limited to a single location when placing it.
The first and second Ring are both battery-powered. However, Ring 2 is the winner because of longer battery life and easier charging. You can't remove the original's battery and have to charge it through a two-foot USB cable you get in the box. One charge lasts from two to three months, depending on usage. Ring 2's battery is detachable and needs up to ten hours to recharge. However, it lasts from six to twelve months, so recharging it isn't a hassle.
+1 for Ring Video Doorbell 2
Video quality
The first Ring Video Doorbell is getting on in years, which primarily shows in video quality. Its camera captures footage in 720p and has a viewing angle of 180 degrees. The wide angle simulates a traditional peephole and covers a large area so you can see what's going on below the doorbell and to its sides. Unfortunately, the angle also causes significant barrel distortion that warps the picture near its edges, making it hard to see details. Even though 720p isn't the standard anymore, it is enough to capture visitors' faces clearly.
The Ring 2 and Pro have an upgraded camera that records in 1080p at an angle of 160 degrees. The improvements are significant – both cameras capture people clearly and uncover more subtle details than their predecessor. Twenty degrees less makes for a smaller coverage, but the image you see is less distorted. The switch to 1080p is excellent for zooming as well as you can zoom in more while losing less detail. Overall, Ring Pro is the better of the two, but by a small margin.
+1 for Ring Video Doorbell 2
+1 for Ring Video Doorbell Pro
Night vision
All Ring cameras come with quality night vision. Updates to the Ring app even allow you to toggle between monochrome and color night vision for increased detail! As you'd expect, the original Ring lags behind its successors due to a lower resolution. This translates into fewer details and blurrier night footage. The other two cameras have identical night vision performance. Their bump up in resolution lets you make out more details in the dark.
+1 for Ring Video Doorbell 2
+1 for Ring Video Doorbell Pro
HDR
HDR or high dynamic range is a new feature added to select Ring cameras through one of the app's software updates. The Ring Video Doorbell 2 is currently the only doorbell camera which supports HDR, so it is automatically the winner.
You can turn HDR on in the app. Doing so improves the Ring 2's performance in high-contrast situations. The feature is especially useful if you have a dark porch as it lessens the sky's glare and makes shadows softer. Guests who would appear as dull and undefinable silhouettes become recognizable with HDR on.
+1 for Ring Video Doorbell 2
Live view
Your Ring doorbell's live view kicks in once someone presses it. The Ring Pro also lets you access the live view at any other time. You can get live view whenever you want with the other two doorbells as well, but only if they're wired. You'll have to decide whether fixing the doorbells in place is worth sacrificing convenience and quick relocation.
+1 for Ring Video Doorbell Pro
Motion detection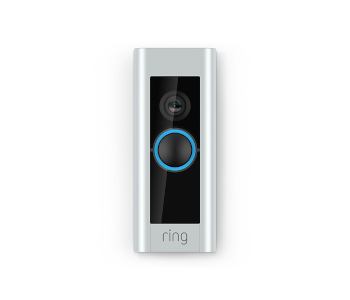 Ring doorbells have powerful motion sensors which go off even if someone doesn't press them. All three models come with sensitive motion detection that's able to pick up movement from far away and at any angle. The original's motion sensor is so sensitive that you shouldn't use its high setting to avoid false positives.
While sensor accuracy was improved in the Ring 2, it's the Ring Video Doorbell Pro that brings motion detection to the next level. The Motion Zones feature lets you customize the sensor's coverage. It is particularly useful if you're living in an area with high traffic and lots of pedestrians.
You activate Motion Zones from the app's motion settings. Turning them on brings you to the live view with a rectangular overlay. You customize the zone's shape by dragging the rectangle's points. The Pro supports three zones at the same time, each with its own sensitivity setting! As this is a fantastic security feature, we're giving the Pro two points for it.
+2 for Ring Video Doorbell Pro
Two-way audio
While Ring doorbells have one-way video for privacy reasons, all three support two-way audio communication. Audio from outside is always active, but you decide if and when to speak by tapping a button.
The newer Ring cameras have the upper hand when it comes to sound quality. Their speakers and microphones are much improved, so both you and your guests have an easier time understanding what's being said. The Ring Doorbell Camera's audio hardware is less advanced. Sounds aren't as bright, and you'll have a tougher time understanding the person on the other end, especially if it's windy.
+1 for Ring Video Doorbell 2
+1 for Ring Video Doorbell Pro
Silent mode
Wiring the Ring and Ring 2 causes your home's chime to sound every time they're pressed. Only the Ring Video Doorbell Pro allows you to turn the chime off. The feature is called Silent mode, and you can find it in the app's settings section.
+1 for Ring Video Doorbell Pro
Wi-Fi connection
The best thing about Ring doorbells is that they connect through Wi-Fi, so you can check on your front door even if you aren't home. Ring Pro and the original Video Doorbell only support 2.4GHz Wi-Fi while Ring 2 connects through 5GHz Wi-Fi as well. That leads to fewer connection issues and ensures a smooth live view experience.
You get a notification on your smartphone each time the doorbells detect motion or someone rings them. It will take several seconds or more to receive the notifications if you have the Ring or Ring Pro. Ring 2 users get them immediately.
+1 for Ring Video Doorbell 2
Smart features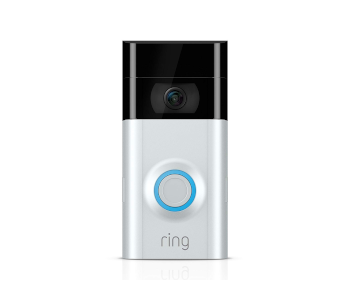 You won't discover your doorbell's true potential until you integrate it into your smart home. Luckily, all Ring doorbells support IFTTT along with Amazon Alexa. IFTTT is a simple yet powerful tool that uses doorbell activation as a cue to control other smart gadgets. For example, pressing the doorbell can cause your lights to blink, turn your smart speaker's volume down, or pause your TiVo.
Alexa is Amazon's AI assistant. She makes controlling your bell more intuitive as she accepts pre-programmed voice commands. You can tell Alexa to display the doorbell's feed on a smart TV, start a two-way conversation through an Echo speaker, or set a smart routine in motion.
Draw
App & subscription options
All Ring products use the same app and are subject to the same subscription models. The app manages your Ring devices and gives you access to the live view. A History tab keeps track of motion alerts and doorbell triggers. The Neighbors program is unique to Ring. It allows people with Ring cameras living in the same community to share their cameras' footage and comment on it.
While you can use Ring free of charge, opting for a monthly subscription has substantial benefits. The main reason you'll want to go for at least the basic subscription plan is a 30-day video history. Paying also allows you to save and share videos. $3/month covers one camera while $10/month gets you unlimited device support along with an extended warranty and discounts on future products.
Draw
Price
Finally, a category in which the original Ring outclasses the others. It has received a substantial price cut, and you can now get it for $100. Its second iteration is twice as expensive while the Pro will cost you $250. Even though it is less advanced, a reasonable price makes the original Ring worth a buy.
+1 for Ring Video Doorbell
Conclusion
Make and Model
Ring (2 points)
Ring Pro (8 points)
Ring 2 (7 points)
• Easy installation
• Less expensive than more recent models
• Elegant design
• On-demand access to live view
• Superior motion detection configuration
• Silent mode
• High-capacity removable battery
• HDR
• Supports 5GHz Wi-Fi
• Similar performance as the Pro at a better price
The Ring Video Doorbell's age is showing as the company's newer models surpass it in almost every way. Still, it should be your go-to option if you're looking for a capable doorbell camera at an excellent price.
The situation isn't as clear-cut when looking at the Ring Pro vs. Ring 2 because both cameras have excellent audio & video quality. Even though the Pro is our overall winner, the point difference is so small that it's easy to recommend the Ring 2 too without hesitation.
Which doorbell to choose depends on your needs. Do you want to be able to move the camera without hassle? Is your router far from your front door? Are you a renter? In that case, Ring 2 is clearly superior. On the other hand, Ring Pro offers more customization and monitoring options. Plus, tweaking its motion detection zones helps you eliminate false alarms.