Ring vs Simplisafe: Best DIY Security for Your Home
3D Insider is ad supported and earns money from clicks, commissions from sales, and other ways.
Home security systems are not just for those who can afford it anymore. Now, with the rise of smart devices, there are a lot of do-it-yourself kits available for just about anyone to get and set up in their homes.
As far as DIY home security devices go, two brands are known for their quality, reliability, and ease of use. Let's take a look at the Ring Alarm and SimpliSafe as these are the closest to each other in terms of features and capabilities.
If you are interested in making sure that your home is protected and secure at all times, these two options are your best bet. Both are easy systems to set up and make great DIY projects since you will be able to install them without hiring a professional.
Ring vs. Simplisafe Comparison
Both the Ring and SimpliSafe systems are incredibly alike, but there are also some differences between these two. The most notable feature of these two is that they are extremely easy to set up and install. You do not need any type of tool to put the various gadgets in their place since they can quickly be attached using double-sided tape.
These kits also come with various sensors like those that detect motion, so it sends alerts and notifications whenever it detects movement whenever the system is armed. There are also door and window sensors that will know if intruders are trying to enter your home.
Let's take a look at these two kits side by side so you will know the exact similarities and differences between these two systems.
Ring Alarm Security Kit
SimpliSafe Security System
Installation
Do it Yourself
Do it Yourself
Wireless
YES
YES
Base Station
YES
YES
Keypad
YES
YES
Entry Sensor
YES
YES
Motion Detector
YES
YES
Glass Break Sensor
YES (with Alexa Guard)
YES
Range Extender
YES
NO
Panic Button
NO
YES
Key Fobs
NO
YES
Siren
NO
YES
Security Camera
YES
YES
Video Doorbell
YES
NO
Mobile App
YES
YES (with a Plan)
Push Alerts
YES
YES
Email Alerts
YES
YES
Voice Commands
NO
YES
Remote Control
NO
YES
Cameras
NO
NO
Add-on Devices
Up to 100+
Up to 20+
Battery Backup
YES
YES
Professional
Monitoring
YES (with Protection Plan)
YES (with Security Plan)
Setup and Installation
An essential characteristic of a home security system that you can buy off the shelf is its entire setup and installation process. If you can get it online, it has to be pretty user friendly so you can get it up and running without wasting hours of your time. The excellent news for those following Ring and SimpliSafe security products is that they offer DIY setups.
Upon opening the kit, you will have everything you need to install all the components by yourself. Both these systems also provide you with complete instructions that will guide you through the entire process. Getting them up and running should not be much of a problem.
Ring Alarm Kit Installation
Installing the ring alarm boasts a 15-minute setup time, which is promising, and absolutely achievable. There are also video tutorials that you can follow, so you will know precisely how to position sensors and components the right way.
In setting up the Ring Alarm system, the first thing that you need to do is plug in the base station. It does give you a couple of options on how to use it, Ethernet, or Wi-Fi. Still, since you can position this virtually anywhere, it's highly recommended that you go for a wired Ethernet connection for a more reliable link.
Now it's time to pair up the many devices that make up your home security system. The whole kit has a companion app that will help you control and monitor everything. On the app, you can now sync the base station, and this should make the rest of the process a lot easier.
The first component that you will need to pair up is the keypad, plug it in, and the app will automatically detect it. You do not need to mount the keypad to a wall, but you could quickly do it with double-sided tape or the mounting plate it comes with.
If you have a large enough home, you will undoubtedly need to set up your range extender. After plugging it in, the system will automatically detect it, and all you need to do is select it on the app to get it to sync with all the other components.
Now that you have the critical devices up and running, it's time to get the rest of the system, like the sensors setup. They're actually pretty quick to get going, all you need to do is activate them, and they will automatically sync with the system. Simply mount them, and they should be ready to go.
Finally, after you got everything to sync up, you can now use the Ring Alarm security system. You can activate it by using the mobile app or the keypad, getting it up and running is quick and straightforward.
SimpliSafe Security System Installation
If the Ring Alarm boasts a 15-minute installation process, SimpliSafe claims that you can set up their system a lot quicker, in fact, only 5 minutes. It's not really a race, but the entire process is much more straightforward on the SimpliSafe side compared to that of Ring's.
To start the process, the first thing you need to do is get the base station prepared. Plug it into the outlet, and it will instantly go into test mode. This is helpful since it's going to install all of the sensors that it detects automatically without you having to do it for each device.
Now, it's time to get the keypad mounted to the wall. It comes with double-sided tape, so you simply peel off the cover and stick it on. Once you have activated it, it's going to sync automatically to the base station, so you do not really have to do anything.
In the case of the SimpliSafe system, all the sensors are the same, which makes the entire setup process simple. There are no separate door or window sensors since they are all the same type. This means that you can mount the sensor just about anywhere, whether it's on doors or windows, and they are going to work.
The system also comes with a motion sensor, and you can mount it by using the double-sided tape that it comes with. Activate it, and press it into a surface you want to stick it to, and you are good to go.
After you get all the devices mounted and activated, all you need to do is go back to the base station and turn it off. This is going to take it out of test mode, so the next time you turn it on, the entire system is all set up and ready to use.
Which One is Better
Overall, both the Ring and SimpliSafe systems are quick and straightforward to install. Although, the SimpliSafe system is a lot easier to put together since it automatically syncs up devices to the base station when it's in test mode. All the components are also quick to attach to walls since they all come with double-sided tape.
Our Pick: SimpliSafe for a much quicker installation process
Extensibility Features
These are both kits and comes with the necessary components to get everything up and running. This way, you do not have to buy each one making it convenient for you to set them up. The system also allows some versatility since you are also able to add other devices that are compatible with your setup.
Both the Ring and SimpliSafe come with all the basics that you expect from DIY home security kits. First, you have the base station, which acts as the central hub of the entire system. This is where all the other devices are synced up to, including the mobile app allowing you to monitor, evaluate, and alert you if ever one of the sensors detects something.
An essential part of most home security systems is the keypad, and both the Ring and SimpliSafe systems have their own. It is mainly used to arm or disarm the system, but you can also use your smartphone to do that. However, having one does give you a physical way to control your security components.
The next component that both these systems have are the motion sensors. These detect movements, especially that of humans. They do come with unique algorithms to make sure that smaller subjects like pets will not set these sensors off, so you do not get false alerts.
A difference of included components between these two kits is the range extender. The Ring has this and ensures that devices that are not located near the base station get consistently stable connectivity. This is to guarantee that your security system is optimal every second, so when a situation develops, you will be alerted.
There is also another type of sensor that these kits come with. Contact or intrusion sensors are for your doors and windows detecting if they open when the system is armed. Their mechanism usually involves a magnet that activates the sensors whenever it detects the two portions are separated.
Another difference between these two kits is that the SimpliSafe comes with a key fob, and the Ring does not. It acts like a handy remote control that will fit in your keychain. It inevitably comes in handy whenever you are entering or exiting your house. It has three buttons on it allowing you to arm, disarm, or put it in panic mode.
An excellent feature of these kits is that you can add more devices to them. If you notice, these are necessarily starter systems where you can add a lot more components like cameras, lights, doorbells, and others. You can certainly build a full security suite in no time with all the options available to you.
When it comes to add-ons, the Ring does give you a lot more options compared to SimpliSafe. Ring also supports devices from third-party providers that can seamlessly integrate with their base station like the First Alert smoke detectors.
As for SimpliSafe, they do give you the necessary add-ons like cameras and other sensors, but not as much support for different devices. So, Ring does have an advantage in terms of extensibility since you can quickly build an extensive security suite that will protect your home from just about any situation.
Our Pick: Ring Alarm for better integration of third-party devices
Monitoring Features
Ring vs Simplisafe Protection Plan Comparison
Ring Basic
Ring Plus
SimpliSafe
Standard
SimpliSafe
Interactive
Notifications
YES
YES
YES
YES
Motion Detection
YES
YES
YES
YES
Custom Motion
Detection
YES
YES
NO
NO
Two-way Audio
YES
YES
YES
YES
Livestreaming
YES
YES
YES
YES
Video Recording
YES
YES
NO
YES
Video Sharing
YES
YES
NO
NO
Snapshot
Capture
YES
YES
NO
YES
24/7 Professional
Monitoring
NO
YES
YES
YES
Mobile Network
Connection
NO
YES
YES
YES
Emergency
Medical Dispatch
NO
NO
NO
YES
Fire Monitoring
and Dispatch
NO
NO
YES
YES
Water Damage
Monitoring
NO
NO
NO
YES
Environmental
Monitoring
YES
YES
YES
YES
Remote Control
YES
YES
NO
YES
Secret Alarm
NO
NO
NO
YES
Verified Alarms
NO
NO
NO
YES
Smart Home
Integrations
YES
YES
NO
YES
Price
$3 per month
$10 per month
$15 per month
$25 per month
As a home security system, the sensors and the app need to work together to ensure that your home is safe. There is really no use if your system does not alert you whenever it detects something. The great news is that both the Ring Alarm and SimpliSafe kits are excellent at what they do, and they do have a few more features up their sleeves that will help keep you at peace.
Ring Alarm Monitoring Features
An excellent advantage of the Ring Alarm kit over SimpliSafe is its option of monitoring your own home for free. With the app, you will be able to see the status of your home. You will be able to receive push notifications and email alerts whenever a sensor is tripped. If you have cameras, you will be able to check out a live feed just by launching the app on your smartphone.
This is something that other home security systems do not offer. It certainly is handy for those who do not want to spend monthly on monitoring service and have a good amount of flexibility to respond to alerts whenever they happen.
If you feel like professionals can do a significantly better job than you, you can always get a Ring security plan. It does give you additional features that you will not be able to enjoy by self-monitoring. For one, these plans come with custom motion detection, which alerts you whenever one of your security components detect a person moving.
A plan also gives you access to live video with two-way audio as long as you have devices that support this feature like a Ring Video Doorbell or a camera. With the cameras, it also records videos and saves clips whenever it detects movement so you can review them or even share them with others.
SimpliSafe Monitoring Features
On SimpliSafe's side of things, they do not have a free monitoring option. However, they do have two plans that you can choose from. One thing to note with their plans is that access to their mobile app is limited to their Interactive Plan, which costs $25 a month.
They do have a cheaper alternative, their Standard Plan, which costs $15 a month and includes live monitoring around the clock to ensure that your home is safe. For backup, the base station also has mobile connectivity, so all detections are still sent even when the power is out. Finally, they will also track environmental factors like smoke and flood, as long as you have the necessary sensors.
Their Interactive Plan is certainly more robust and offers a lot more than their Standard Plan. For one, you will get access to the mobile app, where you can arm or disarm the system there instead of the keypad.
One exciting feature of the SimpliSafe system that is not found on the Ring Alarm is the secret alarms. You can set some sensors to only alert you with a mobile notification rather than a noisy warning that everyone can hear. This is especially useful if you have a personal item that you want to safeguard like a safe or your room. It is definitely an exciting feature that has a lot of possible uses around the home.
Another SimpliSafe Interactive Plan feature is video-verified alarms. Security professionals can view video clips whenever the system is armed, and a sensor is tripped off. If they see a robbery in real-time, then they can alert the cops for you. This feature is undoubtedly useful and can help catch the perpetrators quickly.
Which One is Better
SimpliSafe plans are clearly a lot more expensive than that of Ring's. A significant difference between the two is that with the Ring kit, you can instantly get access to their app that will allow you to monitor your own home. Their plans are also less expensive, and they offer a lot more features.
Although SimpliSafe's video-verified alarms are beneficial, you can do something similar to Ring as long as you can check out alerts the system send you as soon as it arrives. The Ring Alarm definitely has an advantage with monitoring since it's both more affordable and offers a lot more features upfront.
Our Pick: Ring Alarm for more monitoring features at more affordable prices, even free
Smart Home Capabilities
As home automation and smart devices continue to get popular, these two kits look like excellent candidates for hubs in your home. These two integrate seamlessly with Google Assistant and Amazon Alexa, so if you do have any of those setups in your home, these will slot nicely with your other devices.
One thing to note with these two is that Amazon owns Ring, so if you have a couple of Echos and a Fire TV, then this is an excellent option. There is not a lot of smart home accessories for the Ring Alarm security system, but that could quickly change. Amazon can turn on automation support at any time with their other devices.
SimpliSafe is even more limited as it only provides automation support for door locks allowing you to control them using the keypad or the app. There is an enormous potential in this area with Ring as Amazon owns them and can integrate the rest of its features with their line of smart devices.
Our Pick: Ring Alarm for better smart home capabilities and potential
Compatibility
Now that you have this hub, it makes sense that it is capable of communicating with the other gadgets that you might have around your home. The good thing with the Ring Alarm system is that even if it's the last thing you got, it should be compatible with most smart home devices.
It works with GE and Leviton smart home dimmers and switches, which is definitely a welcome feature that you can use in a lot of different situations. The system also works with First Alert's smoke and carbon monoxide sensors. It will alarm you whenever it detects dangerous levels. It also works with other sensors such as the EcoLink tilt for your garage doors, letting you know if someone opened it other than you.
An advantage of the Ring Alarm kit is that the company also makes a lot of other smart home gadgets like cameras and video doorbells. These are absolutely compatible with the system, and together with the Amazon Alexa support, you will be able to do a lot of things with these installed around your home.
SimpliSafe's selection of compatible devices is a lot limited. However, as it only works with August Lock allowing you to lock or unlock your doors using the companion app. It does not give you a lot of options, that's why Ring is the better option if you have invested in a few smart home devices for your home.
Our Pick: Ring Alarm for excellent compatibility with several smart home devices
Companion App
To put all of these together, both these systems come with their own companion app that allows you to control every aspect of it right on your smartphone. You can think of it as a command center that you can use anywhere, even when you are not home.
Ring Always Home App
Since the Ring Alarm gives you access to its companion app even with a free plan, it definitely comes in handy for those who want to self-monitor. You have instant access to live stream footage as long as you have a connection. If an alarm sets off and you receive the notification, as long as you have internet, you can quickly check one of your cameras to see what's up.
The app also allows you to arm or disarm the system without relying on the keypad. You will also get crime and safety information from the Ring Neighborhood network so you can check out if something out of the ordinary is happening in your area.
One of the essential features that the app comes with that's extremely helpful for those who are monitoring the security of their home on their own is the ability to review cloud storage. If you have cameras installed, any alert usually comes with a video clip or still photos, the app will allow you to check those to make sure that you did not miss anything.
SimpliSafe App
You do not get instant access to the SimpliSafe app since you will need a subscription to get it. However, in terms of features, it is pretty much similar to what the Ring app can do. You will be able to access live stream footage from your cameras, get notifications, and review clips stored in your cloud.
One of the hallmarks of the SimpliSafe system is its ease of use, and the app shows it. The controls are intuitive, and you will have an easier time controlling your system from the app even when you are not at home.
The disadvantage, though, is that you will need to get one of their plans to get it. The app is excellent, but being able to use it without paying is something that users want
Our Pick: Ring Alarm for easy free access to the app
Price
The Best DIY Home Security System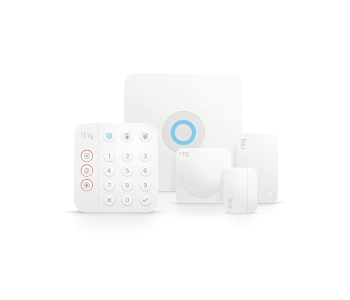 Retail Price: $199
The Ring Alarm home security system is affordable and easy to use with tons of extensibility. Known for their high quality video doorbells and cameras, Ring has cemented themselves as the go-to brand for do-it-yourself security. This full-blown security kit is definitely a step in the right direction. It has the capability of acting as a hub that can quickly integrate other Ring devices.
One of the main advantages of getting a Ring Alarm kit is its straightforward setup process. It may not be as polished as its competitors, like the SimpliSafe system. Still, its potential and affordability certainly make it a much better overall choice making it one of the best DIY home security kits on the market.
Its self-monitoring feature is a plus, and giving you all the necessary features without hiding them behind a paywall is a smart choice. Even though you only get the devices and opt for their free plan, you can still enjoy the most essential functions, as what you would expect from a home security system.
If you are looking for a straightforward security package for your home, you can never go wrong with the Ring Alarm. It does lack some automation features, but you can quickly make something up when paired with the right devices and software such as IFTTT. It is easy to install, allowing you to get it up and running in minutes. It offers the best professional monitoring plans in the market.
Compatibility and support with third-party devices have absolutely grown, and the Amazon Alexa integration is welcome, giving you some flexibility. The most important aspect of this kit is the potential that it has since Amazon purchase Ring.
The Ring Alarm is an excellent security system for your home that you can set up and use in no time. Getting one definitely comes in handy if you already have a couple of Ring devices such as a video doorbell or a camera already installed. Having these devices and enrolling in the Ring Plus subscription will bring this system to life since you will be able to take full advantage of every gadget that you have.
More Kit Options
Ring Alarm Security Kit
✔ Quick installation process
✔ Affordable professional monitoring plans
✔ Works with many third-party devices
✔ Self-monitoring features is a big plus
If You Want a More Professional and Straightforward Approach to Security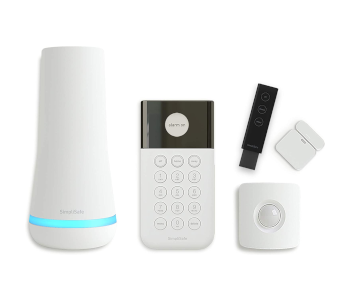 Retail Price: $249
SimpliSafe's entry to the home security arena may be the best in terms of third-party support and device compatibility, but it is certainly one of the simplest to install and use. It's more of a hands-off security solution compared to the Ring Alarm.
The Ring Alarm gives you a whole lot of options, including monitoring your entire system by yourself. The SimpliSafe, on the other hand, has more of a straightforward, what-you-see-is-what-you-get approach. It's perfect for those who are new to smart devices and want to secure their home with as little fuss as possible.
SimpliSafe's system does give you some automation options with the Nest Thermostat and August Smart Lock, and some IFTTT integration on some devices. Now, it does have Amazon Alexa support so you can arm or disarm your system using Echo speakers. The goal of SimpliSafe is to make everything as straightforward as possible, and these certainly help a lot.
A feature where SimpliSafe stands out is its professional monitoring plans. It's a bit pricier than other systems, but it does offer a lot more. Their kits come with multiple environmental sensors that can detect high temperatures for fires, carbon monoxide, smoke, and even floods. Their monitoring services are also capable of sending out dispatch calls, so first responders can be in your home within minutes.
The SimpliSafe kit is an excellent system for newcomers to the smart home security space. If you do not have time to tinker with your devices and figure out how to make use of them in the most efficient way possible, this is the set for you. They have streamlined everything about this that you can never go wrong with any of the components here. All you need to do is sync everything, get the security plan that suits you, and leave all the work to those who know it best.
It has all the essentials that you want in a home security system, without the hassle of setting it up and monitoring everything. The professionals will take care of it and alert the authorities whenever they see a situation happening. All you need to do is set it and forget and rest assured your home is safe.
More Kit Options
SimpliSafe Home Security System
✔ Extremely easy to setup
✔ Loud alarm to alert you
✔ Professional monitoring is top notch
Wrap Up
Home security is now accessible to everyone. The rise of these different gadgets allows you to build your own security system without spending a fortune. You can certainly have one up and running in minutes, and you should have no problem adding more devices to it.
The Ring Alarm system can be considered an enthusiast-level kit since it does offer support for more third-party devices and self-monitoring. Their plans are also more affordable but give you better control of your security.
SimpliSafe, on the other hand, is more of a starter-level system as it focuses on your peace of mind. Their professional monitoring and dispatch services are top notch, giving you that peace of mind, so you know that your home is in good hands no matter where you are.
You can never go wrong with any of these two kits. They are straightforward to install and use, and you can design these in a way that will satisfy your security needs.