6 Best Robot Mops of 2019
3D Insider is ad supported and earns money from clicks and other ways.
We all dread mopping and the fact that you can't go without it if you want immaculate floors. Dirty water by the bucket full, a stiff back, and grimy pads all make mopping one of the most unappealing chores. They invented robot vacuum cleaners… isn't there an equivalent for mops? As it turns out, there is, and it's your ticket to a sparkling home with minimal effort!
Robot mops operate on the same principle as robot vacuums. They use sensors to map out the rooms in your home and clean them, avoiding obstacles in their way and stairs that could lead to their doom. Robot mops are small enough to slide under furniture or squeeze into tight spots, ensuring that every square inch of a room gets cleaned. They can be remotely controlled or programmed to work on a schedule. The smartest of them even have their own apps and receive voice commands from AI assistants like Alexa!
Here are the top six robot mops on the market. Pay attention to their tech specs and the comparison table since some of them double as robot vacuums or excel in areas like battery life, noise, and cleaning efficiency. Read all about each model's features in the review section and discover the robot mop that will finally put an end to your back-breaking cleaning sessions.
Budget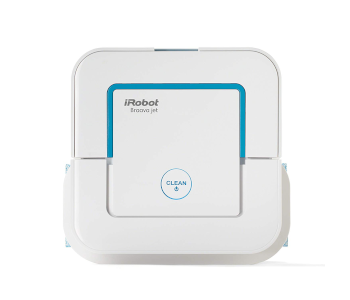 iRobot Braava Jet 240
4.6/5.0
Cleaning efficiency: 4.6
Battery life: 4.3
This is easy to use and affordable.
Check Amazon
Best Value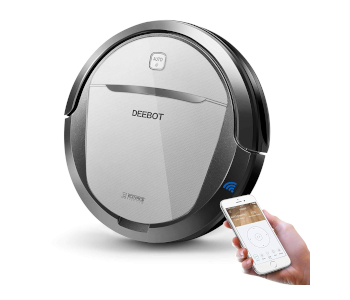 ECOVACS Deebot M80 Pro
4.6/5.0
Cleaning efficiency: 4.4
Battery life: 4.6
Easy to control with remote, app, or Alexa.
Check Amazon
Top Pick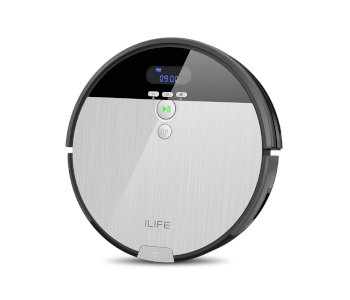 iLife V8s
4.7/5.0
Cleaning efficiency: 4.8
Battery life: 4.5
Excellent at both mopping and vacuuming.
Check Amazon
Robot Mops Comparison Table
1. Best Overall – iLife V8s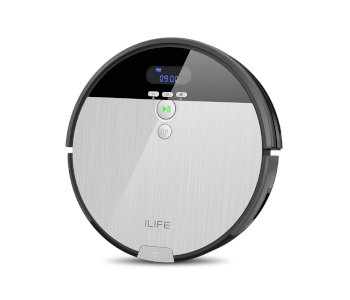 View on Amazon
Editor's Rating: 4.7/5
Do you want your floors to sparkle without having to lift a finger? In that case, a robot vacuum cleaner and mop is the ultimate combo, and none are as good at both as the V8s from iLife. This speedy cleaner boasts a large dustbin and water tank, has exceptional suction power, and will fit under most furniture due to being only 3 inches tall. It may lack an app and sophisticated zoning options, but those are small inconveniences compared to the V8s overall value.
Overview of Features
The V8s looks like most robot vacuum cleaners – it is a disc with a diameter of 12 inches with all of its controls set closely together on top. The silver finish is accented by a black portion which holds the LED display used to set the schedule and check on the battery level. Speaking of which, the V8s has a battery that lasts for 90 minutes of continuous cleaning. It is also smart enough to seek out the charging dock before the battery runs dry.
You get to choose between three pathing modes. Auto mode uses a random pattern to propel the mop through the house in diagonal lines. You get more systematic approach if you switch to Path mode, in which the V8s covers the entire room in straight lines you'd make when washing windows. Finally, Border mode is useful for eliminating dust from corners and wall edges.
The V8s acts as both a vacuum cleaner and a mop. You switch between the two modes by exchanging its dust bin for a water reservoir. The dust bin holds a respectable 25 ounces of dust and debris, and won't require emptying before the whole house is clean. The water tank holds 10 ounces of liquid. Mop mode does a great job at removing any filth the vacuum left behind.
You control the mop with its onboard interface or through a remote. Scheduling involves selecting the day of the week and adding a time. There are also dedicated buttons for returning the V8s to its charging station and spot cleaning if a stain proves to be stubborn.
What We Didn't Like
The V8s doesn't have a virtual wall. You'll have to close the doors if you don't want it to enter certain parts of the house. The infrared sensor used in navigation is prone to picking up dust. You'll frequently need to clean the sensor since the V8s will stop if it can't navigate even if it hasn't finished cleaning a room.

Tech Specs
Dimensions: 12 x 12 x 3 in.
Battery life: 90 minutes
Has vacuum: Yes
Has app: No
The Pros
Excellent at both mopping and vacuuming
Easy to schedule and control remotely
Big clean display
Large dust bin and water reservoir
The Cons
Infrared sensor needs constant cleaning
No virtual wall
2. Best Value – ECOVACS Deebot M80 Pro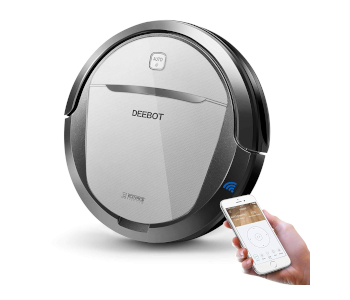 View on Amazon
Editor's Rating: 4.6/5
App control and smart features have long been limited to high-end robot vacuums. Ecovacs aims to shake things up with the M80 Pro, an affordable robot vacuum and mop hybrid you can control with your phone or even through Amazon Alexa! That's not all though – the M80 Pro features quiet operation, tackles ingrained dirt with ease, and works as well on carpets as it does on tiles. It's a capable robot mop and practically a steal!
Overview of Features
We appreciate the M80's minimalistic style. It's a large silver disc with only a glowing on button to indicate its status. This is because you'll control it through a remote or the Ecovacs Debut app. Both control modes even allow you to steer the mop like an RC car! You can do that for 110 minutes before the NiMH battery gives out, at which point the M80 will automatically return to its charging station.
The app and remote are laid out identically. There's a large control joypad with directions under which are buttons used to switch modes. Auto puts the mop into automatic mode that's perfect for everyday maintenance. Edge is used when you need to concentrate on dirt that's been piling up near walls, while Spot will go over a smaller area several times. You can set each mode to either standard or maximum cleaning intensity. The latter uses the battery up quicker but makes for better results.
Scheduling is easiest when done through the app – just pick a day & time, and the M80 Pro will do its work without further input. The easiest way to control the M80 Pro is through Alexa. Just tell her to start, stop, or charge the M80 Pro, and you're set!
The dust bin has a capacity of 17 ounces, enough for a once-over in small and medium-sized homes. The M80 Pro is particularly useful as a vacuum cleaner due to V-shaped brushes that tackle dirt in hard to reach spots. It also has no trouble transitioning from tiles or parquet floors to low pile carpet, although it may not be strong enough to deeply clean rugs with a high pile. The mopping function is reliable and leaves floors spotless and streak-free.
What's Bad About It?
Nothing is stopping the M80 Pro from trying to mop your carpets. You'll need to cordon them off with furniture when you're using mop mode. The Mop uses only 2.4 GHz Wi-Fi to connect with the app, so make sure your router supports it.

Tech Specs
Dimensions: 13.9 x 13.9 x 3 in.
Battery life: 110 minutes
Has vacuum: Yes
Has app: Yes
The Pros
Fantastic value for the money
Easy to control with remote, app, or Alexa
Excellent vacuuming capabilities
Works well on hard floors and low pile carpets
The Cons
Tries to mop carpets
Uses only 2.4 GHz Wi-Fi
3. iRobot Braava 380t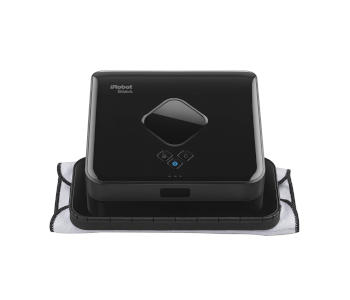 View on Amazon
Editor's Rating: 4.4/5
iRobot started off the Robot vacuum craze with the Roomba, and now they've set their sights on the robot mop market too. The 380t is the more expensive of their Braava models. It features almost noiseless operation, an exceptionally long battery life, and two mop cleaning modes. It is more involved than other models since you'll have to guide it to the charging dock, but its mopping capabilities are reason enough to put up with this.
Overview of Features
The Braava 380t is among the smallest robot mops we've tested and weighs just 4 pounds. It also has one of the most minimalistic control schemes. There are three buttons in total – one that powers it on & off, and one each for wet or dry mopping. We already mentioned that the 380t can't start charging on its own. This is because the charging dock is vertical instead of horizontal, so you'll need to turn it upwards 90 degrees. This is actually a clever solution since it minimizes the amount of horizontal space taken up by the mop.
Using the mop is straightforward. It comes with a NorthStar Navigation Cube, a device you place inside the room you wish to clean. This sends navigation data to the mop and makes sure the entire floor is cleaned. The mop will clean a room only if a cube is in it, so this is a handy way of zoning. You can also buy additional cubes instead of moving the one you got with the mop from one room to another.
This robot mop comes with two cleaning heads. There's the dry mode head supports an included microfiber cloth as well as disposable ones. The wet cleaning head has a small water reservoir. How the mop will behave depends on the mode – it cleans in straight lines while in dry mode and moves in arks when set to wet mopping. Whichever mode you use, the 380t is barely audible, letting you watch TV or talk to others in an adjacent room without having to yell.
The mop's cleaning performance is adequate. We especially liked the wet mode since the mop can pick up and absorb much more filth with a wet cloth. Even if the first pass doesn't take care of everything, the 380t will keep on going as its battery lasts a whopping 150 minutes! It will alarm you once cleaning is complete so you can pick the mop up by a convenient handle and let it charge.
Are There Drawbacks?
Dry mopping mode isn't an effective cleaning solution. The dust and dirt picked up by the cloth get piled up at the room's edges since there's nothing to absorb it. The water reservoir is made from cheap plastic that's prone to cracking. iRobot will replace it while the 380t is still under warranty, but you're out of luck if it cracks again after that.

Tech Specs
Dimensions: 9.6 x 8.5 x 3.1in.
Battery life: 150 minutes
Has vacuum: No
Has app: No
The Pros
Exceptional battery life
Takes up little space while charging
Easy to use
Good performance in wet mop mode
The Cons
Water reservoir is prone to cracking
Dry mop mode just pushes dirt towards room's edges
4. HOBOT LEGEE-668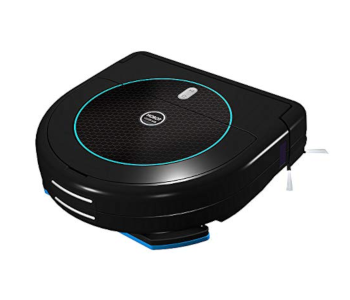 View on Amazon
Editor's Rating: 4.2/5
Most robot vacuum cleaner and mop hybrids are designed to focus on the vacuuming part with mopping as an afterthought. Hobot's LEGEE-668 is the opposite – it has a capable mop complete with two pads, a big water reservoir, and misters which spray the water evenly in its path. You can also choose between vacuuming, dry, and wet mopping to completely clean your hard floors. It's the most expensive model on review and not as good a vacuum cleaner, which are the main reasons why the LEGEE-668 is so low on the list.
Overview of Features
The LEGEE-668 doesn't seem extraordinary if you only look at its glossy top with the HOBOT logo and two buttons. Flip it over though, and you'll see an array of pads, brushes, and misters that inspire confidence. Popping the hood open reveals a large dust bin and water tank. The dustbin is easy to take out while you'll need to unscrew the tank to remove it. Luckily, a special bottle with an angled tip is one of the LEGEE-668's many accessories and makes refilling it easy.
Cleaning is done in the same patterns we've seen with other models. These include zig-zagging Auto, thorough Spot, and buildup-eliminating Edge modes. This model stands out because of a pair of rotating side brushes. These have twin sets of bristles and turn in a way that picks dirt up from every nook & cranny and feeds it into the central opening where it gets sucked up into the dust bin.
There are two mop modes – dry and wet. In dry mode, the two pads move back and forth in a scrubbing motion that dislodges ingrown dirt and makes it stick to their surface. Wet mode is even more effective since the floor is sprayed with mist beforehand. The pads can store a lot of dirt and are machine-washable as well. You get two replacements as part of the package, so they'll last a long time.
Are There Drawbacks?
The LEGEE-668 is not suited for carpeted floors. The vacuum cleaner does a poor job of lifting dirt up even on low pile carpets and just ends up wasting time. This is also the most expensive model on the list. While the mop works well, the difference in price is too big to justify buying it over those from iRobot or iLife.

Tech Specs
Dimensions: 13.4 x 13 x 3.7 in.
Battery life: 90 minutes
Has vacuum: Yes
Has app: No
The Pros
Wet and dry mop modes work well
Generous assortment of accessories
Easy to maintain
Great for homes without carpets
The Cons
Expensive
Useless on carpets regardless of pile height
5. Bobsweep PetHair Plus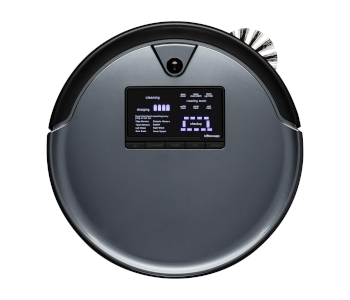 View on Amazon
Editor's Rating: 4/5
We all love our pets but despair when we have to clean up after their messes, especially when they're shedding. Enter Bobsweep's PetHair Plus, a robot vacuum and mop hybrid that specializes in sucking up hair and dander. It even has a UV light which disinfects the floors! In spite of its complicated setup, the PetHair Plus is a worthwhile investment since it boasts great hair vacuuming, lots of accessories, and straightforward controls.
Overview of Features
Design-wise, two things distinguish the PetHair Plus from other models – a range of color options and a fantastic LED screen. It's the only mop on the list you can get in multiple colors including vibrant red and blue. The screen tells you everything about the mop's status including left-over battery life, the current mode, and if something is wrong. This last feature is particularly useful since each problem is highlighted, so you know whether you should fix it by examining a wheel, the dust bin, etc.
The most intuitive way to control the PetHair Plus is with its remote. It allows you to drive the mop manually or program its weekly schedule. There are six cleaning patterns to choose from. These range from random zig-zag lines to straight ones that do the most thorough job. You can also turn the UV light on to disinfect the floor, toggle the beeping sounds the PetHair Plus makes, or start the diagnostics tool.
Bobsweep is generous with the mop's accessories. Apart from the mop attachment, you get additional side brushes, an infrared wall, extra cleaning brushes & mounting screws, as well as a screwdriver. The virtual wall is the most useful addition – it has two infrared sensors set at a 90-degree angle and allows you to mark a passageway or an entire room as off limits.
True to its name, the PetHair Plus excels at picking up hair regardless of length. Its suction is strong enough to rid low pile carpets from hair and dander completely. The mop attachment is there to add the finishing touches. It doesn't come with a reservoir though, so you'll need to soak the pad in water and detergent beforehand.
What We Didn't Like
The PetHair Plus is 4.5 inches tall. This means it won't be able to slip under most beds and sofas. Its battery lasts for 75 minutes, less than those of other models we've tested. The setup process is complicated and involved. You need to secure side brushes with screws instead of just snapping them on, and pairing the remote & virtual wall to the charging station is time-consuming.

Tech Specs
Dimensions: 13.8 x 13.8 x 4.5 in.
Battery life: 75 minutes
Has vacuum: Yes
Has app: No
The Pros
Excellent at picking up pet hair
Informative LED screen
Easy to control via remote
Comes with many accessories and in different color options
The Cons
Too tall to fit under some furniture
Short battery life
Complicated setup process
6. Best Budget Option – iRobot Braava Jet 240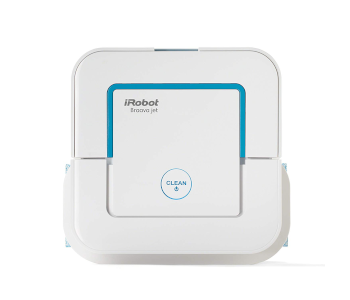 View on Amazon
Editor's Rating: 4.6/5
The Brava Jet 240 is iRobot's most affordable model. It's meant to be used as a daily maintenance tool in your kitchen and bathroom but will be of help to college students and apartment dwellers with smaller spaces to keep tidy too. Surprisingly, it has more features than the more expensive 380t, including three distinct cleaning modes and a companion mobile app. Whether or not the Braava Jet 240 is for you depends on the area you need cleaned. If that area is small, this is the best robot mop you can get!
Overview of Features
The Jet 240 sports a style that's as functional as it is unique. It has a square shape that helps with edge cleaning and a single on button. This button also activates a virtual wall with a long press. Doing so will render any space that's behind the Jet 240 inaccessible during cleaning! The top houses a handle for easier repositioning. Under the handle, there's a switch that releases the current pad along with a cap you unscrew to add water to the reservoir.
Battery life depends on the mode used. While it isn't specified in minutes, the Jet 240 can clean 200 square feet on one charge. There is no docking station. Instead, you take the battery out of the mop and charge it with a separate charger. The process takes two hours, and a green light glows to tell you when it's complete.
Operating the Jet 240 is effortless – you attach the pad for the cleaning method you want to use, add water if needed, push the clean button, and that's it! There are three cleaning modes which the mop distinguishes between automatically because of the different notches on each pad.
Dry sweep mode is useful for daily cleanup of dirt & hair. The Jet 240 uses Swiffer-like pads for this mode and runs on full speed. It's also the mode which drains the battery the least since no scrubbing is involved. Damp cleaning mode uses occasional water sprays and light vibrating motions to dislodge dirt without leaving water on the floor. Wet mopping mode is the most hardcore. It uses a lot of water and vigorous scrubbing motions as well as angling the pad both ways to clean the floor thoroughly.
The Jet 240 has a basic companion app. It lets you start the cleaning process remotely, read up on how the virtual wall works, and purchase additional iRobot products online. It connects to the mop via Bluetooth, so you'll need to be in close range to use it.
Are There Drawbacks?
This mop requires replacement pads. You can either buy packs of disposable pads or ones that are machine-washable. Whichever you decide to buy, they're an added cost worth noting. The Jet 240 uses older room mapping technology. This means that it will often bump into things, sometimes with force, so it isn't suitable for use in spaces frequented by small children and pets.

Tech Specs
Dimensions: 6.7 x 7 x 3.3 in.
Battery life: Not specified
Has vacuum: No
Has app: Yes
The Pros
Easy to use
Affordable
Cleans in three varying ways
Clever design incorporates virtual wall, automatic pad recognition, and hidden reservoir cap
The Cons
Replacement pads rack up cost over time
Bumps into things