Roku Cyber Monday 2018 Deals (Ultra and Streaming Stick)
3D Insider is ad supported and earns money from clicks and other ways.
Roku is continuing their Black Friday deals through Cyber Monday while supplies last. You can save 50% during the sale. Many retailers have already run out of inventory, so you should order while you can.
Cyber Monday is an excellent time to look for a great deal on video streaming devices. Roku is offering more value than ever before this Cyber Monday. Roku devices are perfect gifts that will please just about everyone on your holiday list.
Roku Ultra
Cyber Monday Price: $49 Retail Price: $89
The Roku Ultra is available at Walmart, Target, and Costco.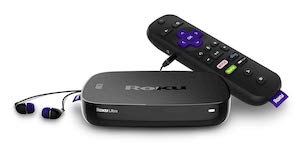 The Roku Ultra is a 4K HDR compatible video streaming player and is one of the more powerful streaming devices available in the market. This feature list allows for crisper images on television with 4K capabilities.
The Roku Ultra can be connected in a number of ways. It has USB, HDMI, and Ethernet ports. The Roku Streaming Stick only has HDMI, so this is a big step up. Wired connections to the Internet ensure better connectivity so you can watch your favorite movies and shows without buffering. The USB connection allows you to play content from your own USB storage stick or an external hard drive.
The Roku Ultra comes with its own remote control that is packed with features. The remote has dedicated buttons for HBO Now, Hulu, Netflix, and Sling TV allowing you to watch your favorite shows with just one click. The remote is also designed to be used as a gamepad for games that you can download on the Roku Channel Store.
One of the biggest features of the remote is the headphone jack. You can plug in your headphones on the remote so you can listen to your favorite movies and shows in private. Once you plug in the headphones, the Ultra will instantly mute your TV and redirect the audio straight to the remote and to your ears. The remote also has a microphone embedded so you can do voice searches.
The Roku Ultra is a feature-packed media streaming hub that is on sale at 50% for Cyber Monday and is running out fast.
Roku Streaming Stick
Cyber Monday Price: $29 Retail Price: $49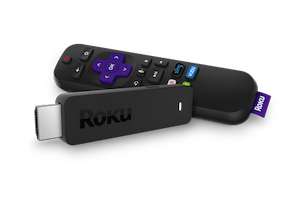 The Roku Streaming Stick is a video streaming dongle. It does not have all of the features of the Roku Ultra. Its biggest feature is that it is small and easy to carry and you can even use it as your own travel streaming device. To run it, you simply need to plug it into an HDMI port and find a power source and you'll now have access to thousands of hours of entertainment.
A key difference between the Streaming Stick and the Ultra is that the Streaming Stick only streams up to 1080p. It's not as powerful as the Ultra, but it should be enough for your entertainment needs at this price.
Similar to the Ultra, the Streaming Stick also comes with a remote. The difference between the two is that the Streaming Stick's remote does not have a headphone jack so you can't listen to your movies and shows privately. Alternatively, you can use the Roku app on your smartphone for a similar private listening experience.
The Streaming Stick is currently on sale for $29 for Cyber Monday, which is a savings of 40%.
These Cyber Monday deals are not going to last since they have already sold out at many retailers. You should buy it while you can.