Samsung Gear Black Friday Sale is Live ($150 Off)
3D Insider is ad supported and earns money from clicks and other ways.
Samsung has released their Black Friday sales on Amazon a week early. You can save up to $150 on a model. There's one for every budget. There's no saying when this sale will end, but it's likely to continue through Cyber Monday.
Samsung makes the best smartwatches for Android. Many people argue that they make the best smartwatches period and it's hard to argue with that. The Samsung Gear offer a lot of power while still maintaining a good battery life. After all, there's no point in having a watch that you need to charge every day.
Samsung Gear Sport Smartwatch
Black Friday Price: $179 Retail Price: $279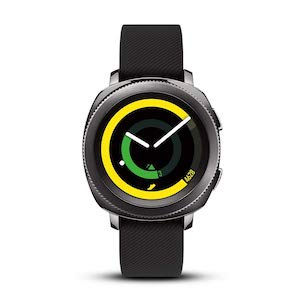 The Samsung Gear Sport has been discounted by $120 for Black Friday. This gives it excellent value for money. It has a battery life of up to 4 days and it supports wireless charging for convenient recharging.
The Samsung Gear Sport is waterproof up to 50 meters. This means you can take it swimming and it will automatically detect your stroke types and lap times.
The Gear Sport has a heart rate monitor, just like you'd expect from a fitness tracker. It can also track calories burned per day and the number of step you have taken. It also has built-in GPS, which means you can get information on the pace and distance of your runs.
The Gear Sport has a mobile NFC wallet that you can use at participating stores. It has the ability to store offline music with Spotify. All of this adds up to create a smartwatch that doesn't require you to bring your phone or wallet with you.
Like all smartwatches, the Gear Sport also allows you to check notifications on your wrist. Overall, the Gear Sport is a great smartwatch especially for people who use Android phones.
Samsung Gear Fit2 Pro
Black Friday Price: $149 Retail Price: $199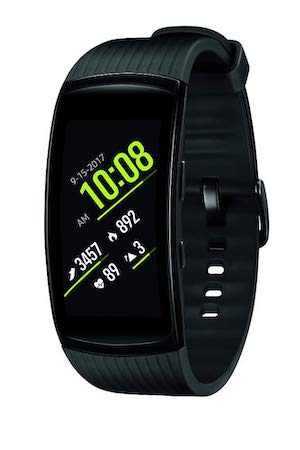 The Samsung Gear Fit2 Pro is for people who like to have a smaller watch face on their wrists. It's similar to the Fitbit Charge 3 and it offers most of the same functionalities.
The Fit2 Pro is compatible with most the of the major sports apps including Map MyRun and MyFitnessPal. This is one of the few entry level fitness trackers that allows you to store music on the device. This one lets you download Spotify playlists before you workout.

The Fit2 Pro has built-in GPS. This is another standout feature in this price range because most Fitbit options rely on your phone for GPS. It has continuous heart rate monitors and it is also waterproof up to 50 meters.
Overall, the Gear Fit2 Pro offers the best value out of all fitness trackers in this price range. The Black Friday deal makes it much more affordable to most people.
Samsung Galaxy Watch
Black Friday Price: $259 Retail Price: $329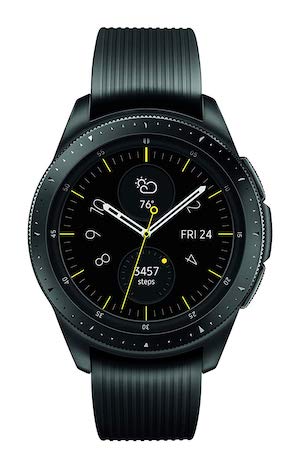 The Samsung Galaxy Watch is the company's premium smartwatch. While it looks like a regular watch, it features a lot more power under the hood. It has a 1.15 GHz Dual-Core processor 0.75 GB of RAM and 4GB of storage. This is impressive hardware and makes it comparable to Apple's previous generation of smartwatches. 
The battery can last up to 3 days, which is far longer than Apple's measly 18 hours. Most users would take longer battery life over other features. You can wirelessly charge the watch, which makes it less of a hassle to charge it.
The Galaxy watch is also water resistant up to 50 meters. It also has scratch-resistant Corning Gorilla Glass DX+. This makes it a durable watch that you won't have to think about taking anywhere. 
There are two sizes of the watch you can choose from. There are three colors of each size: midnight black, rose gold, and silver. The bands are interchangeable, which means you'll always be able to find one for every occasion. 
Overall, the Samsung Galaxy Watch is definitely a leading contender for the best overall smartwatch. It's especially nice for those in the Android ecosystem.
Samsung Gear S3 Frontier Smartwatch
Black Friday Price: $199 Retail Price: $349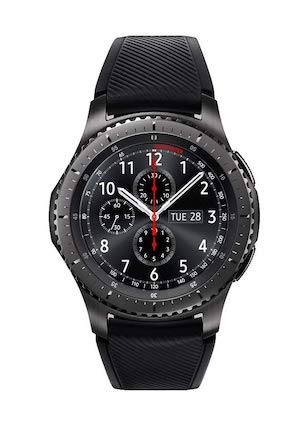 The Samsung Gear S3 has a rotatable bezel that you can use to switch between apps. It's designed to be extraordinarily durable. Samsung claims it's been made to military precision and that it can withstand extreme elements like dust, low temperatures, and water.
A unique feature of the Samsung Gear S3 Frontier is that it has a built-in speaker and a microphone, which take hands-free calling to the next level.
This watch has all of the features you'd expect in a top-of-the-line Samsung Gear model. It will track your heart rate, record your GPS without relying on your phone, and much more.
Overall, Samsung is having an amazing Black Friday sale this year. All of these offers are available at Best Buy and some at Target, but there's no reason to wait in line when you can shop and get them right now.