6 Best Sleep Trackers of 2019
3D Insider is ad supported and earns money from clicks, commissions from sales, and other ways.
You've cut down on the calories, adopted a steady exercise regime, and started keeping an eye on your overall state with a wearable fitness tracker. That's great! But did you know that a healthy sleep schedule is just as if not more important to both your physical and mental wellbeing?
It's hard to pin down what may be causing your sleep troubles as there are so many stressors and unhealthy habits that can be to blame. Sleep needs to be understood so that its quality can be improved, and that's the job of a good sleep tracker.
We've assembled the most accurate and insightful sleep tracker on offer today. You'll find their in-depth reviews as well as general tips on buying a sleep tracker you'll be happy with in this comprehensive review.
Budget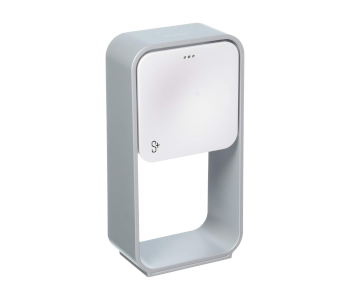 ResMed S+
4.5/5.0
Breathing monitor: Yes
Heart rate monitor: No
Provides personalized sleep improvement suggestions.
Check Amazon
Best Value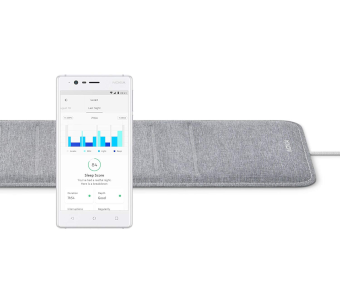 Nokia Sleep
4.5/5.0
Breathing monitor: Yes
Heart rate monitor: Yes
Has in-depth data tracking and a well-designed app.
Check Amazon
Top Pick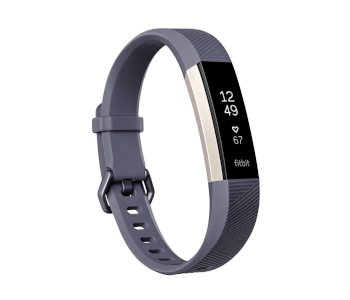 Fitbit Alta HR
4.7/5.0
Breathing monitor: No
Heart rate monitor: Yes
Has a stylish design and a long battery life.
Check Amazon
What to Look for in a Sleep Tracker
Type of Tracker
Gathered Data
Data Interpretation & Custom Suggestions
Accuracy
Sleep Trackers Comparison Table
| Make and Model | Rating | Type | Stats tracked | Compatible with | Price |
| --- | --- | --- | --- | --- | --- |
| Fitbit Alta HR | 4.7 | Wearable tracker | Heart rate, movement | IFTTT | Check Price |
| Nokia Sleep | 4.5 | Pad | Heart rate, breathing, movement | Amazon Alexa, IFTTT | Check Price |
| Beautyrest Sleeptracker Monitor | 4.4 | Pad | Heart rate, breathing, movement | Amazon Alexa, IFTTT | Check Price |
| Beddit 3 Sleep Tracker | 4.0 | Pad | Heart rate, breathing, movement, room temperature & humidity | Apple Health | Check Price |
| Zeeq Smart Pillow | 3.8 | Pillow | Breathing, movement | Amazon Alexa, IFTTT | Check Price |
| ResMed S+ | 4.5 | Standalone sensor | Breathing, movement | N/A | Check Price |
1. Best Overall– Fitbit Alta HR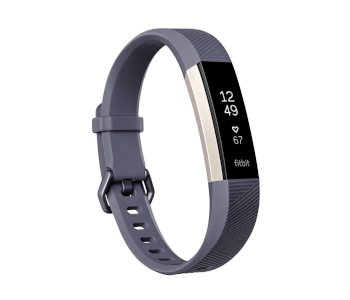 View on Amazon
Editor's Rating: 4.7/5
Fitbit is the undisputed king of fitness trackers. Various Fitbit wearable trackers have been helping people get out & about while offering valuable insight into their workouts. Although basic sleep tracking features were part of earlier models, it wasn't until the Alta HR was released that Fitbit introduced more advanced features like a complete breakdown of your sleep cycle. The Alta HR is a minimalistic, stylish device that packs an array of fitness tracking features and has an excellent battery.
Low Profile, Lots of Info
The Alta HR is Fitbit's slimmest, most streamlined tracker yet. It provides you with the most pertinent information like the time & your current heart rate on an OLED screen that's small yet easy to read. You can customize it by exchanging the supplied band with rubber, leather, and metallic alternatives. It can run continuously for a whole week, making this one of the most long-lived Fitbits out there.
Fitness tracking relies on a heart rate monitor and 3-axis accelerometer. Whenever you start a more strenuous activity, the Alta HR will record its duration and results automatically. The app displays a summary of each activity as well as a daily outline of your heart rate, how many steps you've taken, and how many calories you've burned. Through it, you can set daily reminders to walk a set amount of steps or participate in weekly challenges and see how you stack up against millions of other Fitbit users.
Formerly the app supported only a sleep timer which showed when you fall asleep and for how long. With the release of the Alta HR, the app has received a host of sleep tracking improvements, Sleep Cycles being the most prominent one. Now you can monitor the duration of all three sleep stages each night, set up a sleep schedule that alerts you when it's time to go to bed, and get info on what to do to improve. Unlike Nokia Sleep's vague suggestions, the Alta HR has Sleep Insights which tell you how much longer you should be sleeping if you aren't consistent and compare your performance to other users.
What's Bad About It?
In an attempt to make the design as minimalistic as possible, Fitbit has done away with buttons on the Alta HR completely, meaning you can only control it and adjust the settings via the app. While Sleep Cycles is always present and works without issues, Sleep Insights can sometimes stop working.

Tech Specs
Type: Wearable tracker
Battery life: 7 days
Heart rate monitor: Yes
Breathing monitor: No
Compatible with: IFTTT
The Pros
Powerful fitness and sleep tracker in one
Stylish design
Long battery life
Informative and easy-to-use app
The Cons
Controllable only through the app
Sleep Insights feature can stop working
2. Best Value – Nokia Sleep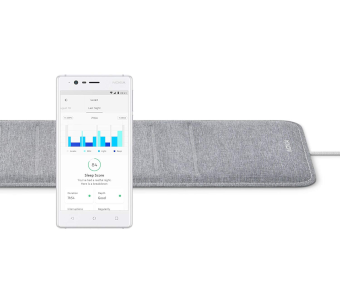 View on Amazon
Editor's Rating: 4.5/5
The most annoying thing about using regular wearable fitness trackers to monitor your sleep is the way they can bite into your wrist and keep you from relaxing. Nokia Sleep, on the other hand, is an unobtrusive pad you place under the mattress and won't even think about until you see its lengthy cable protruding outward. This comprehensive sleep tracker offers a plethora of information structured logically in a well-designed app. It integrates well with other Nokia Health and 3rd party devices and happens to be more affordable than many other items on our list.
Sleep Demystified
Nokia Sleep won't be winning any design awards as it's just a large gray pad with a fine fabric finish. It more than makes up for that with its features and ease of use though. You don't need any straps or bands to use the Sleep – just put it under the mattress on the spot where your chest usually lies and you're done. Unless you're Andersen's princess on the pea, you won't notice any difference in height as the Sleep is very thin.
Once placed correctly and paired with your smartphone, Nokia Sleep starts recording all manner of sleep data. For instance, it can tell when you go to bed and get back up again, providing you with a total sleep duration as well as an account of any midnight bathroom breaks or snack runs. More importantly, you'll finally find out when exactly you fell asleep, how long you've spent in each phase of the sleep cycle, and what your heart rate ways during the night. More in-depth stats like the time spent lying in bed vs. actually sleeping as well as whether and how loudly you've been snoring can be looked up too.
Results are displayed in the Nokia Health Mate app which also supports the Body line of smart scales and Nokia's wearable fitness trackers. Gathered data is laid out in colorful graphs that are easy to interpret, and comparing it to that of other trackers reveals that it is both consistent and accurate. Each night you'll be given an overall sleep score that reflects the quality of that night's rest. After you've been using the Sleep for a while, it will also establish your sleep pattern and inform you when there are notable deviations from it.
It's worth noting that Nokia Sleep also supports 3rd party smart gadgets through IFTTT. This will come in handy if you want the temperature adjusted, the blinds drawn, or some music to be played each time you get out of bed. Now that's starting the day off in style!
What We Didn't Like
We hope to see a larger version of the Sleep as the current model is meant for a single user. We mentioned that the app displays a sleep score and deviations from your normal pattern. It warns you about unhealthy habits but doesn't provide enough advice on what the gathered data means and what concrete actions you can take to get more rest.

Tech Specs
Type: Pad
Heart rate monitor: Yes
Breathing monitor: Yes
Compatible with: Amazon Alexa, IFTTT
The Pros
Fits comfortably under your mattress
In-depth data tracking
Intuitive and well-designed app
Can control other smart devices through IFTTT
Excellent value for the money
The Cons
Only usable by one person
Doesn't give concrete advice on improving sleep
3. Beautyrest Sleeptracker Monitor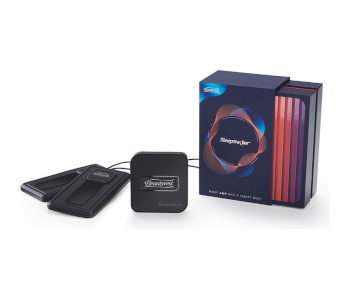 View on Amazon
Editor's Rating: 4.4/5
Trying to improve your sleep can be frustrating if you don't know which areas should be addressed and in what way. The Beautyrest Sleeptracker Monitor was designed to collect data on your day – stress levels, eating & exercise habits etc. and combine it with the sleep tracking data it gathers to give you tailored recommendations. Like the Nokia Sleep, it's a pad that sits under your mattress. Even better, it comes in pairs, meaning you and your bedmate get to see individual sleep reports and brag about whose overall sleep score is better.
Sleeping Better, Together
The Beautyrest sleep tracker consists of a central processor and two connected pads. The pads go under the mattress close to your head and record separate readings each person accesses through their own account. They are small, well-padded, and unnoticeable. The processor plugs into a standard outlet and supplies power to the pads which don't need to be adjusted in any way once placed.
There's no need to tinker with settings in the app either as the pads start recording as soon as you've created an account and begin resting on them. Each morning the previous night's data is sent to the company's servers and a detailed report is sent back containing an overall sleep score and a breakdown of the time you spent in each phase in graph form. Under that, you'll find lines that represent the changes in your heart rate and breathing patterns.
Beautyrest wants you to improve your habits though! That's why you're prompted to put in a goal as well as your age & gender at the start of use and should continue to provide info on your day so that the AI can get a better picture of your habits.
If you accurately estimate the day's stress levels, amount of exercise, calorie intake etc., the app can give you tangible advice in return. You may be asked to cut down on alcohol or try to de-stress to achieve your long-term goals. We've found that the combination of progress reports and suggestions that apply to the specific person using the tracker are a strong motivator.
What Should Be Improved?
The daily survey is the cornerstone of Beautyrest's effectiveness. We were baffled that it was tucked away and out of sight instead of being prominently displayed on the home screen. You can't even set an alarm to remind you to take it and may very well forget all about the survey after a while. Another thing we frown on is how advanced data is handled. All users get daily reports for free. If you want a weekly and monthly overview though, you'll need to pay a yearly subscription fee.

Tech Specs
Type: Pad
Heart rate monitor: Yes
Breathing monitor: Yes
Compatible with: Amazon Alexa, IFTTT
The Pros
Supports two people
Easy to set up and use
Gives concrete info on improving your sleep
Reasonably priced
The Cons
Important app features are hard to get to
Advanced reports require yearly subscription
4. Beddit 3 Sleep Tracker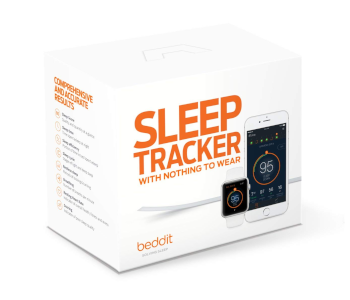 View on Amazon
Editor's Rating: 4/5
Introducing changes to your lifestyle, even positive ones, can have an impact you alone may not be able to assess. Sleep trackers produce quantifiable data which can tell you whether the changes are working as far as nightly rest is concerned, but they don't structure the data in a professional way. Beddit 3 can compile all the data it collects and convert it to a format that's easy for your doctor or trainer to interpret.
The Sleep Tracker That Helps Others Help You
As its name suggests, the Beddit 3 is the third & most advanced installment in the Beddit series of sleep trackers. It comes with improvements across the board! Users of the previous models found setting them up particularly irritating as the trackers relied on adhesive tape to stick to your mattress. Now studded fabric provides stability without sticking to your bed. This makes setup more or less identical to that of other pads on the list. Like Nokia Sleep, this pad is intended for single person use only.
The ability to switch from manual to automatic tracking is another big improvement. When you first get the Beddit 3, you're asked to manually turn it on to get used to it. Once a pattern has been established, automatic mode takes over whenever you lay down on the pad. The tracker's standard sensors include a heart rate monitor, motion tracker, and breathing monitor. The Beddit 3 inches away from the competition in this respect though as it also has temperature and humidity sensors that collect info on the room you sleep in and can help you make beneficial adjustments to it.
Well-made graphs seem to be the norm with contemporary sleep trackers, and Beddit 3 is no different. The home screen shows a sleep score, how many hours you've been asleep, and sleep efficiency. From there it's easy to navigate to a more detailed view for the day or week. Beddit 3 integrates with the Apple Health app to put your sleep results in perspective along with your activity levels and nutrition habits. There's also the ability to export collected data and generate a two-week report your physician can go over and make recommendations based off of it.
What We Didn't Like
Beddit's automatic sleep tracking is a hit & miss feature. For one thing, it doesn't take into account tie spent not wanting to fall asleep, so you'll get inaccurate results if you listen to music or read in bed. There's also a tendency for the tracker to reset itself if you get up during the night. Even though the new stud design is better at keeping the pad in place, it can still move from its optimal spot and cause inaccurate readings.

Tech Specs
Type: Pad
Heart rate monitor: Yes
Breathing monitor: Yes
Compatible with: Apple Health
The Pros
Manual and automatic sleep tracking
App gives useful sleep quality insights
Data can be exported
The Cons
Automatic tracking may cause inconsistent results
Pad can move out of place
5. Zeeq Smart Pillow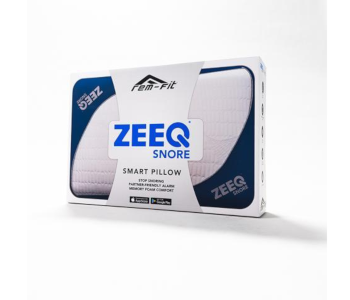 View on Newegg
Editor's Rating: 3.8/5
Don't you just hate being woken up by a disgruntled spouse who's fed up with your snoring for the night? If you invest in Zeeq's new Smart Pillow, you can stop snoring before it gets out of hand and get a comprehensive overview of your sleeping habits. The pillow is a dream to sleep on, comes with built-in speakers you can stream a lullaby or audiobook from, and its firmness can be adjusted. All of this sounds fantastic on paper, but how does the Zeeq perform in real life?
Zeeq Dreams
The pillow itself has a high-quality filling you can take out or put more in to adjust its height and fluffiness to your liking. It has a cover made from synthetic fibers that wick away moisture and cool your head. While the pillow is chalk-full of tech, this doesn't have any effect on your sleep quality as there are no lumps or hard spots. The only thing that makes it look out of the ordinary is a wired remote control with the pillow's charging port. Batteries can last up to 2 weeks of constant use.
Snoring prevention is Zeeq's most interesting feature. Within the pillow, there's a microphone that measures the loudness of ambient sound. Once it exceeds a set decibel range, a vibrating alarm kicks in and wakes the person just enough for the snoring to stop. The vibrations can also be set off to wake you at a certain time, acting as a silent alarm which won't disturb the person sleeping next to you. If you're the type that likes to wake up or fall asleep to music or a good book, the built-in Bluetooth speakers can stream media from your phone.
Sleep tracking is initiated either on a pre-set schedule or when you press a button. The tracked stats include overall sleep duration, snoring intensity, and the amount of restful sleep you get. There's a separate screen that lists these results over a 7-day period. If you've got a fitness tracker from REM-Fit, you can integrate its data into the app and get a more complete picture of your daily routine and what impact it has on sleep.
This is another tracker with support for IFTTT. Alexa is onboard too, but is limited to reading sleep stats out loud and can't control the speakers.
Are There drawbacks?
The Zeeq's sleep tracker has proven to be inconsistent. Even when multiple people with differing sleeping habits use it, the results tend to be similar, putting its accuracy into question. If you fill the Zeeq up with all of the provided foam, both the speakers and the vibrating alarm may prove to be ineffective. There's also no heart rate monitor, so the data you're given is vague and incomplete.

Tech Specs
Type: Pillow
Battery life: 2 weeks
Heart rate monitor: No
Breathing monitor: Yes
Compatible with: Amazon Alexa, IFTTT
The Pros
Very comfortable to sleep on
Can prevent snoring
Has built-in speakers
Good smart home integration
The Cons
Inconsistent results
No heart rate monitor
Speakers & vibration may become ineffective when pillow is full
6. Best Budget Option – ResMed S+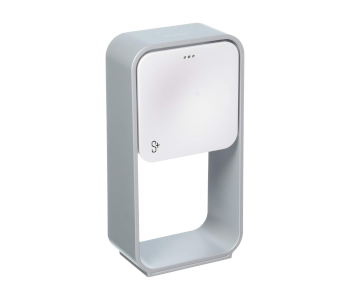 View on Amazon
Editor's Rating: 4.5/5
Do you often lay in bed thinking about tomorrow's workday or have a million ideas buzzing around in your head which won't let you fall asleep? The ResMed S+ can act as a helpful soundboard, recording these thoughts and storing them for later to help get your mind off of your future best-seller or money-making scheme and ready for sleep. It's also a sleep tracker that relies purely on sonar and doesn't need to be in any kind of contact with you to do its job. Best of all, its price recently got slashed in half, meaning that getting this versatile device is an amazing deal now!
All the Insight Without Amy Contact
The S+ takes sleep tracker pads' no contact philosophy to the next level. Its square sensor has a study mount and can be placed on your nightstand for maximum comfort and coverage. Its adapter will take up an outlet, but there's a USB port so you can still use the tracker while charging your phone.
Other trackers concentrate solely on monitoring sleep. The S+ augments this by introducing may pre-sleep options that help you relax and clear your mind. You can view its breathing monitor, listen to soothing music, or record your thoughts before bedtime. We found Relax to Sleep to be the most useful out of the three. When on, this plays relaxing music which synchronizes with your breathing after a short while. The beat and volume slowly decrease and the music goes off once you're asleep.
A smart alarm can be programmed to wake you up during a certain 15 or 30-minute interval. Rather than waking you at an exact time and potentially running a great dream, the S+ waits until you've entered light sleep to make waking up as painless and refreshing as possible.
The app's layout is clear and colorful with all the information on last night's sleeping session being easily accessible and understood. Like other sleep tracker apps, it provides you with a score and a breakdown that includes each of the three sleep levels and periods of wakefulness in between. It also has a similar approach to better sleep coaching to that of the Beautyrest Sleeptracker Monitor in that you're given an extensive questionnaire to answer both on signup and daily. Doing so makes the data you're shown more accurate and follows it up with suggestions like exercising a number of minutes more, showering before going to bed and the like.
What's Bad About It?
The S+ is a fantastic sleep tracker as is, but two areas could use definite improvement – activation and sensitivity. The lack of an automatic sleep tracking feature is its biggest flaw. Since you have to manually press a button to activate the S+, chances are you'll forget to do so. The sensor isn't all that accurate in the sense that it has trouble distinguishing between you and another person in the bed. Sometimes it will continue to track that other person's sleep once you're already awake and about.

Tech Specs
Type: Standalone sensor
Heart rate monitor: No
Breathing monitor: Yes
Compatible with: N/A
The Pros
Needs no contact to produce accurate data
Helps you fall asleep
Provides personalized sleep improvement suggestions
Amazing value for the money
The Cons
Needs to be turned on manually
May not distinguish between two people in the same bed