6 Best Smart Motion Sensor of 2019
3D Insider is ad supported and earns money from clicks, commissions from sales, and other ways.
What could be cooler than telling Alexa to start the AC, dim the lights, and lock the door once you get home from work? Why, having all of that happen automatically as you enter the house of course! Creating such a futuristic scenario is easier than you think and requires only one addition to your existing home automation setup – a smart motion sensor.
Smart motion sensors are devices that detect and are triggered by movement. They use infrared lasers to identify changes in ambient temperature or microwaves and ultrasound to pick up on an object's change in position. They communicate with other smart gadgets and your phone, acting as the trigger that can set a whole pre-programmed scene in motion. They're also useful as part of your security system since they can sound a warning and activate your security camera when movement is detected.
Below you'll find reviews for the six best smart motion sensors on the market. Some have more mounting or power options. Others boast greater detection range or don't even need a smart hub to function. Take a look at the strengths & weaknesses of each and decide for yourself which smart motion sensor fits your home the best.
Budget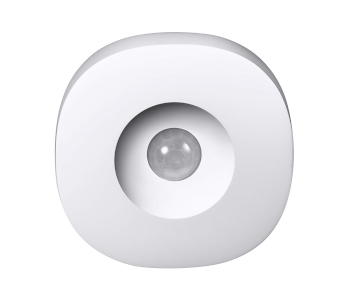 Samsung SmartThings
4.2/5.0
Detection range (feet): 15
Detection angle: 120°
Can trigger many other smart gadgets and be part of scenes.
Check Amazon
Best Value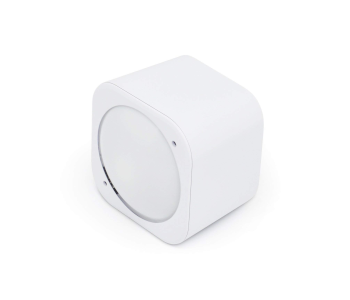 Aeotec Multisensor 6
4.5/5.0
Detection range (feet): 16
Detection angle: 120°
Six sensors in one, quick and accurate motion detection.
Check Amazon
Top Pick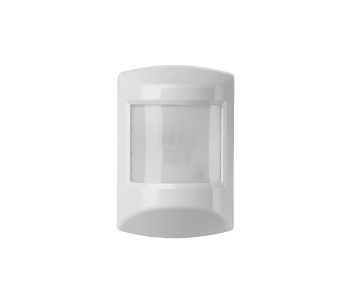 Ecolink Z-wave Plus
4.6/5.0
Detection range (feet): 40
Detection angle: 45°
Stable connection, two modes and three sensitivity settings.
Check Amazon
What to Look for In a Smart Motion Sensor
Range & Sensitivity
Detection Angle
Mounting & Power Supply
Smart Features
Smart Motion Sensors Comparison Table
1. Best Overall – Ecolink Z-wave Plus Motion Detector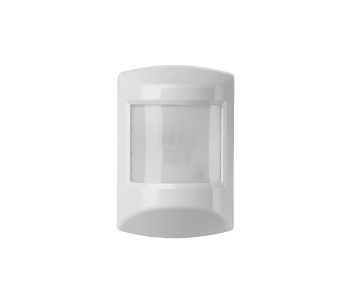 View on Amazon
Editor's Rating: 4.6/5
Pets and motion sensors do not get along well. Inferior models are overly sensitive and will report false positives if they detect the slightest movement. This won't be a problem if you buy Ecolink's Z-wave Plus Motion Detector since it ignores pets that weigh less than 55 pounds. The detector is also easy to install & set up, integrates with all popular smart hubs, and has a long-lasting battery.
Overview of Features
This unobtrusive sensor has a white, half-cylindrical body which blends in seamlessly with your wall and is hard to spot at night. It comes with two mounting variants – you can either mount it anywhere on a wall with a standard flush mount or use the angled one to set it up in the corner. The installation process is straightforward and should take 15 minutes or less. The sensor is powered by a lithium battery which needs replacing every three years or longer if used sparingly.
This sensor uses Z-wave to connect to compatible smart home hubs such as Samsung's SmartThings or the Wink Hub. Since Z-wave operates on a distinct frequency, the sensor's connection to the hubs is stable and has a maximum range of 100 feet. Even though it is designed for indoor use, you can place the sensor on your porch away from the elements and it will function properly. Its operating range is 40 feet. Movement is detected quickly and accurately within this range thanks to a passive infrared sensor.
You can set the sensor to one of two modes. Automation mode turns it into a trigger for connected lights, smart plugs, blinds, etc. When in security mode, the sensor sends you notifications whenever motion is detected. Pets won't trigger it, and there are three sensitivity modes for fine calibration. You change between modes by adjusting jumper pins on the back of the sensor.
What We Didn't Like
The sensor's reset time is very slow in normal mode. It takes 4-5 minutes for it to rearm itself, which only makes sense if you're using the sensor as a security device. You'll want to switch to test mode if you're going to use it for automation. Motion detection is reset every 6 seconds in test mode, which will shorten the battery life considerably.

Tech Specs
Dimensions: 3.5 x 2.3 x 1.8 in
Weight: 3.2 oz.
Detection range: : 40 feet
Detection angle: 45°
The Pros
Ignores pets
Easy to set up & install
Stable connection
Two modes and three sensitivity settings
The Cons
Very long reset period in normal mode
Increased battery consumption in test mode
2. Best Value – Aeotec Multisensor 6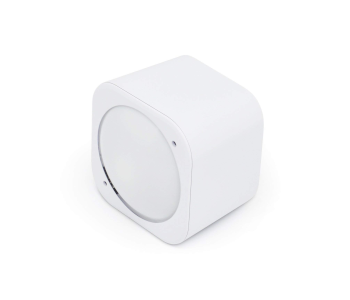 View on Amazon
Editor's Rating: 4.5/5
Why settle for just a motion sensor when you can get a device that has six sensors in one? The Multisensor 6 also measures humidity, temperature, light & UV light levels, and seismic activity! All of its sensors perform well while Z-wave Plus ensures compatibility and quick response times. Best of all, the Multisensor 6 is a steal considering its versatility. Grab a few and start designing automation scenes with more creative input than ever before.
Overview of Features
The Multisensor 6 is a tiny rectangular sensor that will go unnoticed. At 2.1 ounces, it is light enough to be secured to any surface with sticky tape, but there's also a mounting bracket if you want a permanent solution. It is powered by either a lithium battery or through the supplied MicroUSB cable. Keep in mind that the sensor is limited to motion and temperature detection only when battery powered.
The motion sensor component of the Multisensor 6 works like a charm. It has a detection angle of 120 degrees and a range of 15 feet which lets it cover an entire room and promptly respond to changes in movement. Coupled with the seismic sensor, this makes the Multisensor 6 an excellent burglar deterrent since it will detect both motion and if someone is trying to tamper with it.
Its other sensors and their applications are equally impressive. You could use the humidity sensor as a trigger for your bathroom vents or AC and control the entire HVAC system based on the Multisensor's temperature readings.
The light level sensor gives you a fine degree of control over your smart lighting setup which can now be adjusted based on varying light intensity. Finally, the UV monitor comes in handy during the summer to gauge whether the UV index in your home is within acceptable levels. If it isn't, the Multisensor can trigger your smart blinds or drapes to protect your family from harmful UV exposure automatically.
What's Bad About It?
The temperature sensor is inaccurate when the Multisensor is on USB power. The constant power supply makes the sensor run warm which causes it to report temperatures that are up to 5 degrees higher than expected. Some sensors have long reporting times. The humidity sensor changes every 30 minutes while the temperature sensor does so every hour.

Tech Specs
Dimensions: 1.8 x 2.5 x 1.8 in
Weight: 2.1 oz.
Detection range: 16 feet
Detection angle: 120°
Additional sensors: Temperature, humidity, light, UV, seismic
The Pros
Excellent value for the money
Six sensors in one
Quick and accurate motion detection
Small and easy to set up
The Cons
Temperature sensor is inaccurate if powered by USB
Long delays between sensor reports
3. GE Enbrighten Z-Wave Plus Smart Motion Sensor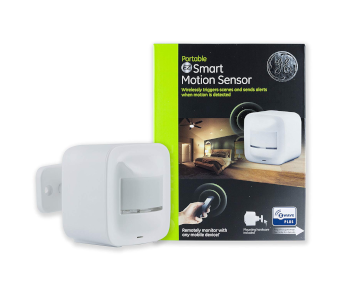 View on Amazon
Editor's Rating: 4.3/5
Do you want to beef up your home's security but don't want to permanently damage the walls by drilling into them? GE has the perfect solution, the Enbrighten Z-Wave Plus Smart Motion Sensor. This sensor can be placed on any flat surface, has a wide detection angle, and is recognized by leading smart home hubs right away. Variable sensitivity settings and two power sources sweeten the deal even more.
Overview of Features
GE's smart motion sensor is the broadest and heaviest model on review. This isn't surprising since it is designed to be either mounted to a wall or stand on a desk, bookshelf, etc. being able to position it anywhere is perfect for renters and apartment dwellers as they can have peace of mind while not damaging the property. The sensor is powered by a battery which lasts two years or can be plugged into a MiniUSB cable for continuous operation. The required cable and adapter are sold separately though.
Pairing the motion sensor with a SmartThings or Wink hub is painless and quick. Both hubs as well as less popular ones like Iris and Trane recognize it immediately and maintain a steady connection. At 180 degrees, this is the sensor with the widest angle we've tested. This lets you place it anywhere against a wall and cover an entire room. There are three sensitivity settings so rooms of different sizes can be covered. The maximum range is 45 feet.
Another great thing about GE's sensor is the way it reports movement. It will send a notification to the hub both when motion is detected and when it stops. This is useful when you want to pair the sensor with porch lights or security cameras. It will turn a connected device on as well as send you a message when triggered and turn it off four to five minutes after movement stops.
Are There Drawbacks?
Like Ecolink's model, GE's sensor needs 4 minutes to rearm itself. It doesn't have a test mode though. The batteries last 2 years but will be depleted much quicker if you set the sensor up in a busy area since it continues to track movement when triggered.

Tech Specs
Dimensions: 3 x 2.5 x 2.5 in
Weight: 6.4 oz.
Detection range: 45 feet
Detection angle: 180°
The Pros
Can be placed on horizontal surfaces
Wide detection angle
Detects when motion begins and ends
Works well with different smart hubs
The Cons
Rearming the sensor takes long
Putting it in a busy area will drain the battery quickly
4. Kangaroo Home Security Motion Sensor
View on Amazon
Editor's Rating: 4.2/5
All the smart motion sensors we've covered so far require an external hub to work. Kangaroo's Home Security Motion Sensor is standalone since it connects to your phone through 2.4GHz Wi-Fi. It has a fantastic companion app which makes controlling and managing multiple detectors a snap. There's also a subscription plan that gives you round-the-clock professional protection, making this one of the most affordable yet trustworthy security solutions out there.
Overview of Features
Kangaroo's motion sensor follows the minimalistic design principles we've seen with other models. There's nothing to see except its white exterior and a lens so it won't draw unwanted attention. The sensor is powered by two included AA batteries and comes with both sticky tape and mounting screws. You're asked whether you have pets during the installation and guided how far above the ground to place the sensor to avoid false positives.
You need to install the Kangaroo mobile app, enter your Wi-Fi credentials, and pair the sensor before you can use it. The app lets you name and manage 20 motion sensors! You can arm them separately or together and check on individual battery levels. The app even enables you to specify contacts that will also receive messages when a sensor is triggered. This basic functionality costs $1/month while 24-hour professional support will set you back $9/month.
The sensor has a maximum range of 15 feet and accurately detects movement within it. You get a push notification mere seconds after it is triggered which informs you of the event and lets you disarm the sensor from anywhere. If you don't react within 20 seconds, you get a robotic call and the option to contact the authorities. The latter is done automatically if you use the premium service.
What We Didn't Like
This motion sensor is only usable as a security device. It doesn't have support for AI assistant voice commands and can't act as the trigger for other smart gadgets. Arming the alarm takes 10 minutes. This is supposed to give you enough time to get out of the house before triggering it. A shorter arming time or the option to set it in the app would have been better.

Tech Specs
Dimensions: 3.5 x 1.5 x 0.7 in
Weight: 2.3 oz.
Detection range: 15 feet
Detection angle: 120°
The Pros
Doesn't require a hub
Excellent companion app
Can contact loved ones in case of an incident
Good customer support
The Cons
Doesn't connect to other smart devices or AI assistants
Long arming time
5. Monoprice Z-Wave Plus PIR Motion Detector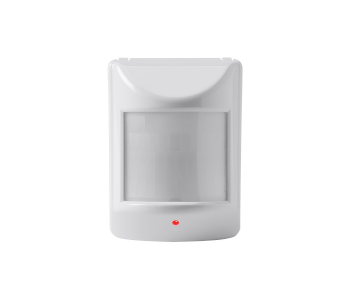 View on Amazon
Editor's Rating: 3.8/5
Monoprice is known for creating comprehensive yet affordable smart home security systems, with connected motion sensors at their heart. Their Z-Wave Plus PIR Motion Detector is a basic device that detects movement and has a built-in thermometer. Place it on a wall, connect it to a compatible smart home hub, and you'll receive timely alerts whenever it detects motion.
Overview of Features
This innocuous-looking angled half-cylinder is actually a capable motion sensor and thermometer combo. It weighs 4.6 ounces and comes with a mounting bracket & screws. Alternatively, it attaches to walls, cupboards, and other flat vertical surfaces with two-sided sticky tape. The same kind of battery as in Ecolink's model is used, meaning you can expect a minimum operating time of three years.
Motion is detected in a 32-foot cone in front of the sensor at a 120-degree angle. When activated, the sensor will prompt the Honeywell smart hub to send you a notification that includes the time of the incident and the room in which it happened if you have multiple sensors and named them accordingly. The sensor can be placed 150 feet away from the hub and will still function without interruption 24/7 thanks to Z-wave Plus.
The sensor is sensitive enough to catch movement on the edges of its detection range. It is also precisely calibrated to avoid picking up on background movement. This means you can leave your fan running or have your Roomba do the vacuuming without setting off a false alarm. All pets except the largest dogs are safe too.
What's Bad About It?
This motion sensor's detection area lacks verticality. This means that it performs well when detecting motion coming from the sides but struggles if it is coming from below. You'll need to position it low because of this. Syncing the sensor with SmartThings might take you a few tries. It works fine after that. Wink is another matter though and can't be recognized even though it should show up in its list of devices.

Tech Specs
Dimensions: 2.2 x 2.2 x 2 in
Weight: 3.4 oz.
Detection range: : 40 feet
Detection angle: 120°
Additional sensors: Temperature
The Pros
Affordable
Has temperature sensor
Various mounting options
Ignores pets and background movement
The Cons
Has trouble detecting movement beneath it
Doesn't work with Wink
6. Best Budget Option – Samsung SmartThings Motion Sensor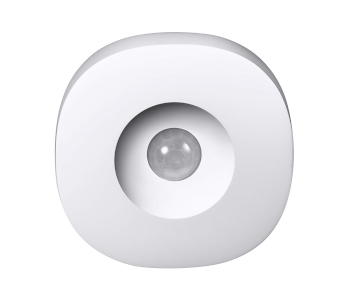 View on Amazon
Editor's Rating: 4.2/5
SmartThings has been out for years now, and in 2019 Samsung pleasantly surprised us with a refresh of all of the ecosystem's native components. The motion sensor, in particular, has received many upgrades. These include a complete overhaul of its look, better mounting options, and lightning-fast reset times. The sensor performs flawlessly and costs less than $25, so there's no reason not to pick it up if you're already a SmartThings fan.
Overview of Features
The biggest change is in the motion sensor's appearance. An uninspired white box has been replaced with a modern, minimalistic design that sports rounded corners and a central IR lens. Mounting has received welcome improvements in the form of a magnetic ball mount which lets you swivel the sensor and find the perfect monitoring angle in seconds. It attaches to the wall with tape strips, leaving behind a clean surface when removed.
As you'd expect, the sensor pairs effortlessly with any version of the SmartThings hub. The SmartThings app lets you name the sensor and use either its motion detector or thermometer as a trigger for connected devices. You can also arm or disarm the sensors as part of a scene. Rearming it takes just 20 seconds, much faster than we've seen with models which cost twice as much!
Samsung's motion sensor has a range of 15 feet with a detection angle of 120 degrees. It is best used for small and medium-sized rooms. Z-wave allows it to communicate with the hub in a 150-foot radius. The sensor wasn't designed to withstand water and cold, but if you live in a temperate clime you can use it outdoors as well, provided it is covered.
Are There Drawbacks?
The sensor experiences few connection issues. Once it does get disconnected though, you'll need to reconnect it manually. It also reacts to pet movement – you'll need to position it high enough so that your pets don't cause false alarms.

Tech Specs
Dimensions: 4.7 x 3.9 x 2.3 in
Weight: 4.6 oz.
Detection range: 15 feet
Detection angle: 120°
Additional sensors: Temperature
The Pros
Great price for what you get
Excellent magnetic ball mount
Can trigger many other smart gadgets and be part of scenes
Measures temperature
The Cons
Needs to be reconnected manually
Might get triggered by pets if positioned too close to the ground