7 Best Smart Home Security Cameras of 2019
3D Insider is ad supported and earns money from clicks, commissions from sales, and other ways.
It used to be that you had to spend thousands of dollars on a home security system. With the widespread acceptance of smart technologies though, even the CCTV has gone the way of the dodo. Smart security cameras have taken their place, and are far better at recording, cataloging, and responding to security risks than your old system ever was.
Today's security cameras are both affordable and effective. They allow you to monitor your home from anywhere and will notify you of any suspicious behavior with great accuracy. As they're part of the ever-expanding universe of interconnected home devices, smart security cameras team up with lights, blinds, locks, and thermostats to make living in the modern home more carefree than ever.
The smart security market is saturated with all kinds of models, and it's understandably hard to make an informed decision. We've assembled seven of the best smart home security cameras you can currently buy. Get acquainted with each, check out the buying guide, and sleep easy with a smart security camera watching over you.
Budget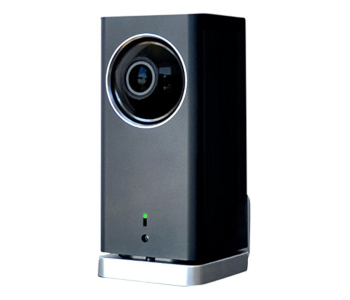 iSmartAlarm iCamera KEEP Pro
4.3/5.0
Field of view: 140°
Built-in alarm: No
Has analog zoom and time-lapse features.
Check Amazon
Best Value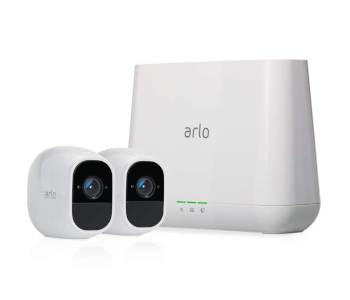 Netgear Arlo Pro 2
4.6/5.0
Field of view: 130°
Built-in alarm: Yes
Has an alarm siren and nuanced sensor control.
Check Amazon
Top Pick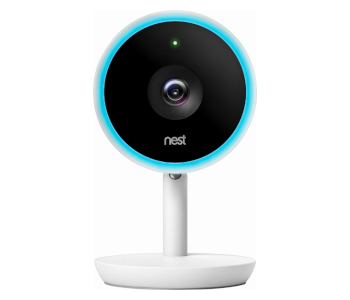 Nest IQ Indoor & IQ Outdoor
4.7/5.0
Field of view: 130°
Built-in alarm: No
Has an excellent video quality and night vision.
Check B&H Photo
What to Look For in a Smart Security Camera
Picture Quality
Sensitivity Calibration
Voice Activation & IFTTT
Subscription Plans
Smart Home Security Cameras Comparison Table
#1 Best Overall – Nest IQ Indoor & IQ Outdoor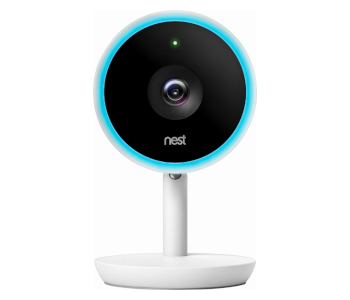 View on B&H Photo
Editor's Rating: 4.7/5
Modern security cameras will alert you when someone's snooping around your house, but how many of them can actually tell you who they've caught? Following on the success of their first line of security cams, Nest has integrated this fantastic feature into the new IQ indoor & outdoor cameras. Their exceptional picture quality, keen motion detection, and seamless smart integration leave little doubt as to why the IQ-s are at the top of our list
The Smartest Cameras of Them All
We've bundled the Indoor & Outdoor into one review since they've got the same outstanding capabilities and their differences are marginal otherwise. The IQ Indoor resembles the old Nest Outdoor cam, while the IQ Outdoor is waterproof and has a beefier bulbous look as well as a new mounting system which will prevent anyone from ripping it loose. Its power cable is also neatly tucked inside so that it can't be cut.
The IQ cameras' greatest asset is their top-notch picture quality. Now you can distinguish threats from friends and nosy neighbors in crisp 1080p! Nest has equipped them with a 4K sensor which captures a wide area and allows the cameras to hone in on someone's face once their motion sensors kick in without the slightest loss of detail. Each camera is equipped with a set of powerful infrared LEDs that make everything in a 15-foot radius clearly visible at night.
Both the physical installations and app setup are straightforward. The Nest app recognizes and connects the cameras to your Wi-Fi in about a minute and offers a great deal of control. The IQ-s record continuously and the day's footage can be reviewed either in full, by jumping to alerts, or in a sped-up time-lapse mode. Clips are stored on the cloud but can be saved locally as well. You can stream footage on Amazon Echo Show / Spot devices through Alexa and use IFTTT recipes to activate the cameras in response to the behavior of other smart gadgets you've bought.
What We Didn't Like
Remember the face recognition feature we mentioned earlier? The Nest IQ cams can recognize faces and build up a database of visitors over time. The caveat is that you have to pay for Nest Aware, the company's monthly subscription service, to get access to this feature. Without coughing up at least $5/month for it, you're limited to 3 hours of footage and the camera's live stream. Other features like improved sound detection and notifications are also hidden behind this paywall.

Tech Specs
Video mode: 1080p
Photo resolution: 4K
Field of view: 130°
Digital zoom: 12x
Suitable for: Indoor & outdoor use respectively
Local storage: Yes
Alarm: No
Compatible with: Amazon Alexa, IFTTT, Nest
The Pros
Excellent video quality & night vision
Familiar Faces feature
Sturdy yet elegant build
Easy to install and set up
Versatile app
The Cons
Advanced features do not work without a monthly subscription
#2 Best Value – Netgear Arlo Pro 2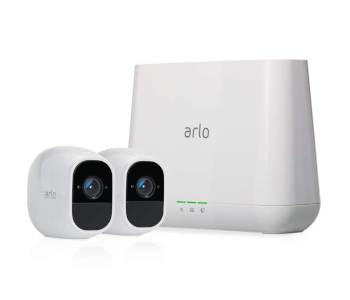 View on Amazon
Editor's Rating: 4.6/5
While the IQ cams are great, they do depend on an external power source. Not so with Netgear's Arlo Pro2! It's a bit more expensive than our overall winners, but you get two cameras suitable for both indoor and outdoor use inside the base package. Arlo Pro 2 features excellent video quality and portability while playing well with voice activation & smart home systems like SmartThings. Couple that with probably the best and most versatile subscription options around, and you've got a deal that's hard to believe.
The Smart Home Security Pro
The cameras themselves are small enough to fit in most spaces. They're waterproof and have magnetic bases so they can be easily attached to a metallic surface or removed from their wall mounting brackets quickly once they need to be recharged. They're controlled through a central hub you hook up to your router via Ethernet cable. The hub doubles as an effective alarm system as it harbors a 100dB siren you can set to turn on once the cameras' sensors are triggered. It has a couple of USB ports too, allowing you to store recorded footage locally.
It's a good thing that the sensors can be toned down, as they're very sensitive. There are many options when it comes to arming them. You can set a specific zone within the camera's view to do so, turn on geofencing so that they activate when you leave the house or set schedules for them from within the app. From there you can also view the live feed & take recordings / pictures of it, communicate with others through two-way audio, or check individual cameras' signal strengths & battery levels.
Video quality is almost on par with that of the Nest IQ-s, which is great considering the Arlo Pro 2 doesn't have a 4k sensor. Colors are true to life, exposure is handled well in daylight, and night vision is enhanced by capable infrared LED-s.
Netgear is very generous with subscription options. You get 7 days of storage fur as many as five cameras absolutely free! Paid subscriptions are varied and tailored to homeowners as well as businesses.
Are There Drawbacks?
The Arlo Pro 2 excels as a wireless security camera but has a couple of useful features you can only access when it is plugged in. For instance, you can't record continuously on batteries, only when the sensors have picked up on something. Look Back is another AC power-only feature which lets you see three seconds of footage taken before sensor activation. These add much to the camera's versatility and it's a shame that it needs to be tethered to get access to them.

Tech Specs
Video mode: 1080p
Photo resolution: 1,920 x 1,080
Field of view: 130°
Digital zoom: 8x
Suitable for: Indoor & outdoor use
Local storage: Yes
Alarm: Yes
Compatible with: Amazon Alexa, IFTTT, Samsung SmartThings
The Pros
Waterproof and portable
Two capable cameras in starter package
Alarm siren
Excellent subscription options
Nuanced sensor control
The Cons
Some advanced features require AC power to work
#3 Amazon Cloud Cam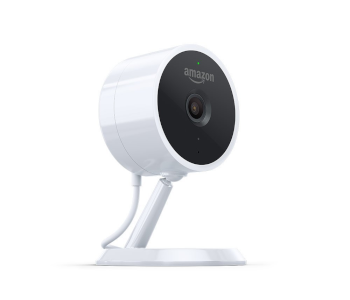 View on Amazon
Editor's Rating: 4.4/5
While many manufacturers claim to have support for Alexa, Amazon's virtual assistant can't do much other than stream their live feed. A desire to make better use out of their speakers and get a slice of the smart security camera pie in the process has led Amazon to develop a surprisingly capable security camera of their own! The Cloud Cam is an affordable security upgrade that brings better Echo integration and decent recording capabilities to the table. If your home is already teeming with Echo devices, the Cloud Cam should be your first choice.
Make Your Amazon Smart Home More Secure
The Cloud Cam is a robust little camera made with high-quality materials. It has a wide stand and a ball joint that lets you pan and tilt the camera to find the perfect recording angle. Setup is a breeze as you only need to download the Cloud Cam app and pair the camera with your phone through Bluetooth.
The camera makes good use of your Echo devices. It can act as a two-way intercom, with any of your Echos serving as the other end. Triggered sensors will cause the Echos' rings to turn bright green, and you can always view what's going on either on an Amazon Fire TV or Echo Show / Spot by asking Alexa nicely.
The 1080p video the cloud Cam puts out is decent. Brightly-lit rooms bring out the best in it, and night vision is among the better ones we've seen. You may experience blurriness and loss of detail during twilight time or in dimly-lit rooms though. Audio is high quality, and the Cloud Cam can pick up even faint sounds from far away, which may prompt you to turn its sensitivity down as needed.
A great thing about buying into the Cloud Cam is that it's always evolving! It started out with only 4x digital zoom, but thanks to firmware updates the magnification was doubled. Scheduling wasn't an option earlier either and has since been made part of the app. You have access to 24 hours of footage from three cameras for free, with more storage and access to some advanced features starting at $7/month.
What's Bad About It?
Other than low-light performance, the Cloud Cam suffers from feature restrictions similar to that of the IQ cams. Not paying means that you can't download videos to your phone. It also blocks access to better sensor calibration designed to distinguish people from other moving objects and pets. Zones are a great way of making the Cloud Cam ignore your ceiling fan or parts of the room you don't want to trigger its motion sensors, but that's a subscription-only feature too.

Tech Specs
Video mode: 1080p
Photo resolution: 1,920 x 1,080
Field of view: 120°
Digital zoom: 8x
Suitable for: Indoor use only
Local storage: Yes, with subscription
Alarm: No
Compatible with: Amazon Alexa
The Pros
Well-built
Easy installation & setup
Solid video & excellent audio
Works well with other Amazon products
Affordable
The Cons
Low-light conditions degrade video quality
Needs subscription to unlock its full potential
#4 Ring Spotlight Cam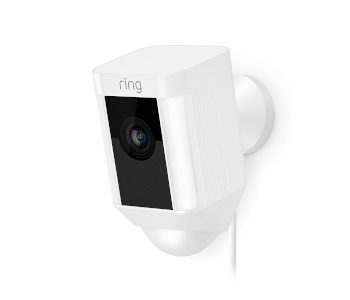 View on Amazon
Editor's Rating: 4.4/5
Why even let thieves get close to your belongings when your security camera can give them the scare of a lifetime? After achieving success with the acclaimed Ring Doorbell, Ring has found it natural to augment their smart doorbell cam with one that can withstand the elements and has an even better overview of your porch. It's a tough nut to crack and will send intruders scrambling, making it one of the most useful cameras on our list.
The Proactive Approach to Home Security
We've got to hand it to Ring for making some of the most comprehensive install & setup instructions we've ever seen! Not only do you get everything you need to mount the camera (even a screwdriver!), but there are video and spoken instructions that guide you every step of the way. Once mounted, the camera fits securely onto its bracket and can't be removed even if considerable force is applied. Its rounded rectangular housing is modern-looking and robust enough for the camera to remain operational in the rain.
The Spotlight has a 140-degree lens that can encompass an entire mid-sized yard and produce clear video in 1080p. There's no night vision, but the Spotlight doesn't need it as an array of bright LED lights will illuminate a large area around it once motion is detected. You can dim the lights if they're too bright and set up zones if you don't want part of them to be active. The intercom system is a bit on the quiet side but does its job. Conversely, the Spotlight has the loudest alarm we've tested and may wake the neighbors up while leaving burglars too frightened to try anything.
The Ring app is a masterclass in simplicity, guiding you through settings, video feed monitoring, and the gallery by means of intuitive icons. It also lets you set up schedules and share the feed with others. A subscription is required as well, but luckily there's nothing to complain about this time. Just $3/month lets you access sixty days of storage and the ability to see video clips associated with previous alerts.
What Needs Work?
The biggest issue you might run into while using the Spotlight is Wi-Fi connectivity. If the router is far away from it and separated by multiple walls, you may need to get a Wi-Fi extender to compensate.

Tech Specs
Video mode: 1080p
Photo resolution: 1,920 x 1,080
Field of view: 140°
Digital zoom: 8x
Suitable for: Outdoor use only
Local storage: No
Alarm: Yes
Compatible with: Amazon Alexa, IFTTT
The Pros
Easy install for an outdoor camera
Nuanced light and sensor control
Provides good overview of large area
Affordable subscription options
The Cons
Needs strong Wi-Fi connection to work properly
No local storage
#5 CANARY All-in-One Security Camera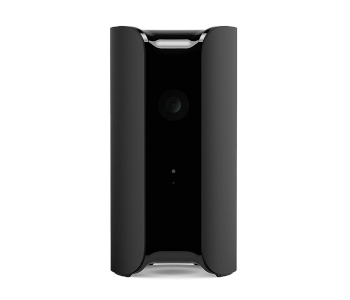 View on Amazon
Editor's Rating: 4.2/5
Video, audio, and motion sensors are excellent for catching burglars in the act, but won't be of any help if a fire starts devouring your house. Other security cameras require you to purchase separate expensive alarms, but the Canary All-in-One comes with its own powerful array of heat, humidity, & air quality sensors that might just end up saving your life.
Keep Your Home Healthy & Secure
This little bird looks nothing like other security cameras, which isn't surprising given the number of sensors it carries. The stylish rectangular shape is actually a nice form of camouflage – place the Canary among some books and burglars most likely won't notice it. Even if they do, you can give them a good scare by arming the built-in 90dB alarm.
You pair the Canary with your phone over Wi-Fi, but can link it to the router with an Ethernet cable for a more stable connection too. Alexa as well as the Google Assistant are supported and will tell you the humidity, temperature, and air quality levels. Multiple phones can be synced with the Canary app, and the camera will behave according to their locations.
Away mode is triggered once everyone leaves the house and turns on the motion sensors. Notifications will then be sent at the slightest hint of movement, but these can be toned down along with the sensitivity settings. Night mode acts similarly to Away mode, just on a schedule. Home mode will disable notifications but keep recording, and there's the option of turning recording off entirely in Home mode when you want some privacy.
The FullHD video looks nice under almost any lighting conditions. You'll want to pick ut over the multitude of rivals for its additional sensors though. The heat sensor is extremely useful for determining abnormal temperatures, so if you're out of town and the heating gives out you can get a notification and send someone to check up on the house. The air quality sensor is a little vague, but unerringly picks up smoke and other particles, which makes for a pretty efficient fire alarm when coupled with the thermal sensor.
What Should Be Improved?
Canary's subscriptionless offerings are pretty slim. You only get to look at 10-second clips of recorded footage for 24 hours, and can't activate Night mode. The camera is also heavily reliant on geofencing, so if you don't take your phone along with you wherever you go using the various modes might be complicated.

Tech Specs
Video mode: 1080p
Photo resolution: 1,920 x 1,080
Field of view: 147°
Digital zoom: 8x
Suitable for: Indoor use only
Local storage: No
Alarm: Yes
Compatible with: Amazon Alexa, Google Assistant
The Pros
Looks inconspicuous
Multiple advanced sensors
Good picture quality
Thorough & customizable notification system
The Cons
Very limited without subscription
Geofencing is mandatory
#6 Best Budget Option – iSmartAlarm iCamera KEEP Pro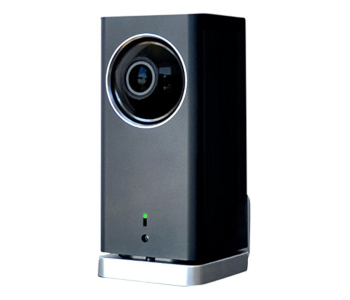 View on Amazon
Editor's Rating: 4.3/5
Arguably the biggest drawback of any security camera is its relatively narrow field of view. Even if it can zero in on a detected person, a fixed camera can only follow them so much. The iCamera Keep Pro has 350-degree rotation and a 40-degree tilt angle that help keep perps in the shot. It's got an excellent night mode, can be attuned to respond to smoke or CO2 alarms and is very affordable considering all the features that were packed into it.
I've Got My Eye on You
The iCam Keep Pro deviates from the white, rounded aesthetic other modern security cams have adopted. This makes it look more serious, but is also a necessity as the base can turn almost full circle. The boxy design allows for a quality speaker, making two-way communication sound more natural than with some more expensive models. There's also an SD card slot for up to 32GB of storage, and a USB port for connecting an external hard drive.
Once the iCam Keep Pro picks up on movement, it locks onto the target and follows them around as far as its pan and tilt will allow. It has an analog 4x zoom, meaning that zoomed-in footage doesn't suffer from loss of quality. At 1080p, the picture is both detailed and sharp. Night vision is powered by LED-s effective up to 33 feet, but we found that it works best up to 25. The built-in motion sensors work flawlessly. Its audio sensors can distinguish CO2 and smoke alarms from other sounds and a notification is sent to your phone if these trigger the camera.
You can arm the Keep Pro by speaking to Alexa, by setting up an IFTTT recipe, or directly from the iSmartAlarm app. Other products under the iSmartAlarm umbrella like window sensors and alarms can be paired with the camera from here as well. The app also allows you to save videos to local storage and create time-lapse footage. You can view the live feed and control the camera's movement / zoom while doing so.
What's Bad About It?
The iCamera Keep Pro is designed to act strictly as an indoor camera. Even so, it could have been made more weather-resistant as even the slightest contact with water can cause it to fail. Apart from that, the only minor complaint we have is that it doesn't record continuously without an SD card, but as these are so cheap nowadays that's easily fixed.

Tech Specs
Video mode: 1080p
Photo resolution: 1,920 x 1,080
Field of view: 140°
Digital zoom: 4x
Suitable for: Indoor use only
Local storage: Yes
Alarm: No
Compatible with: Amazon Alexa, IFTTT, iSmartAlarm security system
The Pros
Excellent value for the money
Manual pan & tilt
Analog zoom
Time-lapse feature
The Cons
Not suitable for outdoor use
No continuous recording out of the box